There are very few brands that make us want to drop everything and buy every single one of their newest launches, but one that never seems to fail us is Fenty. Since the brand's launch, they've developed a reputation for one amazing product drop after another, and for products that actually do what they claim time and time again.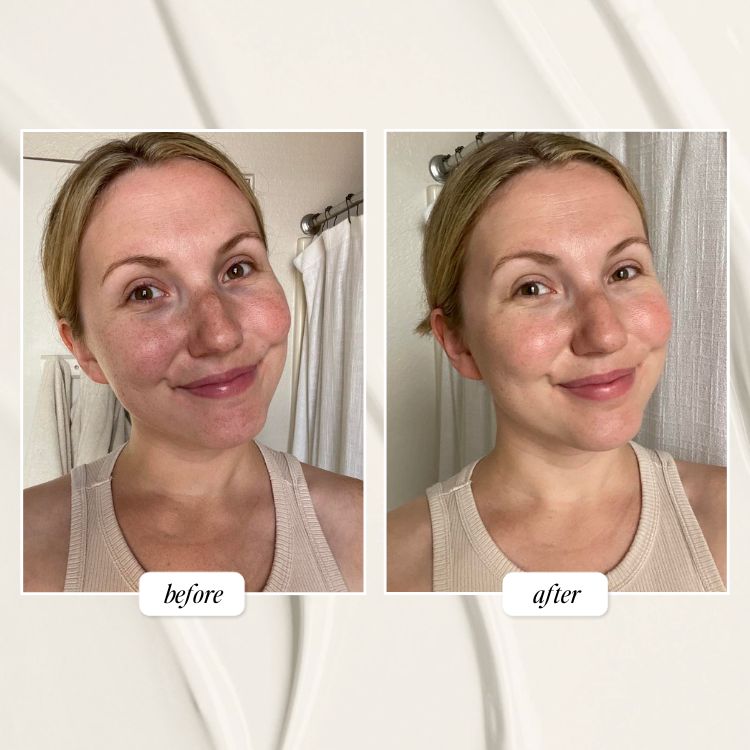 Perhaps their most notorious products are their two foundations: the Pro Filt'r both in their matte and hydrating finishes. Since their launches, they've been mentioned time and time again as beauty guru's holy grail products—so when they launched a third complexion product last month, we had high hopes, and knew we wanted to see what it was about immediately.
Two of our editors with different skin types set out to test Fenty's new Eaze Drop Blurring Skin tint and see if they lived up to the brand's reputation for no-fail complexion products—and boy, did they deliver. Here's how it held up:
About Fenty's Eaze Drop Blurring Skin Tint:
Fenty's skin tint claims to be "a lightweight, buildable light-to-medium coverage skin tint that leaves skin looking blurred and smoothed." It also is cruelty-free and vegan and claims to be long-wearing with a natural finish. It comes in 25 shades—half of what their other two foundation formulas come in. Since this is a sheer formula, each of the 25 shades is supposed to work for a variety of their basic foundation shades (for example, those who use Pro Filt'r shades 140 and 150 both would be a match for shade 2 in the skin tint).
About My Skin:
My skin is extremely dry—so dry it literally feels like it produces no oil whatsoever. I don't struggle with too much acne (besides the hormonal zit here and there) so when I'm choosing a foundation, more than anything I'm looking for it to even out my skin tone and help me to look more hydrated throughout the day to help my overall dull complexion. I generally opt for products that are light-to-medium coverage and love a natural or hydrating finish.
My shade: 7
When it came to choosing my shade, I used this shade finder on Fenty's site, which made it super easy to choose one blindly online without seeing the product in-store. I'm a long-time lover of their Pro Filt'r Hydrating Foundation and use the shade 210, and according to the shade finder, that meant I was a 7 in the skin tint. I'm quite pale right now, so I'll admit that when I took the product out of the package, I was scared it looked a little dark for me. But after the first application, I learned that the shades are very forgiving, and it blended into my skin tone perfectly.
Application: 10/10
Out the gate, this product is very liquidy and thin when it comes out of the tube. For me, this is usually a sign that I'm going to like a product. Fenty says that this product applies well with your fingers, so that's how I tested it's application.
I put a few drops onto my fingers, then rubbed it into my skin thoroughly until it was completely blended in. I normally don't love applying products with my hands and opt for a brush or sponge instead, but this skin tint looks amazing applied with fingers. I've tried it with a sponge, but have gone back to just using my fingers every time—which is a huge win since it's easier in the long-run.
Coverage:
10/10
For something branded as a skin tint, I was surprised by how much coverage this gave me. I've been applying it so it stays in the realm of light coverage, but I can get a medium coverage out of it as well.
I am absolutely obsessed with the coverage of this. For me, this is literally exactly what I'm looking for in a face product. The coverage is hydrating without being too glowy, but allows me to get a glimpse of a sheen on my skin after I put it on. It is definitely blurring (which is something that I feel generally doesn't coincide with hydrating products) and the combination is natural-looking skin that is perfected, but that also doesn't look like a detectable foundation. It covers all of the unevenness in my skin and makes me truly just look like a slightly elevated version of myself.
Longevity:
9/10
Skin tints aren't known for being super long-wearing, so although Fenty claims this is long-wearing, I didn't have a ton of expectations—but it completely blew me away. I wore this for a long day over the weekend—around 14 hours—much of which included being outside in the elements. When I went to wash my face at night, I was so shocked that my skin still looked as good as it did. It wasn't perfect by any means, but it hadn't completely disappeared either.
For a normal, eight-hour day, I can wear this and have it still perfectly intact by the end of it. I usually feel like although my skin is dry, products tend to disappear on my face within a few hours, but this feels like it grips to my skin and wants to stay on until I choose to remove it.
Price:
8/10
For a high-end foundation, this is definitely on the lower end of the price spectrum. It isn't a drugstore price, but $29 for a full-size foundation is about as inexpensive as it gets at Sephora. I can tell you without a doubt that I would pay much more for this without blinking an eye, especially with so many brand's skin tints running around the $49 range.
Final thoughts: 37/40
After a few days of wearing this, I was talking to my mom on the phone and told her that I had finally found my dream foundation. I cannot put into words how much I love this—it feels like everything I've ever wanted culminated into one product. This skin tint is the only thing I've ever found that I want to wear both on an everyday basis and when I actually go out, because it just makes my skin look that good. I actually would change literally nothing about this product, and I cannot recommend it enough if you're looking for lightweight, natural coverage in a skin product. As someone with commitment issues with foundation, it says a lot for me to feel this way, but I can already tell this is going to be my holy grail foundation.
About My Skin
My skin is combination dry and normal. It does not get super oily, but sometimes I'll notice some oil on my T-zone throughout the day when I'm wearing foundation. I always have to apply a moisturizer because, without one, my skin is thirsty!
My Shade: 21
There was no guessing involved to find out my shade for this product. The Fenty Beauty website has a chart to match your Pro Filt'r shade to your Eaze Drop shade. I am a shade #440 in Pro Filt'r and shade #21 in Eaze Drop.
Application
This product recommends applying with your fingers, so that's what I tried. I love easy makeup, so squirting a few drops on my fingers and rubbing it in was a huge plus for me. I used my Fenty Skin Hydra Vizor as a primer, let it set in my skin, and then applied the Eaze Drop with my fingers. I rubbed it into my skin the same way I would rub in a moisturizer (just my fingers though, not my whole hand), and that was it.
Longevity: 10/10
Longevity I would rate this 10 out of 10. After wearing it a full day of work, it still looked great, and I did not notice any oiliness! Woot Woot! I also love that it did not transfer when I touched my face. My biggest pet peeve is a foundation that leaves makeup stains on my fingers if I accidentally touch my face throughout the day, and this product passes that test with flying colors.
Texture: 10/10
The consistency is a very lightweight liquid, not as thick as most foundations but closer to the consistency of the Fenty Skin Fat Water. The texture on my skin is lightweight and feels like a tinted moisturizer. I think the Hydra Vizor paired perfectly as a primer because my skin has a moisturized glow. This product also does not have a scent.
Results: 10/10
The main claim for this skin tint is that it "leaves skin looking blurred and smooth," and I think it delivered. My skin looks smooth and blurred without feeling like I'm wearing any foundation. Also, I had a small pimple on my chin that is less noticeable after applying the skin tint. The shade was accurate and blended into my skin perfectly.
Price: 7/10
The price for this product is $29, which is in the same price range as other Fenty products. It's not as expensive as some other foundations, and it is around the same price as similar products.
Final Thoughts: 37/40
10/10, I would recommend this product! Eaze Drop is the perfect name for this product because of how easy it makes your makeup routine. I love this product for a lightweight, natural look. I'll wear this for days when I don't feel like wearing makeup but still want my skin to look put-together. Since I see this as an easy natural makeup routine, I did not feel the need to add a powder or any concealer. All I did to finish the look was apply Fenty Gloss Bomb in shade Hot Chocolit and Anastasia Beverly Hills Clear Brow Gel.
This is also perfect for days when I'll be doing something active or in the summer when I don't want to sweat from a thick foundation. If you want a full coverage foundation, this is not for you, but if you're looking for something lightweight that makes your skin look bomb without trying, try this. Another Fenty drop, and Rihanna refuses to miss.