As a Californian turned French local with three years under my belt, I've learned a thing or two about how Parisiennes really dress. Contrary to what social media and Emily in Paris might have you believe, the French girl aesthetic isn't all berets, Breton stripes, and designer brands (OK, those last two do have a place here, but they're not going to unlock the allusive je ne sais quoi).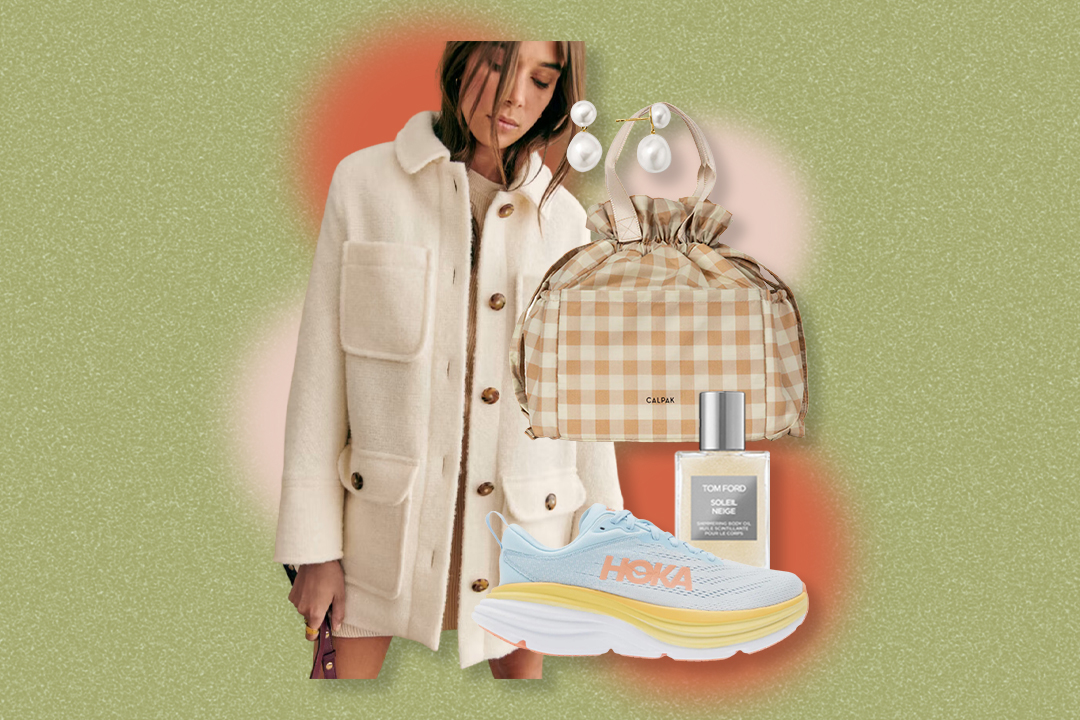 In reality, French fashion is much more practical than its (not so) effortless styling. And the secret to achieving it for yourself is as simple as knowing where to shop. That's why I'm dishing the five French fashion brands that fill the closets of les vraies Parisiennes and offer an authentic and accessible way of channeling your inner French girl—no plane ticket required.
1. Sandro
Sandro is synonymous with chic Parisian fashion. Founded in 1983 in the heart of the city's trendiest neighborhood, le Marais, Sandro strikes a balance of feminine elegance with a subtle masculine touch. By playing with androgyny, this label creates contemporary designs that resonate with the liberal spirit and creative freedom of their wearers. It also doesn't shy away from putting unique twists on classic shapes to bring a fresh perspective that French women can't get enough of.
For pieces to shop, les Parisiennes love their Sandro outerwear. Whether it's a tailored blazer with an embellished accent piece (I mean, who doesn't love a brooch that whispers old money) or a letterman-inspired varsity wool jacket, Sandro marries the perfect dose of originality with time-tested styles.
2. ba&sh
Founded in 2003 by childhood best friends, Barbara and Sharon, ba&sh puts femininity and wearability at the core of their designs with fluid materials, flattering cuts, and a mix of solids and prints for effortless styling. Their clothing exudes elegance with a touch of flirtiness that may get you your own Alfie (or cute Frenchie with an irrésistible accent).
And while ba&sh does every season justice, summer is when they truly shine. Maxi dresses, bohemian prints, and a sprinkling of lurex to reflect the sun—these romantic pieces fill the suitcase of Parisiennes leaving the city for an unforgettable summer holiday. (It's also the first brand that captured my heart after moving to Paris. I practically lived in their dresses and skirts during the heat of summer!).
3. A.P.C.
A.P.C. (short for Atelier de Production et de Création) was founded in 1987 by Jean Touitou. Favoring minimalist and timeless styles over trends, A.P.C. offers high-quality everyday essentials that only get better over time. The prime example of this approach, and the reason for their rise to French fame, is their use of Japanese raw selvedge denim. Instead of manipulating and processing the denim before purchase, A.P.C. gives buyers total control of their jeans' fit and aging process, resulting in a natural wear that molds to your body.
A.P.C. has a cult following among French women, and it's not hard to understand why. Their denim gives you a made-for-me fit that is difficult to replicate and lasts a lifetime. Try a pair and your wardrobe (and derrière) will thank you.
4.
Soeur
Founded by sisters Domitille and Angélique Brion, Soeur has a distinctly feminine feel with a hint of androgyny. Designed to surpass trends and the test of time, longevity is at the heart of every piece with materials that keep their shape and complements the endeavors of a woman's day. The founding sisters' travels also strongly inspire the clothing, which can be seen through creative motifs, kimono-inspired cuts, and a curated offering of fine leather accessories.
While a French girl's closet is sure to have any number of Soeur pieces, any item from the brand's core collection of "Permanents" is guaranteed to be in her weekly rotation. Whether it's the perfectly oversized button-up that gives "it's my boyfriend's" vibes (but with a better fit) or a wool cardigan that mimics a warm embrace, Soeur feels like home in clothing form.
5.
Sessùn
Founded by an anthropology student in the late '90s, Sessùn combines classic silhouettes with a profound appreciation for craftsmanship and cultural heritage. Influenced by the then-22-year-old Emma François' travels in South America, her designs apply skilled know-how for weaving, embroidery, and sewing techniques. High-quality materials and sustainable practices are also the heartbeat of the brand, which allows women to feel good about their purchase, both for its style and its low impact on the environment.
As for their designs, Sessùn is characterized by delicate prints, soft colors, and eye-catching finishes (who knew contrast stitching and cute buttons could make you swoon?). Peek into any French woman's closet and you're sure to find a Sessùn ribbed knit, the epitome of cozy, comfy, and chic à la française.