In theory, a hobby is something you're supposed to do just for fun—and we're all for doing things you love to destress and relax, without trying to monetize them. But, if your favorite has earning potential and you've got the time and inclination, it's worth considering starting up a side-hustle or freelance biz. Your earnings could help fund your hobby (win!) or help you start your own full-time business in the future.
Before you jump in with both feet, we outlined a few steps for transforming your hobby into a side-hustle. Hint: we start with the most important one, creating a home for your business online. We always turn to Squarespace, our go-to website builder for chic templates and easy-to-use ecommerce features.
1. Start by creating a platform
Now that you know what you want your side-hustle to be, make a clear plan for how you're going to make money off of it. Not all hobbies are strong candidates for side-hustles, but you can monetize most in one way or another. Let's say you love to hike. At first glance, it may not seem like you can profit off of your passion for fresh air and gorgeous views—but you can. Start a blog where you share your best hiking tips and review the gear you use. There is definitely potential for ad money, affiliate income, and sponsored projects.
Let's look at another scenario: you love digging through thrift shops and antique stores for gorgeous first-edition books. The only problem is that your bookshelf is overflowing. Starting an online shop where you sell your latest finds is a surefire way to take your hobby and turn it into a profitable side-hustle. No matter what accomplishment you're moving from hobby to side-hustle, you'll need a place to tell people about it.
Start by securing a domain name and setting up a website. It doesn't have to be fancy; all you need is a place for interested potential customers to learn more about you and what you do. Here at The Everygirl, we love Squarespace for how easy they make it to find and utilize a template that makes building a beautiful site quick and painless. Plus, you'll get a free domain when you choose an annual plan. Check it off your list, because you're now in business.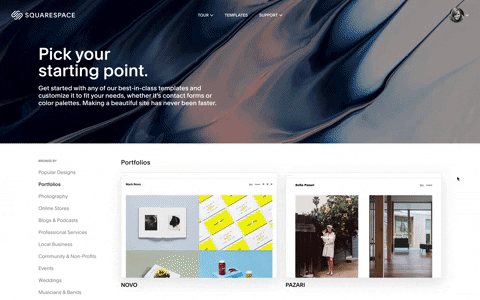 P.S. Need help choosing a template for your site? Read our guide on picking the right template for your needs (plus our favorite options).
2. Decide on the type of product or service
Now that you have a plan for what you'll be offering and a platform to promote it, you need to get the logistics of how you'll receive and process your profits settled.
Freelancers who complete custom projects or ongoing services may want to simply issue an invoice and let their client send a check or complete a direct deposit for money owed. If your new venture is product-based, chances are you'll need some way to process payments digitally. When adding products to your site, Squarespace makes it easy to accept payments for different kinds of offerings, like setting up a physical product to ship to your customer, or creating a digital service customers can pay for now without shipping costs and receive later.
Squarespace also offers extensive online shop integrations, including third party extensions, that help you with everything from listing products to estimating shipping costs to processing payments. If you have a service-based business, you can take advantage of features that allow customers to make online bookings or schedule appointments.
If you're looking to monetize your blog, try using Squarespace's code blocks to add in-line or sidebar advertisements or use affiliate links on products you love and recommend.
3. Generate buzz
Now that you have your website set up and your products and services ready to go, it's time to start reaching out to potential viewers and customers.
Consider a few key social media platforms. No, you don't need to suddenly post on everything from Twitter to GooglePlus—choose a platform you're already on or familiar with and make it work for your new business. If your personality is a big part of your new side-hustle, integrate your new venture into current personal accounts. If you don't want to inundate friends and family with your new business, make sure you secure the new social handles you'll need. Remember that your own network is a great place to start for sales or commissions, and that word of mouth can be a huge traffic driver!
To make your side-hustle email look extra professional, consider upgrading to a custom email address. AKA, there will be none of that @gmail.com nonsense at the end of your email address. You can utilize the Squarespace GSuite integration to utilize a custom email address and inbox for your business—no more getting your professional emails lost in a haze of personal spam.
4. Get strategic with the data
With your site and social networks up and running, you should have a good amount of data coming in to start working with. Pull up your analytics dashboard in Squarespace and start to assess where your traffic is coming from. How is your audience finding your site and services? If you're seeing a ton of clicks through your Instagram bio, focus your attention there. If you've noticed referral clicks coming in through a particular site or person, reach out for a partnership or to say thanks. Since you have a limited amount of time and energy to expend to your side-hustle, make sure that you're making the best use of those resources.
Another great way to reach your audience is through email marketing. Building your email subscriber list can be a great way to reach an engaged and interested section of your audience. To start, make sure your email sign-up is easily accessible from your website. We love the Squarespace newsletter block, because it makes adding an email signup form to any page of your site as easy as one click.
Once you have a few email subscribers, play around with Squarespace's newsletter automations—like a welcome email that is automatically sent to all new subscribers, or an email sent to customers who've already made a purchase from you—and see what types of email notifications and blasts resonate with your list.
5. Be professional, but mindful of your time
One of the best ways to make your side-hustle look more like a business than a hobby is to treat it as professionally as possible. That way, customers and clients feel like they're interacting with a real business. Order business cards, meet your deadlines, and network with other professionals in your industry. Above all, be honest with your clients, customers, and followers to ensure you're creating an engaged community that believes in you and what you're creating.
As you move from a just-for-fun hobby to a more professional side-hustle, you'll start to figure out how much time and bandwidth you have room for in your schedule. Start slowly and make sure you're giving yourself plenty of leeway. Working full time and running a side-hustle or freelance business is no joke, so make sure you're taking care of yourself and leaving enough time for rest and relaxation.
This post was in partnership with Squarespace, but all of the opinions within are those of The Everygirl editorial board.