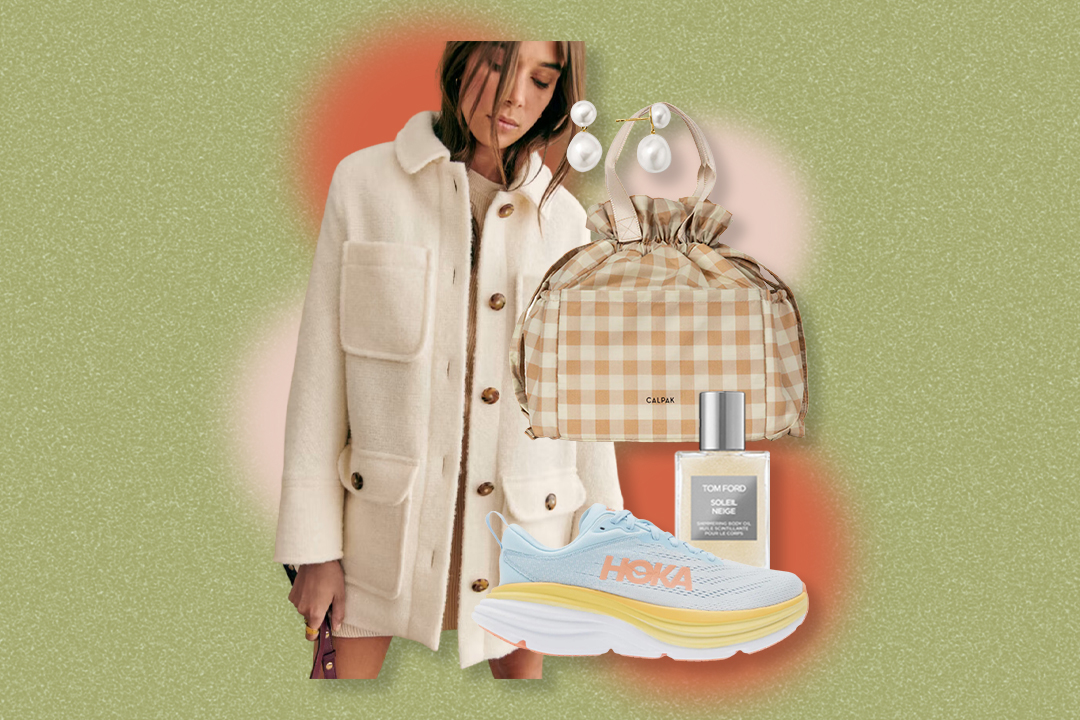 Since its inception in 2014, Glossier has been the makeup industry's cool older cousin. It was everything I wanted to be: stylish, cool, minimal. Back then, my makeup routine was anything but those things—I was all block eyebrows and triangle concealer. But now that I've introduced a "less is more" approach into my makeup routine, I've made room for Glossier to work its your-skin-but-better magic on me once again.
These days, my makeup routine is usually just a quick application of a skin tint and a swipe of mascara. Given that I prefer minimal makeup, Glossier's launch of their Stretch Fluid Foundation piqued my interest immediately—especially given that its a long-awaited sister to their cult-favorite Stretch Concealer. It claims to be long-wearing, medium coverage, and to have a natural finish that mimics the look of bare skin—but is it as good as my other holy grail Glossier products? These are my honest thoughts.
About My Skin

For a long time, I thought I had oily skin, but I recently discovered that I was severely misguided in believing this. My skin is actually dry-to-normal, and my #1 priority is keeping it hydrated. From my skincare to my makeup, I'm always looking for hydrating ingredients to keep it looking its best.
Glossier's Stretch Fluid Foundation
Glossier's Stretch Fluid foundation comes in 32 shades. It claims to be long-wearing, medium coverage, hydrating, and to have a natural finish. It's a hydrating gel-cream formula that nourishes the skin and leaves a your-skin-but-better finish. Its standout ingredients include:
Squalane and glycerine to hydrate and nourish the skin's barrier
Wild rose berry and plankton extract to balance shine and maintain hydration
Amino acid-coated pigments to fuse with skin for flexible coverage and a natural-looking finish
First Impressions

The Glossier Stretch Fluid Foundation comes in a luxe glass bottle that both feels and looks high-end. Glossier advises buffing out the foundation with their new Stretch Blending and Buffing Face Brush or your fingers, so I tried applying it both ways. I didn't have Glossier's brush, so I used my Morphe buffing brush instead. I used my brush on one side of my face and my fingers on the other, and can honestly say I couldn't tell the difference between the two—both sides looked great. You can definitely go with your gut and apply this product in whatever application method you generally prefer.
The first thing I noticed about this foundation is how lightweight it is. You don't need much to even out your skin's complexion. Its light-to-medium coverage claims are definitely true; it evened out my skin without looking heavy or cakey. I was also able to seamlessly build it up in areas of my face that needed a little more coverage.
The Wear
There are many foundations that claim to have a skin-mimicking finish, but this foundation actually is true to that promise. The finish looks just like skin, and is hydrating without being too glowy. Throughout the day, it wore like my favorite tinted moisturizer, just with a bit more coverage. It kept my normal-to-dry skin looking healthy and hydrated, but not shiny or oily throughout the entire day.
Glossier's Stretch Concealer
This concealer isn't new, but it was new to me, and I wanted to test out both complexion products together. To be honest, it isn't my favorite, but I understand why other people love it. It reminded me of the Nars Soft Matte concealer, just with a bit less coverage. It concealed anything I wanted to hide easily, but I felt that it was just a little too matte for the current state of my skin. However, if that isn't a problem for you, these two products will work together beautifully for you.
The Final Verdict
If I could, I'd shout my love for this foundation from the rooftops. I haven't bought a full-size foundation in a long time, and this one came and swept me off my feet completely unexpectedly. I love how it feels and looks on my skin, and feel that leaves my skin looking better after I take it off. If you're a fellow no-makeup makeup lover, I can't recommend this foundation enough. Glossier has proven that they have minimal makeup down to a science, and this product is no exception.
More Glossier Products We Love