Can you believe it's December?! I truly don't know what to do with this information besides start ~freaking out~ that I still have so many gifts to buy, so what I'll do instead is continue to plan my outfits for every event I have this month because #priorities.
Ice Skating
This is my favorite winter activity BY FAR. Not to brag, but I'm an exceptional skater so it's as much about showing off my mad skills as it is about enjoying the magic of the holiday season. Wear cozy layers — but remember you'll be sweating glistening, so keep it a little breezy.
Slim Puffer / Cozy Turtleneck / Leggings / Plaid Scarf / Cashmere Gloves / Duck Boots
Cozy Family Time at Home
I love hanging around the house in knockabout jeans while baking cookies, putting up decorations, and drinking cup after cup of cocoa (there mightttt be a hint of peppermint schnapps in there, who can say?!). Blare our holiday playlist as loud as possible and clock some quality fam time.
Sweater / Jeans / Hair Bow / Cozy Slippers / Camp Socks
Night on the Town
December wouldn't be complete without a sparkling night out — where you're all bundled in your truly gorgeous topcoat and dangly earrings and dangerously high heels, ready to take on the town.
Wine Topcoat / Velvet Dress / Statement Earrings / Crossbody / Heeled Boots
Movie Night
This is basically my every December right, tbh.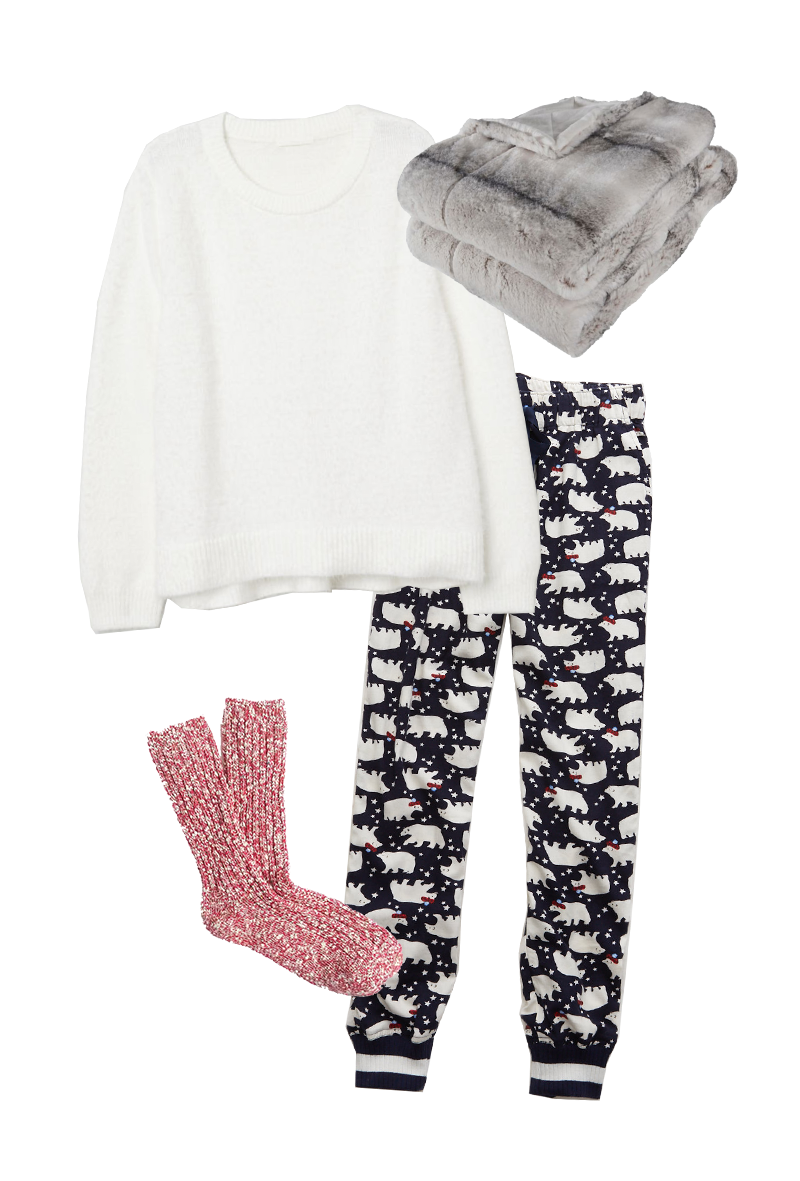 Cozy Sweater / Polar Bear PJ Pants / Camp Socks / Faux Fur Throw
Festive Holiday Party
I'm very into a hella sequin midi skirt this year — and what better season to wear your skirt than the season that's all about sparkle? Pair it with a more casual, slouchy-ish sweater and rock n' roll right into that holiday party.
Knit Sweater / Camisole / Gold Hoops / Statement Midi Skirt / Heels
Last Minute Shopping
It wouldn't be December without a plaid button-down, ya feel?
Faux Fur Hooded Jacket / Plaid Button-Down / Jeans / Gold Watch / Combat Boots / Cashmere Gloves
Christmas Morning
The ultimate December moment. Plaid, chunky knits, and unbelievably fuzzy slippers required.
PJ Top / PJ Pants / Chunky Throw / Lodge Moccasins