Sure, movies are fun to watch year-round. But there's just something about watching holiday movies that is an absolutely unmatched experience. I have no clue how they're so addicting, but there's no denying that they are. Tell me one person that hasn't seen and/or at least know the plot lines of Elf and Home Alone. Funny that you can't. In short, holiday movies reign superior.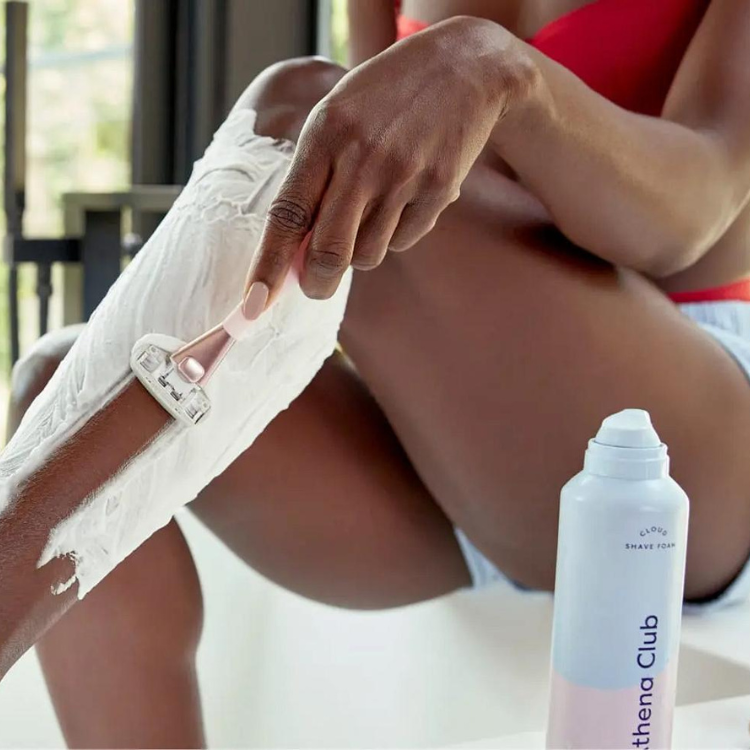 "This razor gave me the silkiest, smoothest shave I've ever had! I never get any cuts or scrapes, even on those hard-to-shave places."
There's nothing quite like curling up on the couch with some hot chocolate (or some wine—depending on the vibes, of course) and turning on a film about the most wonderful time of the year. From the timeless OG classics to more recent releases that deserve just as much of the hype, there's a seemingly endless amount of options to choose from. So, we've rounded up the best holiday movies that'll keep you entertained all season long. It's time to get comfy and tune in:
1. Falling for Christmas (2022)
Where to Watch: Netflix
The fact that this movie is Lindsay Lohan's return to acting is really all you need to know about Falling for Christmas. But alas, if that isn't enough to convince you to watch, LiLo playing a spoiled heiress who gets amnesia and falls for a local ski lodge owner in Aspen definitely should be. It's a heartfelt story perfect for a good ol' comfort watch of the season.
2. Four Christmases (2008)
Where to Watch: HBO Max
In this violently underrated holiday comedy, couple Brad and Kate must spend Christmas Day trudging around to a quartet of family get-togethers after their exotic vacation plans unexpectedly fall through. While Brad counts the hours until he can escape the wild relatives, Kate starts to wonder about her own choices and considers whether her family members are too much to handle after all.
3. Klaus (2019)
Where to Watch: Netflix
Klaus is a bit of a more recent holiday release that's perfect for the animated movie kick we all get this time of year. After a postman by the name of Jesper proves himself to be the worst student at the postal academy, he is sent to a frozen town in the North Pole where he discovers a reclusive toymaker named Klaus, and they begin to form an unlikely friendship.
4. Elf (2003)
Where to Watch: Prime Video
Truly, what is Christmas time without watching Will Ferrell dressed as an elf? Nothing! In this beloved classic, Buddy was accidentally transported to the North Pole as a toddler and raised to adulthood among Santa's elves. So, once he becomes an adult, he travels to New York in search of his real father and ends up creating some chaos along the way.
5. Happiest Season (2020)
Where to Watch: Hulu
All hail an 11/10 Kristen Stewart performance for giving us this modern holiday masterpiece. The film tells the story of a young woman with a plan to propose to her girlfriend while at her family's annual holiday party, until she discovers her partner hasn't yet come out to her very conservative parents and turns her plans upside down.
6. Spirited (2022)
Where to Watch: Apple TV+
A musical comedy starring Will Ferrel and Ryan Reynolds this holiday season? Sign us up. The pair retells the story of Charles Dicken's A Christmas Carol through the perspective of the Ghost of Christmas Present in this hilarious take on a holiday classic.
7. Krampus (2015)
Where to Watch: Prime Video
Even though it's the holiday season, spooky season doesn't have to end completely. When a dysfunctional family arguing causes their young son, Max, to lose his festive spirit, it unleashes the wrath of a creepy demon from European folklore, Krampus. As Krampus slyly closes in on the Engel home, the whole family must band together to save one another.
8. The Guardians of the Galaxy Holiday Special (2022)
Where to Watch: Disney+
A new spin from The Marvel Cinematic Universe will truly always find a way to make an appearance on your screen, and the holidays are no exception. In this film, the Guardians, who are on a mission to make Christmas unforgettable for Quill, head to Earth in search of the perfect gift for their leader, Star Lord.
9. Last Christmas (2019)
Where to Watch: Prime Video
If you've ever watched and loved (and cried over, maybe) the TV show Fleabag, this is the holiday movie just for you. Nothing seems to ever go right for Kate, a young, frustrated Londoner who works as an elf in a year-round Christmas shop. But, things take a turn for the better when she meets Tom, a handsome charmer who seems too good to be true… and he just might be.
10. Love, Actually (2003)
Where to Watch: Prime Video
Truly, what would this world be without the most beloved holiday rom-com movie ever? Love Actually follows nine intertwined stories in the weeks leading up to Christmas examining the complexities of the one emotion that connects us all: love.
11. Christmas On The Farm (2021)
Where to Watch: Hulu
Christmas On The Farm tells the story of a New York socialite who fakes her identity in order to get her book published, and has to rush back to her deceased mother's farm for the holidays when the publisher and her son come to visit the allegedly 'Australian' author.
12. Something From Tiffany's (2022)
Where to Watch: Prime Video
Imagine your engagement ring ending up in the wrong hands, but it actually ends up being everything you needed. Rachel and Gary are a happy couple, but not quite ready for that big commitment, while the picture-perfect couple of Ethan and Vanessa are just about to make it official. When a simple mix-up of their gifts causes all of their paths to cross, it sets off a series of twists and turns that lead them where they're truly meant to be.
13. The Nightmare Before Christmas (1993)
Where to Watch: Disney+
There's a reason why there's literally an entire ride at Disneyland dedicated to this go-to holiday classic. The film follows Jack Skellington, Halloweentown's beloved pumpkin king, who has become bored with the same annual routine of frightening people in the "real world"- until he stumbles upon Christmastown, which gives him a new outlook on life.
14. A Christmas Story Christmas (2022)
Where to Watch: HBO Max
30 years after its original release, A Christmas Story (AKA, one of the most beloved holiday movies ever) is being continued. We see Ralphie completely grown with a family of his own, and he wants to give his kids a magical Christmas like the one he was lucky enough to have as a child.
15. Die Hard (1988)
Where to Watch: Prime Video
The two biggest questions of the holiday season are 1. Is Santa real? And 2. Is Die Hard a Christmas movie? Well, I wholeheartedly believe it is (and a really good one for that matter). NYC policeman John McClane is visiting his estranged wife and two daughters on Christmas Eve, but the festivities are interrupted by a group of terrorists who take over the exclusive high-rise where they're attending his wife's office holiday party—and John quickly realizes that he's the only once who can save them all.
16. Christmas Full of Grace (2022)
Where to Watch: Netflix
This hilarious comedy revolves around a man named Carlinhos, who finds out that his girlfriend has been cheating on him on Christmas Eve and now has no one to show up with for his family dinner. Through a stroke of luck, he meets the mysterious and cheerful Grace who agrees to go with him for the dinner as his fake girlfriend— but she may not be the perfect stand-in he thought she'd be.
17. The Grinch (2018)
Where to Watch: Prime Video
No holiday movie round-up is complete without a mention of the Grinch, and this newer version released in 2018 is arguably the best re-make thus far. If you don't already know, The Grinch and his dog, Max, live a solitary existence inside a cave on Mount Crumpet. He despises Christmas with his whole being, so he decides to scheme as Santa Claus and stop the Who's and Whoville from celebrating once and for all.
18. Santa Camp (2022)
Where to Watch: HBO Max
A documentary on real life Santa training is definitely not what we expected for a new holiday movie, but it's everything we needed. Every summer, professional Santa's, Mrs. Clauses and elves attend a camp in New Hampshire to learn the tricks of their trade. But this year, the annual organizers, have decided to tackle a complicated and historic problem: the lack of diversity in the Santa industry.
19. Love Hard (2021)
Where to Watch: Netflix
As a girly working in the editorial world myself, this one hit close to home in the best way possible. After meeting her supposed perfect match on a dating app, an L.A. writer named Natalie learns she's been catfished when she flies 3,000 miles to surprise him for Christmas. But obviously because of the magic of the holidays, things end up going in quite the unexpected direction.
20. The Noel Diary (2022)
Where to Watch: Netflix
If you're in search for a story that really tugs at the heartstrings, look no further. In The Noel Diary, a best-selling author returns home for Christmas to settle his mother's estate after her passing, and he ends up discovering a diary of hers that holds many secrets regarding the past.
21. The Night Before (2015)
Where to Watch: Prime Video
If The Hangover were a Christmas movie, it would be the hilarious bromance story that is The Night Before. For the last 10 years, Ethan, Isaac. and Chris have gathered on Christmas Eve to celebrate the holidays with a bang, but as Isaac prepares to become a first-time father, they realize their tradition must come to an end. So, to make it as memorable as possible, they spend their final Eve searching for the Nutcracka Ball, AKA the best Christmas party in all of NYC.
22.
Scrooge: A Christmas Carol
(2022)
Where to Watch: Netflix
No matter how old we get, an animated holiday movie will always hit the soft spot in our hearts. In yet another twist of A Christmas Carol perfect to watch with your whole fam, Ebenezer Scrooge is a grumpy, greedy old man who has no time for others, until he's visited by a series of ghosts in the lead up to Christmas Day that put him in the holiday spirit.
23. Home Alone (1990)
Where to Watch: Disney+
It's almost criminal to not include Home Alone on pretty much any holiday movie list ever made. After the McCallisters mistakenly leave for the airport without their 8 year old son Kevin, he awakens to an empty house and assumes his Christmas wish to have no family has actually come true. But when he realizes that two con men are planning to rob the residence, he alone must stop them and protect himself and the family home.
24. Better Watch Out (2017)
Where to Watch: Prime Video
It's almost like if Home Alone went the way that you think it's supposed to actually go. When 17 year old Ashley babysit's the Lerner family's 12 year old son Luke for the night during the holidays, Luke attempts to flirt with Ashley by comforting her while watching a scary movie. But, it quickly turns from calculated plan to reality, and Ashley must defend herself and Luke when unwelcome intruders announce their arrival.
25. Christmas on Repeat (2022)
Where to Watch: Hulu
We've all had days we wish we could just re-do all over again, and this film understands that to a tee. A workaholic named Andrea wants to have the perfect Christmas day of reconnecting with her family, while also trying to appease her boss' demands. So, she makes a wish for the day to repeat over and over again until she gets everything just right.