Haleigh Chastain Walsworth's Paris apartment is perfectly prepped for guests―and good thing it is because more often than not, she has a friend in town to stay. Wouldn't you if you lived in Paris? This business owner, blogger, and photographer has created a home that reflects her simple, sophisticated, and girly aesthetic; it's accented with plenty of natural light and colors so soft they almost count as neutrals.
hurry, it won't last long!
After studying global communications and Asian media at American University, the California native began working at SelectNY, a branding agency. At the age of 22, she began blogging and freelancing, and in 2013, she quit her full-time job to pursue writing and photography full-time. Haleigh now spends her days managing Magique Media and her blog Making Magique.
Keep reading to hear more about Haleigh's apartment search and renovation, life in Paris, and her advice for bloggers and freelancers.
Name: Haleigh Chastain Walsworth
Age: 26
Current job/company: Founder of Magique Media
Education: American University, Global Communications/Asian Media
What was your first job out of college? 
I was a Strategic planner at SelectNY, an international advertising agency.
What does a typical day look like for you?
I usually wake up to the UPS man buzzing to deliver something. I run down in pajamas then pop back up and put on a pot of coffee or tea. Around 11 a.m. my assistant Ana will come over and we start prepping what we need to shoot that day, which might be anything from tying strings to lipsticks and making them fly across landscapes to throwing flowers in the air to make pretty pictures with a touch of magic. Back home, I run through my emails and hop on conference calls in the evenings when clients in NYC and LA.
I edit a lot at night and then sometimes head out to see friends who work in the bar down the street or grab a late dinner in a café to work on my writing or visit a friend. I'm always prepping to pitch new projects so when existing work is done I usually open Keynote and work on future presentations. I go to bed very late! My wheels are always turning at night.
You've been a freelancer and blogger for four years now! What advice do you have for women who want to do the same? 
In terms of blogging, I wouldn't encourage anyone to get into it these days for anything other than pleasure. I think it's a saturated industry that will need to inevitably restructure itself in order to be sustainable (at least as far as the individual is concerned). Blogging is a lot of work and I think that energy can be channeled into more directly profitable activities. But if you want to do it for pure pleasure then I say go for it; it's a great creative exercise.
I don't have it all figured out with work yet, but I would like to think I've learned a few things. Give yourself time to blossom—sometimes things happen fast, but other things take years to bloom. Also don't lose energy comparing yourself to others. Instead, spend it trying to do your best work and being more proactive. Treasure your clients and find a way to manage their expectations while still going out of your way to make them happy. Also, don't do jobs that pay you less than what you are worth unless you absolutely have to—it's never worth it in the end.
Be original, be authentic, and strive to create real value for the people you work for, whether it's a client or a customer. Put other people forward for work you think they are suited for and you will find the favor is often returned later down the line. Be frugal and stay optimistic in the slow times, ride the wave with grace in the busy times, and be thankful for the work you have. Promote yourself, but never shamelessly.
Work hard, wait, stay positive, get work, work harder, be thankful, repeat. Try to do your best in the moment, but never lose sight of the future. No matter how well my work is going, I am always thinking about the next move, articulating my next idea for a project, and taking preliminary steps to make it happen so that a few months from now I have choices and new work blossoming.
You have a column called Paris Rendez-Vous on Lancome's site. What is another favorite project/brand you've worked with?
This past summer I photographed Angela Niles' forthcoming book "Bright Lights Paris" that will be published by Penguin. We spent a week going everywhere in the city and we started as total strangers but ended up becoming great friends. It was so fun it hardly felt like work! She trusted me with my style and let the pictures come to life. I absolutely cannot wait to see how it turns out when it is published in September.
Another favorite project of mine was photographing La Vie de Nina for Nina Ricci. There was nothing quite like the feeling of walking into a top executive's office at TBWA and seeing my photos plastered all over her walls. It was really amazing.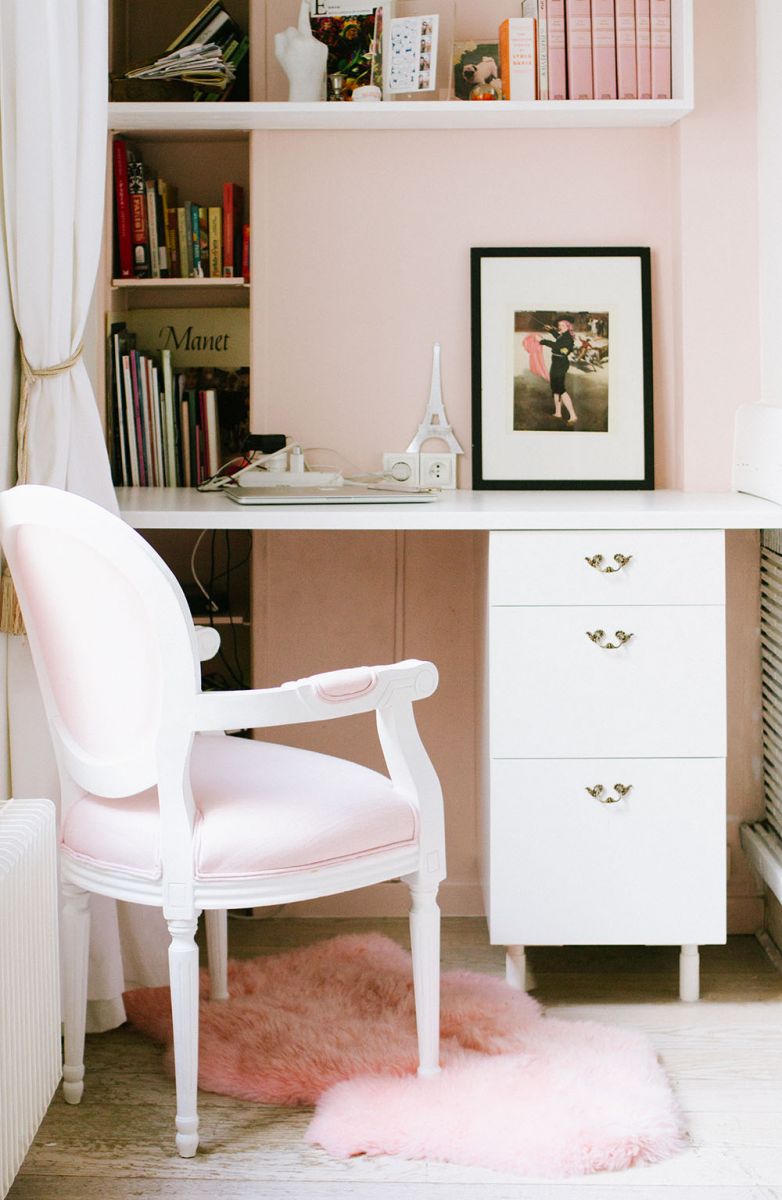 What are your favorite things about your neighborhood and living in the 4th arrondissement in Paris?
I love living just one block from the Seine River. I also love people watching here: sitting at my corner cafés and writing and watching all the characters coming and going. The Marais gets a lot of foot traffic because of its tiny streets. I also love that there is always someone in my neighborhood. I love getting a text message from a friend who's in the area and wants me to pop down for coffee or walk with them. It's a great way to punctuate the workday.
How did you find your apartment? And why this one? 
There's no multiple listing service in Paris, so I found mine the only way one can find a flat in Paris: First identify the neighborhoods you want to live in, and then basically spend all day walking around to individual real estate agencies looking at all the listings and leaving your information detailing what you're looking for. Then hopefully you can start doing visits.
I found my apartment very quickly, but I had studied the market and knew what I could and also what I wasn't going to get. Know what you can live with and without is important. And when you do find something you like, do not hesitate—places get snapped up immediately!
I bought this apartment because I knew I wanted to live somewhere with limited neighbors. There is only one apartment on each level of my building, so no one around me—I'm on the top floor and the couple who own the apartment below live in Provence most of the year. So it's very private and quiet while still in the heart of the city. I could only afford a small apartment, but I knew natural light and high ceilings were important to me. It also had an alcove up the stairs that I could convert into a closet space, which is hard to come by in Parisian flats. I am a strong believer that you know instantly walking into a place whether or not you could live there.
You gutted the apartment, moved the walls, and put your personal stamp on it. How did you come up with the layout and design for it?
Since it's small there were only so many possibilities but I saw it immediately as soon as I walked it. Logistically, I had to consider existing pipes because I wanted to move the kitchen area. My former landlord has become a good friend of my family and he knows all the workings of the historic buildings in the Marais. He helped me figure out what was architecturally sound with the walls I wanted to move and how to approach moving the plumbing. The day after I closed escrow on the apartment, I sat down with a paper and pencil and sketched out my kitchen and we went with the first draft!
What are the biggest challenges of decorating a Parisian apartment? 
In Paris, space is always a challenge, and the biggest was my kitchen. The sink and some of the appliances are less than the standard width—I had to go back 12 centimeters or so, otherwise the kitchen wouldn't have fit. Second was my front door—it's too small to get most furniture through so I had to be really clever. (That's actually why I don't have a proper couch!) The only ones that would fit through the door were ones from IKEA, as they assembled inside. But they are generic, so I opted for a daybed. But it's actually awesome because it's a great place to stretch out while watching a movie on my laptop and it can sit a lot of people on it. This was important to me because I have a friend in town at least 50% of the time and I want them to feel this is their home here in Paris, too.
What is your favorite part of the apartment?
I love my bedroom—it's so peaceful and calm. You can't hear a thing back there! I could sleep a century in there if it weren't for the UPS guy every morning with deliveries! It's such a calm and serene place to sleep.
Did you decorate on a budget? Where did you splurge and where did you save?
I knew I didn't want to spend a lot of money but I wasn't trying to cut corners. I splurged on my fridge because I knew that its place in the apartment meant it was going to be very visible from every viewpoint. I bought the rest of the kitchen from IKEA.
I did recently splurge and change my countertops to a nice marble though. It really made a difference in making the space feel a bit more modern and fresh. In general though, I didn't want anything to be too fancy—a walk up should maintain a certain amount of modesty.
What piece of advice would you give your 23-year-old self? 
For me, 23 was not that long ago. I'm only 26 now, but around 23, I really had to roll with the punches life was throwing me. It was scary and I worried a lot. I would tell myself to not worry so much, not to make expensive or rash decisions about life, work or my home out of impatience or fear. And that everything will be OK.
Where do you see yourself in five years? 
In five years I hope to still be working as an entrepreneur and growing the media production and media licensing aspect of my business. As much as I love beauty and fashion, which I work with mostly now in content production, my real passion is travel and people. I would love to hone in on working more with the travel industry and focus much more on creating video content, than photography and writing.
Ideally I would love to move away from my image as a blogger and be much more behind the scenes, creating work that is about brands and much less about my personal image. Secretly though, I sometimes dream of living an Internet free life and just moving to the country and becoming a cheese maker. Anything is possible!
I love Paris, and I'd like to be here at least some of the time. Hopefully, I'll still have a home here, but the truth is, I've fallen in love with the South of France. At a certain point, the appeal of living in the city wears off. It's cool to live in a hip neighborhood; there are always things to do! But as I get a bit older, I don't really care about being in the epicenter of activity. Gallery openings, cool shops, new restaurants, they're all nice.
But what I really love is the sun, nature, and swimming in the sea. It's very possible I might pick up and move to the south, either to Luberon or Nice and would like to spend most of my time there. I'd like to be in a place where I can have a dog, raise kids, grow a garden, and swim in the sea. I hope to still be working internationally so that I can travel and still have new experiences all the time, but I am really just a simple lady who wants to be in nature.
The south really feels like two homes brought together: the sea and sun of California where I grew up, but with the architecture and culture of Paris where I've spent all of my adult life. I have big plans and ideas for my business. I hope I can grow it in the next two years to extend beyond me as the single employee, which is why I recently incorporated it as Magique Media, but regardless of what happens, I hope to keep my life simple and beautiful.
Haleigh is The Everygirl…
Favorite pastry? 
Tropizienne
Guilty pleasure?
Netflix
Favorite travel destination? 
Lourmarin in the Luberon in Provence
If you could have lunch with anyone, who would it be, where would you go, and what would you order?
Bridgette Bardot at her house in Saint Tropex or a picnic at La Madrague
Describe a perfect Sunday in Paris?
Sleep in, leave my camera at home, take a coffee at La Favorite, walk along the guai (banks) of the Seine (which are reserved for pedestrians on Sunday), to Saint Germain and rendezvous with a friend and enjoy a snack. Enjoy some sun in the Luxembourg Gardens, forget about time and live in the moment, people watch into the late evening with my boyfriend, drink some rose and have my notebook by my side to write in when I feel like it!
Product Sources
Living Room
Antique daybed, Porte de Clignancourt
Antique mirror, Porte de Clignancourt
Chair, Maison du Monde
Lamp, Fleux in the Marais
Kitchen
Cabinets, IKEA
Fridge, SMEG
Bedroom
Antique bed, private seller in Versailles
Commode(?), Porte de Vanves Market
Small mirrored table, Porte de Vanves Market
Antique Louis XV Chair, Porte de Glignancourt Market
Curtains, handmade