If there's one thing about the holiday season, it's that at one point or another, you're going to see everyone you know. Family you haven't seen in a year, friends new and old, co-workers at office parties, past flings at your hometown bar, that girl you kind of knew in high school and aren't sure if it's weird to say hi when she's next to you in line at the grocery store—nowhere is safe. It's the season of being prepared to see anyone at any time, and having a few go-to holiday makeup looks under your belt will have you looking gorgeous and feeling ready for any and all occasions.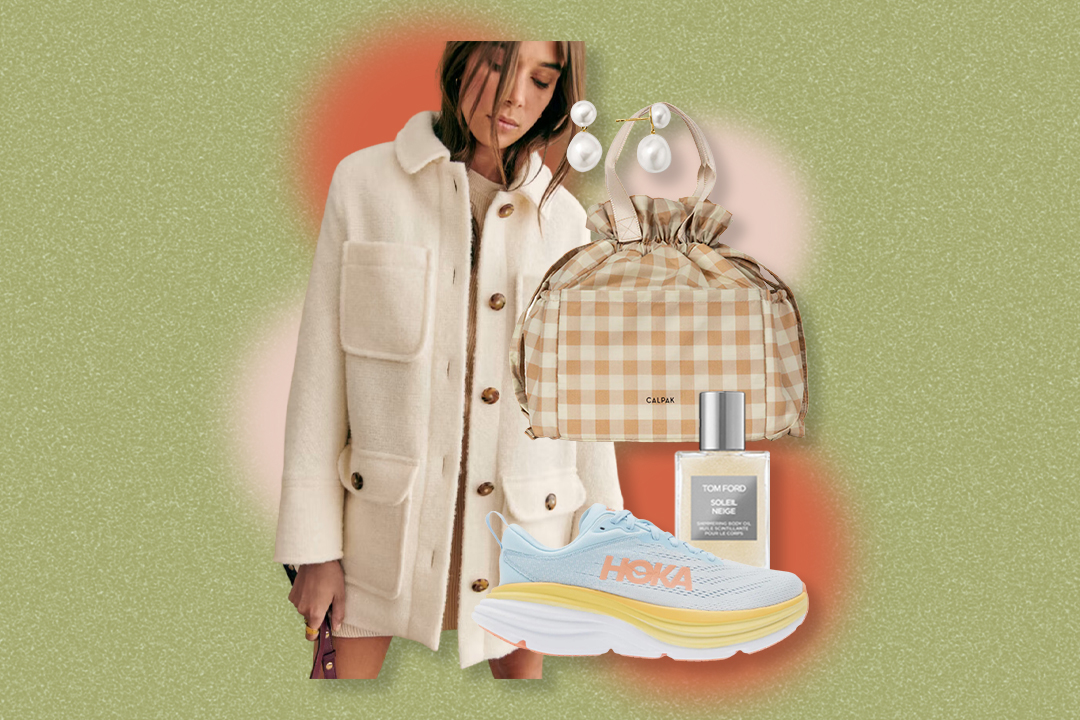 Fear not: holiday makeup looks do not have to mean drawing snowflakes on your cheeks and Santa hats on your eyelids (though if that's what you're doing, we bow down to you). This year, we want to pull looks that are on-trend, simple, and can work on repeat all season long. We dug into the never-ending mountain of beauty tutorials on TikTok to find the ones worth repeating this season. These 10 are festive AF, not too overdone, and are totally doable for beginners.
1. A Green & Gold Lash Line
Colored liners have been all of the craze in 2023, and this green-and-gold moment is a must-try for the holiday season. Add a wash of matte green to your lower lash line, then top it off with a touch of gold shadow or glitter. It's subtle enough to pull off at any holiday event, but out-of-the-box enough that it'll earn you endless compliments.
2. Classic Holiday Glam
Trends cicle through seemingly every few weeks in the beauty world, but a classic, holiday glam look will never go out of style. A simple eye, long lashes, and a bold lip—you really can't go wrong with this look for any and all holiday affairs. If you're looking for a timeless option to lean on, look no further. 
3. Cold Girl Chic
Trying to get the look of "I'm braving 30 degree weather" isn't necessarily a beauty trend I saw coming, but I'm definitely obsessed. Add an excess of berry-toned cream blush along your cheeks and nose to give a soft, feminine glow that looks like you just got in from the cold.
4. Simple Rhinestone Eyes 
No, using rhinestones in your makeup looks doesn't have to be as intense as Euphoria. Adding just a couple of gems to a super simple—or even bare—eye is an effortless way to channel a clean, cool-girl moment. Imagine this serve at a New Year's Eve party… absolutely yes. 
5. Smudged Eyeliner With a Glitter Shadow
Make undone, smudged eyeliner holiday-worthy with the addition of a light wash of shimmery eyeshadow on the lid. It'll make your eyes the star of your makeup look while giving "holiday cheer" rather than "I'm listening to Paramore again."
6. Minimal Makeup With Glowy Skin
With the cold holiday season comes inevitably dry skin, but you don't have to settle for a cracked or flaky base anymore. Prep your skin with moisturizing products, and use lightweight, glowy base products for skin that doesn't look like winter is wreaking havoc on it—even if it is. Complete the look with simple eye makeup and a touch of cream highlighter on your cheekbones.
7. A Wash of Single Eyeshadow
Lazy makeup wearers, it's your time to shine. A wash of liquid or cream eyeshadow with just a light layer of mascara to top it off gives you a MUA-esque look with almost zero effort. Trust me: There's literally no way to mess this one up.
8. A Shimmery Eyelid
There's nothing like a touch of glitter on the eye for the holiday season, and it's shockingly un-complicated to achieve. Apply a wash of a shimmery shadow to your lids with your finger, and blend the edges out with a brush dipped in a touch of matte shadow in a shade similar to your skin tone. The result is angelic, eye-catching, and totally stunning for the holidays.
9. Timeless Eyeshadow
If you don't necessarily love doing your makeup, but still want to show up and show out for all those hometown holiday run-ins, this is the video for you. This natural, easy eye look works for every kind of eye shape, size, and color. It's a fool-proof way for beginners to indulge in a little holiday glam.
10. Bold Red Eyeliner
If you're willing to get a little wild with your eye makeup, this red eyeliner is for you. I saw you in my hometown bar stunting this look with a matching red lip, I'd note the fact that you definitely did not peak in high school.