As much as I love and have perfected running a curling iron through my hair to produce a quick-styled head of curls, I can't help but cower in fear at the smell of burning hair or coming to the realization that I've run out of my favorite heat protectant. I have pretty thick, long hair, and keeping it healthy at this length is one of my top priorities. Enter: heatless curl methods. I've tried heatless curling methods before, mostly in high school or middle school with plastic straws (yikes) or scarves and robe belts. The results were never super great or long lasting, but a quick search today results in so many new methods and ideas.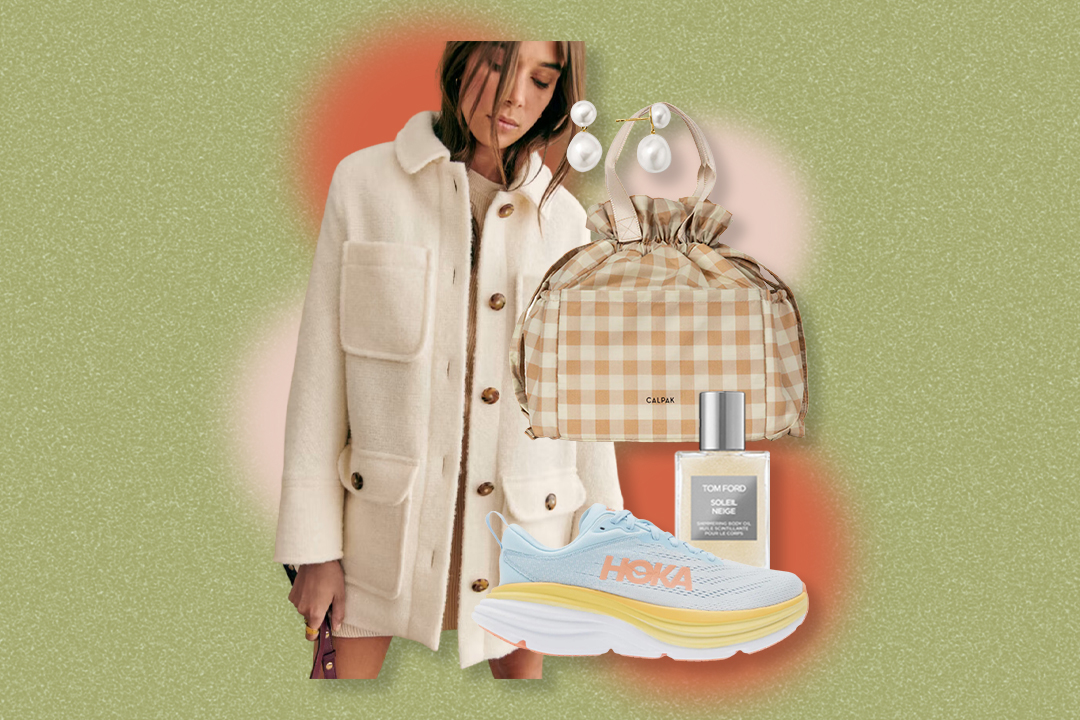 I was mesmerized by the mesh curlers I was seeing on TikTok and wanted to give the old methods I used a new try. Most of the videos I watched said to try these methods out on damp, washed hair, but I noticed that I got better results the dirtier my hair was and it lasted way longer.
Below, I embarked on a journey of trial and error, tears, frustration, success, and triumph. Follow along to see what curl methods worked best for me and what I would recommend most.
Type of Curl: Crimped Waves
Ranking: 1/5
I did half of my whole head with these before I realized that I had a whole other half of my hair left and no more curlers. Oops! These mesh curlers were definitely not thick-hair-friendly. I had to use extremely small strands of hair to thread through. With the hook that came with the set, you thread your hair through the curlers and pull through for them to sit neatly in the mesh. It took a little tinkering, but it was easy to catch on after a couple of tries. I ended up braiding the remaining hair that was left out of the curlers. I also had to double up because the curlers were too short for my long strands (that's on me though).
These weren't very comfortable to sleep in, but compared to the other curlers I used, they were only slightly better. The results were underwhelming, which disappointed me because I was most excited to use these curlers. Some strands of hair seemed more crimped than others, though I put them all on the same. If you want to achieve this look, I'd suggest just braiding your hair and sleeping in it overnight instead of using this method (a single dutch braid and some hairspray is my personal favorite). However, if your hair is finer or shorter (as opposed to thicker or longer), I do think this method would be a bit more successful and fun to explore.
Type of Curl: Tight and Bouncy Curls
Ranking: 2/5
I cried when trying to figure these out. I was so excited to try these when they came in the mail, but it took me multiple days and countless hours into the night. But they did come in a cute clear carrying case adorned with tropical flowers, and I'm a sucker for cute packaging.
Initially, I hooked a piece of hair at the top of my head to the hook that came with the curlers. Yes, a hook! You needed a hook to essentially thread your hair through the hollow curlers. It was not simple to understand, at least for me. I learned quickly that the more hair you used in your strand, the less it works, as all your hair will get bunched up and stuck halfway through the tube. This was a major issue because I have a lot of hair. If I had to use extremely tiny strands of hair, I knew I was going to have to use an excessive number of curlers. But nevertheless, I dove right in.
Another one of my initial issues was that when I pulled my hair through the curler, it literally felt like I was being scalped. Finally, after a night's rest and multiple videos sent to my best friends filled with tears and deep-breathing exercises, I dove back in. I wet my hair a bit and put some leave-in conditioner in to make it easier to work with. Instead of just hooking my hair in all willy-nilly, I twisted the root and hooked the twisted piece at the top of my head in the hook, then threaded the strand through horizontally instead of vertically. It worked! It took me 30 minutes to do one half of my head and 10 to do the other after I got the hang of it. I had maybe 30 curlers in my head at least.
After going through all that, I was at the point where I'd rather just reach for a 0.5-inch curling iron. I don't know what was worse: sleeping in these curlers or trying to figure them out. If I had to pick, I think I'd say sleeping. It was impossible to get comfortable—there was practically no use for a pillow. The minute I woke up, I was ripping them out. I couldn't do it fast enough. But as much as I hated the process, I really loved the results. My mom has a head full of curls, and these looked exactly like her tresses I have always envied. I separated them and combed through them a bit, and they were so bouncy and full. I do wish that I had also curled my bangs because they looked weird compared to my really curly head. I'm not sure I would do these curls again, but after the reception of everyone around me, maybe I'd reach for the difficult spiral curlers again. The curls were beautiful, but unless I really, really wanted these curls for a specific day or look, the process was just way too much.
Type of Curl: Loose Waves
Ranking: 3/5
This method took some figuring out. All the videos I watched made it look so easy and simple, with results similar to loose waves. I clipped the sock to my head and began. Essentially, all I had to do was French-twist my hair around a sock on each side of my head, with the toe side at the top of my head and the opening at the bottom. Most videos suggested I use a fuzzy sock, but I found I ran into issues with slipperiness. I also think my sock was too small. After twisting your hair in each sock on each side, you're supposed to grab the end of the sock and pull it over your sock braids to secure them. This didn't work out so well for me, so I just went to bed and hoped for the best, not feeling too confident about what the results were going to look like. The next morning, it was no surprise that the socks were almost out of my hair. I removed them and found my hair to be a mix of waves, a curl or two, completely straight pieces, and frizzy, messed-up strands. It mostly looked like I slept in a bun where half my hair produced some cute waves and the other half was sitting weird under where it was secured and got all frayed.
It didn't look bad and I still went out for brunch with a friend, but with the wind and 20-degree weather, the curls/waves didn't really last. I don't think I'd try this method again unless I'm figuring out a new way to refine and perfect it.
Type of Curl: Wand-like Waves
Ranking: 4.5/5
I'd tried this method before a while back, but I somehow ended up with two giant Princess Leia-esque buns on the side of my head that were a pain to sleep in. After watching a couple more tutorials, I went back in and retried this method, where you use the belt of a robe to give yourself perfect waves. Using the robe belt was basically like a more secure version of the satin-tube method I also tried out.
The trick with this one was to use a claw clip to secure the belt to the top of your head (clips are key with these unconventional methods!). After securing your clip to the top of your head, you French-twist your hair on each side of your face around the robe. I was able to twist my hair around the belt tighter than the satin tube and secure it in two mini space buns at the nape of my neck. When I woke up the next morning, the "buns" were still perfectly intact, and no hair was hanging out as they did with the silk tube. Taking the belt out, I saw quickly that these curls were way different from the tube curls. They were tighter and there were a lot more. It also gave my hair tons of volume, which I was pleasantly surprised about. With a quick spritz of dry shampoo, I was on my way for the day.
These curls lasted until very late into the night. You know when you're about to shower and your hair looks the best it's ever looked? That's what happened with these. I didn't even want to wash my hair! Though these curls were really pretty, I still think that the satin tube was easier and comfier to sleep in, but if you're looking to get drop-dead gorgeous, heatless curls with something you most likely have, this one is one I'd highly suggest.
Type of Curl: Beauty Queen Curls
Ranking: 5/5
I've seen this curl method all over TikTok lately. Most demonstrations produce beautiful curls that look like a salon professional did it. You wrap your hair around the silk tube French-twist style, sleep with the sausage-like tube overnight, and remove it in the morning. The initial process is almost too easy; it takes maybe five minutes or less. I did notice that my hair was slipping off the tube after first putting it on, but it's not difficult to remove it and wrap it again more tightly. Waking up the next morning, the tube was practically hanging off of me like a cape. This made me nervous because I didn't think the curls would still turn out as good. But thankfully, I was proven wrong.
After removing the tube (which wasn't difficult at all) and shaking out my curls, I saw that all the TikToks were right. I combed through with my fingers, and my hair looked so silky with perfect beach waves. I did notice, however, that because the front pieces of my hair that frame my face fell off of the tube, most of the curls only fell at the bottom of my hair. That was OK, though, because I still had perfect curls that took the least amount of effort.
One thing I was wary about with heatless curls is knowing that they don't last as long throughout the day as curls used with heat. Thus was the case with these, unfortunately, as the curls were flat and gone after a busy day out and about. Nevertheless, when I stayed in the whole day and just did errands around my apartment, the curls lasted all day. With these, it's really the elements versus your hair. I had sent my sister a Snapchat of the results early in the day, and she texted me, "OMG, your hair looks so good today, like a beauty queen." If it's sister-approved, you know it's a good product. I see myself using this every day.