There are some women with design talent (and good taste) so natural, it seems nearly impossible to replicate. Their homes, closets, and even day planners are coordinated, stylish, and put-together. For many of us, that may never be a reality. For Sarah Sherman Samuel, it's all a part of her day job — as a designer, content creator, and now cabinet collaborator, Sarah infuses life and beauty into everything she creates. The best part? Thanks to her new partnership with Semihandmade, you can take her beautiful style home with you and customize any ikea piece (all on a budget).
Sarah chatted with us about her career trajectory, the lessons she's learned from working for herself, and all the details about this soon-to-be-iconic cabinetry collaboration.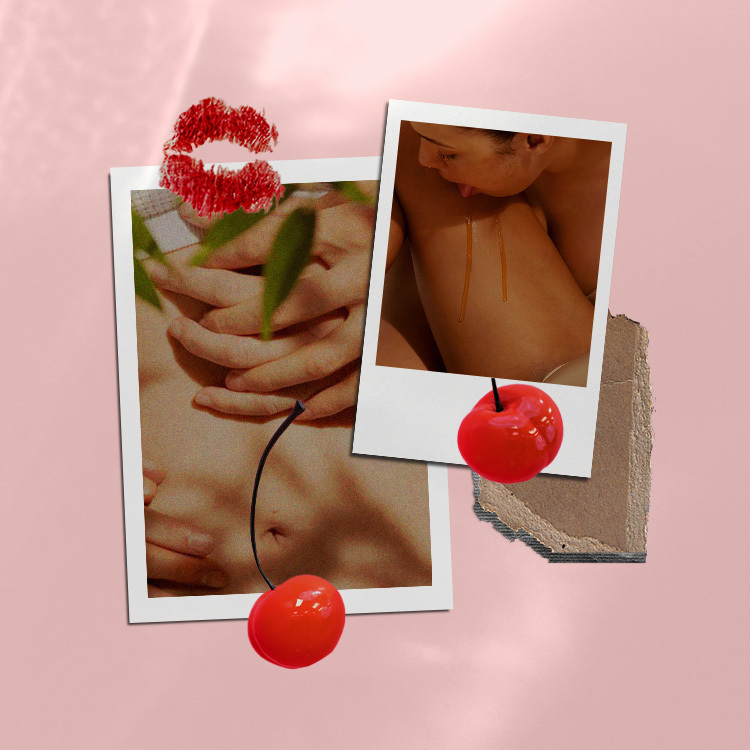 spoiler alert: it's not too good to be true
We are so excited about your collaboration with Semihandmade, a super chic cabinet door company. Tell us about the collaboration and collection.
I designed the cabinet door style to be a modern version of the classic beadboard, and it comes in eight new signature colors. I wanted to bring my modern version of the beadboard to market because of its clean design and its versatility. It can easily fit into a farmhouse style home paired with an apron sink and more traditional hardware while still giving the space an updated look. And it works equally as well in a very modern space with cleaner lines and pared-down details. The simple geometry of the vertical lines conveys a clean foundation without a lot of decoration but just enough detail to add some texture and simple pattern to the room. They have the ability to fit into kitchens of a range of styles depending on what they are paired with.
A few of the colors I knew I had to have (as they turn up in my client work and my own home so much), like the blush pink (blush) and the dark green (juniper), so I specified those. From there we of course wanted to make sure we had to all the basics, white, black, off-white, etc., and then I worked closely with Semihandmade to choose the rest of the colors from thermafoil samples. There is a warm grey (desert grey) which is close to a khaki color, and another favorite is Agave, which is similar to my original cabinet color but reads more blue.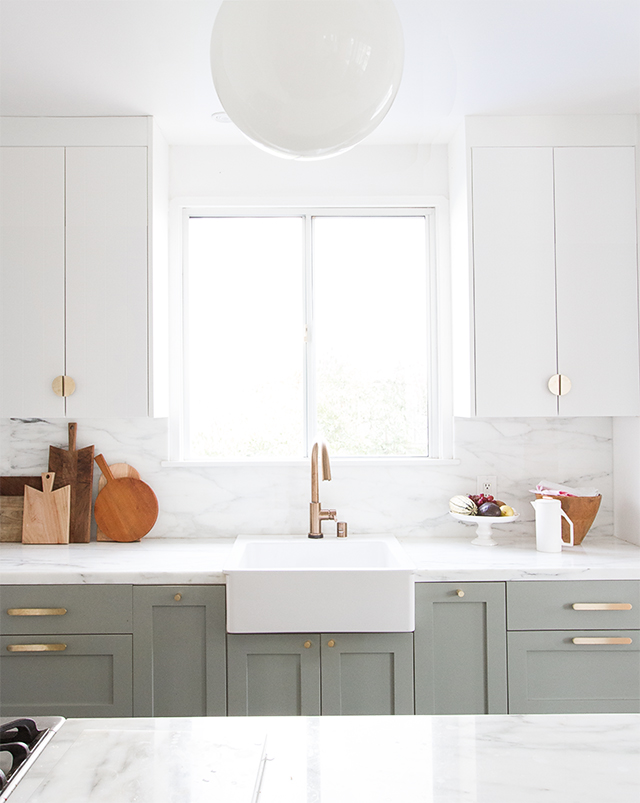 How did this partnership with Semihandmade come to be? What do you like about Semihandmade, and why was the brand a natural partner for you?
After working with Semihandmade first on my own kitchen, I fell in love with the product and the innovation behind it. We had just bought a house and were doing extensive renovations, adding square footage as well as a bathroom, so we were stretching our budget pretty thin. By taking on the kitchen renovations ourselves (including demo, cabinets, etc.) we were able to get the kitchen of our dreams without compromising, and Semihandmade was a big part of making that possible. By utilizing the Ikea kitchen cabinets, we were able to assemble them ourselves and still get the high quality doors we wanted from Semihandmade, as well as all the extra trim and filler pieces that you can't get from Ikea to make it look like a completely custom kitchen.
From there I also realized it worked perfectly for a lot of my clients as well, even if they are not into the DIY aspect that I was. They are able to choose one of their pre-finished styles and coordinate an installer at still a fraction of the price of a fully custom kitchen.
It was when I was designing a kitchen for a client that wanted to use Semihandmade in their kitchen that I came up with the idea of designing my own front and proposed the idea to John with some drawings and a rendering. That was about a year ago now. I proposed the modern take on the classic beadboard, and John and his team produced it exactly as I imagined.
Your doors pair with IKEA cabinetry, credenza, and consoles. Why IKEA?
In the words of John, founder of Semihandmade, "Our goal at Semihandmade is to offer handmade craftsmanship to the widest audience at a reasonable price. It's really not that different than what Ikea is all about, we're just doing it on a much smaller and more custom scale. Ikea kitchens have always gotten rave reviews from places like Consumer Reports and JD Power, and their modular, easy-to-assemble boxes — ripe for upgrades and hacking — make them the perfect platform for our doors."
Sarah, you used to work at an awesome fashion paper product company with a line at Target. What experiences did you have there that you now see as most valuable or memorable?
I wore a lot of hats as I was their first full-time employee, and at the beginning we were a small start-up (just me and the husband/wife team owners). I was able to see first hand, and be a big part of, how to grow a company from just an idea into a thriving successful business. The aspects of the job that helped prepare me the most for what I do now were: managing the art department (once we grew I was hiring and managing artist, illustrators, designers, photographers, etc., which was great experience for managing my own studio), creating art prints and pattern (this gave me great practice for creating the prints and patterns on my own line of products).
A big part of my job was research, and just to be in the know in all things design which helped me find my own aesthetic and place in the design world, and finally designing and developing the product itself, analyzing sales and market trends all gave me the upper hand when starting my own creative studio.
While at this other company, you were creative director of the line for Target. What was it like to have such a hand in creating product for such an iconic store?
It was SO rewarding creating something that usually started with a sketch and working with it to go from flat artwork, to mock-up products and then production sampling, all the way to full production and then finally seeing my work in a store that everyone knows.
After this company, you decided to break out into business on your own. What spurred that decision?
The company I was at was thriving and we were becoming a well oiled machine. We did the hard part of breaking into Target and growing to a full line, and we learned what sold and what didn't — which are all great things. However, with that, a lot of the creativity is lost. Instead of creating something new you end up trying to do different renditions of the same, which, for me, stunted my passion for creative growth and pushing to get better and better. I also always knew eventually I would want my own business, and once I started having to look elsewhere to create work I loved, I knew it was time to go out on my own.
What went into the planning process as you were transitioning into working for yourself?
First thing I did was start my blog on the side. I would work all day and then write the blog at night. We started renovating a cabin in Michigan at the time, so it was the perfect time to start tracking those renovations. I didn't see blogging as a business at the time, but I knew it would only help to create a platform for the design studio I wanted to create. Little did I know that the blog would take on a life of its own as well!
Secondly, I started slowly chipping away at creating my own line of products completely different from what I was doing at the day job. I wanted to work with wood and fabric, and materials that last instead of paper. Working on the side of an already demanding job was hard, but I didn't have kids at the time so I did a lot of working around the clock.
And finally, I also made sure to save up enough money to make sure I could give myself a good amount of time before I had to panic and find another job if things didn't take off right away. I gave myself almost a year cushion.
What was the hardest part about the transition?
Transitioning from working full-time (a traditional 9-6+) to working for myself at home was a huge adjustment. It took a lot of time to find a healthy live/work balance and sometimes I still fail dramatically at this. But when I do, I did it by tackling my to-do lists and not beating myself up if I didn't finish everything. Each day I make a new to-do list and carry over anything that remained from the day before. Then I prioritize the tasks and start on the most important first. There is only so much time in the day and sometimes you won't get to it all. The other thing that helped me through the first year was making frequent lunch dates with other friends that work for themselves or own their own businesses and surrounding myself with people that filled me up creatively. It can get lonely/boring working by yourself, so lunch dates were key!
How would you describe your personal design style?
I would describe it as relaxed but edited, modern meets vintage, and I always strive for something a little unexpected.
Where do you find inspiration? Where should anyone lacking creative inspiration look for it?
I know it is cliche to say I find it everywhere, but it is true. You can find it in the most unexpected places. If I am feeling uninspired, I like to get out in nature and clear the mind, or go shopping around town, travel, watch any Wes Anderson film, read magazines, take photos, visit a library… the list could go on forever.
What's the best advice you ever received?
Take small steps every day towards your goal.
What advice would you give to your younger self?
That all the hard work will eventually pay off.