Four letters, one word, and instant dread: Acne. At some point in most people's lives—whether in middle school, high school, or adolescence and beyond—they've had to deal with unwanted blemishes on their skin.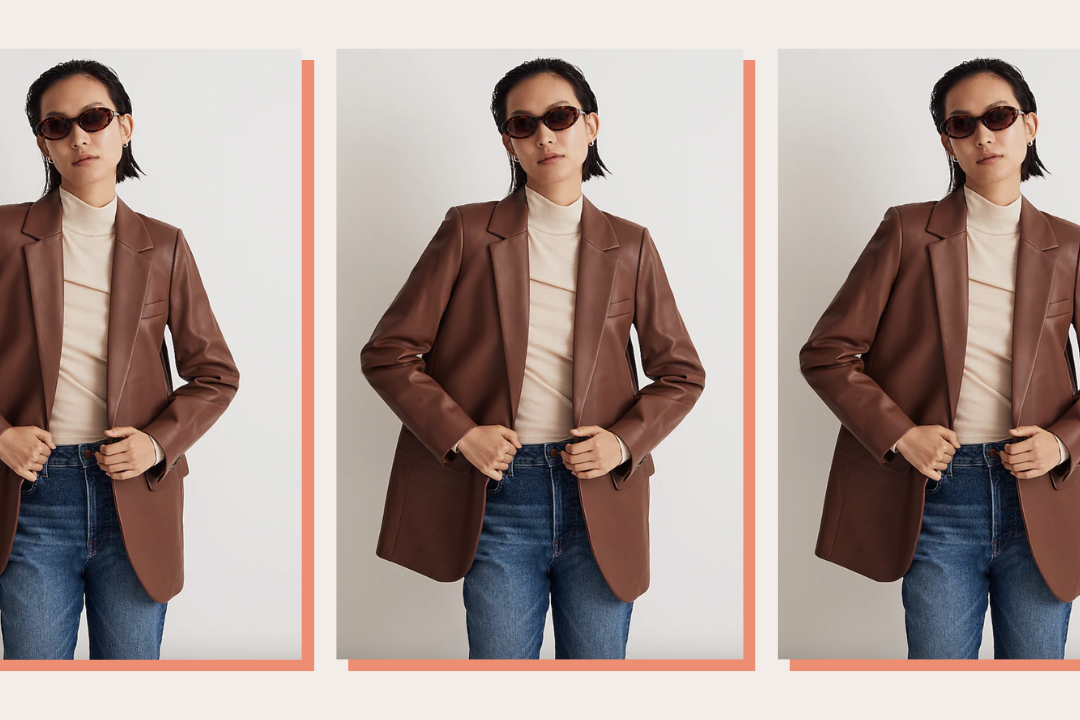 time for your fall wardrobe update!
Acne, unfortunately, comes in all shapes and sizes, including pesky whiteheads (which are closed clogged pores or hair follicles that are inflamed), blackheads (which are open clogged hair follicles that are filled with excess oil and dead skin), papules (which are small, red, inflamed bumps on the skin), pustules (which are similar to papules, but they have white or yellowish centers that contain pus), nodules (which are severe forms of acne that are usually characterized by large, painful, solid bumps), and cysts (which is a type of inflammatory acne that causes deep, painful, pus-filled pimples to form underneath the skin)—all of which can lead to uneven skin texture, life-long scarring, and worst of all, a lack of confidence.
Not to mention, acne can appear all over the body and face, specifically on the forehead. Luckily, there are a handful of easy and effective ways to stop acne above the brows once and for all. Ahead, learn more about the best tips and tricks as well as top-rated skincare products that will banish blemishes.
How to Get Rid of Forehead Acne
No matter what kind of forehead acne you suffer from, there are guaranteed ways to get rid of it.
The first and perhaps most important step is to wash your face twice a day with a gentle cleanser that's suited for your skin type. A good cleanser will purify, exfoliate, and deeply clean your skin from the inside out, ultimately reducing excess oil production and cleansing pores. Some of our favorite cleansers include the Murad AHA/BHA Exfoliating Cleanser for oily skin, the La Roche Posay Toleriane Hydrating Gentle Face Wash for dry skin, and the Tatcha The Rice Wash Skin-Softening Cleanser for combination skin. If you have really oily, acne-prone skin, look for a cleanser with benzoyl peroxide or salicylic acid, such as the PanOxyl Acne Foaming Wash.
Once you find a cleanser that caters to your skin, it's important to exfoliate a few times a week. A non-irritating chemical exfoliant will clean out pores clean and keep them free from clogs. Some fan-favorite exfoliants include the Paula's Choice Skin Perfecting 2% BHA Liquid Exfoliant as well as the Dermalogica Daily Milkfoliant Exfoliator.
Paula's Choice
Dermalogica
And, no matter how oily or acne-prone your skin might be, it's important to keep it moisturized. This is because keeping your skin hydrated will ensure your glands don't produce too much oil. Some top-rated moisturizers include the TULA Skin Care Breakout Star Acne Moisturizer, the Cetaphil Moisturizing Lotion, and the CeraVe AM Facial Moisturizing Lotion.
Cetaphil
To really stop acne before it starts, try using a retinoid. Retinoids help unclog pores and keep the skin healthy. You could also opt for a product with retinol since retinol benefits the skin in a number of ways including increasing collagen, exfoliating the skin, and encouraging cell turnover. You could opt for a serum (like the Dr. Dennis Gross Skincare Advanced Retinol + Ferulic Texture Renewal Serum), a moisturizer (like the StriVectin Advanced Retinol Nightly Renewal Face Moisturizer with Retinol), or a face mask (like this Azure Skincare Retinol and Hyaluronic Sheet Mask).
Dr. Dennis Gross Skincare
StriVectin
What Causes Forehead Acne
Plain and simple, the most common cause of forehead acne is due to clogged pores. Here's the scoop: Our faces produce oil, also known as sebum. Sebum, which is created in tiny oil glands called sebaceous glands, hydrates and protects our skin. This oil gets from our glands to the surface of our skin by going through our pores. However, if our pores are clogged with dirt, makeup, and dead skin cells, the oil becomes trapped. When this happens, bacteria grow inside the pores, and pimples are created. To make matters worse, there are a few factors that can lead to an increase in clogged pores. Ahead are the main things that cause forehead acne.
Excess oil production
Hair products
Hats and/or headscarves
Changing hormones
Sweat
Makeup, dead skin cells, and dirt that's on the skin
How To Clear Up Forehead Acne
Identifying the Triggers
Being aware of what triggers your forehead acne is a great way to stop it before it starts. For example, if you know you have oily skin, be sure to find products that don't increase oil production. (Pro tip: Look for oil-free skincare and makeup products.) Additionally, if you tend to wear baseball caps to work out in and often sweat, this habit could be triggering your acne. To avoid that, be sure to keep your forehead exposed during workouts or walks, and be sure to wash or cleanse your face following any activity that causes you to sweat. On the other hand, if you tend to break out before, during, or after your period, talk to your doctor about prescriptions or other medications that might work well for you.
Switching Up Your Skincare Products
Knowing your skin type (dry, oily, or combination) will help you take better care of your skin, and in turn, lessen acne breakouts. Be sure that your skincare routine has products that cater directly to your skin type so you can ensure you are giving it exactly what it needs to stay healthy and zit-free. Additionally, if you are using products that are breaking you out (like products with oil or irritating ingredients), toss them immediately and find items that are safe for your complexion.
Exfoliating Regularly
Exfoliating your skin is essential when it comes to removing dead skin cells, unclogging pores, and ultimately preventing acne. You can exfoliate your skin with a range of different products including liquid, gel, powder, or scrub options. (More on these later.) It's best to exfoliate your face two to three times a week, and the key here is to be gentle. Do not aggressively scrub or rub your skin. This will only cause irritation.
Using a Gentle Cleanser
A good cleanser is one of the main products that can help clear up forehead acne. For best results, look for a cleanser that's suitable for your skin type. Once you find one, be sure to use it twice a day, morning and night. If you work out or sweat during the day, you can wash your face more often as needed. Just be sure to moisturize after so you don't dry out your skin.
Washing Your Hair Regularly
It's a fact: Your hair is close to your forehead. Because of this, it's important to keep your hair clean in order to keep your face clean. Be sure to wash your hair regularly and keep it away from your face. This will ensure hair products, oil, and buildup don't end up on the skin.
Making Dietary and Lifestyle Adjustments
If you're doing all the right things (i.e. you have a good skincare routine, you exfoliate, etc.) but you're noticing that you still struggle with acne, you might need to make some dietary and/or lifestyle adjustments. First, take a look at your diet and see what could be causing your skin to break out or become inflamed. Perhaps you have a gluten or dairy intolerance, which could be why your skin is breaking out. On the other hand, maybe your lifestyle is in need of a change. Ask yourself these questions: Are you getting enough sleep? Are you exercising at all? Are you under stress? Once you have the answers to these questions, you can work on adjusting your lifestyle to better suit your skin.
Seeking Medical Advice
If your acne won't budge no matter what, this could be a sign that you need to seek medical advice. The best option is to talk to your primary care doctor and/or your dermatologist. They might be able to get to the root of the problem as well as prescribe you a medication that will work.
6 Best Products For Forehead Acne
Finding the right skincare products to address, target, and treat forehead acne is crucial for keeping skin clear. Wondering which products are the most effective? We narrowed down the six best skincare products on the market that can tackle forehead acne.