A sex drought is real, and it can happen when you're single or in a long-term relationship. Busy schedules, self-confidence issues, stress, and more can make adding "sex" to your night routine a little difficult. Because we're all about giving you the tips and tricks for the best sex ever (I'll say it again, our sex archives is my claim to fame!), we're laying out all of our secrets for having more sex this month and boosting your libido once and for all.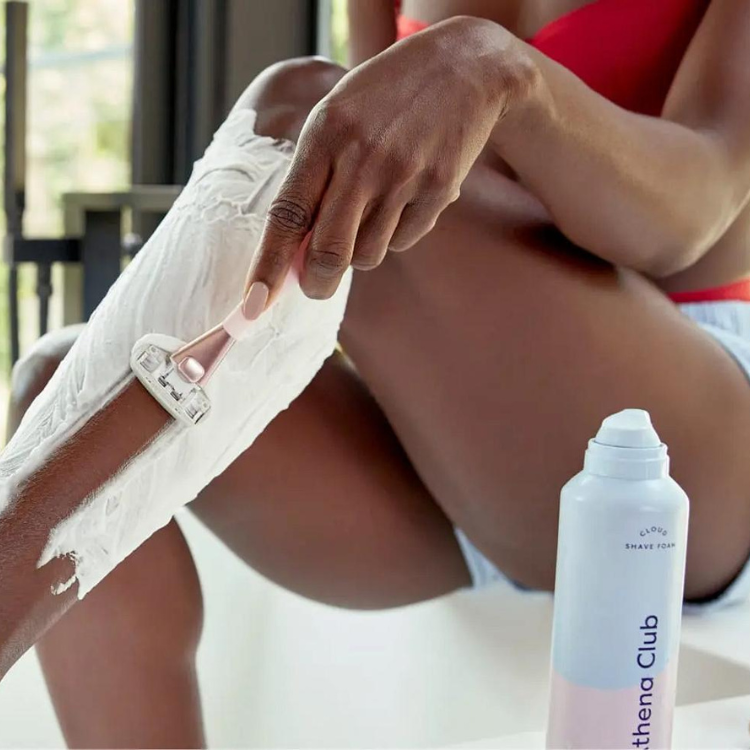 "This razor gave me the silkiest, smoothest shave I've ever had! I never get any cuts or scrapes, even on those hard-to-shave places."
Find a supplement that does it all 
Regardless of your relationship status, it can be lonely and honestly frustrating to experience low libido. However, no need to fret, this happens so much more than you think. And it can be an easy fix if you know the right thing to do. Often, a sex drought can all be due to low libido, and there could be so many factors leading to your disinterest in the bedroom. That's why finding a product that tackles more than just the surface level issues is so important, and Rae Wellness's supplements do it all.  In The Mood is a blend of adaptogenic herbs and vitamins that all serve a purpose to boost your mood and increase your sexual well-being. It's made especially for women because female sex hormones and the ways we become aroused are inherently different from men. With L-arginine for blood flow, ginseng and ashwagandha to ease stress and anxiety, maca for energy and vitality, vitamin D which can potentially boost mood (especially when you get into the cold weather slump!), and taurine to boost energy naturally, In The Mood is a natural product to incorporate into your routine to help all those areas low libido can typically come from (such as stress, poor mood, exhaustion, and more). 
Rae Wellness
support and fuel sexual health
  The positive reviews all rave about the same thing: it just works, and that's exactly what you want in a wellness product. With so many products out there claiming to change our lives and cure our ailments, trusting a new brand is difficult. Rae Wellness understands that mindset in 2019, so they created supplements that were backed by science and evidence, are safe and effective, and are easy for your body to absorb. No more waiting months and months for it to start taking effect either; one reviewer said she noticed an increase in her libido in just a week. We'll take it!  Rae Wellness is more than just a nutrition company — they're focused on building confidence, wellness, and health for all women. They believe wellness should be accessible and doesn't have to be a privilege for some; so, their supplements come in at $14.99 for a month's supply, meaning you can have more sex this month for close to what you pay for Netflix now. I'd say that's a fair price for less stress and more sex for sure.   
Focus on minimizing stress
If you're trying to increase the number of days you're marking off on your sex calendar (what? You don't have one?!), tackling stress and anxiety should be high up on your list. When we're stressed about work, family drama, finances, friendships, and just day-to-day life admin work (hello, yes, I did miss sending out three birthday cards and two RSVPs last month!), the last thing we want to think about is doing anything but sleeping in the bedroom. Sex becomes another task on your to-do list, making it lose its appeal and in turn causing you to resent and lose interest (and here comes the sex drought!). Rae Wellness focuses on more than just sexual health, and their DeStress supplement is a no-brainer when it comes to limiting the stress you're dealing with this month. It's chock full of natural stress relievers and fighters, such as L-Tyrosine for a clearer mind and focus, Rhodiola Rosea root to fight physical and mental fatigue, and GABA which can potentially balance your mood and promote calmness and clarity. You'll have the tools to fight stress from the get-go, making it easier to come home and think about intimacy instead of what's going on at work. 
Pay attention to how low libido is affecting your life outside of the bedroom
Low libido can hurt more than just your sexual satisfaction too; it can dull your relationship, make stress feel even worse (because sex is one of the best ways to relieve stress), and lower your overall mood. Then, all those issues just end up in a cycle of worry and bad days, and then you really won't want to have sex. However, with In The Mood, you'll notice a difference in more than just the bedroom. Because it focuses on boosting your mood and decreasing stress and worry, you'll feel it during the day too. And once you can tackle those issues, you'll be having more sex in no time.   
Talk to your doctor
If you're seriously struggling with your libido and have been for a long time (more than six to nine months), make an appointment with your doctor. While it could be day-to-day stress getting in the way, it could also be a medication you're taking, hormones, mental health, or other things that require seeing a doctor. We know it can be awkward, but once you have an answer, you'll start to feel better before you know it.   
This post was in partnership with Rae Wellness, but all of the opinions within are those of The Everygirl editorial board.