Eating clean has always been something I dabbled with. My friends would say I'm pretty healthy, and I like to live by the 80/20 rule when it comes to "good" choices versus "bad" ones, but there's definitely room for improvement. And though I've always been a bit scared of going fully clean (what did that even mean?!), I've been equally intrigued.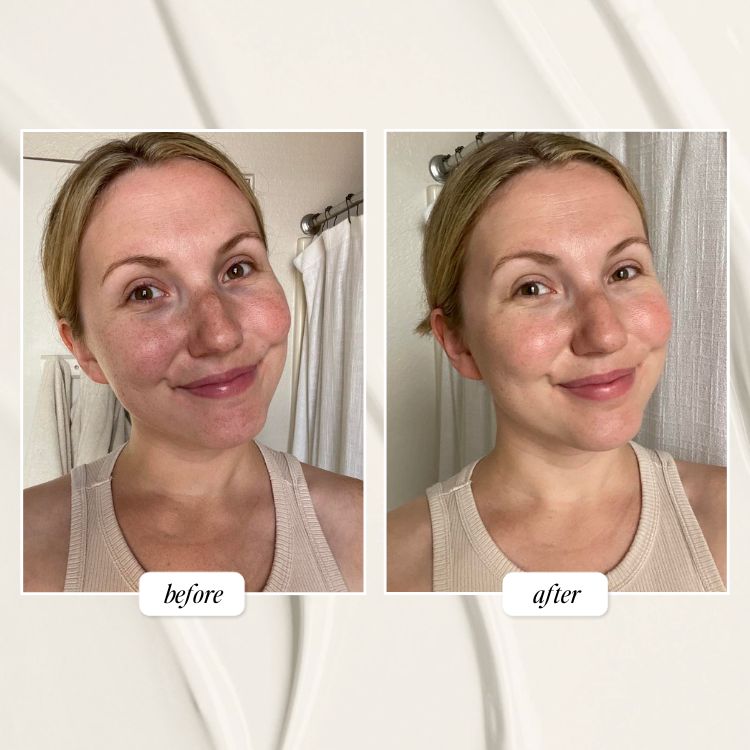 With my wedding looming, I decided it was the perfect time to finally dive into the clean eating world and commit to a two-week test. But before I get started down that path, let's begin by answering what the heck eating "clean" actually means — or what I took it to mean.
If you ask a handful of people what clean eating means to them, you'll probably get a handful different answers. Some might say it means eating all organic, others will tell you it's eating a plant-based diet. For me, it means eating whole foods that I mainly buy in the produce section of the grocery store — aka veggies, healthy carbs and fats, and fruit. I also wanted to cut alcohol, caffeine, and refined sugar during this time, so count wine and coffee out as well.
READ: What Does "Eating Clean" Even Mean?
Okay, now that we've got that cleared up, back to my two-week clean eating journey.  I figured it would be easier if I put some thought and organization into it, so I looked up some recipes and wrote up a grocery list, which looked like this:
Clean Eating Grocery List
Carrots
Broccoli
Cauliflower
Spinach
Avocados
Bananas
Hemp seeds
Chia seeds
Onions
Tomatoes
Black beans
Hummus
Chipotle peppers
Avocado oil
Extra virgin olive oil
Unsweetened frozen fruit blend
Cashews
Quinoa
Semolina pasta
I felt prepared and ready, and so with two weeks until the wedding, my clean eating journey began. Here's a breakdown of how it went – highs and lows included.
Source: @hummusapien
Initial Thoughts
The Negative
Like most starting a new diet, I struggled a bit. All I could think about was what I was missing out on (see: bread and cheese). I also never knew I had FOMO (fear of missing out) before this experience. I felt this way because if friends, or even my now husband, asked me to go out to eat, I had to say no because I wanted to know exactly what was going into the food I would be eating. And as someone who finds joy in trying new restaurants and foods or hitting up the new brewery in town, this sucked.
Also, as someone who doesn't drink too much caffeine but usually has a cup in the morning, the caffeine withdrawals were real. I had a nagging headache for the first two days and even had to take a nap on Day 2 (this is where working from home came into play big time).
The Positive
The bloating I usually experience after heavier meals almost instantly went away. I also tend to wake up with a puffy face, and literally the morning after one day of going clean, my face looked lean and just…healthy. Same with my stomach. I also just felt happier almost instantly. Though I'd have a headache by noon, there was peace in mind knowing everything in my body was healthy (aka no late night ice cream guilt).
One of my favorite go-to's for filling lunches was boiling about 52 grams of semolina pasta (a wheat noodle that's high in protein) and blending up some cashew cream sauce. I've seen lots of food bloggers make dishes like this, but I kind of just made mine up as I went.
Ingredients
52 grams of semolina pasta
1 cup raw cashews
1 cup water
¼ avocado
1 tbsp hemp seeds
salt, pepper, and additional seasonings of choice (optional)
Instructions
Soak one cup raw cashews in a bowl of water overnight to let soften (if you're more pressed for time, you can also boil the cashews)
Bring water to a boil on the stovetop and cook semolina until al dente (about 8 minutes)
Drain and rinse soaked cashews and add to blender
Add one cup fresh water to cashews and blend for several minutes until creamy
Once noodles are cooked, pour half the cashew cream mixture over noodles (save the rest for next time)
Mix and season with salt, pepper and whatever seasonings you enjoy—I liked adding red pepper flakes or oregano
Slice ¼ avocado and add to top along with hemp seeds
This meal is so, so good! I'd usually eat with a side of roasted veggies or a quick spring salad.
Source: @headstandsandheels
Forming a New Routine
After the first three or four days, I felt like I was starting to form new habits and I wasn't missing the pizza or nightly glass of wine as much. Making time to meal prep and cook on a daily basis was starting to feel like my new normal, which I thought was crazy after only a handful of days. This was the exact kind of thing I hoped would happen because ultimately my goal was to create some new, sustainable (major emphasis on this word) eating habits.
For example, keeping things ready to go in the fridge like this chunky avocado salsa. You see, I'm from San Diego and crave chips and salsa on the regular, so this was my healthy version. I paired the homemade salsa with corn/black bean/flax seed chips to keep things clean, and it always hit the spot (which I found really helped, instead of forcing myself snacks that I didn't actually love).
Discovering New Favorites
One of the best takeaways from this experience was discovering new foods. I added so many things to my weekly and daily meal rotation that I never thought I liked or had tried before. One of the magical foods I discovered was hemp seeds. I'm now addicted to these and throw them on everything. They pack such a healthy punch with tons of protein, healthy fats and omegas, and they make me feel fancy. I usually added a few tablespoons to the daily green smoothie I started drinking (I'm basically Popeye now with all the spinach in these things).
The recipe for my green smoothies varied throughout the two weeks, but the gist of it is as follows.
Ingredients
2-3 cups spinach
¼ to ½ cup unsweetened frozen fruit
Squeeze of fresh lemon juice
1 cup unsweetened vanilla almond milk
2 tbsp hemp seeds (or chia or both!)
Dash of cinnamon
Instructions
If you're using a single serving blender add spinach first and smoosh in as much as you can until it's about ¾ full
Add frozen fruit, lemon juice, vanilla almond milk, seeds, and cinnamon
Blend until creamy
Source: @chickpeainthecity
Final Thoughts and Takeaways
There are four things that I noticed most throughout my two weeks that basically sum up my experience of eating clean:
First: Clear headedness was actually one of the very first changes I saw. I was less foggy in the mornings and really felt some improvement in my cognitive function.
Second: The lack of bloat throughout this process was amazing. You might think of the stomach when I say bloat, but for me, it's in my face. I was way less puffy than I had been in quite a while, which I really appreciated come wedding day.
Third: Sugar and caffeine cravings went away after a few days. Yes, you read that right, even my need for caffeine lessened. And for someone who reaches for dessert pretty much nightly, this was a welcomed change. I ended up having a cupcake a couple days after the clean eating was up, and got a massive headache within 30 minutes. Goes to show how sugar actually effects us.
Four: The 3 pm crash I've been dealing with for what seems like my entire life pretty much disappeared. I never felt crazy energy like I do from a huge Starbucks, but instead, it a natural energy high that just never went away. It might have actually been my favorite part, as I got so much more work done and didn't cancel any plans based on being too sleepy in the evening.
Seeing these results totally made the initial struggle worth it to feel clear-headed, rested, and not a single bit bloated on my wedding day. But in the end, this all goes back to something I mentioned above — sustainability. Sure, I wanted to make a slightly more drastic change in preparation for my wedding day, but as a general guideline, I'm now trying to eat this way most of the time, especially when I'm feeling run down.
The most value in all of this, though, came from learning that my food choices truly do have an impact on my life, which made this experience invaluable for my overall health.
If you've been wanting to go clean forever (like I was), I highly suggest trying it out! Just start on a Saturday so you have a couple days to detox and nap because things are kinda ugly at first…
You've got this!
Have you gone "clean" for an extended about of time? Did you have similar results? Do you eat clean all the time?