It's hard to believe that it's already time to think about 2023 (personally, I'm still processing 2019, but that's a convo for another day). One of my favorite parts of looking ahead to the new year is learning what colors and design styles will be trending in the next 12 months. After all, I'm constantly decorating and redecorating my apartment, so I'm more than happy to get a sneak peek at what's to come so I can start budgeting for some new, on-trend decor pieces. I polled six experts on the 2023 interior design trends they're most excited about, and the results are in. Here are the interior design trends experts say will be everywhere next year.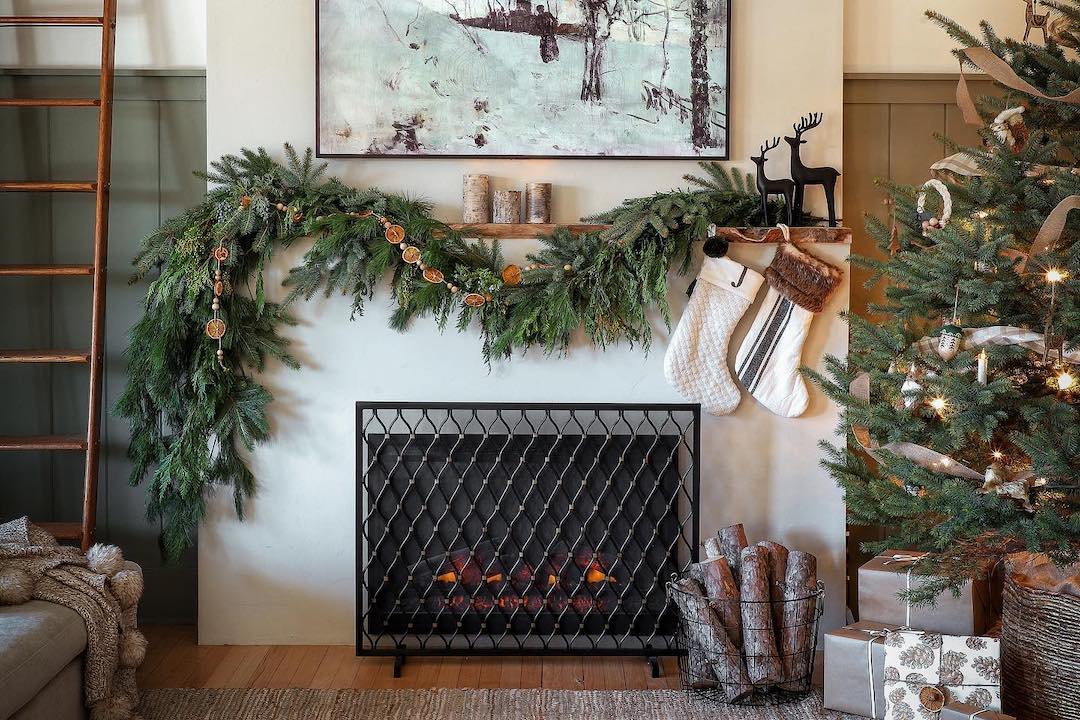 there's still time to deck your halls
1. Mixed Eras
Mixing pieces from the past and present is a trend we've flagged recently that's going to get even bigger in 2023. "A home that incorporates pieces from the past makes for a well-designed and thoughtful space," explained Tracee Murphy of Trade Mark Interiors in Sarasota, Florida. Take an opportunity to hit those vintage stores, or make use of passed-down items from loved ones. "This trend also speaks to using high/low design in a home, which means you'll have a mix of price points throughout," Murphy added. "And how fun to think about passing on our special pieces to the next generation?"
2. Deep Reds
Deep reds aren't just for happy hour—they'll be having a moment in the interior world, too. "Burgundy and deep cabernet reds hues are something I feel strongly about making an impact in 2023," said NYC-based interior designer Becky Shea. "The deep, rich tone works so well with neutrals and adds so much depth to a design." Shea particularly likes using these colors alongside unlacquered brass. "I have a feeling we'll be seeing more of this color sprinkled into spaces through millwork, mohair chairs, or sofas and accents come the new year," she said.
3. Sustainable Furnishings
Now more than ever, it's time to prioritize going green at home. Specifically, this trend entails sourcing items that are zero-waste, artisan-produced, or up-cycled, Murphy explained. "Ultimately, this is going to result in really interesting interiors," she said. To start small, try shopping locally instead of at big-box stores, and consider how you can repurpose existing furnishings to feel new. "Being able to tell the story of a piece of furniture is a great conversation to have with your friends and family when entertaining," Murphy added.
4. Bold Kitchens
Gone are the days of bland kitchens. As we head into 2023, we're entering a new era of bold kitchen design. "White and neutral kitchen cabinets will begin to be phased out and be replaced by black, green, and wood," said New York-based designer Emma Beryl Kemper.
But if yours is on the plain side, there's no need to panic. "So much has been said about the end of the all-white farmhouse kitchen, but changing out cabinetry and countertops is not a small endeavor," said professional organizer Erica Thompson of Organized by Design. "The solution? Accessorizing your kitchen with big punches of bold color. Think books, pottery, utensils, even art."
5. Decorated Laundry Rooms
Folding clothes may not be your favorite chore, but hey, at least you can make your laundry room look nice and pretty! According to San Diego interior designer Tiffani Baumgart, jewel-box laundry rooms are having a major moment. "These hard-working rooms are going glam with shimmery finishes, richly patterned details, and even whimsical accessories," she noted.
6. Colorful Palettes
"In 2023, I'm excited to bring on the color," said interior designer Amy Forshew of Proximity Interior Design in Philadelphia. Neutrals may be timeless, but all-neutral palettes are getting a bit tired. "After a few years of beige design reigning supreme, we think design professionals and consumers are moving away from neutral, monochromatic, and muted spaces," Forshew explained. "This year, we are focusing on layering in maximalist fabrics, accessories, and rich colors to express our personality and style."
7. Entertaining-Focused Design
It's time to make up for those lost years when we weren't able to gather with family and friends. This attitude will definitely make its way into how we design our homes, Murphy said. "Gatherings are the focus of design in the upcoming year, where we are striving to emphasize rest and wellness as a priority," she noted. "[This means] slowing down and enjoying the relationships in our lives all while using materials that are easily washable to make life easy for everyone in the home." Why worry about red wine spills when you can simply sit back and enjoy wine and cheese night with your besties?