Few people in their 20s and even their 30s likely live in their "forever home." (If you do, well done! I think we can all agree that moving is truly terrible.) And if you're not living in a house or apartment that you'll plan to live in for many years to come, you might find yourself in a position of having to adjust to homes that have vastly different amounts of storage space, different floor plans, and different square footage. That can make settling in and designing your space a little bit more difficult than if you're dealing with one setup for a long stretch of time. If you've ever had to buy more furniture to fill your space or move formerly well-loved pieces into storage to make room, then you know what that's like. And while it may not be entirely possible to live in every space the way you would if you were living in a much bigger or much smaller home, design experts do have plenty of advice for how to make that closer to a reality.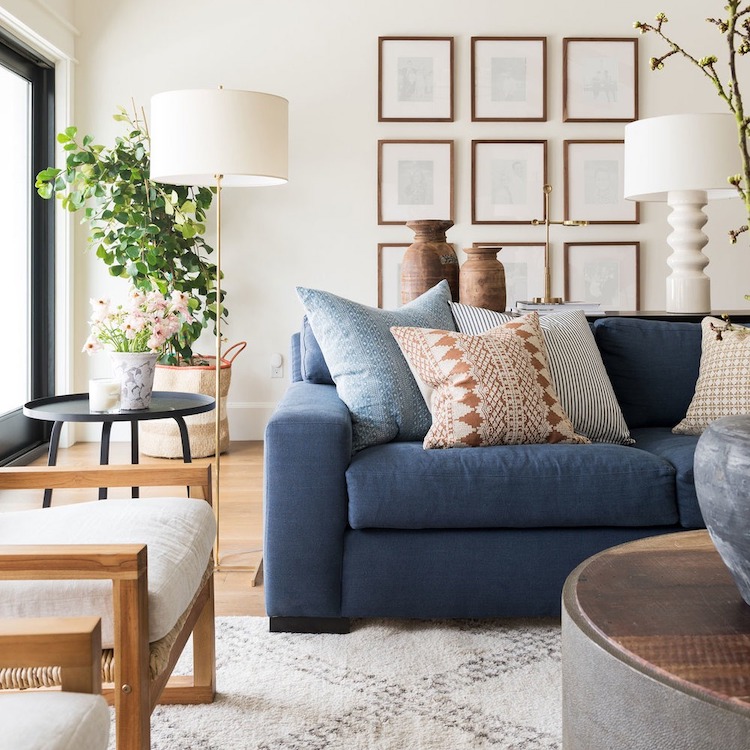 don't make the same mistakes I did
To help solve our how-do-I-make-this-stuff-work-in-a-different-sized-space conundrum, we turned to interior designers to get their take on the best design tips no matter your square footage.
1. Invest in oversized art
"Making your home your haven has become so relevant these days. Having great design in your home is really about filling it with functional art. No matter the size of the space, you can create a home that reflects your personal style and functions for the way you live," Juaneice Munoz, the founder and principal designer of La Casa Azul Design, explained. Munoz recommended opting for oversized art, because it fills a role whether your space is large or small.
"[L]arge-scale rooms need large-scale art to fill up the walls and to make the room feel thought-out and planned," Munoz said. "When the room is a smaller size, then the large-scale art will make the space feel spunky and custom. It will turn the room into an interesting place with a great conversation piece."
2. Make use of vertical space
Vertical space is so important, no matter the size of the room you're designing, but it's arguably even more important if the space is fairly small. You can't overlook that extra space—take it where you've got it.
"There are so many ways to use a empty wall. Even in a hallway you can install a narrow ledge as a catchall and place a mirror above it and you have a stylish front entry way or use a hallway in a creative way while busily making your way through one space to the next," Anita Yokota, an interior designer, licensed therapist, and the creator of the Anita Yokota Method, said. "Hooks and picture ledges are great accessories for vertical space design. Making a small reading area with a picture ledge wide enough to hold kids' books to hooks to dog leashes is a great way to maximize functionality in small or big spaces!"
Make use of the empty walls in your home. Just because there may not be any room for furniture in that spot doesn't mean that it has to be wasted space.
3. Buy a good mirror
Mirrors are major—don't underestimate their effect. "We love mirrors of all shapes and sizes, and we often prefer mirrors over artwork when designing smaller-sized spaces," Christine Stucker, the cofounder of Stewart-Schafer, said. "By adding a large mirror over a console table or above a fireplace, you instantly add more depth to a room and make it appear larger."
4. Add in plenty of texture
Whether it's artwork or soft furnishings, texture can add a ton of dimension (and excitement!) to just about any space.
"Since it adds depth and visual interest, layering and juxtaposing different textures will make any sized space feel simultaneously cozier, more luxe, and sophisticated," said Caitlin Murray, the creative director at Black Lacquer Design. "You can do this most easily and affordably with rugs, throws, and pillows. If you're working with a blank canvas, consider contrast when specifying all surface materials (wall treatments, flooring, and countertops to name a few), and explore variation in the finishes and materials of your furniture."
Following Murray's advice and taking surface materials into consideration could add a more unexpected touch to your design.
5. Consider curtains
Whether your space is large or small, adding full-length curtains might be a good way to go. "Even if your window does not go all the way up to the ceiling, you can create an illusion of large windows by drawing the eye upward and making the space appear taller," Stucker said.
Bonus: curtains can be a place where you can add color and texture, making them a great choice to add big-time impact to your home.
6. Think about what you need the space to do
Ultimately, you're the one that will be living in the space, so approaching your design with that purpose and those needs in mind will help you regardless of whether your space is large or small.
"This has only got more important through this pandemic, as we're all having to wring extra utility (schools, gyms, sanctuaries!) out of our homes," Nina Barnieh-Blair, the principal at NinaBDesign, said. "It's important to carve out distinct spaces within the larger space to suit different uses and moods. Obviously this is easier in a larger space, when you have more area to play with, but it can still be accomplished on a smaller scale with some creativity and thought, and multi-use pieces. A bookcase or folding screen can act as a divider if there is no built in rooms."
Make your space work for you, no matter the size. Maybe you're adding a narrow desk to your living room or adding a larger table that can double as a workspace to a larger space. Once you determine what it is you need, then you can work on making it actually work in your home.
7. Opt for furniture that does double duty
Whether you have a large room or a small one, really making the most of your furniture can help maximize your space and make the room more livable. Choosing furniture that both looks good and functions effectively makes your life so much easier.
"Bookshelves, console tables with cabinets and drawers, and storage ottomans are perfect for any sized space to conceal items that you don't want on display," Nicole Reid, the designer and blogger behind Poplar Creek Interiors and Home on Poplar Creek, said. "Sofas with built-in storage are also a great idea to store throw blankets, throw pillows, or if you have little ones, small toys. Keeping clutter hidden and out of the way can make any sized room feel spacious."
Furniture that doubles as storage keeps everything out of the way, while also keeping it close, which means actually using your belongings is easier as well.
8. Don't forget about lighting
"No matter the size of the room, it is important to have both the right amount of lighting and a mix of different lighting types—ambient lighting, decorative lighting, and task lighting," Michelle Lisac, the founder and principal designer at Michelle Lisac Interior Design, said.
The exact pieces and forms of lighting that you decide to introduce to your space might vary based on the size and layout of your room, but one thing is for sure—you need plenty of light. "Lighting is important for the overall mood of the space, because the feel of a room changes depending on which lights you choose to have on," Lisac added. Don't forget it.
9. Make a statement with paint…
You're likely well aware that the color you choose to paint a room can have a big impact, but one factor you may not take into account when going through the selection process is something called LRV.
"Don't be afraid to use darker colors on the walls. But if it's lighter and brighter you want, look for colors that have a mid to high LRV (light reflective value) which can be found on most paint decks or cards," Reid explained. "LRV is the amount of light that is reflected in the room. Some grays and whites may look bright on a paint deck, but be sure to check the LRV. If the number value is 0-55, it's likely not going to reflect much light into the room. Anything between 55-100 is going to be more reflective as long as you have ample natural light. If you lack natural light, embrace darker walls by giving your room a cozier feel. Dark colors in large, oversized rooms can pull the walls in."
It's just one more factor that can help steer you in the right direction.
10. But also think beyond it
Of course, paint can make a big impact in just about any room, but it's not your only option if you're looking for a major statement. Wallpaper can also do big things for your space."The right wallpaper can make a room feel complete," Sara Malek Barney, the founder and principal designer at BANDD Design, said. "Different colors, patterns, and scale can work for any room. [It makes a difference] because materials like wallpaper enhance the overall look of a space and don't serve just a large scale or small scale room."
11. Listen to your gut
Choose to fill your home with items, colors, textures, and light that you personally enjoy, rather than focusing on what someone else tells you you should put in your space.
"Listening to yourself is always the most effective means of decision making and it is no different when it comes to your home," Kerry Vasquez, of Kerry Vasquez Design, said. "So no matter what your space looks like or the size, feeling inspired every time you walk through the door with items you love should always be the goal. This creates an environment you will never get sick of and then, if you go trendy on the smaller ticket items like pillows and other accessories, you can have fun and switch those out as the mood strikes you!"
12. Divide your space
Regardless of whether your home is large or small, dividing up your space can help make it look and feel like a better place to live. "Even if you live in the tiniest of apartments it can be great to differentiate the zones within the larger context of the living," designer Breegan Jane said. "Whether it's separated by a wall or by a curtain or by a simple shift in style, having a separation of spaces can make your home feel thoughtfully designed and purposeful."
13. Bring nature inside
"I believe we're happier with nature around, so try to bring it in wherever possible," Barnieh-Blair said. "I always incorporate plants into my design. Seasonal displays of nature can add living elements to the home. Pebbles and shells from beach if you live near the cost, or displays of finds from the forest like as acorns. You can turn every trip into nature into a chance to bring home some decor."
Bring the outdoors in in some way. Maybe it's a plant you picked up at Trader Joe's, maybe it's a gorgeous arrangement you bought from a fancy home decor boutique. Whatever it is, it'll make your space feel much more like home.