2019 is a world bursting with millennial pink and Instagram feeds full of flower walls — but one woman had a vision for a brand that encompassed all of those things (and more) before it was cool: Jaclyn Johnson, the creator of Create & Cultivate.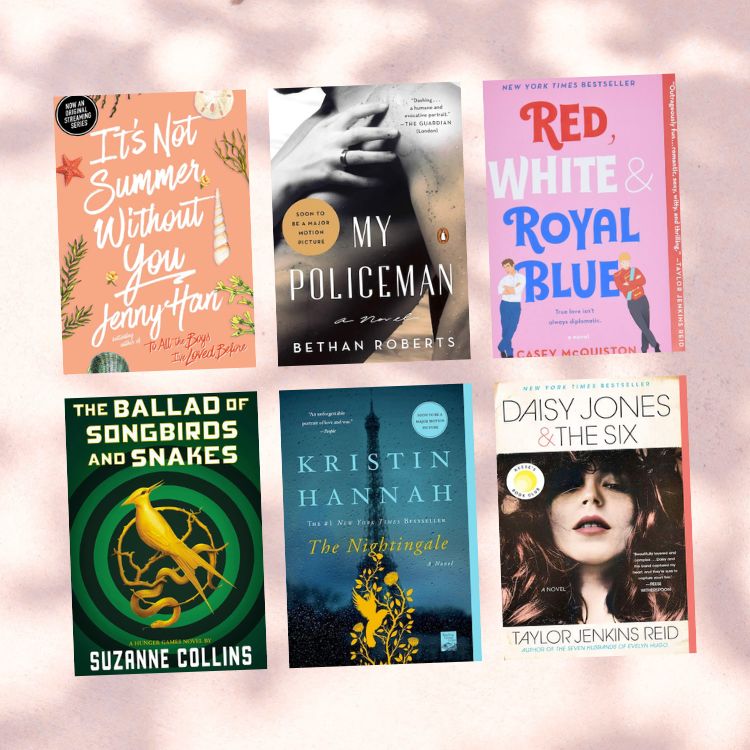 trust us: you're going to want to read these!
Now an author, CEO, and a Forbes 30 Under 30, Jaclyn started Create & Cultivate when she was 28 — after selling her first company, No Subject.
Create & Cultivate is a multifaceted company with one goal: to support and encourage women. With in-person conferences and panels — which include speakers like Kim Kardashian West, Chrissy Teigen, Gloria Steinem, and Issa Rae, just to name a few — and an online media platform, the brand aims to help women create and cultivate the career of their dreams.
As someone seemingly effortless at staying ahead of the trends, Jaclyn also started her own blog, Some Notes on Napkins, back in 2007. Her experiences blogging helped her prepare for the career she started as an entrepreneur — as did her Bachelor's degree in journalism from NYU and her background in marketing.
"I was blogging in the very early days, so I loved it," Jaclyn said. "It helped me realize that brands had a hard time working with and communicating with bloggers, and that they didn't know how to leverage their following. I had knowledge of being an influencer and of what brands wanted, so my blog gave me a leg up in terms of influencer marketing."
Through her blog and work experiences, Jaclyn recognized a gap in conversations surrounding women's careers and responded with her own brand that would focus on female empowerment, through other females.
"Before I started Create & Cultivate, I was laid off and started freelancing," Jaclyn said. "I started my first company without even knowing. I thought I was just doing the things I wanted to do, which wasn't supposed to be a company, but a fun event under the No Subject name to have conversations about content creation, marketing, and what our tips and tricks were."
It's harder now than ever to stand out as a recognizable brand, but Create & Cultivate has distinct branding and aesthetic, which Jaclyn played a large part in — as did her husband (accidentally).
"I've always had a creative director vibe based on what I've done in my work, and it's something I've always enjoyed doing for brands," she said. "I really loved finding colors and fonts that looked good together and finding that core pink Create & Cultivate color — which is everywhere now, but at the time nobody was using it!"
"Back at the time we started Create & Cultivate, I had my husband, who's an artist, draw a mural for us. I told him I wanted a script-y font and he threw it together, and it's still our logo today. It was great because we didn't overthink it."
Last year, Jaclyn released her first book, WorkParty. After meeting an editor from Simon & Schuster at a Create & Cultivate event years ago, they became friends, and she suggested Jaclyn write a book about her experiences.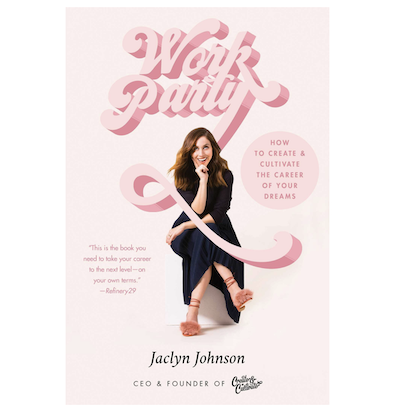 Jaclyn Johnson
how to create and cultivate the career of your dreams
"At first I wasn't sure, but she said my story was fascinating and that I had a lot of business advice that people would be interested in," Jaclyn said. "I went to the drawing board and thought about what I'd want it to be, and I was lucky enough to have it approved. I really revisited the past 10 years of my life and what I wanted as a businesswoman."
It was important to Jaclyn that she emphasized that Create & Cultivate's journey wasn't without bumps in the road — and that nothing comes easy.
"It's so interesting to me because so many people come up to me and tell me I'm an inspiration, but it's been a very challenging journey — and still is to this day," Jaclyn said. "I feel like there's also this notion that everything is easy and it'll all work out, but there are actually ins and outs of the business world, and I think that was the jist of WorkParty and what I really wanted it to be."
Jaclyn's biggest challenge was at the beginning of Create & Cultivate's journey, when she and her original co-founder had a "business partner breakup."
"It was a challenge to recover from personally and to feel like I could step out and do it all on my own" she said. "I was 25 and it was a lot of pressure, but it really shaped me as an entrepreneur. I could have easily just went and gotten a job, but I persevered through it and overcame it through the support of other entrepreneurs who had my back."
Now, Jaclyn has no typical day. As someone who travels a week out of every month, her in-office days consist of arriving to work at 6am — venti iced americano in hand.
"My days are filled with 30-minute meetings until 6pm, so I get into the office early to get ahead of the curve" she said. "When I'm home, I try to make time for my friends and family, and for myself to just lay in bed and binge-watch Netflix — those are the things that make you feel sane."
As her company grows, so does the amount of time and work that it requires. Jaclyn explained that while being her own boss is great, it also comes with the responsibility of downfalls being on her shoulders.
"Work is my life — it's not 9am-5pm, it's 12am-12am. It's taking up a lot of my time now, but it's also really exciting watching the company grow and working with incredible talent. We're making huge strides which is so exciting, but with that comes a lot of growing pains and stress and hard work. It's all about finding that balance."
Down the road, Jaclyn hopes that Create & Cultivate will be the go-to resource for the working woman — both online and in person. They also just created C&C Insiders, which is a yearly membership that gives members access to content and events. Insiders get unlimited access to conference videos, monthly career mentor sessions, a community of like-minded women, and business insight — among a ton of other perks.
"We want to be creating relevant content that provides a unique value to the modern working woman. Whether it's her self-care or her fundraising, we want to be there to provide that and be that resource."
Women supporting and empowering other women is the core of the Create & Cultivate brand, and Jaclyn tries to support women at every level by hiring women and female-owned businesses whenever she can. She also has a women-supporting-women mentality that goes deeper than just who she chooses to hire or employ.
"We have to want to see women succeed. For so long, the mentality was 'if she gets that, I don't get it,' and that's not true. There's enough to go around. We can all be successful together," Jaclyn said.
We have to want to see women succeed. For so long, the mentality was 'if she gets that, I don't get it,' and that's not true. There's enough to go around. We can all be successful together.
As a CEO and entrepreneur for over a decade, Jaclyn has experienced both the triumphs and turmoils of running your own business — but if she could go back and give her 22-year old self one piece of advice?
"Resiliency will be required."