1At The Everygirl, we're big supporters of women breaking out from the norm and becoming their own leaders — which is exactly what Katie Klencheski did when she left a global, corporate firm to start SMAKK Studios. SMAKK is a Brooklyn-based company focused on authentic brands and impactful startups that champion today's issues with real solutions for the future.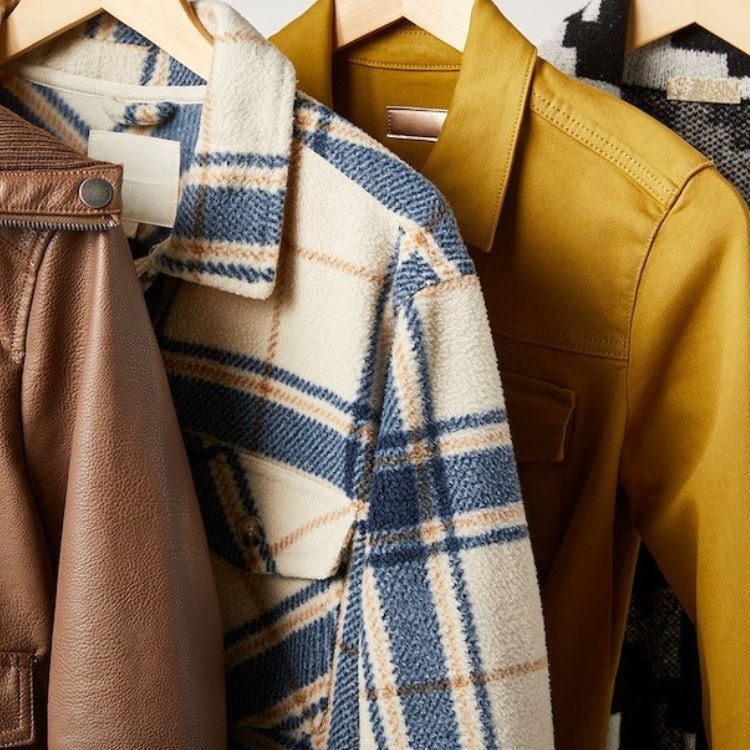 ...and it's wallet-friendly
While Katie believes the best creatives ideas stem from the artistic city around her, she wants to feel as if she's tucked away from the hustle of the city while in her Williamsburg apartment. Katie shared with us how her love for plants, books, and warm color palettes has allowed her to create the perfect, lazy Sunday escape. She's also a huge proponent of if you can't find the perfect piece, just making it yourself!
Also, her Instagram accounts are a vibe — if we do say so ourselves!
Name: Katie Klencheski, Founder and Creative Director of SMAKK Studios
Age: 37
Current Location: Williamsburg, Brooklyn
Rent or Own: Rent
Sq. Ft.: 800
Years Lived In: 2
What was your first job, and how did you land it?
I got my first "professional" job in New York as a Studio Assistant at a large architecture firm. It was really just a fluke that I ended up where I did – I knew nothing about architecture! I had just gotten a BFA in Studio Art and moved to New York to make art. I figured I would wait tables to pay for a studio space, but literally no one would have me as a waitress, so I started applying to probably 100 jobs a day off Craigslist. I applied to any job with the title "artist's assistant" or "studio assistant"  thinking I would end up working for an artist. Oops.
On my first day, I went from wearing paint-covered clothes to being in a very corporate office. At first I was just doing things like organizing their resource library, helping with presentations, fetching coffee, and ordering lunch, but within a couple months I had taken some of my Adobe CS knowledge from printmaking classes and applied that to graphic design, and they moved me into that position.
From there I got serious about really learning about design, digital, and branding. I took a lot of professional development classes at NYU, was constantly asking my friends who had been design majors annoying questions to catch up on what I hadn't learned as an undergrad, and did tons of free work for friends and nonprofits to gain experience and build my portfolio.
You started your own creative agency, SMAKK, which focuses on branding and growth. What made you want to do that?
I had been working across branding, design, and advertising for about 7 years when the recession hit. It really reshuffled the space I was in, and also gave a lot of the people around me the push they needed to finally go for it with their own startups. I found myself working on a lot of freelance branding projects and working directly with founders who were super passionate about their new ventures. It was a huge shift for me to move from working on projects for large global brands to startups that were small, scrappy, and most importantly, very focused on the impact and social missions behind what they were doing. Ultimately, that's where my passion is, and I made it my mission to build a studio that could help the brands that I believe are poised to do good in the world succeed.
What's your favorite part about living in Williamsburg? Has living there changed your design style at all?
I've been here for almost 15 years so it would hard to anything in my life that hasn't been affected by living here! But certainly, the neighborhood is a mecca for design so it can almost feel like you absorb design trends here rather than observe them. The countless restaurants, galleries, and boutiques in the neighborhood have interesting, highly curated aesthetics and have definitely influenced my style.
Tell us about your current place. How did you find it and what made you decide it was the one?
I'm one of those people who has to look at EVERYTHING before I make a decision. I'm pretty sure I literally looked at every single open 1 bedroom apartment in Williamsburg before I committed to this one. The biggest selling point for me was being on the river. I have a huge connection to water — there's probably something in my astrological chart. No matter what city I've lived in, I have to have a spot I can go to near to moving water to feel calm. This location is a dream for me.
Where did you start decorating?
In the biggest spaces, the living room and my bedroom set the tone for the rest of the space. Since the living room is open to the dining area and kitchen everything had to work together. I knew I wanted (and needed) to do a large open bookcase for all of my books and plants, which would be a lot of visual noise, so I tried to keep the color palette really restrained to make the room feel open. The view out of the windows is a whole wall as well, and while the river is beautiful and calming, the rest of the city isn't exactly pastoral. I knew that I wanted the apartment to feel like an oasis above the city. Whites, neutrals, and plants keep everything feeling airy and soft.
Where there any challenges with designing the space? If so, tell us about them and how you coped.
The "office" was the hardest room by far. It's VERY VERY small and has no windows or natural light. The previous tenants were just using it as a closet but I have a lot of guests who come to town so I was determined to get storage and a guest bed in there.
I had to measure every square inch and corner to make it all work. By the time my furniture arrived I knew exactly how much clearance I would have to open the door, and found a bed frame and wardrobe unit that fit (thank god) like a glove. I tried to take advantage of the vertical height of the room so it's not claustrophobic and put all of my stuff in closed storage so my guests aren't overwhelmed by clutter.
Do you have a favorite space in your home? Where and why?
Lazy Sundays lying on the couch looking out at the river with music on and a good book is just amazing. I love being able to feel like I'm a part of the city, while being a part from the city at the same time.
When decorating a room, what do you start with? (i.e. large pieces of furniture, an inspiration, curated over time, etc.).
It's probably obvious that the first thing I have to think about where I to put all my plants so they get the right light, but I can never turn off the Creative Director hat for any design project. I usually start by pulling references to things that I like, pinning those (I'm a big Pinterest-er) and then sorting through to see what the common threads are. Sometimes it's an overarching color story, other times its textual cues, or a layout convention that gets the ball rolling.
My style has definitely evolved over time as I've collected pieces, but I'm also a big DIY-er (you can take the girl out of art school…). So when I couldn't find a dining table I loved in the right size I just decided to design and build one myself. Same with my 'built-in' bookshelf. Other pieces like my coffee table (vintage marble top on a new side table) and dresser are a little bit of new and old mixed together. The dip dye fiber art above my bed is a project I had wanted to try for a while – it was a little messy but worth it.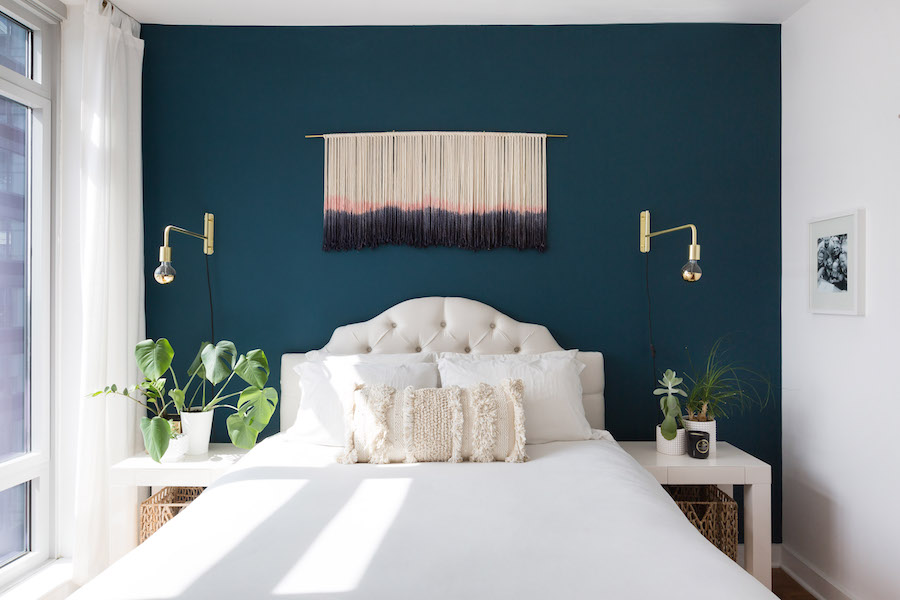 Where are some of your favorite places to shop for home decor?
Beam, Mociun, Sprout Home, and Homecoming in Williamsburg. Facebook marketplace and Craigslist are great too if you're looking for components for a project or something you can upcycle! I'm also lucky to have friends who do things like prop styling where I get gifted fun accessories here and there.
How would you describe your home's aesthetic?
Warm modernism meets crazy plant lady.
You love to read— what book do you think everyone should be reading?
I just read the Bone Clocks by David Mitchell. It's all my favorite things, multigenerational story-telling, multiple narrators, a bit of futurism, and post-apocalyptic magic.
What are your tips to someone trying to hone in on their own, personal brand?
Brands are curated expressions of a corporate entity. Yes, they can be personal, powerful, emotional, and meaningful – but people shouldn't be brands. We're in an age when the Instagramification and commodification of everything is making individuals present themselves as less than the full spectrum of what they have the potential to be. We all live multifaceted, messy lives that sometimes don't photograph well. Hone your career and your skills and, sure, if it's useful to your career, use social media to express your passions and what you care about. But don't try to fit your whole life into a "lifestyle" or a brand. The parts of my life that didn't fit squarely with a vision or a plan have led to some of my best opportunities and experiences. You can't be so curated that you miss possibility.
What do you do to help inspire your creativity?
The most important thing for me is getting out into the world and putting a lot of different things in front of my eyes. Art galleries and museums are great for this. It forces a change in perspective and sparks new connections between ideas. It took me a while to recognize it, but I have synesthesia – for me visual concepts and colors are tied to things like my experience of time, letters, numbers, etc. However strange, something as mundane as a combination of colors together can kickstart a new creative concept for a brand or ad campaign for me.
What advice would you give your 20-year-old self?
Don't put up with misogyny, sexism, or injustice anywhere you see it, ever. Don't let other people's limitations and fears keep you from seeing and doing what's possible.
Wear earplugs at concerts. Wear sunscreen everywhere. Stop being so hard on yourself. No one else knows what they're doing either.
And would it kill you to take a couple business and finance classes? You're gonna be a CEO.
You work with a lot of skincare and beauty brands, do you have any favorite products you love to recommend?
With everything I've learned from my clients (especially DIY skincare guru Adina Grigore) I've become a total natural beauty hippie and mix and match a lot of my own skincare from single ingredients like apple cider vinegar, Bulgarian rosewater, coconut oil, turmeric, essential oils, CBD, homemade argan oil I bought from a farm stand in Greece, and other crazy stuff. I also get a lot of lab samples and products in development from my clients as well so I usually have a lot of odd little vials and potions in my medicine cabinet.
For my go-to's I've been using SW Basics minimalist cream since we started working with the brand over 6 years ago – I don't want to oversell it, but I'm pretty sure it's why I still get carded in my late 30's.
Also my friend Katie Sturino's brand Megababe makes the most amazing product to save your thighs from chafing under skirts, I don't go anywhere without it anymore. More recently the Honey Pot Co.'s feminine care and washes have become a part of my routine and I can't believe I was ever living without them (seriously, soap – even natural soap – is not ok for our lady parts!). And Olive + M has a gorgeous new body shimmer that makes me feel like a sun goddess even though I never leave the house without being fully covered by SPF 50.
Katie Klencheski is The Everygirl…
Coffee order?
Matcha Latte with Almond Milk
Favorite item in your closet?
Rent the Runway Unlimited. Best style purchase of my life.
Last show you binged on Netflix Prime?
Forever
Favorite spot in Brooklyn?
It's a tie! between Brooklyn Bridge Park & Green-Wood Cemetery
Cure for a bad day?
Focusing on what I feel grateful for. (Grateful to my Mom for that one!).
GET THE LOOK