Doused in white and kissed by metallic, blushes, and blues, Kellee Khalil's New York City apartment is sophisticated and inviting. Considering she's in the business of weddings, her place is the perfect combination of girly and eclectic.
After studying business administration and entrepreneurial studies at USC, Kellee helped her sister plan her wedding. Throughout this process, she became frustrated that there didn't seem to be one location for wedding planning—she and her sister wanted a one-stop wedding shop. After moving to New York, Kellee solidified her decision to solve this problem; she is now the Founder and CEO of Lover.ly, a website built with love. Its mission? To make wedding planning simple and more fun, a place where you can buy your dress, create a wedding website, and track your budget all at once.
Keep reading to hear more about Lover.ly, Kellee's path to becoming a business owner, and how she and Homepolish designer Casey DeBois designed her beautiful home.
Name: Kellee Khalil
Current job/company: Founder and CEO of Lover.ly
Education: Business Administration with emphasis on Entrepreneurial Studies, USC
What was your first job out of college and how did you land it? 
My first job was in finance as a salesperson; I helped companies acquire capital. My sister landed me the interview, but I had zero experience at that point and I knew the hiring manager wasn't too impressed. In fact, he told me he only brought me in as a favor. But by the end of our meeting, he admitted he was glad he did. He said I was much better in person than on paper. I never again underestimated the power of face time.
In 2012, you launched Lover.ly. Tell us about the process!
Lover.ly officially launched on Valentine's Day 2012, but the concept of Lover.ly was really born in 2010 when I was helping my sister plan her wedding as her maid of honor. I witnessed all of the pitfalls of the wedding planning industry firsthand, and quickly saw the gaping hole in the market for an all-in-one resource where you could discover inspiration, shop big day must-haves, and find expert tips.
I knew there had to be a better way and I was determined to find it. As I continued to work alongside my sister as we planned her wedding (and working with her wedding PR agency connecting real brides with industry insiders), I started to figure out my game plan for what I now call "wedding world domination."
Is life today what you thought it would be when you graduated college?
I knew I was going to be an entrepreneur one day, but I didn't know how fulfilled I would be at this stage. Today, I feel lucky to say I am definitely living my dream. I have a clear vision and am beyond passionate about it. I love bringing that vision to life and I can't image working in a company of better, more talented people.
What has been your biggest challenge with Lover.ly so far? 
For me, it's really more of a personal challenge. I'm married to my company, which means it's often very hard to unplug. Working all day every day can take a toll, but I'm thankful for the close friends and family I do have that help me find balance when I can.
Lover.ly has some great tools to help brides plan their wedding. What do you consider Lover.ly's best asset?
Everyone that works here is immersed in the millennial mindset and speaks the language. We know that planning a wedding is hard work and super stressful, so we aim to make it easier and more fun. Brides come to see Lover.ly as their digital BFF, and we are always there for them—with insider tips and advice, great inspiration, and curated products. The Lover.ly voice is an extension of my own voice, so I want whatever we're sharing with Lover.ly fans to come across authentically.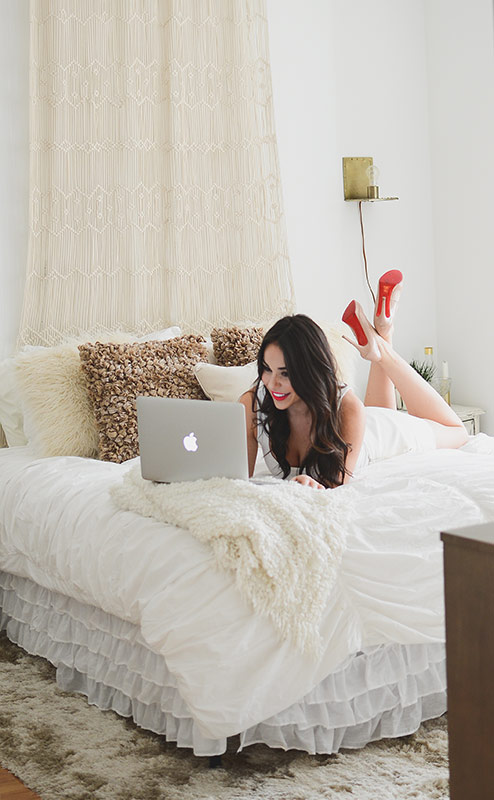 Now, tell us about your home! Do you rent or own? How did you find your space? How long have you lived there? 
I rent my home in Lower Manhattan and have lived here the past two years. I found it through my good friend Krista (she is a broker). When I told her I wanted to start looking for a new place, it was the first place she brought me to and the connection I had to it was magnetic.
You live in a really cool building! What is your favorite part of living in such a unique space?
I love my building and it's not just because the outside is gorgeous. The interior is well thought out, too—everything from the hardware on the door handles to the color palettes used inside the apartments. The finishes on my building show amazing attention to detail and the management is also great. We have amazing amenities—a gym, spin and yoga studio and meditation room. All the things that people who work in New York and know how crazy the lifestyle can be would love to come home to.
Tell us how you decorated on a budget. Do you have any unexpected sources for affordable decor?
I owe so much of my decorating know how to one of my best friends and designer for Homepolish, Casey DeBois. She has a great eye and gave me the best recommendations for outfitting for my apartment (like H&M Home).
I get a lot of my statement pieces from Urban Outfitters and basics from Amazon. I'm also obsessed with a company called Walls by Mur. Their decals are the perfect modern adaptation of wallpaper and paint; they're so smart for apartments because you can infuse a smaller living space with a pop of personality.
The key is to mix affordable finds with more expensive, investment pieces. We're actually moving Lover.ly's headquarters in about a month so I've taken a lot of what I've learned from Casey and hope to incorporate that with how I want the new place to look. I'm super excited about it!
We love the prints on your gallery wall! Where do you look for prints and how do you decide which ones to purchase? 
Minted! Everyone knows the brand's stationery, but there is so much other great stuff on the site like the art marketplace. Minted handles the fulfillment, but the prints and designs are made by local, indie artists who make money and get exposure.
I'm a big believer that great art can be a game changer, so I chose prints that would create different vibes in each room. In my bedroom, the aesthetic is very Cali-inspired—lots of blues and soft hues. My living room is very eclectic and girly chic with hints of blush and metallic.
What advice would you give your 23-year-old self?
Don't sweat the small stuff. Everything works out in the end and you are exactly where you need to be right now.
Kellee Khalil is The Everygirl…
What's your motto?
I have a few, but these two resonate with me so much: "I'll either find a way or make one," and "Big things often have small beginnings."
Best moment of your career so far? 
I don't think I can pinpoint any one best moment. It's been an amazing ride, and every single day can be distilled into key milestones and building blocks of my professional life. Knowing that the best is yet to come keeps me motivated and focused on the future.
Perfect way to begin the day?
My mornings are very routine and it helps set me up for the big day ahead. I start out with a snuggle session with Oliver, my maltipoo. Then, I go for a run outside on the West Side highway and follow up with a shower and a cold brewed iced coffee with a splash of milk.
Favorite thing about living in New York City? 
There's so much I love about living here. I was a West Coast girl all of my life and when I came to NYC five years ago, I knew in an instant that it was the right place for me. It's so dynamic and has so much unique character from neighborhood to neighborhood—the diversity in people and industries; it truly is a melting pot. I need that fun and excitement—I thrive on it.
I wish I knew how to…
Take great photos. I'm fascinated by photography, and I'd love to be good at it. I just bought a new mirrorless camera and signed up for a class, so I can't wait to start!
Product Sources
Entryway
Stay Awhile key holder, Urban Outfitters
Antlers, Urban Outfitters
Living Room
Credenza, IKEA
Art, Minted
Rug, Rugs USA
Decals, Walls by Mur
Bar cart, Amazon
Gold stool, ZGallerie
Large plant and pot, Flower Dist
Sofa pillows, H&M Home, H&M Home, IKEA, Urban Outfitters, Amazon
Bar cart glasses, Mikasa
Bar cart pineapple, Etsy
Floor mirror, IKEA
Sofa, West Elm
Noguchi table, Herman Miller
Eames chair and ottoman, Herman Miller
Bar cart accessories, Nicole Miller
Gold and white vases, Robert Siegel handmade
Bedroom
Sconces, Urban Outfitters
Rug, ZGallerie
Macrame, Urban Outfitters
Gold table, Target
Sheepskin rug, IKEA
Nightstands, vintage from flea market
Bed and mattress, Tuft and Needle
Bedding, Urban Outfitters