Have you ever heard of the saying, "The best things in life come unplanned?" Shanty Wijaya, a Los Angeles home designer and the founder of ALLPRACE Homes, is a prime example of just that. After starting out as a molecular biologist, she made the decision to fly across the world from Jakarta, Indonesia to Los Angeles to start her new career in interior design. After the 2008 housing market crisis, there were many homes and neighborhoods that were abandoned and needed a little love. This is where Shanty and her team came in. They restore these homes, bring them back to life, and most importantly, add value and beauty so everyone—regardless of their socioeconomic status—can enjoy a custom renovated home themselves.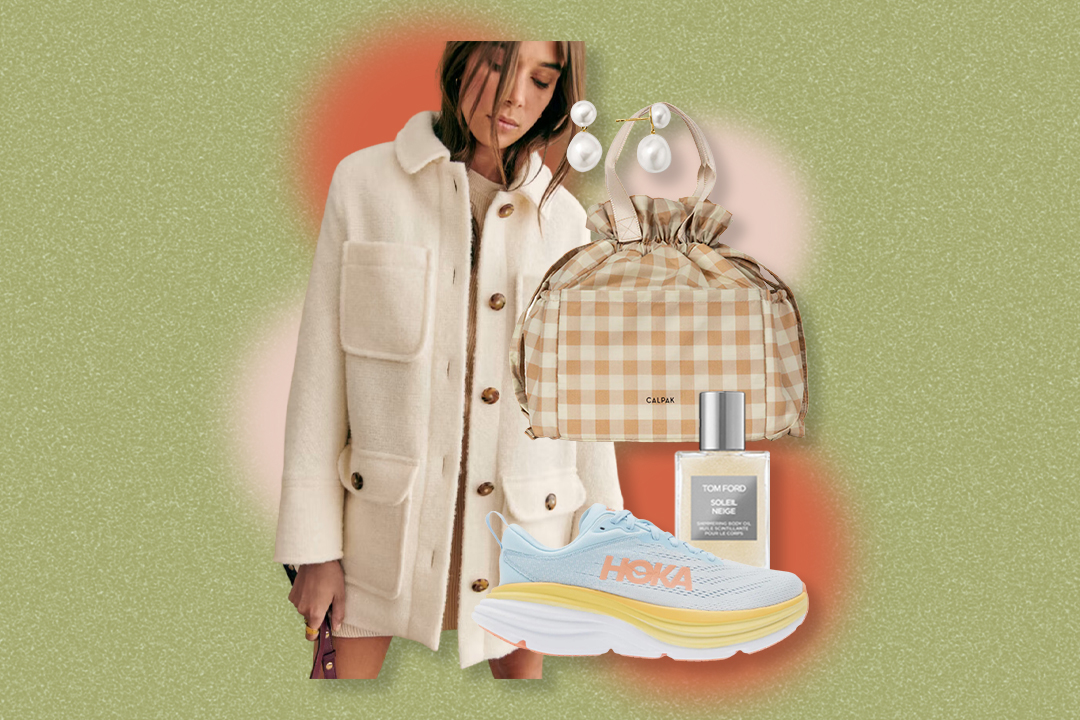 Shanty and her team found this home located in the historic Jefferson Park neighborhood of Los Angeles, and saw the potential it had to be renovated into something that blends in perfectly with the other homes in the area. The home started out with rooms lacking life and character and was in dire need of some love. Shanty and her team saw this as an opportunity to give it a complete renovation, even adding an additional bedroom and bathroom, plus (wait for it…) a custom she-shed perfect for a little backyard getaway. They have transformed this home and backyard with beautiful, warm textures and bright and airy finishes perfect for entertaining.
Read on to find out more about Shanty's process when renovating a home, how she keeps a balance between the design and the "homey, welcoming" feel, and what she has to say when it comes to budgeting out on what is worth the splurge when looking to decorate your own home.
Before
After
What inspired you to take the leap from working as a molecular biologist to one of the hottest home designers in Los Angeles? Where did you get the inspiration to start your company, Allprace Properties? Tell us a little bit more about your company.
The business idea was totally unplanned. The idea came about in 2009 during the real estate crash, when I saw many distressed, abandoned properties for sale as low as $40-50k—much lower than the cost to build the home. I did a lot of research and took on calculated risks to buy my first investment property. During that time, I learned that there was high demand from first-time homebuyers to purchase distressed properties because of the historically low price, low interest rates, and government-backed mortgages.
Many potential homebuyers couldn't get an FHA loan because of substandard, distressed conditions of many of these homes. After the crisis, many neighborhoods appeared abandoned, unloved, and neglected. As a biologist, and as someone who loves beautiful and impactful design, it was natural for me to want to think of creative ways to solve this problem. I decided that I wanted to help first-time homebuyers purchase their homes with historically low-interest rates and government-backed FHA loans, while also beautifying the neighborhood and using this process as a creative outlet. I thoughtfully and creatively renovated and designed my first investment property, which was FHA-approved and perfect for a first-time home buyer. The buyer was able to get an FHA loan for a beautifully designed, move-in-ready home for a historically low price, and the neighborhood had one less distressed home.
I was deeply moved and intrinsically motivated throughout the process, and the rest is history. We at ALLPRACE treat all of our projects as an expression of our art and creativity. We never repeat our designs, and each project is unique, special, and highly personal. We put design, artistry, and workmanship ahead of business perspective and pure profit. Our company's mission is to create well-designed, high-quality homes regardless of price point. We believe that everyone from all socioeconomic backgrounds should enjoy a custom home living experience. We also believe in doing meaningful work that positively impacts society, not only to beautify the property, but also the neighborhood. We partner with Humble Design, a non-profit serving families, veterans, and individuals emerging from homelessness and rebuilding their lives. Through this partnership, a portion of proceeds from each ALLPRACE home sold will sponsor a furnished home for a family transitioning out of homelessness.
Before
After
Has living in Indonesia and now Los Angeles influenced your interior design style in any way?
My design style has definitely been influenced by living in Indonesia and now in Los Angeles—particularly through my love of nature and appreciation of all things bespoke, vintage, and handmade. Indonesia is known for its handcrafted fabric, wood, rattan, and art pieces. In Indonesia, everything is still handmade by an artisan who learned the trades passed from their ancestors, who were also artisans. Everything in Indonesia is carefully handcrafted, and artists take their time to complete their work. My experiences living in Indonesia have influenced me to treat all my projects as works of art. We always strive to create bespoke designs and incorporate vintage pieces in many of our projects. Many of my projects incorporate nature-filled, indoor-outdoor living, which was inspired by my childhood in Indonesia. Growing up in a tropical country with 17,508 islands, I spent a lot of time outdoors and resonated with nature.
Where do you see your business going in the next few years?
In the next few years, I will continue creating thoughtfully-designed homes at different price points, and hopefully one day we can create our own line of bespoke furniture, lighting, and home goods.
Before
After
Your attention to detail is incredible. Where do you find design inspiration? Are there any magazines, blogs, or sites you look through often?
Thank you! My inspiration comes from traveling, Instagram, and my daily life, combined with my never-ending imagination.
Are there any specific pieces of furniture or home accessory staples you believe are good to invest in?
I think that it's always smart to invest in light fixtures and vintage-style furniture and art pieces (ex: dining table, fireplace, etc.).
When looking to renovate a home, do you prefer the smaller or larger spaces?
The size of a home doesn't matter when it comes to renovations. All homes and spaces are unique and special, and all come with a different set of challenges—no matter the size.
Before
After
Take us through your process, where do you usually like to start when designing a home?
I don't have a set formula that I use when designing a home. Instead, I let my imagination and intuition lead my design choices. Typically, I start by visiting, observing, and feeling out the spaces of each home and neighborhood several times. Next, I create rough sketches of the layout and design concept based on what feeling, emotions, and lifestyle I want the home/homeowner to have. At the same time, I already have color palettes and big accent features in mind that I want to incorporate into the space, and I continue my design with these features in mind. For example, I knew from the start that I wanted to build the stone fireplace and use splashes of bolder colors at my recent project in Jefferson Park.
Your recent project in Jefferson Park has an exterior color that isn't necessarily something you see every day, but it looks AMAZING! How did you decide on that specific color? Talk us through the decision-making process for some of these choices.
Thank you, we were thrilled with how the exterior color turned out! The home is located in the Jefferson Park neighborhood of Los Angeles and is surrounded by Craftsman-style homes with lots of character and history. My inspiration for this project came from the historic surrounding homes in this neighborhood. This particular home was a new construction, built in 2019, and had typical, standard features without character or soul. We wanted to make this new construction home into a character-filled, Craftsman-style home so that it could blend seamlessly with the homes in the neighborhood, while still offering modernity to the design, which is unique to the neighborhood.
I decided to use a bold, dark color for the exterior to instill a unique and modern look, and I used board batten, shaker, and custom wood pergola to add in the Craftsman-style character to the home. I purchased several dark paint colors to sample from many different brands—not all dark-colored paints are the same, and each color has unique undertones. We painted all of the samples directly on the home, and I chose the color based on how the sun hit the house and the undertones of the paint that matched the overall design elements of the home. To balance out the bold color of the exterior, I added wood elements on the pergola and gates with a light stain. I also included mature landscaping with subtle colors and textures, creating a balanced overall look. The overall appearance of the home is bold but also subtle to the eye. I definitely took a risk by choosing this bold color for the exterior, but I trusted my judgment and knew that it would look beautiful.
Before
After
The light fixtures throughout the home just add a unique look, spice, and texture we are loving. Do you have a favorite style you tend to use more often than others?
I don't necessarily have a favorite style that I tend to use, as every home is different. We never repeat our design and each project is unique, special, and personal. I love mixing different styles in one space, so it's not matchy-matchy. Doing so also adds unique layers, interest, and texture to the overall space.
I can't help but get over the beautiful She Shed you added to this home, in addition to the 1-bedroom/bath extension. What was the significance of making these additions to the home plan?
We purposely designed the backyard area so that the owner can have a beautiful, big, open flex space with multiple seating areas including a dining area, reading area, and a separate artistic shed to support any particular lifestyle or interest of the homeowner. We decided to add the She-Shed to add more flex space and character to the property. The She-Shed can easily double as a yoga studio, art studio, office, or just a "me time" space. We fully customized the shed and added flooring, windows, maple wood wall paneling, and a pink pattern cement tile in the entryway, giving it a "cabin in the middle of nature" vibe. The backyard seamlessly connects to the fully landscaped side yard and front yard, which also connects to the indoor living spaces, making each space functional and promoting indoor-outdoor living.
Before
After
How do you keep a balance between the design and a homey and welcoming feel?
I tend to use different textures, materials, colors, and patterns, which trigger positive sensory experiences. For example, I added an abundance of natural light by opening up the floorplan and adding more windows and skylights throughout the property. I also incorporated lots of textures and layers through different buildings and landscape materials on the exterior, as well as home furnishing and accessories for the interiors. To get that homey and welcoming feel, I created a cozy reading nook and fireplace in the family room and added in wood elements and greenery throughout the property. For example, the lush landscaping can be seen through every window and glass door in the home, instilling a sense of serenity and privacy for the homeowner. Personal touches always give off a welcoming feel to any home—your favorite home fragrance, floral arrangements, vintage art collections, and family photos are always great accents and design elements.
Before
After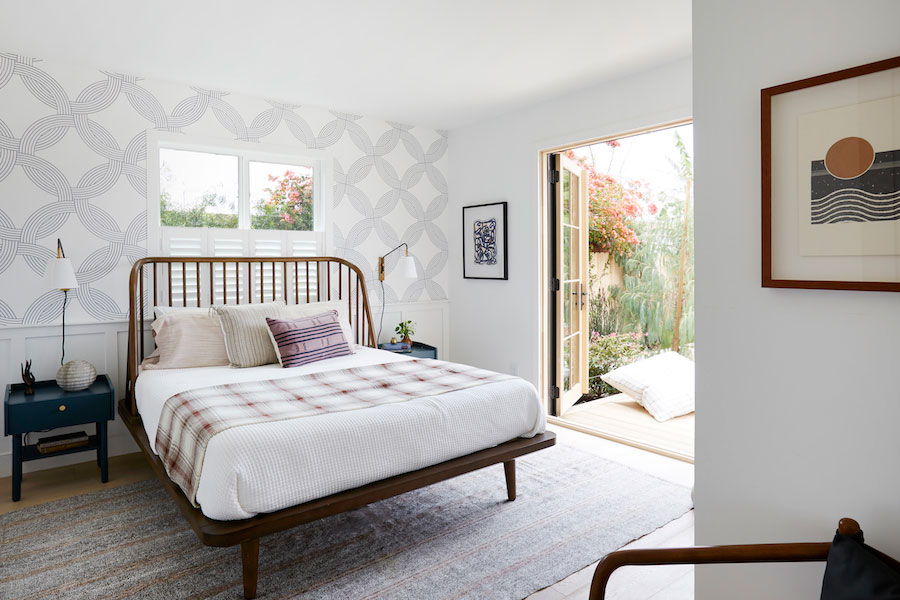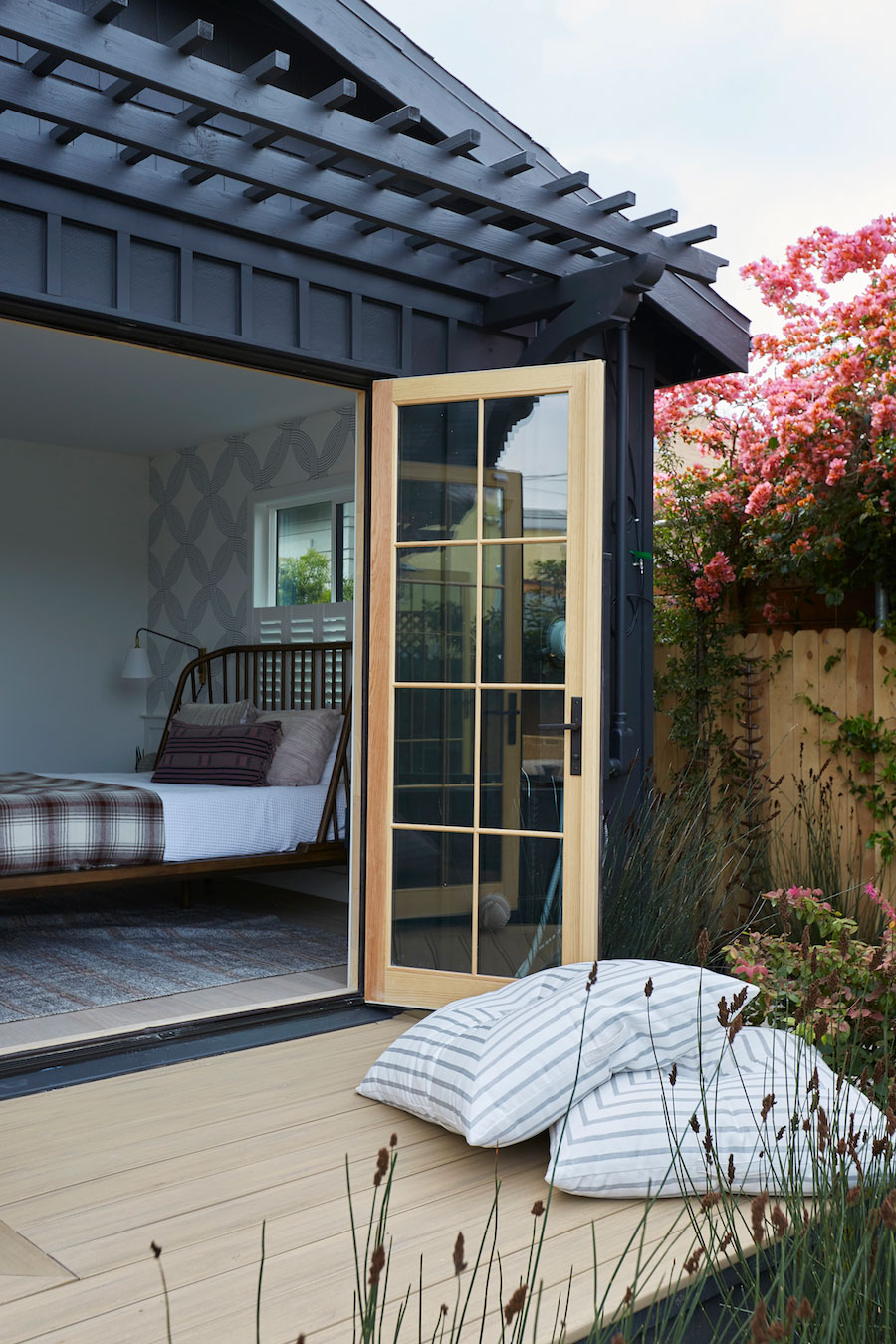 What sorts of challenges did you face while working on the project?
Each project is unique and has its own set of challenges, from the house itself to managing contractors and importing and sourcing materials, all the way to budget, permitting, and more. We have dealt with countless problems, especially when working with older homes. I've found that with creativity, patience, and a positive attitude, any problem can be solved.
Each section in the home has its own personality and feel to it while still having that boho chic, farmhouse feel—how do you keep the design cohesive throughout the home? Also, which was your favorite room to design?
We were able to create a cohesive design by continuously using the key materials and colors throughout the home, while also infusing the home with different textures and layers so that each room has its own unique personality. I loved designing the family room with the fireplace, built-in bookcase, and reading nook. I've been wanting to incorporate these elements into a family room for quite some time, and I'm so happy with the way it turned out.
Before
After
How do you stick to a budget for furniture and decor? Do you have any tips?
For furniture and decor, we use a wonderful staging company to create the perfect look. To stick to a budget, my biggest tip is to mix high-end pieces with more affordable pieces. Splurge on items that are most visible to the eye (e.g., lighting, dining table, dining chairs, art pieces) and save by creatively repurposing older items (e.g., repaint or reupholster existing furniture).
Before
After
What is your favorite thing about living in Los Angeles?
I love the weather and outdoor lifestyle here in Los Angeles. You can go to the beach, desert, and mountains, and they are all a relatively short distance away. Los Angeles is an international melting pot with its many different neighborhoods, cultures, and diverse food scene. The community is eclectic, vibrant, and creative, and there's no shortage of things to do.
What do you believe makes a house a home?
A house is a physical appearance and structure, while a home is made up of everything else inside the home, and feelings that the home evokes. A home is the soul, a feeling of comfort, sanctuary, freedom, security, warmth, family togetherness, a refuge from the outside world, and your utmost private personal space and memories. We always create and design our projects with that in mind. A house with a soul and foundation that will trigger all of those feelings.
Before
After
What is the day in the life of Shanty Wijaya like?
I wake up, home school my son (school is closed and I help him with projects and assignments), then start working from home and on-site. I come home, spend time with my son (we love movie nights!), and put him to bed. My favorite time is when everyone is asleep, I focus on self-care by reading a book, taking a warm bath, or having a glass of wine.
What has been your proudest accomplishment yet?
There are many worldly things that made me proud, but I'm most proud of the fact that I can be at peace, stay true to myself, and find joy and meaning in what I have and in the simplicity of life.
Before
After
Before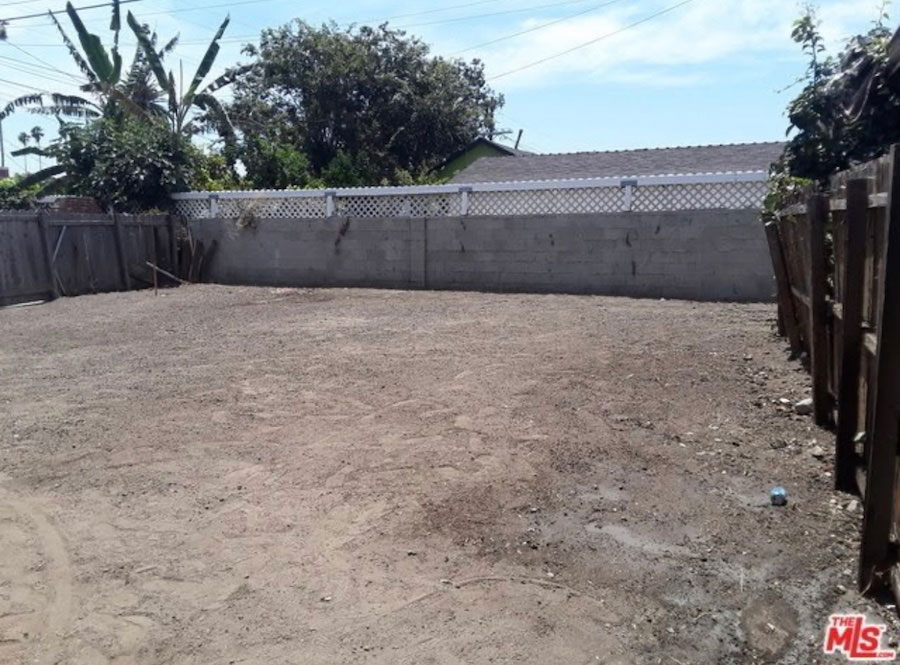 What advice would you give your 22-year-old self?
Life is too short. If it's not unkind, just do it! Don't overthink things.
Shanty Wijaya is The Everygirl…
Guilty Pleasure? Old-school rom-com movies
Ideal Friday Night? Be adventurous, try that new restaurant/cafe, get a couple of drinks, and spend the night close to nature
Spring or Summer? Spring
Go-to Coffee Order? Latte with triple shots of espresso (I need that!)
Favorite design trend? Collected look: A combination of vintage, organic, modern, colors with lots of textures and layers while still resulting in a cohesive overall design.
Last home decor item you bought? Antique triptych tri fold mirror
Item you can't leave the house without? Of course my iPhone
If you could have lunch with any woman, who would it be and why? My mother, because we've been living on different continents for the past 20 years and I don't get to see her as much as I would like.