We're big fans of the YouTube Beauty Community here at The Everygirl. We're constantly talking about our favorite creators, their best looks, and buying pretty much everything they recommend. The YouTube beauty world is honestly what we have to thank for some of the biggest trends in beauty—we'd never be baking our undereyes or curling our hair with straighteners or using men's post-shave balm as a primer if it weren't for the beauty YouTubers who taught us how.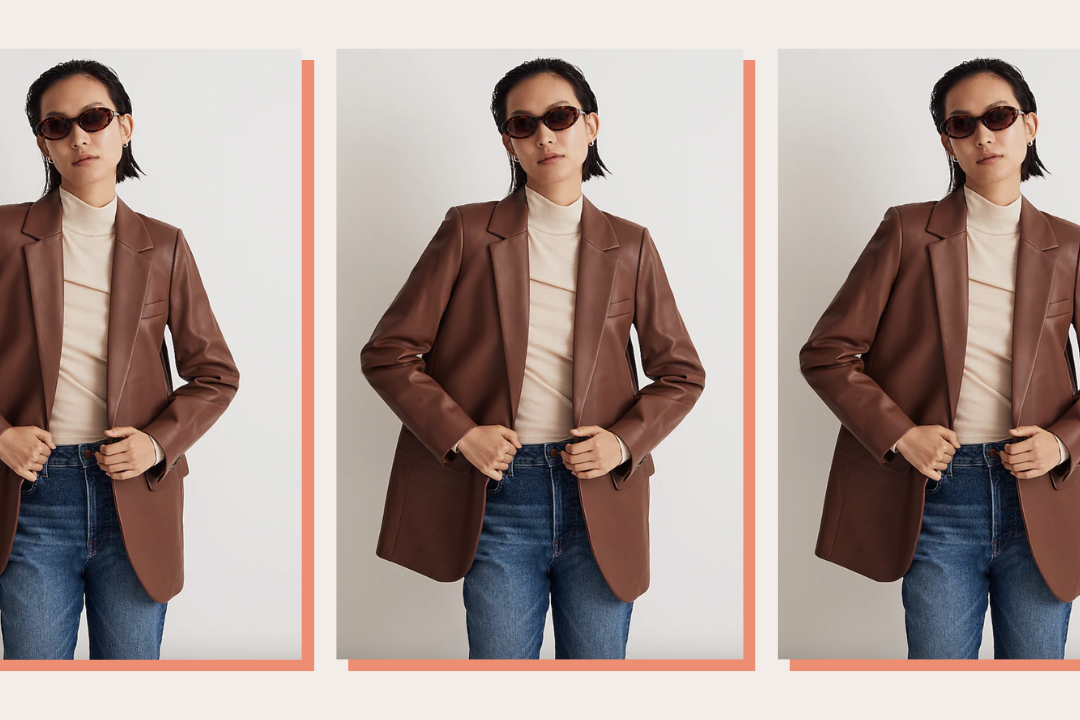 time for your fall wardrobe update!
Alongside the various techniques YouTube has taught us, the phenomenon of the ever-so-popular "empties video" has truly taken over our subscription feeds. Every beauty YouTuber has made an empties video (if not five), and everyone who even knows just a glimpse of beauty YouTube has seen one. The concept is simple: show everyone what's in your trash and talk about if you loved it, if you'll buy it again, and how long it took you to use up.
So being the beauty-lovers we are at TEG HQ, we decided to create our own empties series. Every month, all of our editors will share a few of our own empties—from skin, hair, and makeup products to candles and vitamins and home items—and give our unfiltered review on each of the products. Some of them we'll love and need to repurchase ASAP … and some we'll celebrate finally finishing them up. If you've ever wondered what our absolute favorites (and not-so-favorites) are, this is the right place to be. It's finally time for our trash cans to shine!
Weleda
I have written many a blurbs about this moisturizer by now, but I'm going all in on this one because it is truly my favorite skincare product I've ever tried. Some stats about me: I have combination, acne-prone skin that gets textured, dehydrated, and congested very easily. I bought this product after I went on RetinA because I was expecting my skin to get uber dry, but using this made my skin stay supple and hydrated even through that. I apply it at night as the last step of my routine (unless I'm adding a facial oil on top), and every morning I'm surprised with how soft my skin feels. I've also used this product as a cheek highlighter, a dewy makeup primer, and a skin salve on the elbows, knees, and ankles before self-tanner or before bed. It's a do-it-all product that has changed the texture of my skin and continues to wow me. I've sold this to so many of my ultra-dry-skin friends, as well as those with more combination or normal skin. I don't ~love~ the scent, but I'll deal with anything that gives me the glow my Skin Food does.
PSA: don't let the "body cream" title on Amazon fool you; it's definitely a thick cream, but the ingredients are safe (and AMAZING) to use on your face.
Hourglass
Based on that above blurb, you see my skin dilemma: I have a deep affinity for dewy, radiant skin, but the oil on my nose, forehead, and chin aren't exactly my cup of tea. I also have hereditary under eye bags that crease like a MF no matter what concealer I use. So, I had to find a powder that would lock in my look while keeping the shine exactly where I want it. Enter: this magical powder. I have no other way to describe this powder than some kind of witchcraft. Someway, somehow, this powder sets and takes down shine while keeping the natural radiance of the products you have underneath it. I bought the mini of this because I typically only put powder under my eyes and on the top and sides of my nose (and because I just didn't believe a powder could be as good as the reviews said). It took me about a year to go through the mini, so if you're on the fence, I'd say it's so worth it. However, I think I'm picking up the full-size next because I know I'll want to wear this all-over the face to keep my makeup in place on those hot, summer days (so soon yet so, so far).
Rae
I stumbled upon a beautiful display of this brand on an end-cap at Target, and not only did they catch my eye for being gorgeously packaged, but all of their products were affordable. I picked up these two supplements to add to my routine, and I absolutely love them. I always take a pre + probiotic for my generally angry stomach, and these kept it no less in check than my other, much more expensive previous supplements. Bonus: these have a minty taste, which sounds bizarre, but makes them super enjoyable to take.
Rae
Any beauty supplement is something I feel like falls into the category of "not sure if it makes a huge difference, but it makes me feel good to." But, dare I say, after 30 days of taking these, I actually saw a difference in my skin. It feels overall more even and less dull—and for $14.99, I'm sold.
Kristin Ess
By now I'm sure you're aware that we believe Kristin Ess can do no wrong, and this deep conditioner was no exception. When she came out with her fragrance-free line, I snatched up every single item, and this one was my winner. It made my hair silky-soft and shiny without weighing it down, and lasted me over two months, even though I used it every-other hair wash. If you're looking for an inexpensive deep conditioner, look no further.
Beautycounter
I am very pale with dry and uneven skin, so when I made the switch to clean beauty last fall, I feared that my skin may never look even or dewy (a girl can dream) again. A friend with near-perfect looking skin recommenced this tinted moisturizer, so I gave it a try and it is magical. If I'm going out I'll apply a little concealer over it since it's pretty sheer, but it gives me that even skin tone I desperately need, and feels so smooth going on. I love this product so much that I purchased two when I last placed an order so I wouldn't have to go a day without it. I'm now about to start my third bottle and plan on ordering two more.
PYT Beauty
Switching to clean beauty meant giving up my beloved (dirty) brow pencil. I wouldn't call myself a beauty expert and my daily routine is pretty simple, but I always, always fill In my brows—even if I'm just going to work out. This pencil is truly incredible. It's so easy to use, goes on smoothly, and if you're like me and have sparse brows, it will transform your entire face. It sounds like a bold statement, but I really do swear by this product, and am on my third or fourth pencil.
Goldfaden M.D.
Giving up my moisturizer was scary. That sounds so dramatic, but I had been using the same one for well over a decade and it was one of my favorite (again, dirty) products. I did some research and decided to try Goldfaden's vital boost moisturizer and am now on bottle two! I may have mentioned my dry skin, and this does the trick for me. It also gives me what I think might be a little bit of a glow! I feel so fresh-faced and my skin definitely feels more hydrated, and those winter months can be rough on those of us with dry skin. Bonus: this is formulated for those of you with dry sensitive, blemish-prone, or combination skin, so basically, it's perfect for everyone.
Summer Fridays
This month I ran out of the two products I use every single day: my Vitamin C serum and moisturizer. This was my first time using Summer Friday's new serum and it definitely earned repurchase status. Is it the strongest Vitamin C serum? No, but that's OK. I view this as more of a daily-overall-skin-health serum. My skin felt brighter and my breakouts less frequent, even though I don't think it did much for my dark spots. For serious pigmentation, I always recommend this Vitamin C serum. But for everyday use and overall skin health? This was a win.
Drunk Elephant
I often tell my friends that aren't skincare savvy and want to dip their toe into the water that Drunk Elephant is the perfect brand to start with, because their products are all well-formulated and yield results. If you're happy with a product and you see a change in your skin, it's only a matter of time before you become skincare-obsessed and have a 12 step nightly routine. With that being said, I need to be honest: Drunk Elephant's moisturizer is my least favorite product in their line. After multiple uses, it feels … just OK. Unless you have comedogenic or sensitive skin, moisturizer is one of the steps in your skincare routine where you can save a lot of money with very little sacrifice. There are so many great drugstore brands that a $50 moisturizer needs to make me think OMG—and I'm just not there with B-Hydra.
But wait … you've purchased and finished it four times? Yes and I might buy it again in the future. Here's why: it's readily available at Sephora, I trust the ingredients and brand, and I know it won't do anything wackadoo to my face. It's light but incredibly hydrating, which makes it perfect for daily use. So for the times when I run out and need to grab something quick, I'll always turn to this product. But if I need to save money or adjust my routine, this is the first product I wouldn't give a rose to.
Milk Makeup
Even now that I'm working from home every day, I'm still attempting to get up and do my skincare routine and a little bare bones makeup. It's amazing how much better I feel after I've tamed my werewolf brows and put on a little chapstick. And it's nice to know it's just for me—literally no one else is looking in my tiny studio besides my cat, who has seen me at much worse conditions. I'm a big fan of this clear brow gel; it's got a really good hold without being glue and a tiny lil spoolie applicator which makes brushing through a breeze.
Maison Margiela
I am deeply obsessed with every single scent from the Maison Margiela Replica line. I usually wear Jazz Club (smells like hearing the beads on your dress clink together as you gesture to the bartender to order an Old Fashioned) in the fall and winter and Sailing Day (smells like kissing Logan Huntzberger in a fisherman sweater) in the spring and summer. They've got a good staying power, so you'll catch the scent throughout the day when you turn your head or ruffle your hair. I'm forever buying the travel sprays to easily toss in bags.
Soap & Paper Factory
With the increased hand washing, deep cleaning, and ever-changing New England weather, my skin is taking an exceptional beating. Farmacie's Lavender Clary Sage hand cream has been a true savior. I would say it's the Golidlocks of lotion: not too thick, not too greasy, not too thin, but just right. It's deeply hydrating without any sticky, greasy, unappealing residue. It soaks in quickly, has a lovely but not overwhelming smell, and is a nightstand staple.
Dr. Brandt
I have always had dark rings around my eyes and I have been in constant search for a cure since my teenage years. I have been an exclusive user of this product for over four years and am literally never without it. I put it on in the morning under my tinted moisturizer and over concealer after a long day for an instant refresh. It immediately makes your eyes appear less puffy, more open, and generally awake.
Glossier
Story time: for my 7th grade science fair, my project was which mascara wand was the most effective. Yes, you read that right, I measured my own lashes to the centimeter in order to find the perfect mascara. Haters going to hate (my science teacher definitely did), but I bet none of the other kids are referencing their volcanoes in their careers years later! Ever since then, I've used the winner (a Maybelline mascara) for over a decade. That is, until I tried the Glossier Lash Slick and it rocked my world. I no longer need an eyelash curler, because this formula curls for me, and I have been getting compliments on how long my eye lashes look ever since (#bragging). I've just finished my fifth tube, which means it's time for another. Where was Glossier in 7th grade!? I might've won the science fair with a mascara this good.
Want more empties? Check out January and February.