Seeing as Darcy Miller landed her first full-time job out of college as an editorial assistant for Martha Stewart Living, one could say that her career trajectory looked pretty promising. Twenty years later, she's the editor-at-large of Martha Stewart Weddings, former editorial director, and author/illustrator of her very own book, Celebrate Everything. Suffice it to say, that career trajectory was right on track.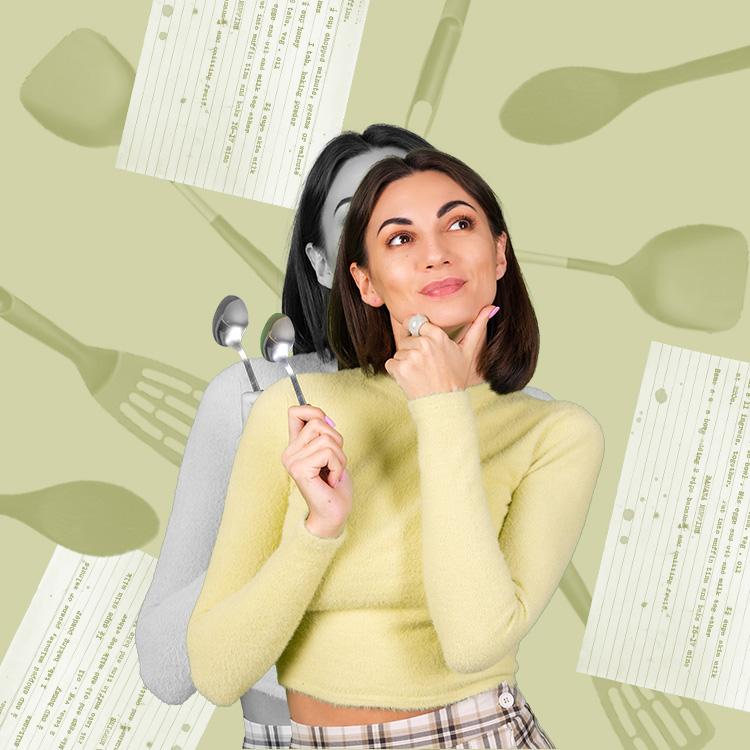 high in protein, good for gut health, and anti-inflammatory? yes, please!
Though Darcy will be the first to tell you that plenty has evolved with magazines over the last two decades (looking at you, social media), she also maintains that there are some things time will never change. Today she's sharing the enduring advice that every aspiring editor needs to know, and letting us in on her best wedding planning tips (like how to use Pinterest for good and not evil).
Name: Darcy Miller
Age: 47
Location: New York, NY
Current job/company: Editor-at-Large of Martha Stewart Weddings and the author and illustrator of Celebrate Everything!
Education: University of Pennsylvania, BA in Art History
Working at Martha Stewart Living was your first job out of college. Tell us how you landed that position, and how it shaped your career today.
I started a party favor business with my friend when I was in college and by the time I graduated, Martha Stewart was just launching Martha Stewart Living. (They had put out about three issues total by then.) At the time, they weren't hiring for entry-level positions, but I knew I wanted to work there. So, I decided to go out and build my resume to try to build experience to get the job. I threw myself into it and did a million different things, reaching out to anyone and everyone and was willing to do anything. I worked for a chef two days a week, did windows at Bloomingdales; I interned at Art & Auction magazine and freelanced for the incredible event designer Robert Isabell. (When I say freelanced, by the way, I mean I did things like light hundreds and hundreds of votive candles for an event only to come back hours later to blow them out; or picking thorns off of dozens and dozens of roses for floral arrangements.) All the while, I was also keeping up my little party favor business.
I stalked Martha persistently until they would give me a full-time job and it paid off because six months later, I started as an editorial assistant. As the most junior person at the company, I did everything from answering phones, organizing photos (which at that time were tons of physical transparencies in my file desk drawer—no digital yet!), to pulling clothes for Martha to wear on the Today show. Over the years, as I dyed Easter eggs and pulled china for tabletop shoots, my position and expertise evolved into a stylist for Martha Stewart Living. After years of throwing parties and working in the industry, I honed my own personal style of celebration. I made that into my career—and obviously it has infused and inspired my book!
You've been in this business for 22 years, and there's obviously been a lot of change in this field, just like any other. What advice would you give to someone who was trying to get their foot in the door TODAY? What new skills might be necessary now that weren't necessary 20 years ago? And conversely, what skills and qualities do you believe are timeless in this field?
In today's world where things happen so fast and people expect an answer the second you text them a question, it's so important to realize that things don't just happen overnight. You have to be willing to do anything and everything—and that never changes. Hard work will always be valued and doing whatever task you need to do without complaint will get you far. Of course, when you're doing all of these little things that don't seem to align with your big dreams at the moment, you can't always see where it will lead. It might seem pointless and hard at the times, and that's okay, but you have to stay open minded about possibilities and let your career take you where it will. There's no telling who you will meet on that errand or what skill you will learn during that little task.
The qualities that will always be important and valued are the willingness to do the hard work, patience, diligence, and again, not letting your ego get in the way. You can learn so many different things from different people—that's one of my favorite parts of my job and my career and something that has really shaped the way I work. I'm always blown away by the endless amount of talented people in this world—from editors to stylists and writers, to cake bakers, designers, florists—everyone is inspiring each other and so the creativity is always flowing and growing. In the events business, when people are picking out cakes and colors, they're not doing it in isolation—when it comes to weddings and parties, there are collaborative teams and everyone is learning from one another.
The quality that is necessary now that wasn't needed so much a decade or two ago is the ability to multitask and be well-rounded in your skillset. When I started my career, you were someone who was interested in television OR writing OR marketing, etc., but now you have to be nimble and willing to do a little bit of everything. Even If you're in the world of flowers, say, you still have to be able to do social media, appear on videos, or write an interview. Even though many companies have that built-in support team, at the end of the day, everyone is being counted on to contribute.
 Stay open minded about possibilities and let your career take you where it will. There's no telling who you will meet on that errand or what skill you will learn during that little task.
What was it like to plan your own wedding when your career revolves weddings?
I was single when we started Martha Stewart Weddings back in 1995, and for six years, I stayed that way. All I did was plan weddings for other people and go on countless unsuccessful blind dates. Even though I became quite an expert at planning weddings over that time, I could never really imagine planning one for myself because I could never really imagine who I would marry. Cut to one day in 2000 when Martha told me that she had found my husband—and it turned out she was right.
In some ways, it was obviously easier for me to start planning my wedding because I already knew everything that was involved in the process and had many contacts in the industry who were already my friends, so I knew what was involved. At the same time, however, there were so many common issues that all brides deal with that I did, too. Keeping the guest list edited (do you let your friends bring a date? How many extended family members and third cousins once removed do you invite?), keeping up on my checklists, and making sure that everyone would be happy with their seating. And let's be honest, one might say that it was even harder for me than other people because the pressure is on! When you're the weddings editor at Martha Stewart and your wedding is going to be a week-long feature on the TV show and a story in the magazine, there's a lot of expectation riding on it!
I do have to say that I've been someone who has always paid attention to details in celebrations. Even when I had that party favor business when I was young, it was the little details and small elements that were important to me, so that played a lot into my wedding. But despite all of that, the thing that I remember most about the entire process was being together with people I love—going dress shopping with my mom, all the fun activities I did with my friends (crack of dawn Bikram yoga!) and just enjoying celebrating all of it with the people I care about. That piece about stepping back and enjoying the process is what inspired the part of my book that I call DIT (Do It Together)—it's the best part of any celebration.
Although the flowers at my wedding were beautiful and there was an unforgettable dessert buffet, honestly what stands out the most to me were the personal moments like the sentimental ceremony, the fun toasts like my sister singing or Martha and Sharon's incredibly creative, funny and meaningful recitation, and dancing at the end of the night with my husband, just being excited to start our lives together. As one of my other favorite lines in my book says, "The best things in life are free, and the best things in life aren't things."
Tell us about the process of creating Celebrate Everything!. What new challenges did it bring about that you had yet to face, even after your extensive career at Martha Stewart?
If you haven't figured it out by now, I've loved to celebrate for as long as I can remember. When I was a kid I would make little decorations for every occasion, which my parents always encouraged and taught us. My sister and I loved to create celebrations and learned a lot from, our mother who is incredibly artistic and creative (and who is also the calligrapher in my book!). As I grew up, I threw parties and celebrations for all of my friends (bridal showers, baby showers, you name it), and then when I had kids of my own, it just got that much better. Together with my mom, when my daughter Daisy turned one, we did a daisy-themed birthday party for her, which started the snowball effect of parties that appear in my book. Now, three daughters and 12 years later, I have planned and documented a lot of celebrations that are full of personal details. Over time, the parties themselves have evolved, as have my daughters as they grow older, but the one thing that's stayed the same is always doing it together and making sure that I document and save photos from each party in one place. Having those scrapbooks and photo albums is not only a great way to remember celebrations years down the line, but was a great resource for my book as well.
Even though I've done crazy photo shoots before and have been illustrating and scrapbooking my whole life, combining everything together was a big task that resulted in a lot of late nights (or should I say, very early mornings) and last-minute overnight shipping. The illustrations were mostly new for the book and at first were all done in watercolor. At zero hour, we switched to marker and I had to go back and redo a lot of the drawings quickly. In the end, it was a collaboration of a lot of talented people from all different areas of expertise, collecting all of my sources over the years and looking back on the past 12 years of parties that helped to get the book done.

Photo by Mike Krauter 
Make sure that you are appreciating those little moments along the way that are getting you somewhere—even if you don't know where that somewhere is.
What advice would you give your 23-year-old self?
In a word: RELAX! I didn't necessarily know where all the hard work and long days were leading to, and want to say now that that is okay! I think the biggest thing is to make sure you are appreciating those little moments along the way that are getting you somewhere—even if you don't know where that somewhere is. Have goals, but don't be so overly focused on where things are leading that you can't appreciate the moment. For me, it was the traveling, meeting new and interesting people while working hard. Similar to how planning parties and celebrations is all about the process and doing it with people you love, I would tell my 23-year-old self that building your career is much the same. I've learned so much along the way and it's been such an incredible journey that I can't even imagine what might come next, and I hope that never changes.
Where do you recommend starting when planning a wedding or big event? There are so many factors to consider, it can feel overwhelming to know what should come first.
I always recommend starting with the big picture. Think about the kind of event you want to throw—and attend! There are so many ways you can celebrate, and only you know what you have in mind. Think about how many people you envision attending. (Will it be intimate with just immediate family and close friends or are you imagining a big party with everyone you know?). Also, consider the style of the party you want to plan, which helps dictate location, venue, timing, and décor elements. But no matter what, before you get caught up in the planning, enjoy the anticipation and brainstorming before that planning mode really sets in. Whether it's celebrating at place you had your first date or hanging out on the couch and watching a movie, make sure you enjoy the process as you go through it.

Photo by Johnny Miller 
We all love Pinterest, but seeing the difference between what your dream wedding or event would be vs. what you can actually afford to create can be disheartening at times. How can readers utilize their inspiration photos in a way that is helpful instead of harmful to their planning experience?
Inspirational imagery is a great tool to have as it will help guide your creative process and help your vendors bring your vision to life, but it can also be very overwhelming. Make sure to set a budget from the beginning and prioritize what's important to you. If you have a small floral budget, but love the idea of an abundant floral wall, find creative ways to interpret that. You could use floral wallpaper, DIY paper, or tissue flowers, or use abundances of more affordable flowers like carnations. There is an almost endless range of ideas to pin, so there will always be options for you and your vendors to use as jumping off points. Be honest about your budget and definitely communicate that with your vendors from the start. These experts do this every day and can help you think creatively and inspire other solutions as well.
On the subject of event budgeting, where would you recommend splurging vs. saving?
Budgets are very personal. Everyone has different priorities in entertaining. I always recommend focusing on the elements that will both have the most impact and be the most memorable. For me, I always recommend investing in a great photographer. The photos are what you will be left with to enjoy and cherish after the day is over and will help spur all those memories you created. It's so important that you find someone that can capture all the amazing details—not just in the décor, but in your family and friends and the little moments that are happening behind your back. Entertainment is also key. You want your guests to enjoy the night and good music can make or break a party. There are so many great (and untraditional) options for music these days—take the time and do the research to find someone that knows the style you want and can execute accordingly. Some of the most memorable parts of weddings are the things that don't cost any money at all—the vows, the toasts, and the love in the room. I always say to remember that the soul and spirit is what people remember most.
I always say that the soul and spirit is what people remember most.
With the holidays upon us, do you have any tips for how to keep entertaining and hosting as stress-free as possible? What's a good format for entertaining for the holidays for an inexperienced hostess?
The holidays are such a crazy time of the year, even without the added stress of entertaining. When you're the host, don't feel like you have to do everything yourself! You and your boyfriend/husband/best friend/sister—whoever!—can split up responsibilities! Have one person do the food; the other be in charge of décor. I always say the best part of throwing a party is not how much you DIY, but what you DIT (do-it-together). Not only is it fun and memorable, but it ultimately takes some of the pressure off and makes the planning more fun (and can also help share the expenses). Enjoy the process and the whole thing will end up meaning that much more.
Since there's SO much inspiration out there for wedding and event planning these days, it can feel challenging to make yours feel unique or special to you—there's so much that has already been done! What tips do you have to infuse your own personality into an event?
It's true, there is inspiration everywhere we look, which is great but can also be totally overwhelming. My recommendation is to focus on who you are as a couple (or whoever the party is being thrown for). The more you can hone in on your personal style or what makes you unique as a couple, the more creative your event will be. For example, if you went on your first date to a Spanish restaurant and you love that food, why not serve paella? The deeper you go into what interests you together—the food you love to eat, the places they love to travel, their personal style—the more personal and memorable your affair will be. The "Getting Started" chapter of my book has a master list of all of those questions to get you thinking. And of course these inspirations don't have to be a full-blown theme, but more will help you inspire details—so if you love to spend summers in Nantucket, choose Nantucket fudge as a favor. It's those little personal details that really make a party memorable and unique and the ones that you will remember years down the road.