Part of what keeps fashion interesting is the constant fluctuation of trends—what's unappealing one moment (over my dead body would I wear that) can easily become covetable by the masses seemingly overnight (I need it and I need it now). After all, would any of us have imagined just a few years ago that we'd be putting UGGs on our Christmas list this December?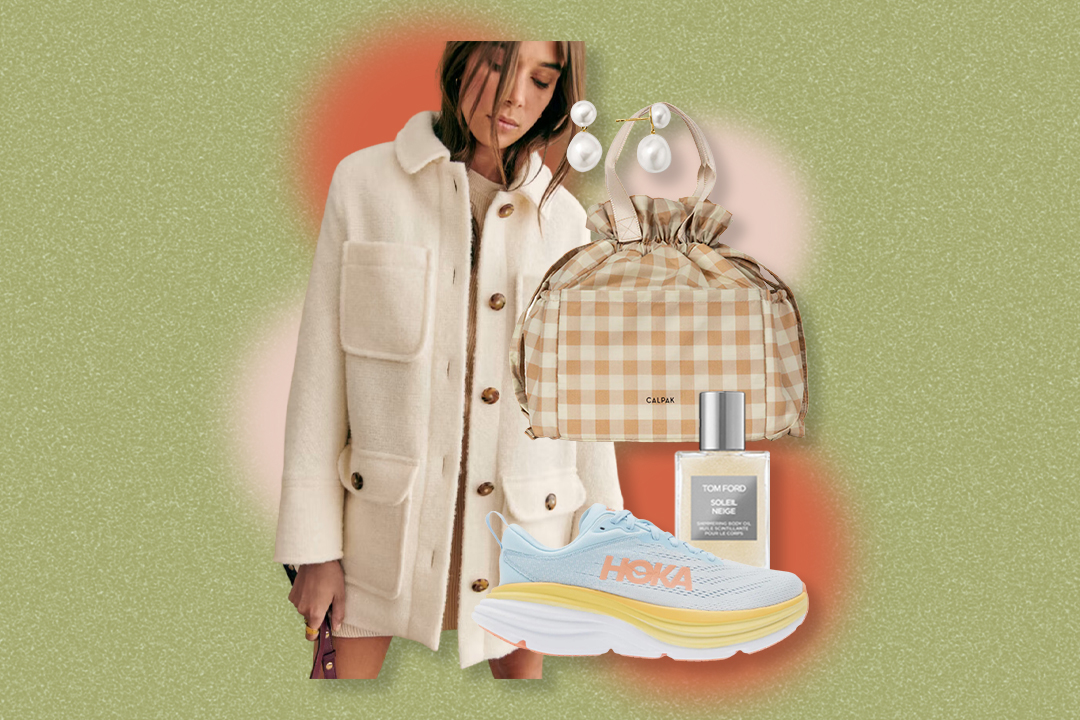 While trends can sometimes feel at odds with the current season (black sundresses this summer fit that bill for me), the stars do occasionally align, serving up a moment in time that witnesses a trend whose insurgence aligns with seasonality. This juncture is when a style or aesthetic feels nothing short of perfect. And that is exactly the story this holiday season with metallics.
As you've probably noticed, metallics have been ruling the fashion space in 2023. The trend was seen immediately out of the gate last January and has been holding strong through the fall and winter, as noted in our fashion editor's commentary on this year's New York Fashion Week. While the metallic aesthetic—from reflective fabrics to sparkling sequins—has been largely driven by the runway, I also have a not-so-groundbreaking theory that the rise of shine is more than a little inspired by Taylor Swift's Eras Tour (I mean, seriously—did you see those bodysuit and boots combos?).
If you've been considering adding some metallics to your everyday wardrobe, there's no better time than right now. With the holidays upon us, reaching for pieces with a little extra sparkle and glam feels natural and true to the magic of the season. Here are some styling ideas to get you started.
Mix metallic textures
Incorporate metallics throughout your entire look
Go all-in with sequins
While I didn't personally attend the Eras tour, I did manage to catch the film in theaters. Let's just say that after the Midnights set, I found myself overcome with the desire to acquire a sequin dress. If you can relate (or maybe you just really love sequins), then a full-sequin dress feels like a wardrobe must-have this holiday season. Style with a festive hair bow for December date nights or Christmas Eve dinner. A sequined dress styled with a pair of cool-girl heels is also the perfect ensemble for ringing in the New Year.
Reach for red
Like many of us, when I hear the word "metallic" I instantly think of silver and gold. To employ metals in a way that's a little more merry, consider reaching for vibrant red pieces—always a fan-favorite come December. An all-red outfit built on an eye-catching metallic piece is bold, beautiful, and about as festive as it gets.
Pair bold with basic
If you have a number of parties lined up this holiday season, then a sequined pair of pants is the styling route of choice. They pack a serious visual punch without sacrificing comfort and convenience. Keep the focus on the pants with a basic top and a pair of black slingback pumps.
Rock a metallic blazer
Incorporate metallics into your holiday season workweek with a silver blazer. Trendy ballet flats in a matching metallic complete the ensemble and add a satisfying sense of visual balance. Rock the look during after-work cocktails with a crystal-encrusted handbag, whose rough texture pairs well with the mirrored surface of the blazer and flats.
Opt for metallic outerwear
While the term "holiday" tends to conjure cozy mental images of watching Christmas movies next to a shining tree, or sipping cocktails in front of a roaring fire, the reality is many holiday events do tend to take place outdoors. Keep the fashion trend going strong at the tree farm, when caroling, or while spending a day wandering around a Christmas Market with metallic outerwear. Shining metallic jackets and snow boots are trendy items whose shelf life will extend well beyond January 1.