It's no secret that summer is our favorite season (closely followed by the holiday season, of course)—and summer 2021 is about to be filled with everything we love about the season after a derailing summer 2020. We're actively seeking fun ways to bring the summertime spirit to us now that we can finally get together with loved ones and celebrate being safe.
That being said, we are SO excited to announce our partnership with Minnidip, a female-founded company that creates super-cute at-home pools, is BACK. Our collab sold out in just four minutes last year, so we're thrilled to announce it's back, including an exclusive, first-ever ring float to match each pool! We've designed two exclusive backyard pools, and they're both perfect for all your at-home adventures. Whether you're sipping a homemade cocktail while sitting in the larger size or splashing around with the little ones in the smaller size (which is also padded on the bottom for added safety), our two exclusive pools are here to help you enjoy the season at home. Plus, our ring floats can be used in your Minnidip pool, larger pools, and at the beach, so you can bring yours with you wherever you're heading this summer!
The two of us became huge fans of the Minnidip pools for adults and kiddos as soon as we saw them. The designs are the greatest of any inflatable pool we'd ever seen, and the fun, large size also fit adults, making it a great fit for the whole family. And even more amazing, Minnidip started offering perfect baby-sized pools with padded bottoms for little ones to enjoy safely. We both immediately purchased them for our own homes to enjoy in the warm summer months.
Before long, we learned that Emily, the founder of Minnidip, was a local Chicagoan, as well. We met up for coffee to chat and talk business and get to know one another, and before we knew it, we were in talks to partner on a co-branded pool design for Summer 2020!
The designing process was easy: we immediately went to our favorite patterns of stripes and dots with a solid dose of fun summer color and uplifting sayings done in hand-lettering by our in-house graphic artist. So without further ado, we are so excited to share our limited run of The Everygirl x Minnidip and The Everymom x Minnidip pools and ring floats, which are now available for purchase!
The Everygirl x Minnidip
We're thrilled to introduce The Everygirl x Minnidip collab with this timeless "adult kiddie pool" featuring a classic black and white combo of swiss dots and stripes and a soft blush floor with gorgeous "Here Comes The Sun" typography handcrafted by the TEG team, along with the matching ring float. The Everygirl is the quintessential trendsetter for all things elegant and timeless, and the pattern we created for this collab is exactly that: timeless.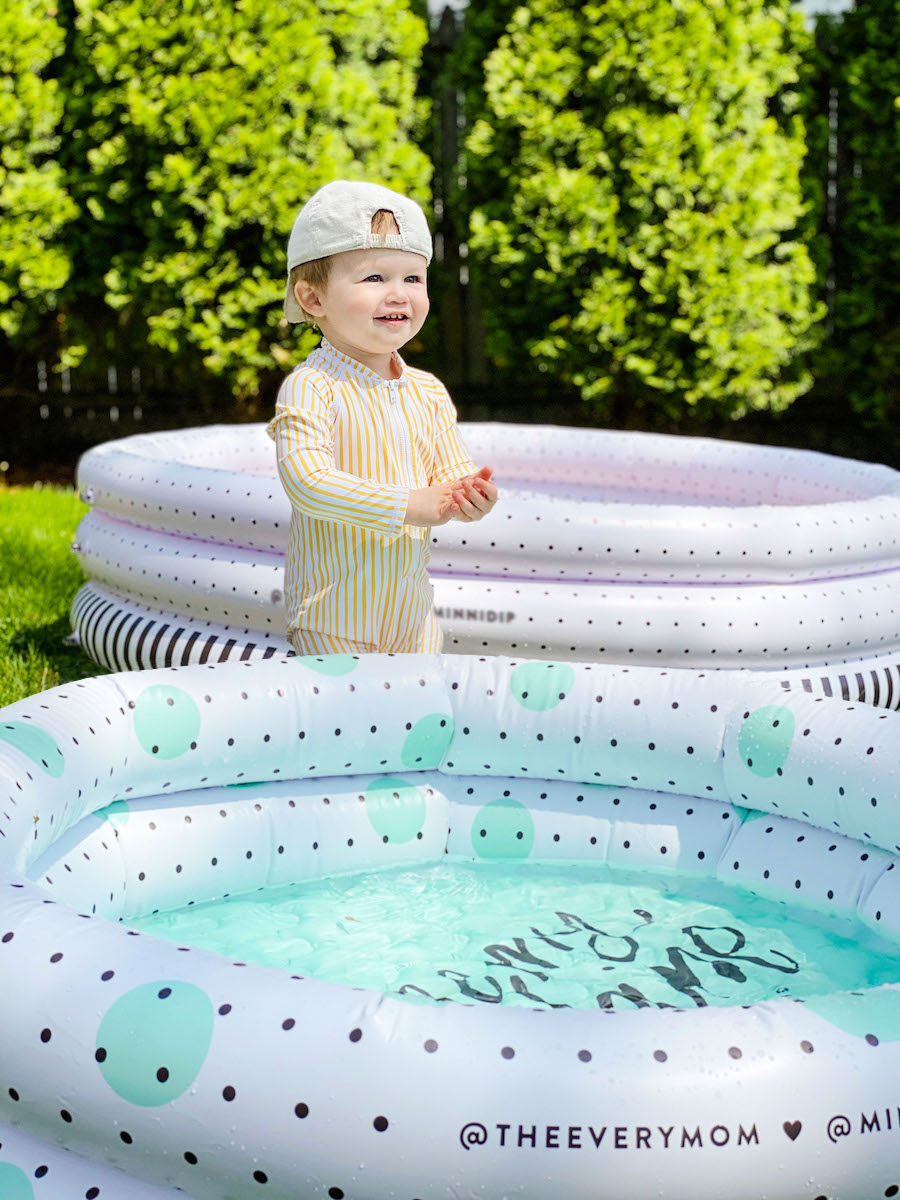 The Everymom x Minnidip
We're thrilled to introduce The Everymom x Minnidip collab with a playful mint polka dot and black and white swiss dot combo featuring an inflatable mint floor with gorgeous "You Are My Sunshine" typography handcrafted by the TEM team and a matching ring float. The Everymom is the expert in all things classic and beautiful for your little ones, and the pattern we created for this collab will have your little ones splashing in style all summer long!