Naomi Seifter understands the struggle of eating out when you have a food allergy, so she created Picnik, an Austin-based restaurant that makes delicious, modifiable dishes for anyone who deals with a food allergy or intolerance. In 2013, Naomi opened a food trailer, selling gluten-free breakfast and lunch options, bone broth, and butter coffee, which ultimately became their best-selling item and is now sold in Whole Foods stores across the country.
If you're looking to save money, time, AND a headache this holiday season, we've got you covered.
Picnik's popularity in Austin grew quickly, and they opened their first brick-and-mortar restaurant in Austin in 2016. Naomi attributes the success to Picnik's wide array of options, from paleo to carnivore to options for picky kids. We talked with her about how she took the company into stores, how she relieves stress, and all about her famous butter coffees.
Name: Naomi Seifter, Founder of Picnik
Age: 30
Current Location: Austin, TX
Education: Musical Theatre, BFA — Syracuse University
What was your first job, and how did you land it?
My first job was working for a CPA in Olympia, WA (Frost & Co.) as a courier, doing bank runs and errands as needed. I interviewed for the position at age 15 so I could start the day I turned 16.
How did your degree prepare you for the job you ultimately have?
My degree was unique in that it focused around being on stage and acting. It has been very useful by allowing me to be comfortable being the face of the company — interacting with guests, conducting interviews, and doing videos. However, this is the first time I've been "on-stage" as myself, instead of being on-stage embodying a character. There's a lot of vulnerability in that.   
If you could change anything about your start in your career, what would you change and why?
I don't think I would change anything about the early days. I'm a firm believer that there are no accidents. Every time I've failed or struggled, I've learned a valuable lesson and moved forward with new awareness. It's easier to fail when you're small, so learn as many lessons as you can in the early days.
How long have you known you wanted to own a company?
Since 2010 when I lived in Miami, FL. My friend Patty owned a small juice bar called Under the Mango Tree, and it really inspired me to be an entrepreneur. I remember standing in her store and declaring I wanted to do something on my own like that one day.
What piqued your interest in food?!
When I was a kid, we never went out to eat, besides to a local Chinese restaurant. We ate really beautiful, home-cooked food, but I didn't start to experience the restaurant industry until I was about 15. That was the first time in my life I saw the spectrum of what food could be like. How flavors, colors, textures, and aesthetics could play off of each other — that was incredibly inspiring to me. We spent such little time going out to eat when I was growing up that when I got into the culinary scene, it gave me all kinds of "aha" moments.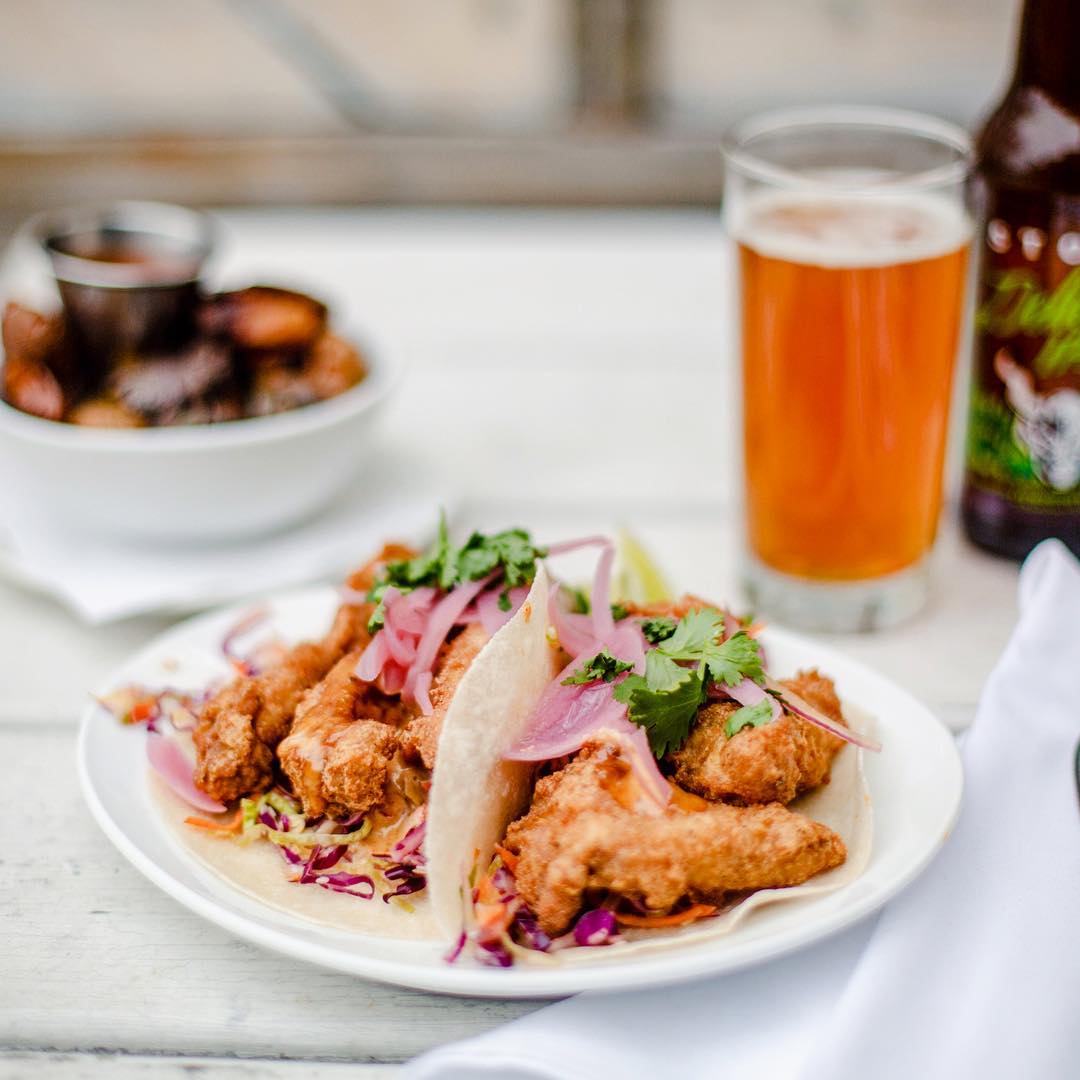 How did you take Picnik from a food trailer to a restaurant with a full menu in three years?
When we started the food trailer, we quickly gained a solid reputation thanks to our unique coffee menu. However, I also wanted to focus on serving food that's healthy and that made our customers feel their best. There was something I thought to be fundamentally missing around the experience of eating healing food, and in general, it tasted bland. I had learned how to cook at home out of necessity, and I knew healthy food didn't have to be boring. I wanted to share my food philosophy with the world, and that was ultimately the catalyst for opening Picnik.
Due to the infrastructure of the trailer, our food concept was relatively limited. Although the menu was of the highest quality, it didn't exactly lend itself to any modifications, as it was prepared in a grab-and-go format. We have learned that modifications are very important to us at Picnik. Our customers have many different allergies, preferences, and sensitivities, and we feel it's important to be able to cater to those individuals. I quickly realized that if we truly wanted to be inclusive and serve great food, we would have to make it happen in a restaurant setting. As a result of these discoveries, we made the leap to open our flagship restaurant in August 2016.
What's the secret behind the "butter coffee"?! How is this different from our usual caffeine fix?
There are four pillars to Picnik's coffee: direct-trade coffee, grass-fed butter, grass-fed whey protein, and MCT oil. Often when people consume regular coffee, they will experience a jolt of energy followed by a caffeine crash. Our ingredients work magically together in a way that provides a slow, sustained release of caffeine. The butter and protein are satiating and make you feel full and alert after drinking a cup. Throw in some MCT oil, which has been proven to increase metabolism and improve cognitive function, and you've got a latte that gives you everything you need for a productive morning. There's a lot of science to it, but you really have to try it for yourself to truly feel the difference.  
We can buy your butter coffees in Whole Foods! What was the process like putting your product into stores?
I'll start by saying that it took three years to get it right. Our first Picnik café acquired a group of regulars who began asking for a way to access our butter coffee when traveling outside of Austin. This — along with interest from local retailers — led us to create our bottled butter coffee line. The first iteration was developed in the form of what I called "buttercups" Similar to a Cadbury Egg, it was a cacao shell that was filled with butter, MCT oil, and collagen protein. Ideally, customers would be able to drop a buttercup in hot coffee, shake it up, and, voila, they'd have butter coffee. However, we faced some stability issues, especially in the Texas heat. A Whole Foods Market buyer who was a customer at Picnik said that if we made a ready-to-drink beverage, Whole Foods Market would be interested in selling it, so we took that as a sign to pursue this new platform for innovation. We faced a whole new set of challenges in trying to produce this first-of-its-kind product, but finally made it through the other side. We truly want as many people as possible to experience the functional effects and delicious flavors of our butter coffee, so making this product helped us reach a whole new community of Picnik customers outside of Austin.  
For those of us who can't make it to Picnik in Austin, what's your advice for those with food allergies and intolerances?
Start by an elimination diet. Fill your shopping cart with plain, real, single-ingredient foods. Meats, fish, fruits, vegetables, clean oils (like olive oil), ghee, herbs; and organic, soothing spices. Keep it plain and simple in the beginning until you stop having reactions. From there, slowly, explore adding new foods back in to your diet, focusing on adding only one new food at a time. If you need a system or proven protocol to follow, The GAPS diet is an incredibly powerful elimination diet, and I can't recommend it enough to someone who is struggling. If you buy dairy or would like to keep it in your diet, keep it as clean as possible, sourcing only ingredients like raw cheese or organic Bulgarian yogurt. If you love grains, try swapping our white and wheat flour for safe gluten-free grains like white rice and quinoa.
A critical piece to healing that too few people talk about is that you need to learn how to cook for yourself. Get comfortable in the kitchen, and you'll feel so much better. Restaurants are known for shortcuts and cost-saving methods, like using bad oils, pre-made sauces with less-than-ideal additives. The more comfortable you get in the kitchen, the more control you have over what you put in your body. Ultimately, this has the potential to dramatically change how you feel.  
You went through yoga training after you graduated and lived and worked in Canada and India. How has your knowledge of yoga helped in your career path?
I will keep my yoga teachings with me forever. There are a lot of incredibly valuable tools that I have acquired through my trainings, like breathing techniques and meditation. These practices are great in times of high anxiety, and they really help me to remain in balance. I always lean on them as needed. I also have learned through the "mind-body" connection of yoga that what you eat has the ability to impact not only your physical body, but your mind, too.
What advice would you give to women hoping to grow their business nationally?
Start small. Don't overextend before you're ready. It is better to fail when you are a regional brand, as the mistakes can be less costly. In addition, those mistakes will become valuable learning tools that will help you to prevent other missteps as you grow.
What advice would you tell your 22-year-old self?
The same advice I would give my 30-year-old self today: Make your mantra "I trust in divine guidance, and I'm always safe."  
I'm a firm believer that there are no accidents. There seem to be hidden lessons in our experiences, and it's important to always look for the greater purpose. I would also tell my younger self to be resilient and patient. Our life doesn't always happen the way we imagine it, but if you work every day in the direction of your dreams, you will have a fun, joy-filled journey ahead of you.
Naomi Seifter is The Everygirl . . .
What's your power outfit?
Upside-down dutch braid top-knot, red Alice & Olivia jumper, sweet tights, and thigh-high leather boots.
Go-to pump up song?
Your Love, The Outfield

Never leave home without . . .
Earl Grey Tea
What is your ideal Saturday?
Going on an adventure with my husband and our dogs or doing something active at the house, like gardening.
If you could have lunch with one woman, who would it be and why?
My mom, because she's wonderful, and I don't get to see her as much as I'd like. If it could be absolutely anyone aside from her, I'd pick Alice Waters.