Chances are, if you've ever turned to a popular streaming service for a great LGBTQ+ romance, you've been disappointed. This past fall, I became all too acquainted with this type of defeat when a friend and I decided that we'd spend our fall semester with weekly movie nights of only LGBTQ+ romances. As it turned out, our quest to WLW movies with relationships that reflected those in our own lives was harder than we thought, resulting in hours aimlessly spent searching for something, anything, that we called "both gay and good."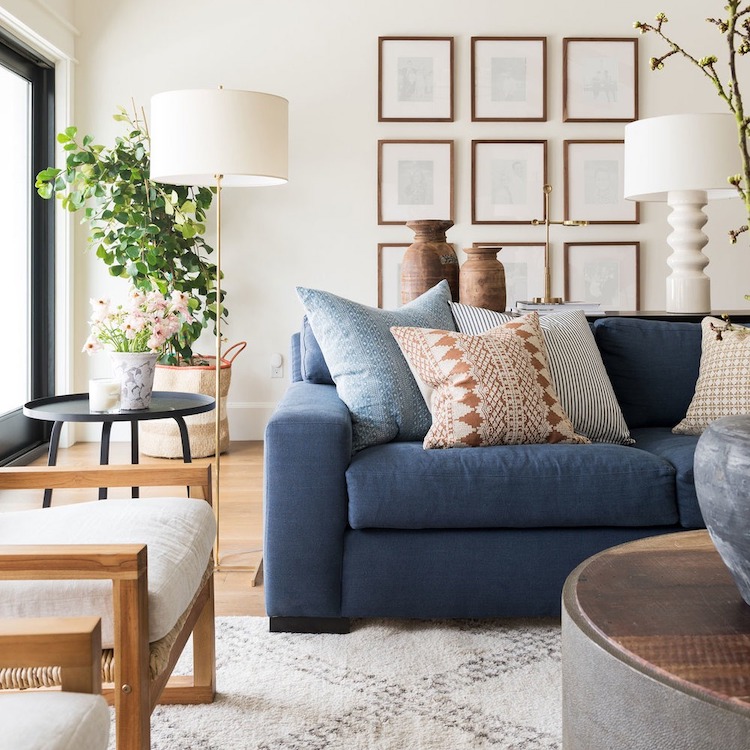 don't make the same mistakes I did
So in what might have been an unhealthy level of competition with no one other than myself, I set out to watch every single movie that features two women in a relationship, romance, or even the classic situationship on good ol' Netflix and Hulu. Though a treacherous time—especially when you account for the borderline concerning number of LGBTQ+ movies clearly made for a straight audience than the community they were supposed to represent—I watched all the women-loving-women movies I could find. And what would you know? I think I finally have a solid list of non-cringey, actually good movie romances between women. Take that, streaming platforms.
Here are my top eight picks of movies featuring women-loving-women romances that are just a sign-in to Netflix or Hulu away.
1. Disobedience
How to Watch: Netflix
Genre: Drama
Understated, unexpected, and just plain good, Disobedience is the classic tale of love that just doesn't die. When Ronit returns to the Orthodox Jewish neighborhood to pay respects to her late father, it becomes pretty clear that she left for a reason: The entire neighborhood couldn't accept her relationship with Esti (who, by the way, is played by the one and only Rachel McAdams), another woman in the community. However, Esti is married to a man she doesn't love and, in a neighborhood where you can't really trust anyone to keep a secret, has no one other to confide in than Ronit.
Yes, most LGBTQ+ movies play with the idea of forbidden love, but in Disobedience, there's something about the way that the story advances, and the tension is only heightened. And I mean, with McAdams, whose role in Mean Girls was a childhood-defining moment for me, I couldn't take my eyes off the screen. As I said before, this is a more understated movie, with some scenes relying more on body language than dialogue, so it would be a movie you'd have to pay more attention to if you want to understand the storyline. And with a focus on one's relationship with family and religion, it can be a bit heavier at times. Still, nothing from Ronit and Esti's relationship is sacrificed, and we see a romance filled with more than just a surface-level lust or attraction. If you're scrolling Hulu for a movie with a meaningful story, definitely turn on Disobedience—but maybe keep a box of tissues handy.
2. The Watermelon Woman
How to Watch: Hulu with SHOWTIME Subscription
Genre: Comedy, Drama
With a nearly unheard-of 100% on Rotten Tomatoes, The Watermelon Woman is a gem I wish I watched sooner. Cheryl, an aspiring filmmaker who sees herself in the Black lesbian actress known as "The Watermelon Woman," sets her heart on making a documentary about her. The only problem? It seems like Cheryl is one of the only people who has heard of the actress—which makes it a bit difficult to make a documentary. In between focusing on her film, Cheryl begins a romance with Diana, a white and seemingly carefree fellow movie lover. And while I have plenty of qualms with Diana, there is a pretty steamy scene between her and Cheryl after their first date—you can thank me for this insight later.
With commentary on race, the justice system, and women in Hollywood, this movie is so much more than your average LGBTQ+ film. But even with a serious undertone, elements of comedy and witty dialogue make this a great movie to turn on when you want a laugh. I mean, the scene where Cheryl visits the Center for Lesbian Information and Technology—also known as C.L.I.T.—is one of the many scenes that make this movie one of the most hilarious on this list. Not to mention, Cheryl and her friends are out, which is a nice change from the typical coming-out narratives almost every LGBTQ+ centers on. I will say, The Watermelon Woman doesn't necessarily focus on a romance, but if you want a poignant story and are a film fanatic like Cheryl, this is a great choice. The Watermelon Woman is currently only available with a SHOWTIME subscription—which adds on $10.99 per month—but if you're a fan of free trials like I am, this movie alone makes signing up for a free week of SHOWTIME worth it. And if you want to maximize SHOWTIME while you have it (or if you already pay for it), other highly rated titles like Ellie & Abbie (& Ellie's Dead Aunt) and Moonlight are also included in the subscription.
3. Portrait of a Lady on Fire
How to Watch: Hulu
Genre: Historical, Drama
This film should win simply because it's French. OK, now that I've got your attention, let me be the umpteenth person to say that Portrait of a Lady on Fire balances a slow burn (get it?) romance with other plot points inside a 1770s timeline and a fair amount of steamier scenes perfectly. Marianne, an accomplished painter, comes to an island off the coast of France to work on the portrait of Héloïse, a woman of the gentry forced to marry a man from Milan (who she's never even met before—ew). As Marianna paints Héloïse, the two become friends, and in time, even more than that.
Over two hours long, the movie has scenes that say a lot about the two's relationship, so I'd definitely recommend watching more than once if you want to capture every little detail. But even with one viewing, you can see how Marianne and Héloïse's relationship represents a deep love, the kind that's doomed to end but neither person cares. Poetic, isn't it? One other selling point: French actress Adèle Haenel, who I'm now borderline obsessed with, is impeccable from the way she delivers her lines as Héloïse to all the emotion she manages to convey in wordless scenes. And can we talk about that close-up of her face at the theater (see, you'll have to watch to know what I'm talking about!).
4. Elena Undone
How to Watch: Hulu
Genre: Drama
OK, so let me lead with this: Elena Undone isn't exactly a movie I'd watch for an unforgettable romance or great storyline. That being said, if there's any movie I'd recommend throwing on during a "Netflix—Hulu?—and chill" kind of night, this would be the one. With plenty of steamy scenes (some of which go on for quite long), this movie alone can be enough to set the mood for a date night.
But if you are interested in watching for the plot—couldn't be me—the story focuses on Elena, a wife of a pastor who's going through somewhat of a midlife crisis. When she meets Peyton, a writer who is going through her own "so what's next for me?" phase of her own, the two immediately hit it off. Admittedly, the story is perfectly satisfying if you want to see a woman leave a mediocre man who preaches against homosexuality and somehow can't pick up on any signs that his wife is cheating on him. And Elena discovering herself was a nice reminder that no matter where you are in life, it's not too late to find love. So yes, the storyline is alright, but as I've said, if you're with a group of friends and want to pick a movie, Elena Undone is for more of a night in with your S.O. instead.
5. The Half of It
How to Watch: Netflix
Genre: Comedy, Coming-of-Age
A coming-of-age drama mixed with all the understated indie movie vibes you wouldn't expect to find on Netflix, The Half of It is an unexpectedly solid pick. High schooler Ellie, your typical quiet girl in a small town whiz kid, does her peers' homework for cash and has a love of literature and writing. Meanwhile, football player and inarticulate hot stuff Paul is convinced he's in love with Aster, another classmate at their high school. Forming an unlikely friendship, Ellie agrees to help Paul break up Aster and her current boyfriend—because apparently being single is a turn-off for Paul—by writing Aster a series of letters and text messages and winning her over in the process.
What I love about this movie is that we have all the ingredients of a typical coming-of-age story filled with the tropes we've seen thousands of times. We have the dumb jock, the super smart geeky girl (does she always have to wear glasses?), and the popular pretty girl everybody wants. But in an unexpected twist, our geeky girl begins to fall for the aforementioned pretty girl, and bam, we have more love triangles and drama than a Shakespearan play. The Half of It is fresh and funny but also insightful and heartfelt, making it the perfect choice for when you want a movie that makes you feel all the feelings.
6. The Miseducation of Cameron Post
How to Watch: Hulu
Genre: Drama, Coming-of-Age
Finally, a movie for the girls that nobody really gets. Fellow outsider and overall cool girl Cam has a secret relationship with a girl at her high school. That is until her boyfriend finds them kissing and Cam is sent to an away camp designed to snuff out any of her "unholy" urges. Yes, this is a plotline exhausted in a ton of LGBTQ+ movies, but something about The Miseducation of Cameron Post gets it right. Could it be because we're graced with the presence of lead actress Chloë Grace Moretz? Could it be the undeniable chemistry between her and co-star Sasha Lane? Or maybe it's the unhinged lip-synch scene to 4 Non Blondes' "What's Up?" Whatever it is, it works.
Just an FYI: This isn't what I'd necessarily call a typical romance drama since there isn't really any specific romance that is developed in this movie. However, we do see an exploration into what exactly it means to be both queer and religious. Despite being at a camp that programs people to essentially hate themselves, it's pretty clear right off the bat that Cam isn't going to back down and try to reinvent herself to appease others. Telling the camp counselors "I never thought of homosexuality like this" when she's berated for being queer, she proves to be a strong protagonist and knows who she is. And honestly, there are a few people Cam inspires me to go and tell off.
7. Elisa and Marcela
How to Watch: Netflix
Genre: Biopic, Drama
I might not be a huge fan of biopics, but something about this one made me get lost in the story and immersed in the romance. A Spanish film, Elisa and Marcela is a biographical drama that tells the story of real-life Elisa Sánchez Loriga and Marcela Gracia Ibeas. The couple had the first same-sex marriage take place in Spain after its Roman Imperial Era, a union that only went when one of the women pretended to be a man in order to receive a valid marriage certificate. Obviously, the couple's marriage, though looked down upon at the time, solidified them as important figures in LGBTQ+ history, so it only makes sense that the pair had a movie made after them.
A black-and-white film, Elisa and Marcela is a romance drama that is relatively understated. The story showed a relationship that felt like a real friends-to-lovers romance, especially since the two share experiences with hard childhoods and forced religious morals. Despite the constrictions of making sure to adhere to historical accuracy (of course, with a little bit of dramatization here and there), their romance still feels relevant to a modern audience through the inclusion of emotion-driven dialogue and little displays of affection anyone can relate to. After watching, I was happy to see this movie take a different approach from most LGBTQ+ films and might have actually shed a couple of happy tears. With plenty of cute couple moments, an avid avoidance of nuns, and an unexpected amount of octopus imagery, this isn't your average biographical film.
8. Ammonite
How to Watch: Hulu
Genre: Historical, Drama
I don't know what it is about historical films and women falling for each other left and right, but somehow, it just works. With Kate Winslet and Saoirse Ronan playing the two strong leading ladies and lovers, this movie was one I had high expectations for. Set in the 1840s, paleontologist Mary collects and sells fossils washed ashore near her home. When a random man walks in one day and basically begs (borderline forces, honestly) Mary (Winslet) to show him the tricks of the trade, she reluctantly agrees. Pleased with what he sees, he then volunteers his own wife (Ronan) to learn the ins and outs of paleontology with Mary while he's out of town—he really had to try for the worst husband of the year award, huh?
As most films centering on an LGBTQ+ romance, what starts as a friendship soon turns into a passionate affair. One added twist to this relationship, however, is that both characters start out hating each other, and to be honest, it seems only natural as the two have nearly nothing in common. But as they continue living together, what they once saw as each other's intolerable quirks turn into charms. Their relationship is raw in that it's full of ups and downs, which made me go from rooting for their relationship to deciding that they shouldn't be together back to being their biggest fan in the blink of an eye. Another fun fact about this pick: Winslet and Ronan actually choreographed the sex scenes in the movie themselves because, as Winslet puts it, "women know what women want." Honestly, that's just another reason to love her.
Bonus: But I'm a Cheerleader
How to Watch: Hulu
Genre: Parody, Comedy
OK, it might not be on Hulu or Netflix, but this parody and rom-com is just too much of a classic to not put on this list. Megan, a cheerleader who wears a cross on her neck and vows to wait until marriage, thinks she's doing her best to be devout and make her parents proud—until they notice she's been hugging the other girls on her cheer team just a little too tightly. This combined with her overall disgust for her boyfriend—though, if anyone kissed me with that much tongue, I'd also find it really hard to feel any type of attraction—results in her enrollment at True Directions, a 1950s-esque away camp meant to transform "homosexuals" into temptation-resisting heterosexuals.
Determined to find something that caused this homosexuality, the camp director and her supposedly straight colleague (played by the one and only RuPaul) take a hit at all the stereotypes—I'm talking veganism, an affinity toward so-called vaginal art, and I mean, one camper even cites her homosexuality caused by her mom's choice to wear straight pants at her wedding. Essentially, But I'm a Cheerleader is a laugh-out-loud comedy that begs the question: Why do so many straight people think being gay is caused by an event or thing? Over 20 years after its release, it's poignant, hilarious, and ultimately shows that even when some people see you as different, you can still find people who will love you.