Want to stay in and watch a show? Me too. I used to get excited to dress up and stay out late, but I won't lie to you: Those days are over. Instead, streaming what's new is now my idea of a good time. Heck, I even mark release dates in my calendar. What can I say? I love being a homebody.
If you're looking to save money, time, AND a headache this holiday season, we've got you covered.
With all of the streaming services now, it can be hard to keep up with what to watch and where to watch it. But, this month, the lineups are so good that you will want to ensure you have access to all of the platforms—or at least your friend's passwords. These shows and movies are about to be the topic of conversation in The Everygirl's #watercooler Slack channel, and I'll be damned if I miss out on that.
Cancel your plans and get comfortable because it's time to hit "Play." Without further ado, here are some of the most anticipated shows and movies that are new on streaming this month.
Netflix
Lady Chatterley's Lover
Where to Watch: Netflix
Release date: December 2nd
In this adaptation of the highly acclaimed novel, Sir Clifford Chatterley returns home from war injured and impotent, which causes tension in his marriage with his wife, Lady Constance Chatterley. Clifford gives her permission to seek a lover from the upper classes, but Constance eventually becomes sick from the stress of caring for her husband. So, a nurse recommends fresh air for her recovery, which unexpectedly leads her into the arms of Oliver Mellors.
Scrooge: A Christmas Carol
Where to Watch: Netflix
Release date: December 2nd
Here's another new holiday movie to add to your watch list this year. In yet another twist of A Christmas Carol perfect to watch with your whole fam, Ebenezer Scrooge is a grumpy, greedy old man who has no time for others, until he's visited by a series of ghosts in the lead up to Christmas Day that put him in the holiday spirit.
Too Hot to Handle, Season 4
Where to Watch: Netflix
Release Date: December 7th
One of the most beloved reality TV shows of our time is finally back with their fourth season. Like always, 10 singles who are known commitment-phones and hook up fanatics give up sex for one month in hopes of winning the grand prize of $100,000.
Emily the Criminal
Where to Watch: Netflix
Release Date: December 7th
In this thriller film any true crime fan will love, a college graduate, Emily, is drowning in student debt and is unable to find work. So, she becomes involved in a credit card scam acting as a dummy shopper by buying increasingly risky products with stolen credit cards.
Pinocchio
Where to Watch: Netflix
Release Date: December 9th
In fantasy-horror mastermind Guillermo del Toro's unique take on this character we all know and love, he tells the story of a father's wish that magically brings a wooden boy he hand-carved to life, giving him a chance to care for the child 10 years after the passing of his own son.
Emily in Paris, Season 4
Where to Watch: Netflix
Release Date: December 21st
The next season of everyone's favorite American abroad is finally back with a new season. Emily Cooper, an American college graduate from Chicago, moves to Paris when she gets a job offer to bring an American flare to a top-tier French marketing firm. While there, she figures out how to live in the city day by day, find love, and stay true to herself.
Glass Onion: A Knives Out Mystery
Where to Watch: Netflix
Release date: December 23rd
Mystery girlies, rise up. The highly acclaimed sequel to Knives Out will finally be available to stream this month. In this film, we follow world-famous detective Benoit Blanc as he goes to Greece to peel the layers of a mystery surrounding a tech billionaire and his very eclectic group of friends.
White Noise
Where to Watch: Netflix
Release date: December 30th
Based on the beloved book by Don DeLillo, this movie follows a seemingly ordinary family grappling with an uncertain reality. When their lives are completely upended by a nearby chemical leak that causes "The Airborne Toxic Event", the Gladney's must evacuate and do what they can in order to survive.
Want more Netflix?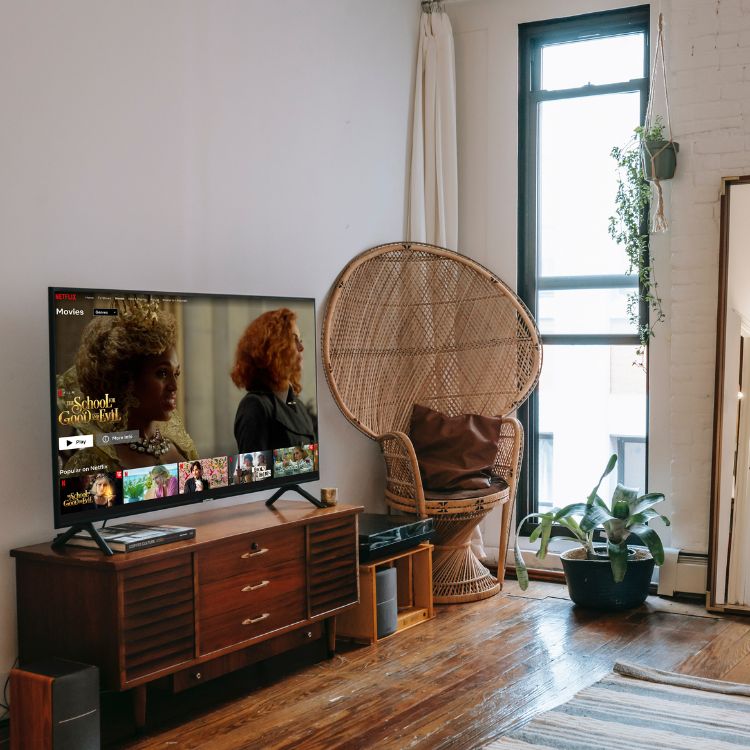 your guide to all things Netflix
Apple TV+
Emancipation
Where to Watch: Apple TV+
Release date: December 9th
This new dark drama film starring Will Smith, who plays Peter, follows a slave fighting for his life and freedom by running on a journey to the North after being brutally abused.
Disney+
National Treasure: Edge of History
Where to Watch: Disney+
Release date: December 14th
This exciting new series follows Jess and her friends as they put their skills to the test while following a series of clues hidden in American artifacts and landmarks. Along the way, Jess does everything she can to outsmart a black-market antiquities dealer in a race to find history's greatest lost treasure, and also unbury the truth about her family's past.
Hulu
Darby and the Dead
Where to Watch: Hulu
Release date: December 2nd
This new drama comedy follows a young girl named Darby, who has the ability to see dead people after having a near death experience during her childhood. As a result, she becomes introverted and shut off from her high school peers and prefers to spend time counseling lonely spirits who have unfinished business on earth. But when the coolest girl in school suddenly passes away, Darby is finally put in the spotlight amongst her peers.
The Night House
Where to Watch: Hulu
Release date: December 8th
What's the holiday season without a little bit of horror, you know? Reeling from the unexpected death of her husband, Beth is left alone in the lakeside home he built for her. While she's there, disturbing paranormal activity takes over the house once night falls, and she digs through his old belongings looking for answers as to why this is all going on.
Kindred
Where to Watch: Hulu
Release date: December 13th
In this brand new mini series based off Octavia Butler's classic sci-fi novel, a young aspiring writer discovers secrets about her family's past when she finds herself mysteriously being pulled back and forth in time to a 19th century plantation.
Amazon Prime Video
Something from Tiffany's
Where to Watch: Prime Video
Release date: December 9th
Imagine your engagement ring ending up in the wrong hands, but it actually ends up being everything you needed. Rachel and Gary are a happy couple, but not quite ready for that big commitment, while the picture-perfect couple of Ethan and Vanessa are just about to make it official. When a simple mix-up of their gifts causes all of their paths to cross, it sets off a series of twists and turns that lead them where they're truly meant to be.
HBO Max
Gossip Girl, Season 2
Where to Watch: HBO Max
Release date: December 1st
Season 2 of our favorite spin-off series has finally arrived, and there's even more drama and plot twists than the first. Almost 10 years after the conclusion of the OG series, a new cast of Manhattan private schoolers takes the lead under the watchful eye of Gossip Girl, while demonstrating how much social media – and the landscape and culture of NYC– has changed over the years.
His Dark Materials, Season 3
Where to Watch: HBO Max
Release date: December 5th
In this fan fav sci-fi drama series making its return for its final season, a young girl, Lyra, is fighting to liberate her world from the grip of the evil Magisterium, which represses people's ties to magic and their animal spirits known as daemons.
Amsterdam
Where to Watch: HBO Max
Release date: December 6th
This film is based on the true story of the 1933 Business Plot, a political conspiracy in the US to overthrow the government of President Franklin Roosevelt, and follows three friends who are caught in the mysterious murder of a retired US general in the midst if it all. BTW, Taylor Swift is in it too…just saying.
Want more HBO Max?
your guide to all things HBO Max