Want to stay in and watch what's new? Me too. I used to get excited to get dressed up and stay out late, but I won't lie to you: Those days are over. Instead, watching what is new on streaming is my idea of a good time. Heck, I mark release dates in my calendar sometimes. What can I say? I love being a homebody.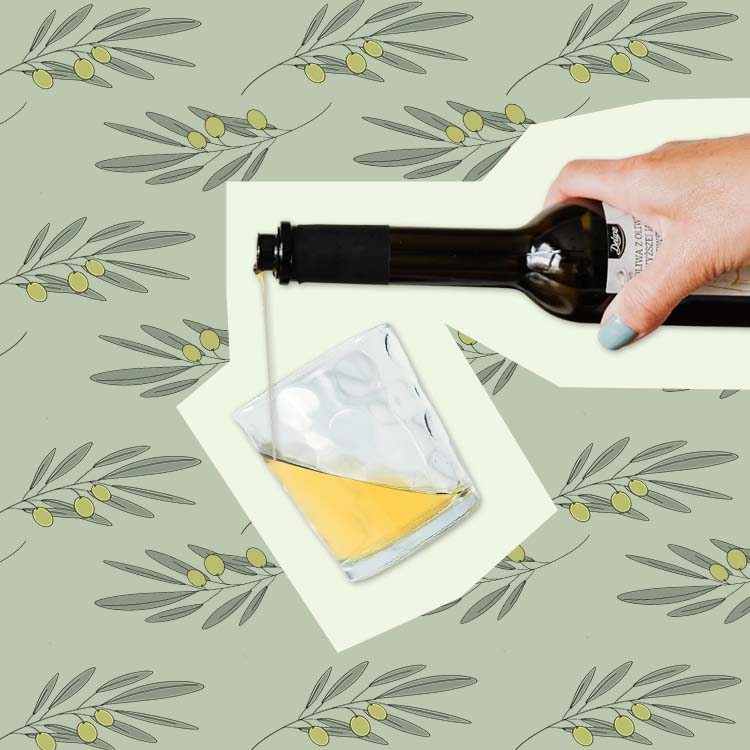 we love olive oil, but this seems a bit too far... or is it?
With all of the streaming services out now, it can be hard to keep up with what to watch and where to watch it, but this month, the lineups are so good that you're going to want to make sure that you have access to all of the platforms (or at least your friend's passwords to some). These shows and movies are about to be the topic of conversation in The Everygirl's #watercooler Slack channel, and I'll be damned if I miss out on that.
Cancel your plans and get comfortable because it's time to press "play." Without further ado, here are some of the most anticipated shows and movies that are new on streaming this month.
Netflix
Blood Sisters
Where to Watch: Netflix
Release date: May 5
Sarah is engaged to her dream man, but can a physically abusive and controlling man really be a dream? I think not. Despite warnings from her best friend Kemi, Sarah chooses to continue on with the wedding. On the day of the engagement ceremony, a catastrophic series of events unravel, forcing both women to run.
Senior Year
Where to Watch: Netflix
Release Date: May 13
After a cheerleading accident sends Stephanie (played by Rebel Wilson) into a coma for 20 years, she wakes up and wants to return to high school to fulfill her dream of becoming prom queen. Unfortunately, high school looks a lot different when you're 37, so she is forced to navigate what is considered cool and popular now versus what was 20 years ago in order to fit in.
Tully
Where to Watch: Netflix
Release Date: May 16
Charlize Theron plays Marlo, a stressed and overtired mom of three. After noticing that Marlo could use some help, her brother gifts her a nanny named Tully to lend a hand. While Marlo is skeptical of the idea of a nanny, the two quickly form a unique bond. This movie is as witty as it is emotional, which is no surprise because it comes from the creators of Juno. With that said, it has to be good, right?
Who Killed Sara?, Season 3
Where to Watch: Netflix
Release Date: May 18
Who Killed Sara? is back for its third and final season this month. This mystery thriller follows Álex, Sara's brother, as he sets out to prove his innocence after being framed for the murder and spending 18 years in prison. Through the process, he ends up unraveling more scandal than he set out to. There were so many cliffhangers at the end of the second season, so we can't wait to get to the bottom of them and, of course, find out the truth behind Sara's death (if she's even dead).
A Perfect Pairing
Where to Watch: Netflix
Release Date: May 19
Victoria Justice stars in this Netflix original movie about an LA-based wine company sales executive named Lola. To land a major client, she travels to Australia to work at a sheep farm, and, of course, as all good rom-coms go, she unexpectedly catches the eye of a mysterious and handsome local.
Apple TV+
The Essex Serpent
Where to Watch: Apple TV+
Release Date: May 13
Do you love period pieces as much as we do? Well, The Essex Serpent coming to Apple TV+ is set in the Victorian era. Based on the novel by Sarah Perry, this movie tells the story of Cora, who has recently gained freedom from her abusive husband and moved to a small village in Essex. Once she hears that the town might be haunted by a mythological sea serpent, she wants to learn more about it, so she enlists the help of a couple of locals.
Hulu
Conversations with Friends
Where to Watch: Hulu
Release Date: May 15
Conversations with Friends, written by New York Times bestselling author Sally Rooney, got Sarah Jessica Parker's stamp of approval, so of course, we already added this to our Hulu watch list. It is about a 21-year-old college student in Dublin named Frances who is navigating a series of relationships: with her best friend Bobbi, with a handsome actor Nick, and with his wife Melissa.
Peacock
Girls5eva, Season 2
Where to Watch: Peacock
Release Date: May 5
Musical comedy Girls5eva is back with another season after a whole year! If you aren't familiar with this show and its all-star cast (Paula Pell, Busy Philipps, Sara Bareilles, Tina Fey, Renée Elise Goldsberry, and Ashley Park), you're going to want to binge-watch the first season in the first few days of May before the second one is released. This feel-good show is about a one-hit-wonder girl group from the '90s who reunite to give their pop star dreams one more shot.
Angelyne, Limited Series
Where to Watch: Peacock
Release Date: May 19
After a series of billboards with a photo of Angelyne (singer, actress, media personality, and model) caught the attention of practically every individual in Los Angeles in 1984, she became a promiscuous icon. This limited series is based on an investigative article by the Hollywood Reporter that explores who Angelyne is and how she quickly became a public figure.
HBO Max
Spring Awakening: Those You've Known
Where to Watch: HBO Max
Release Date: May 3
If you're a theater kid, you're going to love this. The cast of the Tony-winning Broadway show Spring Awakening is reuniting 15 years later to perform a one-night-only reunion concert to benefit The Actors Fund. This documentary gives a behind-the-scenes look at what and who made the show such a success in 2006 through candid interviews, original performance footage, and more.
Hacks, Season 2
Where to Watch: HBO Max
Release Date: May 12
The comedy-drama series Hacks is back for a second season. If you didn't watch the first, it is about a Las Vegas comedian named Deborah Vance who needs to stay relevant in order to maintain her performance schedule. To do that, she teams up with a young struggling comedy writer named Ava. Together, they freshen up Deborah's set and form a mentorship despite their many differences.
The Time Traveler's Wife
Where to Watch: HBO Max
Release Date: May 15
Based on the book by Audrey Niffenegger, this six-part romantic drama series is about a married couple whose lives are complicated by time travel. Henry has a genetic disorder that causes him to time travel unpredictably, and Clare, his wife, is left to cope with his absence on a regular basis. This untraditional love story will make you wonder why love is intensified by absence.