One thing about me is that I'm picky about shoes. If they're uncomfortable, no thanks. If they're not going to become my new capsule wardrobe staple, see ya. So you can probably guess that I'm pretty selective when it comes to branching out and trying a new shoe brand.
Enter the exception to my admittedly high standards: Nisolo shoes. I will admit, I was a little nervous about getting out of my comfort zone and steering away from my go-to pairs. But, when I heard everyone absolutely raving about how cute, classic, and comfortable their shoes were (especially their Chelsea boots), I knew that I was majorly missing out on something good.
Nisolo is a Nashville-based, ethically-made brand that sells every style of leather shoe you can imagine. Since its start in 2011, Nisolo has kept sustainability and social impact at the heart of their mission—which we absolutely love. They've maintained a 0% net carbon emissions rate while providing a fair living wage to all of their workers in Peru, Mexico, and Kenya. Now that's a brand we can get behind.
My Honest Nisolo Reviews
While all of their shoes are capsule wardrobe-worthy (and many were hard to resist adding to my cart), I decided to snag their Carina Cross Strap Mules, All-Day Heeled Mules, and Everyday Ankle Booties so I could put Nisolo to the ultimate test. Here are my real, raw, and honest Nisolo reviews on each pair and—spoiler alert—why I 10/10 would recommend giving them a try:
Nisolo Shoes
Carina Cross Strap Mule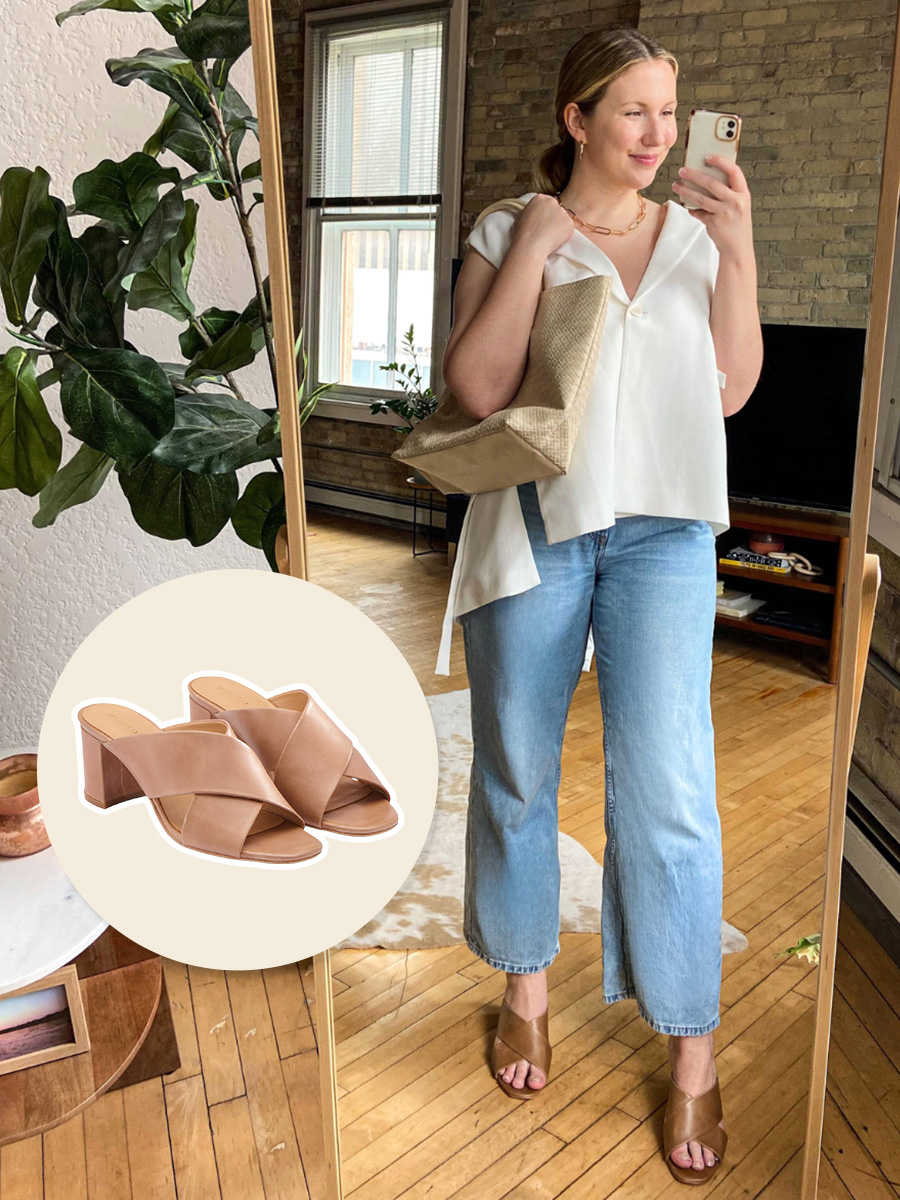 I am claiming it now: these strappy mules are my new go-to heels. Not only do they fit like a glove, but they're extremely comfortable. I can walk a full day in these 3-inch mules—from brunch to happy hour—with ease and most importantly, no blistering. It is all thanks to the Carina's cushioned insoles and soft leather straps. This is huge for someone like me who would not be caught dead wearing heels all day long—I am usually a sandal girly through and through.
Something else that I love about them is their versatility. There hasn't been one outfit that I haven't been able to pair with these shoes. They look great with jeans and a tee but also pair perfectly with a sundress. I don't even need to change my shoes when I'm hopping from sipping espresso martinis to date night because they fit any occasion and location with ease (and comfort). I am already planning on wearing them at numerous bachelorette parties coming up because we all know that each day requires at least 2-3 outfits. I'll be ready for anything with these heels packed in my bag. I snagged a pair in the color almond, but I've got my eye on their other neutral, matches-everything color options. Don't be surprised if I buy them out on Nisolo's website. (Plus, if you shop on Nisolo's site and use code EVERYGIRL20, you can get 20% off of your first order.)
All-Day Heeled Mule
As a girl who has officially entered her late 20s (yikes), I need a shoe that I can rely on for a whole new range of life events—from bridal showers to networking events. Closed-toe mules had always come top of my mind when I was searching for this tried-and-true shoe. However, I have tried on countless pairs of mules over the years, but they've either been too restrictive in the width or I'm trying to squish my feet into them which just isn't cute. I have naturally wide and big feet (tall girl probs—if you know, you know), so most pairs don't fit the way I like.
That was until I found Nisolo's All-Day Heeled Mules. I quite literally sighed of relief when I realized I could finally throw away the return label this time around. I know these mules will have a space in my closet for many years to come because they fit just right and are easy to slip on as I'm running out the door from one event to the next. Plus, since they are close-toed, I can wear these bad boys all year long throughout each season. I love pairing them with wide-leg jeans and a blouse for workdays and a neutral tee with a flowy, maxi skirt to channel my inner Daisy Jones on the weekends.
My Go-To Nisolo Boots
Everyday Ankle Bootie
I typically opt for knee-high boots over ankle boots throughout the year—especially since I live in the Midwest which is notorious for unpredictable weather (and knee-highs just pair so nicely with these chic knee-high boot outfits). We can get anything from sunny and dry conditions to 12 inches of rain or snow within one week so I have always leaned on knee-highs to keep my feet from getting soaked on those not-so-pleasant days. My opinion has completely changed because Nisolo's Everyday Ankle Booties are some of the best and most stylish waterproof boots I have ever owned. Even throughout the wettest seasons, (I'm looking at you, spring), these water-resistant ankle boots have held up without any wear or tear.
Plus, the Everyday Ankle Bootie is an effortless way to elevate any outfit and since they are low-cut, they'll give you that legs-for-days look. Personally, I also cannot get over the five (!!) layers of memory foam in the insoles—talk about comfort. I'm pretty sure that is more memory foam than what's in my mattress.
Where To Buy Nisolo Shoes
You don't have to book a flight all the way down to Nashville to snag a cute pair of Nisolos. You can shop them online in the comfort of your home with just one click. Here are a few of our go-to places to shop Nisolo shoes (and don't forget, if you shop on Nisolo's site and use code EVERYGIRL20, you can get 20% off your first order!):