High-end beauty products rarely go on sale. To be honest, I think it adds to the allure; they're less attainable and expensive and beautiful and obviously, my favorite thing on this very earth. But when they do go on sale, it's often hard to sift through what's actually good and what should probably stay miles away from your shopping cart. You might wonder, "Well, there has to be a reason this is on sale, right?!" Often, I'd agree with you, but the one exception is the Nordstrom Anniversary Sale.
your one-way ticket to your cool, calm, and collected era
You've likely heard about it a million times by now, but the Nordstrom sale is filled with incredible beauty products, from makeup to body care to gadgets to skincare and more, and they're all on a pretty hefty discount. Most of my day (honestly, during work and during my free time) is spent looking at, testing, researching, sourcing, and pining after beauty products. I have a pretty good handle on what's out there, what has positive reviews, and what is absolutely worth your money. So, I did what any good editor does, and I sifted through every beauty product in the Nordstrom sale to see what was actually worth it. If I had an endless amount of money (or an incredibly high Nordstrom credit card limit), these are what I'd pick up. Some of them I love so much I'd even recommend them at full price, and some are just a deal you can't beat.
SIGMA BEAUTY
A set of four eye and face brushes that can help with all your makeup needs. From sculpting to blending shadows, this set is the perfect excuse to upgrade those old brushes and give your makeup a professional finish.
RIKI LOVES RIKI
This LED mirror will quickly become a staple in your routine. It includes magnifying and phone-clip attachments so you can take selfies or videos and finally launch your TikTok career.
Kiehl's
Skinmalism is a wildly popular trend in which there's a stronger focus on fewer products that give the most bang for their buck. The Kiehl's Midnight Recovery Concentrate is exactly that. It's an overnight oil you apply as the last step in your skincare routine that soothes, improves texture, adds hydration and glow, and nourishes your skin with a blend of skin-loving oils like squalane and evening primrose. Instead of piling on a ton of masks, serums, and creams, opt for this one oil that basically does it all.
Oribe
Save over $30 and get the hair of your dreams with this set of Oribe's MVPs (most valuable products, of course): the famous Dry Texturizing Spray and Dry Shampoo. Revive your hair after a workout, add that beachy texture you love, and thank us later. Not to mention, the intoxicating scent of these Oribe products is the best hair perfume money can buy.
La Mer
If you've ever wanted to try La Mer, NOW IS YOUR TIME. As you'll know, La Mer is expensive, but it's well-loved by celebrities and pros because it seriously works. It's gentle, effective, luxurious, and so moisturizing, leaving you with probably the best skin of your life. This set, at under $100, has four travel-sizes of their top products like the Creme De La Mer, the cleansing foam, the treatment lotion, and the renewal oil, so expect to be the bougiest member on your next vacay with absolutely flawless, hydrated skin.
CHARLOTTE TILBURY
Eyeshadow sticks are the ultimate solution to quick beauty looks and this set comes in Charlotte Tilbury's bestselling Pillow Talk shade.
Too Faced
This gloss keeps your lips full, hydrated, and nourished—no needles required! There's a reason this lip plumping set has a cult-following.
Mario Badescu
For less than $25, you can snag Mario Badescu's most popular blemish-fighting products. Our editors swear by the drying lotion for pesky zits that won't come to the surface.
Living Proof
There's a reason this is called "Perfect Hair Day." This shampoo and conditioner does it all: volumizes, smoothes, strengthens, adds shine, and conditions fine, medium, and thick hair types, leaving you with the best hair of your life that's primed for style. But that's not all—this set also contains our editors' favorite dry shampoo of all time. It makes your hair actually feel clean with no white cast on dark hair. Don't wait—this set always sells out.
Briogeo
Say hello to my favorite hair product of all time but now, at a discount! Briogeo is one of my favorite hair brands because all of the products are clean, effective, and not-cheap-but-not-outrageously-priced-either, ya know? I bought a tub of the Don't Despair, Repair Deep Conditioner almost two years ago, and I still have about five uses left. It lasts truly forever on my short-to-medium length, fine hair, but I'm sure thick and curly/coily hair would get plenty of uses out of it too. This set also includes their Scalp Scrub (another favorite of mine—it smells like peppermint, makes your scalp tingle in the most satisfying way, and lifts build-up from dry shampoo and other hair products) and the Moisture Superfood Mask. This set is the perfect size for you to try and become completely hooked!
Neulash
Get the lashes of your dreams and save almost $100 on this exclusive deal!
Kate Somerville
A celebrity-adored treatment that cleans deep into pores without drying out your skin.
Paula's Choice
Our editors' favorite exfoliator for banishing blackheads that's also viral on TikTok in a jumbo size on sale? Say no more. This salicylic acid exfoliating toner is gentle yet effective, leaving your skin feeling softer, clearer, and brighter after only a few uses.
Boy Smells
I fell in love with Boy Smells in 2020, so seeing them in the sale makes my heart so happy. These are some of the best candles I've ever tried: they have the most unique, layered scents that are like nothing else I've used, and they burn so well. I had two Boy Smells candles last year that I burned like crazy but lasted over six months. Plus, their scents have a strong throw (meaning I can smell it throughout my entire apartment) without being too intense or headache-inducing. If you want to try their sexy, hot-man fall scents, this is the set for you, but they also have an option for their floral scents.
OLAPLEX
If you color your hair, you've heard of Olaplex. It's the bond-building and repairing system that colorists and stylists swear by for keeping your hair in tip-top shape even after you color (especially bleach). This set contains their three biggest products: the No. 3 Hair Perfector in a jumbo-size (this is probably the MVP of their line—I use this once a month without fail and it's improved my hair ten-fold, even after intense bleaching), and the No. 4 and 5 shampoo and conditioner in full-sizes. Olaplex was one of the first products I added to my routine when I was on the hunt for healthy hair, and it's made the biggest difference from any product I've ever used.
LIGHSTIM
This LED Light therapy wand is ideal for treating the appearance of fine lines and wrinkles at home.
PMD
Give yourself microdermabrasion treatments at home for way less than the cost of visiting your dermatologist.
Nécessaire
If you've had your eye on the minimal, cult-favorite dream of a body care brand that is Necessaire, now's your time to try. Staying at home the last year, we've all realized the importance of upping our body care game and taking care of our entire bodies, not just our face. Necessaire follows that ethos, making body care sexy, gorgeous, and cool (rather than the old Bath & Body Works you used as a teen). Plus, their products are actually good. The body wash leaves my skin soft and supple (which is not the same for most!), and the lotion doesn't make my body feel sticky or uncomfortable. The eucalyptus body wash is my favorite scent in the line that smells good all year long, and I love the fragrance-free lotion because it doesn't interfere with my perfume.
T3
If you've had your eye on a new hair tool, now's the time to get it. T3's products are expensive, but the quality is there. You'll save over $50 picking this up in the sale, which is what ultimately put it on my personal wishlist! In one pass, you'll have polished curls that last all day and never look frizzy—which is major if you're like me and hate curling your hair and it falling out in 30 minutes.
Nars
As a blush lover, I understand the mark NARS Orgasm has left on the makeup world. I can name at least five friends and coworkers who own this blush and this blush only and don't ever think of straying away. And I understand—it's the perfect pinky-coral with a slight sheen that gives your cheeks a glow, and you can build it up to work on a variety of skin tones. Whether yours from 2013 is getting a little crusty or you've never tried it, if Orgasm is on your mind, this is the deal to pick it up. This comes with a set of two full-size blushes, meaning you'll get the second for a third of its usual price. I understand most people won't need two of the same blush, but I highly recommend going in on this deal with a friend or saving the second as a holiday gift, because you won't find this deal anywhere else.
NEST New York
A votive candle trio featuring three luxurious scents: Bamboo, Grapefruit and Ocean Mist & Sea Salt.
REPLICA
This ultra-sexy fragrance is inspired by the scents wafting throughout a Brooklyn jazz club.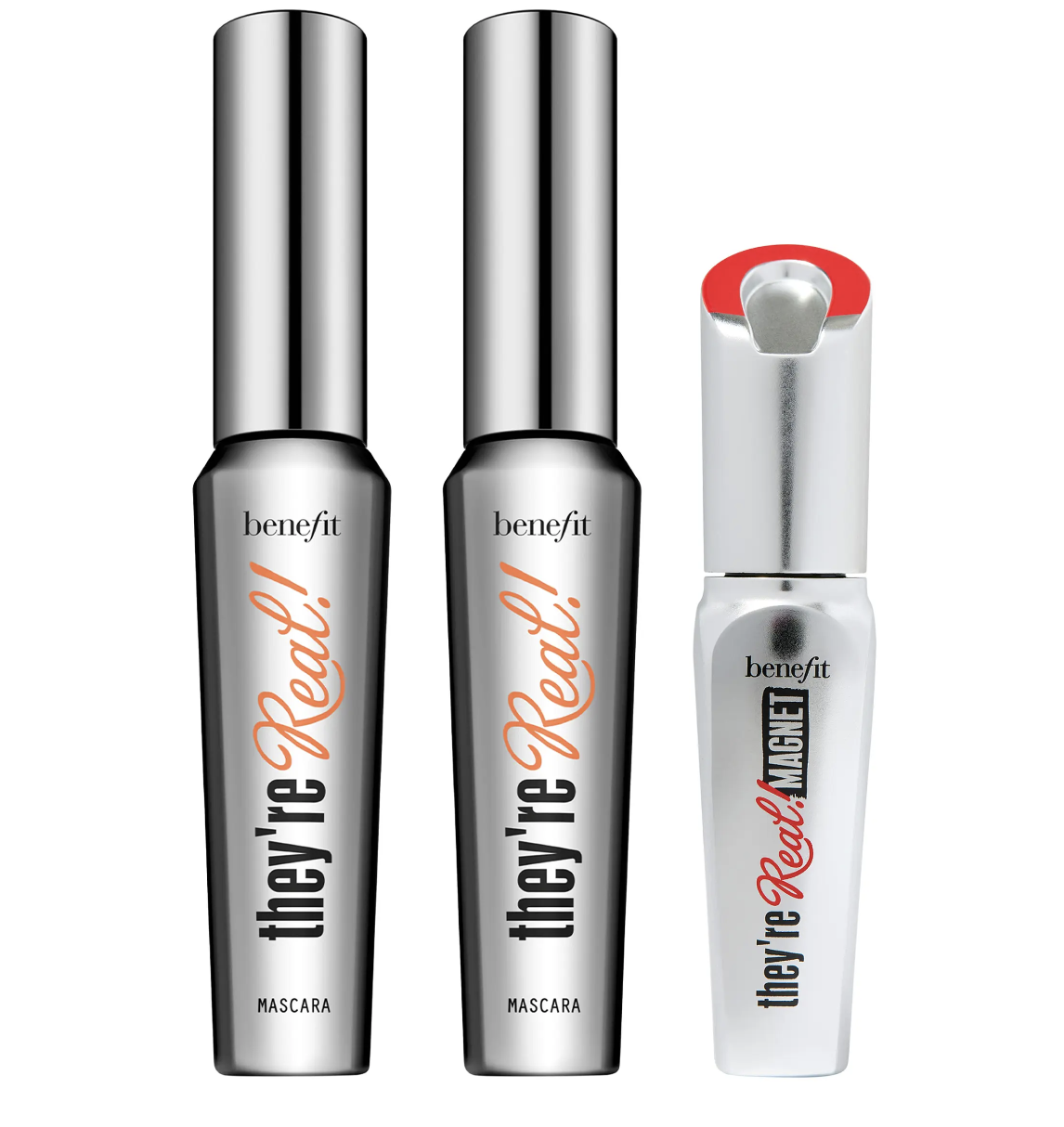 Benefit Cosmetics
Mascara is one of the few products that buying in bulk makes complete sense. It's a beauty product that goes bad very quickly (mascara should be replaced after 3-6 months), and it's something we use often, so it gets used up. And this deal on the cult-favorite Benefit mascara is one you can't pass up if you love the formula. You get two full-sizes and a mini (great for travel) for less than the price of two mascaras. If you like length, volume, and separation that will have people questioning if its falsies or natural, this is your mascara match.
Anastasia Beverly Hills
If you've ever, IDK, been on the Internet, you'll know that Anastasia Beverly Hills makes the best brow products. It's what makeup artists and celebrities and everyone with good brows has in their arsenal. This deal is outrageous—at $39, you're getting the brand's best selling products for almost $30 less than retail.
Slip
Oh, hello, steal of my dreams. Now that I've fallen head-over-heels for my Slip pillowcase, I am all about purchasing every single item I put in my hair in this gorgeous silk. But as you'll maybe know, silk ain't cheap, so the best time to snag these amazing-yet-not-that-exciting accessories are in a sale. This one comes with six of the small scrunchies and two of the medium size, so you'll have all you need for putting your hair up before bed, for working out, and for the cutest party pony. There's also a pink set if that's more in line with your aesthetic.
Bumble and Bumble
Not only will this set keep your hair shiny and healthy, you won't be able to stop raving about the smell.
Drybar
If you've been contemplating a blowdry brush, this set has every essential to help you get that 90s supermodel look—making it a deal that is too good to pass up.