Since the first day my mom gave me the go-ahead to buy my own makeup so I'd stop stealing hers, I've been a daily eyeshadow wearer. Eyeshadow was the first beauty product that made me fall in love with makeup (followed by foundation, when I realized there was something out there to cover my zits), and it's been my favorite part of my whole routine ever since. Wearing eyeshadow daily often garners a lot of questions, namely, "How the heck did you do that?"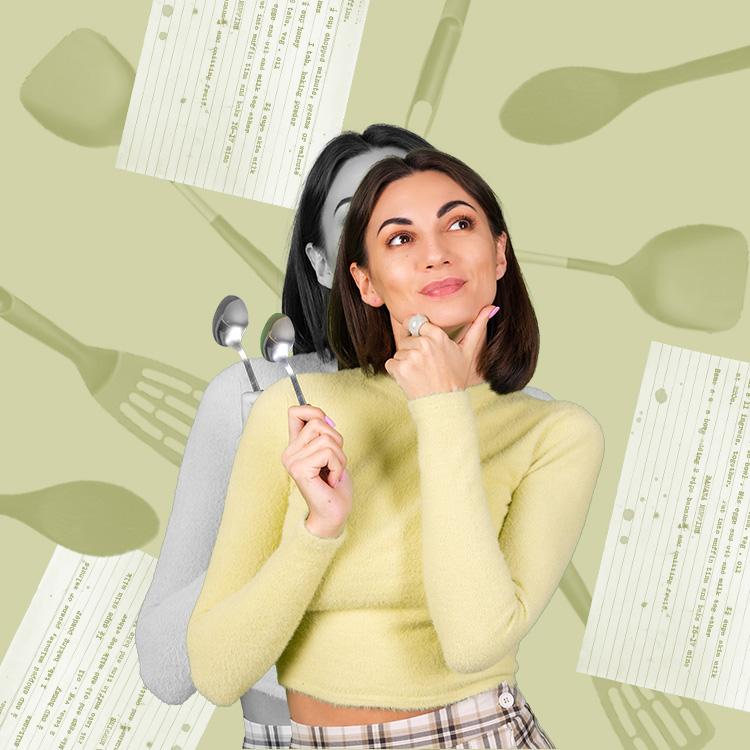 high in protein, good for gut health, and anti-inflammatory? yes, please!
And my answer is always extremely simple: It's just one shade.
One-and-done eyeshadows have grown in popularity recently, and I'm all for it. Blending one eyeshadow through my crease and calling it a day is my secret sauce to looking like I put so much effort into my look when I actually spent less than a few minutes. As easy as the look is, I do have a few tricks for building your own single eyeshadow collection, information on different formulas, and some tips for making this your signature look too. Shall we?
Liquid vs. Cream vs. Powder
Before we talk about the ins and outs of creating your look, we need a short primer on the different types of single shadows. These are the three types I use in my collection, and they all serve a similar—but also different—purpose.
Liquid
This is my favorite formula for very glittery, textured shadows because it really shows all of that dimension and applies it in an even way. No more dipping into a pot and getting glitter all over your face. To apply, you can either use the applicator and then blend out with a brush, or you can put a little on the back of your hand and apply with a brush (If it's a glitter, I would definitely recommend just using the applicator so you don't get glitter all over your hands).
Cream
If I need my eyeshadow to last for a long time, I'll use a cream. Cream eyeshadows typically have a long wear and don't crease, so they make a really good base for other shadows too. Creams come in matte and shimmer, and each has its place in my collection. Mattes are great bases, while a metallic cream shadow can look really pretty with just one swipe. To apply a cream shadow, either use your finger or a synthetic brush to apply to the lid.
Powder
I use powder shadows most of the time because they're the easiest to blend and can give you a variety of looks. If you make a mistake with powder, it's pretty easy to turn it into something good, which can't be said for other shadow formulas. Most of the time, I'm wearing a powder shadow just because it's the most prevalent on the market. I apply powder with a brush unless it's a shimmer or metallic, which I usually apply with my fingertips and blend out with a brush.
How-To
Although this is the simplest look known to man, there are some helpful tips to make it easier without sacrificing the look. First of all, regardless of the formula, always apply an eyeshadow primer first. It's important that your shadow in this look is impactful, so you need something to make it stick. If I'm using a really shimmery or glittery formula, I'll use a glitter primer to make those textures really pop.
For powder shimmer shadows, I keep a setting spray on hand to spray my brush before applying. It makes your powder shadow look like a metallic wash across your lid.
The key to this look is making sure to blend the shadow up into your crease. Regardless of your eye shape, take the shadow through the crease and blend it up toward the brow bone. This is what makes it look like you're wearing more than one shadow because the way the shadow catches the light on your lid vs. your crease is different, making it look like multiple shades. Especially when you use a shimmery, duo, or multi-chrome shadow, a blended look shows all the dimension and texture in the shadow, making it look super unique on your eyelid.
And when I feel like spicing things up a little more, I add a second shadow to my inner corner. Sometimes, I'll do a contrasting bright shade; other days I just use a shimmery gold. This short step makes my eyes look so big and bright, and it adds a flair and editorial vibe to the look, making it look really "done" and intentional.
Products I Love
Neutral
Smokey
L'Oréal
This shadow contains so much depth and dimension from the gold glitter running through it—you'd never know it was less than $15.
Victoria Beckham Beauty
These Victoria Beckham Beauty shadows are so soft and shimmery and blend like a dream. Add a black eyeliner to your waterline for a sultry look.
JD Glow Cosmetics
Hear me out: I know in the pan, this looks like a bit much, but it's actually what I'm wearing in the photo above. This multi-chrome shadow has so much dimension that it looks like a different color at every angle, making it look like you have a masterpiece on your eye that took a mere 30 seconds.
Laura Mercier
The best part about this stick formula is that you can apply it like a liner and just smudge it on the lid and lower lash line for the quickest smokey eye of your life.
Bright
Colourpop
Pastel shadow is one of the biggest trends in beauty, and I see no signs of it stopping. This periwinkle is in a unique cream-to-powder formula that you can apply with your fingers and blend with a brush.
Urban Decay
Purple looks so dimensional, especially if it has a blue shimmer running through it like this one. It's a light lilac, so it won't scare your boss if you don't usually wear color shadows, but it still has a hint of something special.
Flower Beauty
Yellow is one of my favorite shades to pop all over the lid because it's bright and happy but doesn't look too bold.
Kaja
I bought these years ago and still use them pretty much weekly. The middle pink shade is my favorite to use all over my lid because it just offers a wash of sheer shimmer instead of an opaque pink color.
Sample Beauty
For a bold look, go for a matte cream shadow in a bright shade like this, applying it in a liner shape. It's very editorial, very cool, and easier than you'd think. Clean up your lines with a Q-tip covered in makeup remover to make the look extra sharp.
Tools