From our favorite office snacks to the cozy clothes we live in on the weekends, Amazon is responsible for the things that make us tick on the day-to-day — the things we quite literally cannot live without.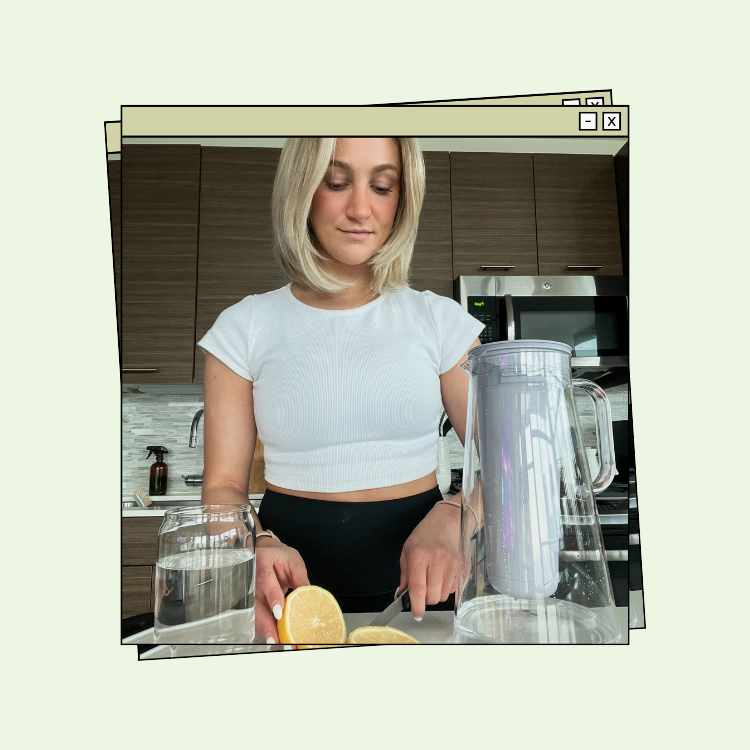 get it right in 2023 and beyond
When you find a great Amazon find (bonus points if it got to you in two days with free shipping), it feels like you have a dirty little secret — it's the biggest win. While we love to share them with each other in the office, today we're sharing our favorite Amazon finds here with you. They're the things we can't believe we ever lived without, and that we can't believe we found on Amazon. Save your shopping time for something else — get these delivered to your door this week.

Jovivi
I decided to order this on a whim to give gua sha a try a few months ago, thinking it was inexpensive enough to see if the hype was real. I will never replace it with any other tool — this one is amazing and feels just as luxe as its more expensive counterparts on the shelves of Sephora.
Feel Good
I drink a smoothie for breakfast almost every day, so I've been trying to figure out how to take them to the next level — this was the answer. This powder is SO tasty and is packed with antioxidants. One spoonful totally transforms the taste and texture of my smoothies — it's perfect for making smoothie bowls, too!
Honeycat
I got this as a gift and literally get more compliments on it than I've ever gotten on anything. It's the perfect addition to any outfit and is perfect for layering with my other gold necklaces — trust me, nobody will believe you got it for less than $25 on Amazon.
Maxmoda
There is nothing I love doing more than wandering around after a shower in the summer (it is hot as hades in my apartment), picking up random things, and staring off into the middle distance while my hair dries in crazy whorls. This is my nirvana. This is my meditation. Recently, I treated myself to this robe to up my game (instead of towel-holding-on-with-a-prayer). It is as soft as really expensive toilet paper and includes a pre-attached sash which is SO SMART. I love it, the end.
De La Cruz
You know those days when you're bopping along, having the best time, walking down the streets like frickin' Kate Hudson in How to Lose a Guy in 10 Days, absolutely in love with your life and/or a sandy-haired man, but then you get home and find this whole time you've been out in the world, A GIANT hormonal zit has been brewing under the surface of your skin, cackling like a Disney witch and ready to ruin your life? ME TOO. This ointment is exactly what you need. Yes, it kind of smells. Yes, it is a little ick in the texture department. BUT MAN OH MAN does it work.
Bestena
I hate shopping for sports bras because I don't want 8 million straps and a criss-cross back that will be impossible to put on, finished with a psychedelic print. I just want a bra that will hold my boobs in place. This does that, comes in a pack of three, and costs $17. Bless.
Amazon
Every fashion girl needs heart-shaped sunglasses for spring! These are chic enough for my best #OOTDs and sturdy enough to last me through music festivals.
Traditional Medicinals
I'm always looking for an extra boost in digestion and gut health (I am a millennial, after all!). This tea is not only delicious, but is made from digestion-boosting dandelion and probiotics for gut health. Try it iced for the prime summer refreshment (without the hangover of a margarita)!
Tinkle
I've said it before and I'll say it again — shaving my face is the most important step in my beauty routine. Especially for warm weather, getting rid of baby hairs or ingrown pores, and extra exfoliation is absolutely crucial (does anyone else know the feeling of sweat building up on your mustache in between wax days? — sorry for the TMI). I rely on these mini razors to get my glowiest, healthiest skin for summer.
DimiDay
I went wild for these bags last summer, but I didn't want to invest in the trend just yet until I knew if I'd like it. This one made the perfect beach bag last year, and my excitement grows for this summer almost solely to use this bag. It doesn't bring barrels worth of sand back into my apartment and fits everything I need. I usually will pack my phone, headphones, and anything valuable in a makeup bag to keep them protected!
Ebasy
I know this looks weird, but listen up. Once Apple changed the iPhone design to not include a headphone jack, my biggest fear became a reality. How would I charge my phone AND listen to music at the same time?! After months of suffering (this was a big issue in my life), I finally found this on Amazon and life has been pure bliss since. It's less than $10 and is key for any traveling you have coming up.
Nutiva
I picked this up on Amazon almost immediately after reading all the reviews and researching the benefits of hemp seed oil for acne. I use the double cleansing method to remove makeup, and I'm in love! I'm currently using a RetinA from my dermatologist, and this has helped reduce all that dryness that tends to come up with Tretinoin creams and leaves my skin extra soft and supple. The smell is a little interesting at first, but I got used to it quickly.
Makgot
I am such a fan of statement Gucci pieces — but I'm also a baller on a budget. This "Fucci" belt pulls any outfit together and looks almost as good as the real thing — at least until my lifestyle affords me the opportunity to invest.
Pyunkang Yul
I heard about this essence from Allyson, and I'm so glad I gave it a try. Seriously, forget everything you think you know about toner — this one is the opposite of drying. It's light, moisturizing, and dries quick enough to be a vital part of a morning skincare routine (even in a hurry).
Simple Houseware
I just used these to Marie-Kondo my drawers, and I can contest that they're worth their weight in gold. These totally transformed the organization in drawers that are otherwise super difficult to keep tidy.
Smart Sweets
I have an obsession with sour candy, so when Danielle told me about these gummies that taste just as good as the real thing but have a minimal sugar count—well I immediately bought the biggest box on Amazon. Each bag only has 90 calories and 3 grams of sugar. Give them a try... you will not regret it.
Stasher
These are a great alternative to single use plastic bags. They are versatile (can be used in the freezer or just as a regular bag) and are so easy to clean (read: dishwasher friendly).