Every blonde girl knows that maintaining blonde locks can feel like a part-time job — it takes time, money, and a lot of effort. You come out of the salon looking like Elle Woods, and a month later, your hair is dull, faded, and brassy. It can feel pointless to be dying it ("why am I spending all this money to only have good hair for a few weeks!?"). But fear not — here at The Everygirl, us blondes have finally mastered a routine that keeps our hair beautiful, brass-free, and maintained until our next appointment.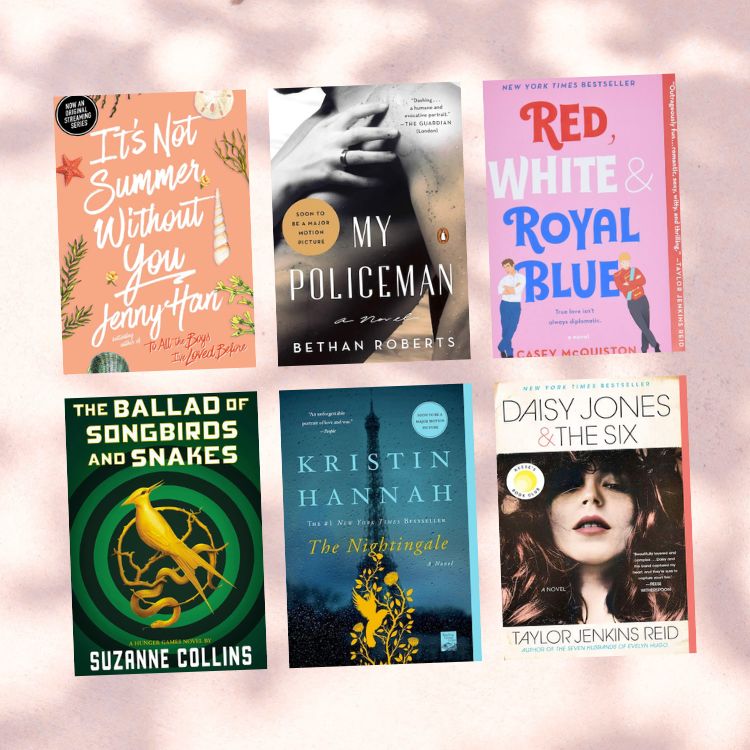 trust us: you're going to want to read these!
Enter: Redken's Color Extend Blondage Purple Shampoo and Conditioner. Purple products neutralizes warm tones in hair by depositing violet pigment throughout, canceling out any orange, red, or yellow undertones that naturally appear in light hair colors, keeping your color looking ashy and light (aka the of-the-moment, rich kind of blonde). Think of it as an at-home toner — it can work to keep your blonde bright without needing to run to your stylist for a professional touch-up. Purple shampoo and conditioner can save you time, money, and bad hair days.
You can use it every wash if your prefer your strands ashy, or once or twice a week if you prefer it more neutral or golden — either way, you can kiss brass goodbye once and for all.
The three blondes of our office embarked on a journey over the past few weeks to see just how much purple shampoo could help maintain our color. We all headed to our salons for fresh color, and consistently used Redken Color Extend Blondage Shampoo and Conditioner to see if it could keep our color looking just-dyed.

I'm a card-carrying member of the Blonde For Life Club (not a real club… but wouldn't that be cool??) — I have (or at least used to have) naturally blonde hair, and I can't imagine ever changing the color for good. Ever since my mom would let me, I've been adding a little extra help — I've gotten highlights for as long as I can remember, and I pretty recently went the full-head, super-cool-tones route via balayage.
I've dreamt of having the hair of Serena van der Woodsen ever since I first saw her grace my television — but to keep up with that level of blonde-ness has always meant using damaging products (and therefore sacrificing length — how does Serena do it!?).
My hair is finally at a length I'm excited about, and I definitely want to keep up the growth — but I also love the cool tones I worked so hard to perfect. I've used many different kinds of shampoo before, that have all been drying or damaging to my strands. Redken Color Extend Blondage is truly the first system that gave me the freedom to both control the tone of my blonde AND keep my hair healthy — something I've never before experienced, and never again want to go without.
I've been using the shampoo 2-3 times a week, and (wait for it), I've been using the conditioner every single time I wash my hair. My color is the exact shade and tone I want — and it's honestly never been healthier.
As a lifelong brunette, I never even considered that purple shampoo would ever be in my beauty arsenal, unless I pulled a full on Kim Kardashian and went bleached blonde. My distaste for the smell of bleach and inability to dedicate a lot of time to beauty upkeep made that unlikely, so purple shampoo (and conditioner!) was always far out of sight and out of mind. That is, until the day my stylist recommended it to me as the secret to all my hair woes.
You see, I've been obsessed with subtle balayage and lightening up my hair since ombre became popular years ago. I love being a brunette (whether or not blondes have more fun is TBD), but I've always wanted the gorgeous, effortless, sun-kissed Gisele-level locks that look like I've been on a permanent tropical vacation (even when I've spent the past 4 months in the dead winter of Chicago). Balayage was the answer from the hair Gods, and it was the perfect way to work in pretty, subtle highlights and depth into my monotoned brunette hair.
However, the blonde would fade and turn into brassy strips throughout my hair after a mere month, and sometimes even weeks–so not Gisele-level! I was tired of the brassiness, tired of paying for so much upkeep, and tired of how the blonde highlights just never stayed for long, no matter how good my hair stylist was (and she was good!). Should highlights that are meant to look effortless really be that hard!?
My hard hair journey finally came to an end when my stylist recommended purple shampoo and conditioner–groundbreaking. Turns out, the pretty violet stuff is not just for blondes, it's for all people with blonde highlights, even if the highlights are subtle! So I tried Redken Color Extend Blondage purple shampoo and conditioner, which, in my opinion, is the very best because not only does it have violet tones to keep brassiness away, but it has protein to make hair stronger, which means shinier, thicker, and all over better.
And let me tell you–one month after I got my highlights, my blonde has never looked better! The shampoo and conditioner worked to keep the blonde looking ashy and cool, and even gave it more tint than it originally had. Blonde aside–I love using the shampoo and conditioner because my hair just looks better after I do–fuller, thicker, shinier, something is going right. And it smells SO. GOOD.
My hair may not be Gisele-level (and probably never will…), but I have finally achieved the secret to the sun-kissed color I've always wanted, without the price and time of consistent salon visits. Redken has saved my sad brunette hair, and I could not be more grateful! Looks like blondes do have more fun–as long as they're upkeeping with purple shampoo.
I've been lightening my hair since the dawn of time. What started out as Sun In in the summer turned into my mom finally letting me get a few highlights, then a lot of highlights, then ombre, and now balayage — long story short, my hair has been through a lot, and I've experimented with just about every blonde trend in existence.
I used to always wonder why my hair didn't hold blonde as well as others. It looked gorgeous when I first got it done, then by the time I needed a touch up, it would be faded, dull, and quite frankly, orange. I thought my naturally light brown hair just was refusing to cooperate with what I wanted, but I was wrong. I was missing out on the most integral part of a blonde haircare routine: purple shampoo.
I've never loved super ashy blonde tones on myself, so I never thought purple shampoo was for me — this. is. so. wrong. I've started using it a couple of times a week, and it keeps my neutral-toned hair neutral without it ever turning brassy, and helps prevent it from fading. I've also always been a little afraid of it, because it tends to be super drying to hair. But, Redken Color Extend Blondage Purple Shampoo and Conditioner (I know, purple conditioner — I was mind-blown, too), actually has been making my hair feel softer and stronger.
Can I also just say that the concept of purple conditioner is absolutely genius? Purple hair products used to also scare me because they have a reputation for being so drying. After starting to use the combination of the purple shampoo and conditioner, I've noticed huge difference in how strong and healthy my hair feels. It kills two birds with one stone by keeping my hair color looking great and simultaneously making it stronger (without the constant use of deep conditioners that used to be necessary for me). Let's just say I've been feeling like every day is a good hair day lately — something I never would have said before.
True story: I usually get my hair toned every six weeks to help maintain the color between dyes, and at my appointment this weekend, my hair stylist decided I didn't need it — my color was still perfectly intact from my last dye. Purple shampoo for the win. (I also recommend finding a colorist you love and who understands what you want — it makes all the difference!).
How to Maintain Your Blonde
Blonde highlights fade for many reasons–hard water, heat styling, chlorine, sun, and time. The healthier your hair, the brighter the color, and the better it keeps blonde highlights. To extend your color and keep hair vibrant and healthy, heat protection is a must. Keep heat tools down to the minimum temperature (never over 375 degrees), and always use a heat protecting product. We love Redken's Pillow Proof Primer Spray because it leaves hair stronger and healthier by protecting against any breakage caused by heat (not to mention it cuts down on blow-dry time!).
Giving hair the proper nutrients it needs is also crucial to maintaining gorgeous blonde, but also making your hair as healthy, thick, and luscious as it can be. There's tons of products on the market promising a variety of nutrients, but really, the main nutrient your hair needs is protein–that's right, the nutrient responsible for building strong muscles also builds strong hair. We're especially obsessed with Redken Color Extend Blondage because it contains some major protein (Triple Acid Protein complex, to be exact!), which truly makes hair feel thicker and softer after every wash, because it is that much healthier.
Purple shampoo and conditioner is crucial for blonde highlights because they work to correct against all the factors that damage hair and cannot be protected against (like time). Your color looks fresher for longer, extending time between salon visits. It's like a salon-level treatment in the comfort of your own shower! Do your blonde a favor and get yourself some purple shampoo.
This post is sponsored by Redken, but all of the opinions within are those of The Everygirl editorial board.