We've had our calendars marked for the second season of Outer Banks for just about as long as we can remember, and now that it's finally here, we're diving headfirst into all of the mystery, romance, and adventure that season two is bound to offer. After far too many months without our favorite Pogues, we're welcoming them back onto our screens and into our living rooms with open arms.
If there's one thing to accomplish this weekend, it's hitting up one (or two or three) of these Memorial Day sales that'll make your home, wardrobe, and budget happy
While season one made us want to pack up our homes, grab our besties, and move to the real OBX, it also gave us all of the summer and beach vacation fashion inspo that we could ever want. With signature laid-back, beachy looks and touches of more elevated fashion moments (read: Midsummers and a top-secret expedition to the archives at Chapel Hill), our love for the practical, down-to-earth outfits on the show knows no bounds.
Maybe we can't pick up our lives and move to the land of the Pogues and Kooks, but we can channel the show's immaculate vibes in our wardrobes and our end-of-summer outfit choices. From John B.'s iconic Converse sneakers to Kiara-approved tie-dye shirts, we're rounding up five looks to help you channel your inner-Outer Banks local for the second season premiere and beyond.
resort shirt / resort shirt (plus size) / bikini top / bikini top (plus size) / bikini bottom / bikini bottom (plus size) / denim shorts / black sandals / raffia bag
In one of Netflix's many teasers for season two, Outer Banks released this cheeky pic of Sarah Cameron and John B. that will now be hanging on our office fridge. We saw John B. rock Hawaiian shirts all of season one, and to see his signature look rub off on our favorite Kook princess is giving us all of the feels. An outfit consisting of an oversized resort shirt, a bikini top, and high-waisted denim shorts is our idea of a good time, so there's no doubt that you can catch us in this exact fit on our next trip to the beach.
cropped tee / mom jeans / converse / beaded necklace / headband
Kiara's style choices are an absolute vibe, and we've been seeing a lot of her go-to accessories on our IG feeds and in our favorite stores this summer. Between oversized headbands, layered beaded necklaces, and Vans, Kiara has snagged herself a laid-back, beachy style that we could only hope to look half as cool wearing. For a fit that will get you from point A (working at The Wreck) to point B (hunting for treasure with your pals) with little to no effort at all, look no further than at this Kiara-inspired getup.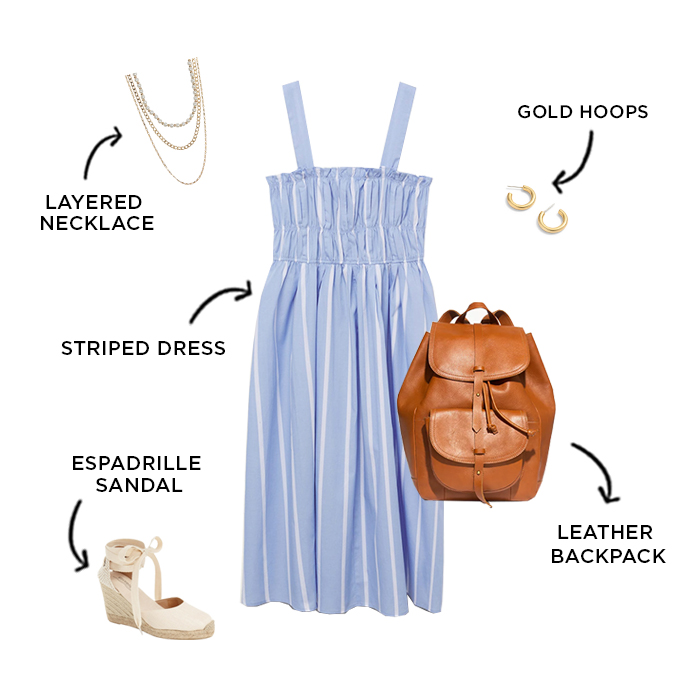 striped dress / striped dress (plus size) / espadrille sandal / layered necklace / hoop earrings / leather backpack
When we think of our "happy place," our minds take us to episode four, when John B. and Sarah discover that they don't necessarily hate each other as much they once thought they did. What can we say? We're hopeless romantics, and this fitting room scene had us smiling from ear to ear. In order to embark on a secret mission to the archives, the two transform out of their sweaty we-snuck-on-a-tugboat fits, and let's just say, they clean up quite well. This is the fit we'd wear if we were hitting up the archives at Chapel Hill.
tie-dye shirt / tie-dye shirt (plus size) / denim shorts / denim shorts (plus size) / beaded necklace set / Vans sneakers / backpack / aviator sunnies
After fangirling over season one of OBX, we can confidently say there's nothing that would make us happier than a day of saving the turtles with Kiara. She's down to Earth, is a sustainable queen, and defies her Kook heritage in her day-to-day fashion choices (and by hanging with a crew of Pogues, of course). If we had the opportunity to party on the cut with Kiara, this is what we'd reach for.
yellow bodysuit / bodysuit (plus size) / white skinny jeans / white skinny jeans (plus size) / sandals / layered necklace / shoulder bag
We're quite nostalgic about this outfit of Sarah's because, in this fit, sh*t went down. John B. "yeeted" off of his bike, Sarah helped him escape his social worker, and the two took a secret (sweaty) voyage off of the island on a tugboat to uncover the mystery of Denmark Tanny. It was the start of something beautiful and, therefore, we'll be recreating it STAT to channel all of the witty, adventure-craving Sarah Cameron vibes that we possibly can. And if we, like Sarah, see a shirtless John B. along the way, we won't be mad about it.