We all know how hard it is to find comfortable, well-fitting bras as an adult. There just aren't enough options that are sexy, comfortable, affordable, and size-inclusive. So when we find a new one, our team jumps on it—which is exactly what we did with Parade, the sustainable brand we love for underwear who just had their biggest launch ever with two new bralettes.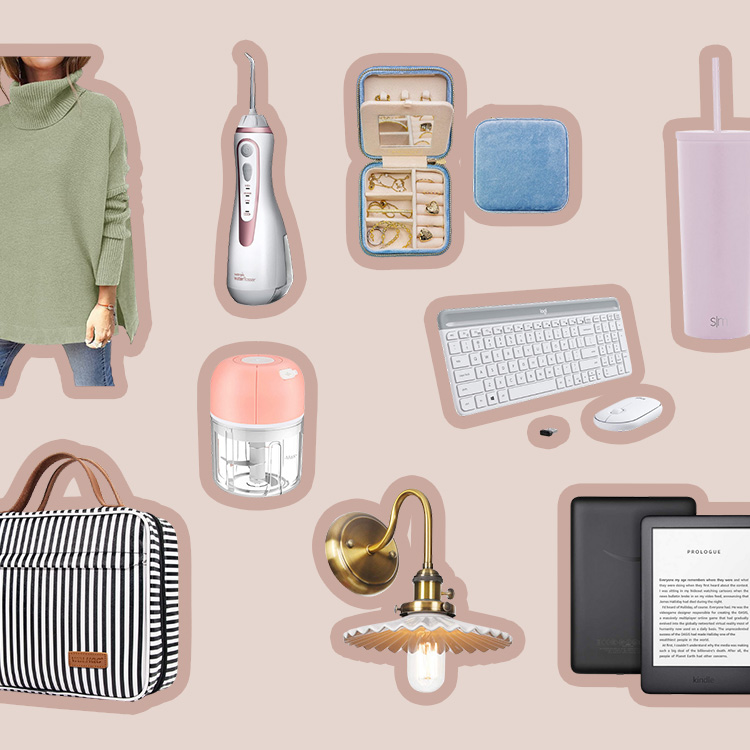 CURRENTLY TRENDING /
HOME
hit "add to cart" and thank us later 💌
Parade's new bralettes come in two styles: the Scoop and the Triangle, both in their signature Re:Play fabric: a super stretchy, ultra-soft, breathable material made of nylon and spandex with a 100 percent cotton lining.
The best part about these bralettes is the sizing. These bras come in a range of XS-3X and they have three options (1+, 2+, and 3+) for those with DD-F cup sizes, which have thicker straps and a wider band for more support.
Two of our editors with different sizes, who happen to be super Parade fans, tried the Scoop bralette. Here were our thoughts:
I've been wearing Parade's underwear for almost a year, and they're some of my favorites. They come in the softest material; it's basically those buttery-soft leggings we all love but as underwear. They also have a great fit, don't roll down, and come in such cute colors and styles in a super inclusive size range. I could talk about how much I love them forever. So when they released bralettes, I had high hopes that they would give me the same feelings.
Fit and Sizing
The best thing about Parade is how size-inclusive they are. I never worry that they won't have my size in any of their launches, which I can't say for many brands out there, TBH. This bra was no exception. I have a medium-sized chest, meaning I wouldn't say I have huge boobs, but I've got a little something there too. This means I need some support, but if a bra is too supportive, it causes gapping in the cups. The fabric on the Scoop bralette is moldable, so it fits my chest like a glove. Plus, the band and the straps are really comfortable while adding the bit of support I need.
My only qualm with these bralettes is that they are a thin material, meaning my nipples show through quite a bit. I am a #FreeTheNip kinda gal, so this doesn't bother me, but I could see how this would be a deal-breaker for someone else.
Stretch
These have the same fabric as the Parade undies, meaning they have an unbelievable stretch and are extremely comfortable. I wore this bra for two full days, and it felt comfortable the entire time. It didn't stretch out either, keeping its shape and staying supportive all day.
Style
This bra is so cute and I already am planning to order the triangle once it comes back in stock. The colors it comes in are so bright and fun, and they pair perfectly with the Parade undies. I love the underwear so much because they're comfortable and breezy, but they still look sexy for the times I want that, and the bralette is just the same. It'll be cute for wearing when I want to look sexy, but I'm also wearing it for a full day's work too.
Final Verdict
I am so excited to order the triangle version of this bra, as well as the scoop in other colors. The fit is the best of basically any bralette I've ever tried, and I love how size-inclusive Parade is. I will recommend these to everyone I know just as I have with the underwear for the past year.
I am a relative newcomer to Parade, but after trying their underwear just once, I'm convinced I've found my forever undies. They're truly the most comfortable underwear I've worn in my entire life and I will recommend them to anyone at every opportunity I get. Needless to say, when I found out they launched bralettes, I immediately dropped everything I was doing to check them out.
Fit and Sizing
I'm going to be completely honest here, I didn't know my true size going into this purchase. I've never been the biggest fan of bras and actually threw out every bra I owned in my most recent closet purge. From here on out, I'm strictly a bralette-only gal. However, because my chest is on the larger side, the lack of support most bralettes offer leaves me with limited options. Luckily, Parade offers extended sizing to support larger chests—a dream! To make sure I ordered the correct size, I grabbed my measuring tape, Googled "how to measure your bra size," and got to work.
Taking my measuring skills and the internet's advice with a grain of salt, I estimated my ideal Parade size to be 1+. I'm so glad I took the time to measure myself instead of just winging it. (I probably would have ordered a medium, my preferred size in tops, and ended up with a serious underboob situation.) The extended sizes' wider band and thicker straps offer a crucial bit of extra support. Without it, I don't think this would be a bra I could wear in public, if at all.
That said, the fit wasn't completely perfect. Throughout the day, the band would occasionally roll and twist, which wasn't exactly comfortable. But when the band was laying just right against my skin it felt truly luxurious.
Stretch
If you've worn Parade underwear, you know just how comfortable their signature material is. The bras are no different. They hit that perfect balance of stretchy and comfortable without being in danger of completely losing shape. However, after a full day of wearing, the straps became so loose they were falling off my shoulders. While not the worst offense a bra could commit, it is certainly an annoying one.
Style
I am married to my neutrals and very rarely buy bras or underwear that aren't black or nude. However, I'm starting to open up to the idea of adding color to my intimates drawer. With that in mind, I ordered the bralette in Martini, a gorgeous olive color. I'll admit the bra isn't the sexiest thing I've ever worn. But when you feel good, you look good, and the set I purchased (I also got matching underwear) made me feel SO good in my body.
Final Verdict
I am a huge Parade fan (I'll never wear another underwear brand again) and was so thrilled to try their new bralettes. I definitely have some minor issues with the fit, but they're nothing I can't look past. Plus, I think the twisting band is really a result of my terrible slouching habit. Throughout the days I wore the bralette, I couldn't stop thinking about how comfortable it was—a far cry from the horrible pinching and scratchiness of my past bras. I truly love this bralette, so much so I've already ordered a second one.