Until I found Parade's underwear, I was notorious for not wearing underwear. (That sounds weird, but please keep going with me.) I could never find anything that fit me comfortably under clothes and didn't roll down or give me brain-splitting wedgies all day long (front and back!!). So, I just didn't wear them. I even got myself acquainted with the no-underwear-with-jeans movement, and to me, that was eons more comfortable than any pair of underwear I'd ever put on my body. Then, Parade turned me back into a sensible woman, and I've been wearing underwear with my jeans ever since. Heck, Parade's undies are so good, I wear them with leggings sometimes.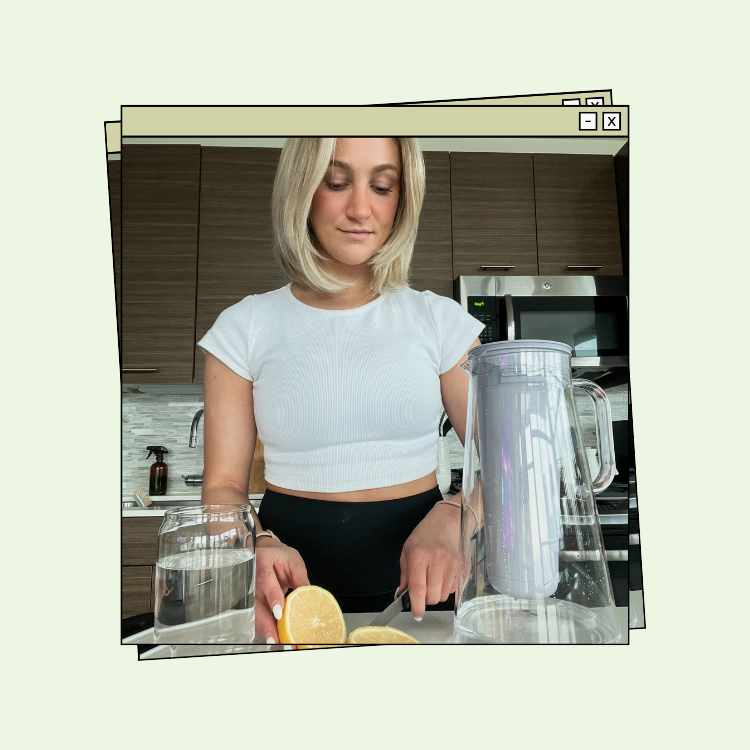 get it right in 2023 and beyond
Because I love these underwear so much, I felt it was necessary to scream it from the rooftops (which simply means, write a full story about it for The Everygirl). Here's why I love this brand and why I'll never wear any other underwear.
About the Brand
Parade is all about rewriting the consumer experience on underwear. For so long, we've been told that a pair of underwear should be sexy, have a weird saying on the back, and come in a 5-for-$30 package. And don't you dare suggest that it's size-inclusive! Parade developed a full line of underwear in cheeky, thong, high-waist, brief, boyshorts, and more styles that can be worn by every single body type.
Parade's sizing ranges from XS to 3XL, so you don't have to squeeze yourself into a size just to fit in with the cool crowd (something I did far too often when shopping at the mall with my friends in high school).
Plus, Parade is all about social good and sustainability. They donate 1 percent of all of their sales to Planned Parenthood locations across America. They believe in reproductive justice and the importance of accessing proper healthcare. Parade also has a strong commitment to sustainability. Their core fabric is made of 85 percent recycled polyamide and all of their materials are free from polluting chemicals that could harm ourselves and waterways. Their packaging is all compostable and made of 100 percent cornstarch. Basically, they're taking everything we thought about underwear and flipping it on its head, and I'm in.
Fabric: 8/10
Parade's signature fabric is a buttery soft material that straight-up feels just like your favorite leggings. It just glides over my skin and feels so comfortable and breezy all day long. The only reason I ding this fabric a few points is that it's very prone to staining easily. I almost never wear pants because I live alone, so I wear my underwear to lounge around the house constantly, and once I spilled something on myself, and getting that stain out was practically impossible. But I'm not staining my underwear all the time, so for me, it's not a deal-breaker at all, especially considering how amazingly soft the material is.
Comfort: 10/10
Thanks to the material, the size, and the fit of these underwear, they are the most comfortable undies I've ever put on my body. I wear them over and over again, and every single time, I get excited by how comfortable they seriously are. The band holds them up at the top, while the fabric just lays over your skin. In all of the styles I've tried, I've never been let down in the comfort department.
I also love that these don't roll down on me while I'm wearing them. The absolute worst feeling is when you're walking and can feel your underwear sliding down your body under your jeans, and these never do that to me.
Coverage: 10/10
Listen, I don't have a problem between thongs and cheeky underwear. I prefer to wear a cheeky underwear with dresses and skirts, and if something will give me panty lines, I'll wear a thong, but otherwise, coverage in the back is not a concern for me. However, as a plus-size gal, I simply cannot wear underwear that's like dental floss in the front. Underwear that has no coverage in the front and is made for a Barbie is beyond uncomfortable on my body and just doesn't serve its purpose. Why wear underwear that doesn't even cover what I need it to cover? Because Parade is so size-inclusive, I feel like they understand me because I don't have to worry about this at all with their underwear. Parade fits me perfectly and never makes me feel like I'm wearing a thong from the front—if you catch my drift.
Durability: 6/10
I've had these underwear for about a year now, and you can somewhat tell. They're not stretched out, and they still fit just as comfortable and everything as ever, but after enough time, they do start to look a little dingey. Granted, I wear them quite a bit, and I don't expect underwear to last me years and years anyway. But I do wish the washer didn't affect them so much.
Style: 10/10
I love these so much because they are so versatile. I wear them for comfort (as explained above) but they also look really cute, and I'll gladly wear them on a first date when I want to look sexy (especially when I pair them with my matching bralette). It's so frustrating to have a set of underwear in my drawer that is comfortable and that I can wear with all of my outfits but also have a set of "sexy" underwear that I wear to look cute. Having underwear that can do both has been life-changing.
My Favorite Styles: