Ah, summer travel. While the destinations themselves are always exciting, from domestic flights to international vacations, the journey is often part of the fun. Whether you prefer to share your favorite podcasts and playlists with friends and family on a road trip, or if you're strictly a head-down-earbuds-in gal at the airport, a great podcast episode can make travel time fly by.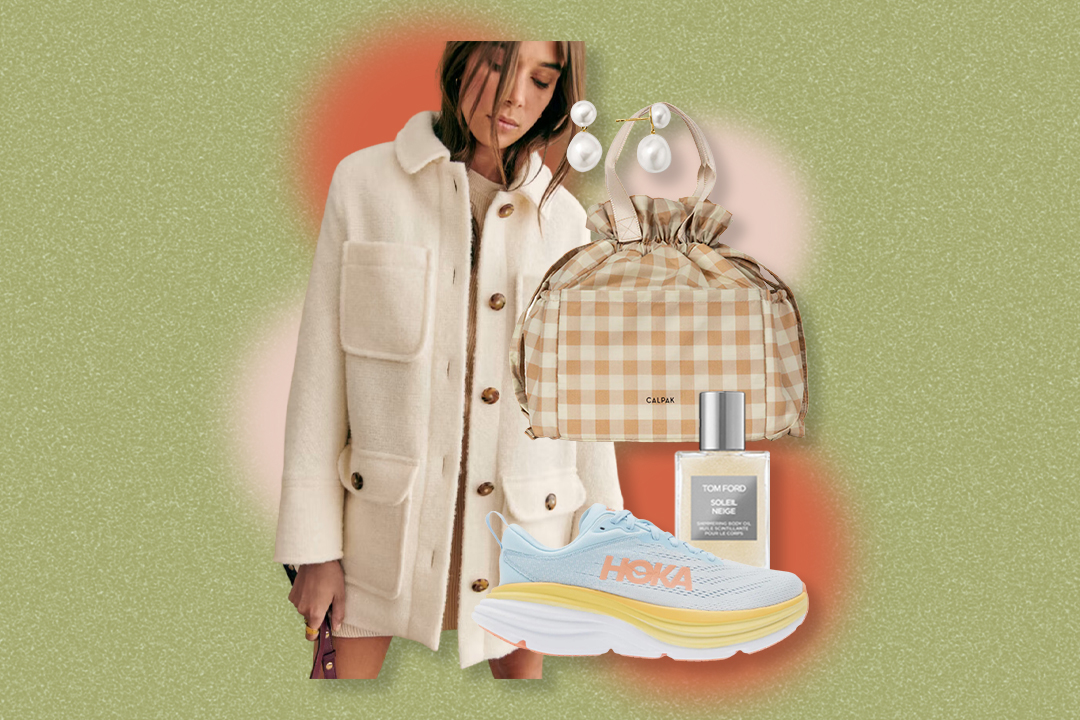 No matter your travel mood, we've rounded up 33 fantastic podcast episodes that will keep you entertained throughout your weekend trip. From fascinating historical deep dives to pop culture analysis to stellar health and wellness tips, consider this your podcast playlist for whatever mood you're in. Read on for the podcast episodes that are bound to make your summer travel even more enjoyable.
If you want the trip to go by quicker…
Best for: the VPR fanatic who wants to relive their shock at #Scandoval.
Best for: lovers of hilarious listener-submitted stories and confessions.
Best for: anyone who is obsessed with The Cut's Sara Ramírez profile.
Best for: longtime true crime lovers, of course.
Best for: long drives and deep-dives into celebrity memoirs (and a massive internet scandal).
If travel makes you stressed…
Best for: breaking down your own negative perceptions of yourself and finding your path in the world.
Best for: letting go of unrealistic societal expectations and seeking inspiration in yourself.
Best for: when you're on the plane flying home and you can literally feel the burnout creeping in.
Best for: ending your people-pleasing habits once and for all.
If you want to stay motivated to keep up with your health goals…
Best for: a boost of positive motivation for doing a wellness audit of your whole life.
Best for: anyone struggling with the dreaded 3 p.m. energy slump, even on vacation.
Best for: people who are curious about hormone health, cycle syncing, and reducing inflammation.
Best for: those who want to hack their health and end their bloat by using supplements.
Best for: anyone who is even a little bit sober-curious.
If you want to learn something new…
Best for: an entertaining explanation of the attachment styles, from the original theory to modern dating.
Best for: women who want to understand how the complex dynamics of the workplace impact personal confidence.
Best for: tracking America's OG influencer from Kmart sponsorship to the Sports Illustrated Swim cover.
Best for: delving into the wide world of NPR's Invisibilia, while learning some fascinating science.
Best for: breaking down everything you thought you knew about the books that "changed the world."
If you're in the mood for romance…
Best for: relationship tips from the Carrie Bradshaw of the internet era.
Best for: fostering the most important relationship in your life (the one you have with yourself).
Best for: sage advice from Grandma Gail on dating during the warmer months.
Best for: solo travelers learning to love the intimacy of being alone with their thoughts.
Best for: hopeless romantics in the mood for a truly great love story.
If you're traveling a lot this summer…
Best for: educating yourself on credit card points in order to become the ultimate jet-setter.
Best for: learning the best way to do a cross-country road trip…while on a road trip.
Best for: getting away without having to leave your couch.
Best for: channelling Sofia Richie as you manifest your own swoon-worthy Italian summer love story.
Best for: feeling like you're on a tropical vacation, no matter where you are.
If travel makes you feel stressed about finances…
Best for: figuring out your relationship with money and learning how to create a spending plan.
Best for: understanding how money psychology impacts our spending habits.
Best for: the 101 on credit cards, and how credit cards can be redesigned to help women get rich.
Best for: learning how to take financial advantage of the rise of AI.