Whitewashed walls, blue roofs, pristine beaches, stunning coastline, golden sunsets, and vibrant nightlife—it's unsurprising that Mykonos is one of the top vacation spots in Greece. And despite the island's small size (33 square miles, to be exact), there's no shortage of things to do. You can spend the day lounging at a world-famous beach club or exploring a hidden sea cave before enjoying a romantic dinner at sunset and hitting the dance floor 'til dawn.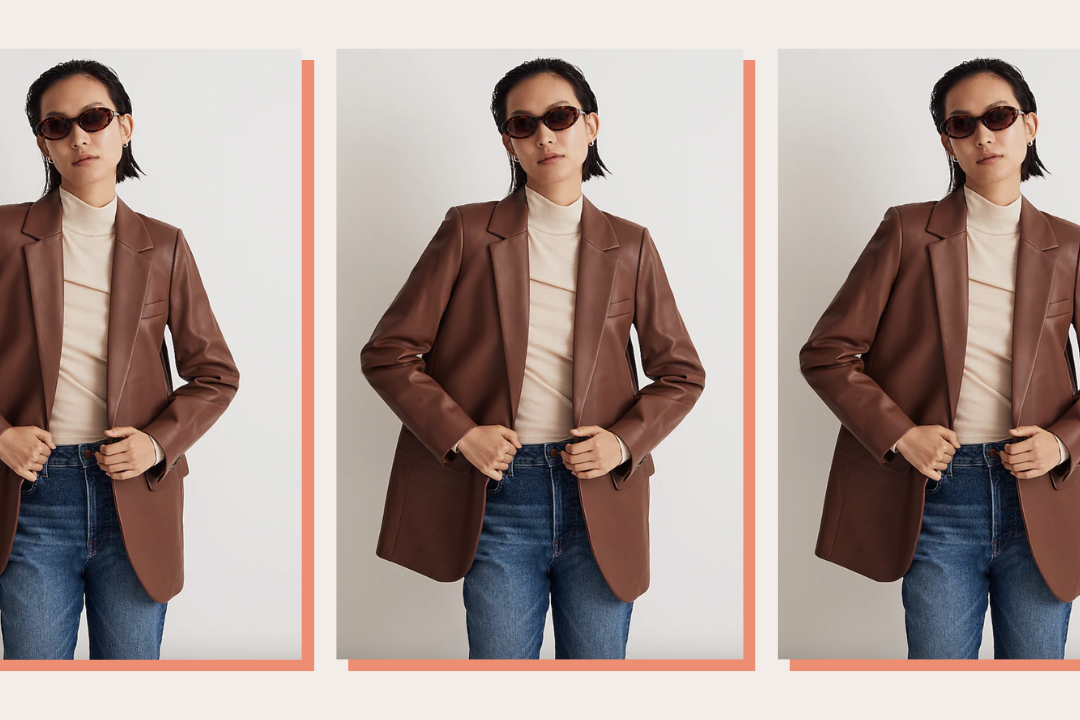 time for your fall wardrobe update!
That said, while Mykonos is the undeniable party destination of all the Cycladic islands, there's something for all kinds of travelers. Whether you've visited Mykonos in the past and are looking to try something new this time, or you're seeing it for the first time and want to soak in all the sights, you'll fall in love with this charming, idyllic island. Keep scrolling to learn the 24 best things to do in Mykonos, Greece.
24 Best Things to Do in Mykonos, Greece
Adventurous Things to Do in Mykonos
At first glance, Mykonos may look like nothing more than an upscale island and summer hot spot, but don't let that fool you—this Cycladic island is dripping with adventure. Whether you're a water lover, an endless explorer, or always on the go, Mykonos will keep you on your toes with one of these adventurous activities.
1. Take a boat trip to Delos and Rheina
Get away from the crowds and take a day trip to the Greek islands of Delos and Rheina. Sip some white wine or rosé on the way to Rheina, where you'll drop anchor and swim, snorkel, and sunbathe as you please before a light lunch. In the afternoon, swim some more or head over to the spiritual island of Delos to see the birthplace of the Greek god Apollo, ancient temples and marketplaces, and more. Just be sure to book your reservation in advance since this is likely to sell out fast, and come prepared with water, extra clothes, and towels.
2. Go on a unique tour of Mykonos
Get a taste of local life and explore the hard-to-reach scenic spots of Mykonos island with a private Jeep tour. Stop at historic landmarks like the Armenistis Lighthouse and get a glimpse of tiny villages, ancient monasteries, and beautiful beaches before grabbing a bite to eat at an authentic Greek taverna. The ride can be a bit bumpy, so it's not recommended for anyone who's pregnant or has back or neck problems. Comfortable shoes and clothing, swimsuits, and towels are also highly recommended.
3. Kayak the coastline and sea caves
A guided kayaking trip is perfect for water and nature lovers who are looking for adventure. Leave your phone and the rest of the world behind, and spend a few hours along Mykonos' stunning coastline exploring the hidden caves. Safety is the first priority, so an experienced tour guide will be with you the whole time, and you'll also get a brief lesson on how to use the paddles before heading off. Life jackets are also non-negotiable. Likewise, try to go on a day where there's relatively low wind; the less wind, the easier it'll be to paddle and enjoy your time on the water.
4. Go on a half-day hiking adventure
If sand and sun aren't your vibe, spend the afternoon hiking a secluded rural landscape. Walk the four miles along an old donkey path in the Mykonos countryside along the coast and learn about the island's landscape and history. Bring a swimsuit in case you want to take a dip at Merchia Beach while you enjoy complimentary homemade lemonade and Greek desserts before concluding the tour with a final stop at the Mykonos Organic Farm in Ano Mera. Check out the farm's vineyard and animals, and if you're feeling up to it, splurge and stay a bit longer for an authentic wine tasting.
Cheap Things to Do in Mykonos
As one of Europe's favorite vacation spots, it's unsurprising that Mykonos tends to be on the pricier side. Thankfully, there are tons of budget-friendly tourist attractions and things to do, so you can enjoy your vacation without breaking the bank.
5. Visit a museum
The island is rich with history, and what better way to immerse yourself in it than by visiting a museum? Stroll through the Aegean Maritime Museum to learn about Greek maritime history and tradition before heading next door to Lena's House. Named after the last owner of the home, Lena Skrivanou, the historic landmark is part of the Mykonos Folklore Museum and has authentic 19th-century furnishings to boot. It's also the perfect spot to watch the sunset before getting ready for nighttime.
6. Spend the day in Little Venice or Ano Mera
If you're in the mood to go with the flow, consider spending the day strolling the streets of Little Venice or Ano Mera. Little Venice is perfect for an idyllic stroll along the coast to immerse yourself in seaside charm, while Ano Mera offers a picturesque look at day-to-day Greek life away from the tourists. Stop inside a local café or taverna for a bite to eat and pop into the local shops to do some window shopping or buy some souvenirs for people back home.
7. Go on a historic and cultural walking tour
If you're pressed for time but still want to see every major historical landmark on the island, consider signing up for this private walking tour. You'll walk through the busy streets of Chora, the capital of Mykonos, as you learn about its vast history and culture. With the stops at the Archaeological Museum of Mykonos, Manto Mavrogenous Square, Lena's House, the Mykonos Windmills, Little Venice, and Paraportiani Church, you'll definitely get what you pay for.
8. Tour the Armenistis Lighthouse
It only makes sense that an island would have a legendary lighthouse. Despite the fact that this one was built in 1861, it's still fully functional today, serving as a tribute to Greek maritime legends and history. With a tour of the iconic Armenistis Lighthouse, you'll get up close and personal with the past and glimpse endless views of the entire island. Try to stay until sunset if you can—they're epic on this part of the island.
Family Things to Do in Mykonos
Despite the fact that Mykonos has a vibrant nightlife and never-ending party scene during the summer months, there are still tons of activities for the whole fam. Make your family trip to Mykonos epic with one of these family-friendly activities.
10. Try out some watersports
Soak up the sun and enjoy crystal-clear ocean water while keeping the whole family entertained with watersports at Elia Beach. Your choices range from mild to thrilling with options for tubing, jet skiing, parasailing, flyboarding, and more. Likewise, Mykonos is sometimes referred to as "The Island of the Winds," which makes it great for windsurfing. If you're traveling between the months of May and October, be sure to try windsurfing in the bay at Kalafatis Beach.
11. Dine and watch a movie under the stars at Cine Manto
Cine Manto is an open-air cinema like no other. Its restaurant is open from 10 a.m. to 1 a.m. daily, so you can enjoy delicious food and drinks while watching a movie and enjoying the relaxing sound of steamy fountains. The cinema is the perfect place to cozy up for a night and enjoy a cinematic experience under the Greek stars and sky. Be sure to bring a blanket and sweatshirt so you don't get cold.
12. Go scuba diving or snorkeling
Mykonos is rife with beautiful spots for both scuba diving and snorkeling. Sign the whole family up for a snorkeling or scuba diving lesson and see what it's like to live under the sea with some of the clearest water in the world. Snorkeling is great for anyone who's looking for a laid-back oceanic experience or traveling with young kids, while scuba diving is ideal for more experienced swimmers who want to explore the ocean a bit deeper.
13. Try your hand at mosaic-making
There's no denying that Mykonos is beautiful and artistic, but Mykonian mosaic art in particular is unique to this enchanting island. If it's a rainy day, sign up for this family-friendly mosaic-making workshop. Located in the heart of Mykonos town, you'll learn everything there is to know about this stunning art form and how to make your own. This is a great way to get creative and create homemade souvenirs that'll remind you of your time in Mykonos together.
Free Things to Do in Mykonos
More often than not, you have to go searching for free activities—but not in Mykonos. Here, the free things stand loud and proud and are 100% worth a visit thanks to their icon status.
14. See the windmills
The Cycladic Islands are known for their strong winds, so it only makes sense that the island's windmills are one of the oldest attractions in Mykonos. As a landmark of the island, they've been around since the 1500s and 16 of them are still in commission today. Replete with the iconic white exterior that's signature to Mykonos and red doors to boot, these are certainly a sight to see. To get the best view for free, head to the windmills in Kato Mili or Pano Mili. (Hot tip: If you're in Mykonos on the second Sunday of September, head down to Pano Mili to participate in the annual Harvest Festival.)
15. Check out Panagia Paraportiani
Panagia Paraportiani is one of the most photographed churches in Mykonos and for good reason. In Greek, its name translates to "Our Lady of the Postern Gate," which refers to the gate on the side of the building next to a Venetian castle. What makes this church so unique, though, is that it consists of five small churches each built on top of or next to the other. The church of Agios Efstathios lies at the center and is surrounded by the churches of Agios Anargyros, Agios Sozon, and Agia Anastasia. The church of the Virgin Mary lies on top of those four churches and looks like a dome, and all are replete with Mykonos' signature whitewashed exterior. This is undeniably one of the most beautiful attractions on the island.
16. Hit up one of the island's world-famous beaches
Getting onto any beach in Mykonos is free, but they get you with the chair and umbrella rentals. If you're looking to save money, be sure to pack a towel, umbrella (if needed), food, and drinks. That said, there's no shortage of beaches in Mykonos, and each has its own perks. Ornos is a family-friendly beach with gentle waves, while Elia Beach flies a rainbow flag and is one of the most inclusive for LGBTQIA+ folks. It also tends to be quieter except for the busy month of August.
17. Visit Rarity Gallery
Located in Chora, Rarity Gallery is one of the oldest features on the island of Mykonos. Housed in an early 20th-century manor house, it's one of the premier spots for both local and international artists. In the main hall of the gallery, you'll find original paintings and sculptures from world-renowned Greek artists as well as emerging contemporary artists. And with a collection of paintings, sculptures, and installations that vary from abstract to classic, the art is guaranteed to suit all tastes.
Fun Things to Do in Mykonos
Between world-famous beach clubs, glittering nightlife, and one-of-a-kind shopping, the party never stops in Mykonos. There's no shortage of fun things to do, and with one of these ideas, you'll live your vacation to the fullest.
18. Party at a world-famous beach club
Mykonos is the ultimate party island and rages 24/7 from late June until mid-September. Spend the day at the iconic Super Paradise Beach Club, and enjoy swimming, endless ocean views, delicious food and drinks, and fun beats. Take a brief respite back in your room before getting ready to party all night long at the legendary Cavo Paradiso, which boasts world-renowned DJs, an open dance floor conveniently tucked into a cliff so you can see the Aegean Sea, and iconic Full Moon parties that can't be missed.
19. Splurge on some shopping
Get ready for all the Mamma Mia outfit inspo as you shop 'til you drop. Hit up Matogianni Street for luxury and designer boutiques and some of the most beautiful views in all of Mykonos. Walk along cobblestone roads between whitewashed buildings and blossoming trees and let yourself splurge on authentic Greek fashion pieces, high-end designer brands, or beautiful handcrafted jewelry.
20. Take a cooking class
What you eat in Mykonos doesn't have to stay in Mykonos. Sign yourself up for an authentic cooking class with a Mykonian to learn how to bring the island's fresh cuisine to life. You might just discover a new favorite dish you can whip up back at home.
21. Have a glamorous, laid-back night in town
If you're not into a big party scene, don't worry—there's still plenty of laid-back nightlife that's still ultra-glamorous. Get dolled up and head into Mykonos Town for the evening. Indulge like the royalty you are and enjoy champagne or cocktails at the Queen of Mykonos of Galleraki. If you want to keep it super casual, enjoy inexpensive standard cocktails, cheap shots, and retro music at the Skandinavian Bar.
Romantic Things to Do in Mykonos
With stunning ocean views, small-town charm, and a cosmopolitan vibe, Mykonos is arguably one of the most romantic destinations for couples. In addition to the activities mentioned above, you can spend a day and night straight out of a rom-com with one of these romantic activities.
22. Go on a romantic cycling tour
Couples who enjoy exercise and being active will fall in love (literally) with this romantic cycling tour. You and your partner will set off on your bikes at dusk from the vineyard of Maou. Your tour guide will take you through the island's countryside toward Fokos Beach, where you can take a dip and capture some underwater photos. Then, you'll enjoy a light picnic complete with Greek food, wine, and flickering lanterns as you watch the sun set. If it's a bit chilly, make sure you grab a sweatshirt so you don't freeze.
23. Take a sunset cruise
Mykonos is home to some of the most spectacular sunsets in the world, and nothing screams "romance" like a sunset cruise on the Aegean Sea. Not only will you get a once-in-a-lifetime experience, but you'll also take in unparalleled panoramic views of Mykonos. The best time for a sunset cruise is anywhere from April to mid-October, so you have a wide expanse of time to embark on this journey.
24. Enjoy some fine dining at a romantic restaurant
Is anything more romantic than enjoying some Greek food with your lover while overlooking the ocean and watching the sunset? I think not. Enjoy dinner and drinks with a romantic or sunset view at Roca Sunset Restaurant, where you'll be treated to views of Mykonos as well as the islands of Tinos and Delos. Or for a more lively experience, head to the LYO, a bar and restaurant conveniently located at Super Paradise Beach Club. The options are truly endless, and when it comes down to it, you can't go wrong.