The thought of getting dressed for a night out after the pandemic is being looked at by most one of two ways: as extremely exciting or absolutely terrifying. You're probably either dying to get dressed and show the world what you look like again, or you forgot how to get dressed altogether—and our editors are feeling a mix of both.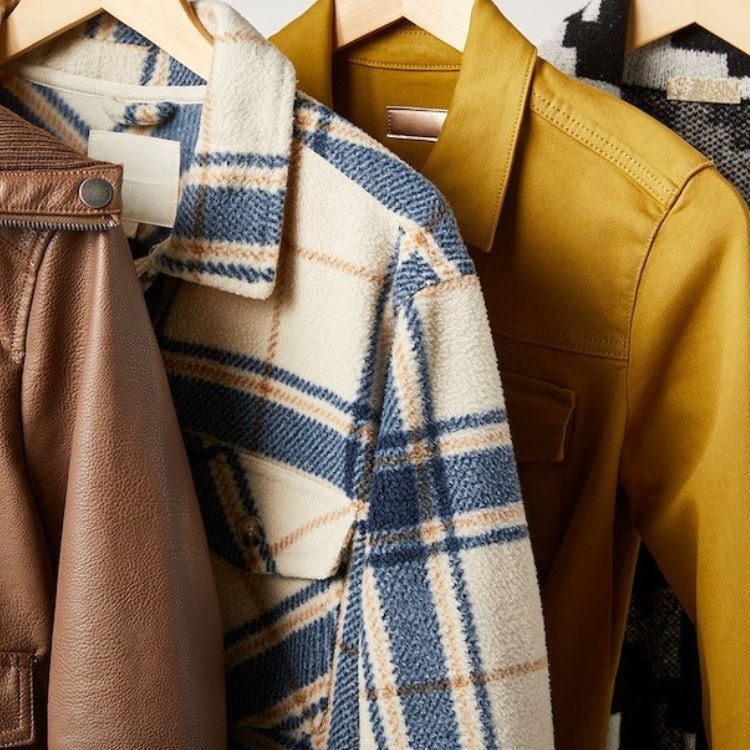 ...and it's wallet-friendly
Some of us—looking at you, Beth—have been getting dressed throughout the pandemic and dreaming of what we'll wear on that first glorious day out; others are choosing to dip our toe in and ease back into the world of real-life clothes. Either way, that day is coming whether we're completely ready or not, and it's time to prepare.
These are the outfits our editors are planning as using as our debut back into society as women who don't exclusively wear sweatpants. Need some outfit inspo for yourself? Look no further.
jeans / top / shoes / bag / sunglasses
After wearing leggings and sweatpants for what feels like 10,000 years, I am beyond excited to wear jeans again (I never thought I'd be so excited to get out of leggings and into jeans since it's usually the other way around!). This season, I'll be wearing them with an of-the-moment floral top (give me anything and everything bright, happy, and floral!) and kitten-heel sandals that will be as comfortable as they are chic. — Josie, Wellness Content Manager
top / pants / sunglasses / shoes / bag / hoops
Well, well, well, world. We meet again. Entering the world again feels like a chance to emerge as my new self. The one who finally got over her ex, started a workout routine, watched all the shows everyone talks about on Netflix, came out as bi—a lot's happened this past year, and I believe this is the outfit to do it all in. A matching set looks cool and chic but I really just put together two pieces a professional recommended and went on my merry way. With a few accessories and pops of color, it's an easy look that is very me and very fun, exactly how I hope post-COVID life is. — Beth, Beauty Content Manager
bodysuit / jeans / hoops / bag / shoes
I am a strong believer that a bodysuit and jeans is one of the most powerful outfit formulas out there. No matter what, it always looks good—and it can be dressed up with the right shoes and accessories or dressed down for a casual daytime look. I'm so excited to be able to wear these pieces again, and this particular bodysuit is perfectly on-trend for summer. The pink color paired with light-wash jeans and neutral accessories—plus the fun cutout—makes this the perfect fun going-out look I need. — Jessica, Assistant Editor
shirt / skirt / bag / shoes / sunglasses
Quarantine has made my style do a complete 180 and go from relatively tame basics to having an aversion to anything that isn't bright and colorful and a little insane. This shirt is one of my favorite purchases of all time, and I figured there's no time like the present to go all out and pair it with a bright green skirt. Groovy? Yes. Boring? Absolutely not. — Madeline, Fashion Content Manager
skirt / bodysuit / hoops / sneakers / lip balm / bag
What better way to re-enter the real world than in a bodysuit that feels like literal pajamas? The one thing I'm not leaving behind from this hellish past year is my commitment to fabric that feels like the brush of an angel's wing. Plus, I love a white monochrome moment in the summer to show off my hastily applied, bottle tan and sneakers to keep the comfort theme going strong. My goal is to look semi-pulled together while at the same time unrestricted enough to enjoy free-flowing guac and spicy margs. — Kelly, Senior Graphic Designer
tank / skirt / sandals / bag / hoops
I haven't worn a skirt or heels in over a year, so as soon as life begins to return to 'normal' I plan on doing THE MOST. But let's be honest: "the most" for me is no longer the strip-lash-spanx-bronzed 2019 version of myself. The most IS shaving my legs and putting on a two-inch heel I will primarily be wearing under a dinner table with no plans to walk anywhere other than from the parking lot—and I couldn't be more thrilled. I love this linen wrap skirt because it creates the illusion of a more elevated outfit while still ensuring that I remain as comfortable as possible. I plan on wearing it all summer, but with a tee and sandals when I'm not feeling extra. — Allyson, Editor-in-Chief
pants / top / sunglasses / sneakers / necklace
My quarantine wardrobe has been strictly made up of loose pants and plain tanks (usually with a Niall Horan sweatshirt on top, but that's neither here nor there). As I venture back into the world, I'm excited to continue the theme I've been wearing for over a year now—but with more of a party-ready twist. I'm obsessed with the color of these fun pants (and even more obsessed with how flowy and comfy they'll be), and you'll be hard-pressed to find me in any footwear other than a chunky sneaker or a Birkenstock this summer. Bonus: The tank is cute AND shows off my double-vaxed arm, wink wink. — Abigail, Social Media Editor