If there's one thing Rachel Klein has taught us, it's to be true to yourself.
your one-way ticket to your cool, calm, and collected era
The blogger shares her adventures living in Alaska — from travel, to food recipes, to home projects — on her blog, The Northern Current, and her completely unique home gives us serious inspiration — it's bright, welcoming, and completely cohesive.
Rachel told us all about starting her blog, how she tackled decorating a home that's on the smaller size, and all of the projects she has planned for the future.
Name: Rachel Klein
Age: 29
Current Location: Sitka, Alaska
Rent or Own: Own
Sq. Ft.: ~800
Years Lived In: 4
You currently have a blog, The Northern Current. How did you get that started?
It's funny — initially, I had no desire to start a blog. But my sister and her friend kept suggesting I start one, saying I would enjoy writing about my life in Alaska and the different hobbies I have. I thought it would be a fun and creative activity, so I decided to just go for it. At first, I wrote about everything: traveling, food recipes, house projects, book reviews, and even a post on hand-lettering, which is a hobby of mine. But over the past couple of years, I've focused it more on our home and my life in Alaska (with an occasional travel and recipe post to switch it up).
What advice would you give to aspiring bloggers?
Stick with it and stay true to yourself. That sounds so cliché, but with all of the blogs out there, there is no point in trying to be someone else. Write about whatever you want and keep doing so, even if your growth is slow. As long as it's a creative outlet that makes you happy, that's all that matters.
You grew up in Alaska — what is your favorite part about living there?
I love the pace of life here, and it hardly ever feels rushed or frantic. Also I love how easy it is to get outside, especially where we live in Southeast Alaska; five minutes from your front door and you can be out on a boat cruising to nearby hot springs or out on the trail hiking through some of the most breathtaking landscapes.
How did you come across your current home?
My husband and I were house hunting and this home was by far our favorite the realtor showed us. Not only was it within our budget, but it was also close to downtown and it had a separate apartment that we currently rent out. It's a little small, but I like how cozy it feels.
When you first began decorating, where did you start, and why?
I started by painting. The living area had some questionable paint choices when we moved in (bright red, turquoise, and yellow, all in the same room), so I chose neutral colors to make the space feel more cohesive and brighter. We have tall ceilings in the main area of our home and the white paint really helps make it feel more open and larger, especially during our dark winters. Then I slowly added books, rugs, plants, candles, and art to make our space more personal.
Did you come across any challenges while decorating your home?
Our home is definitely on the smaller side, so it's challenging to rearrange our main living space. Because our house is small, we can't have furniture pieces that are too large or it just doesn't work. That can be limiting when it comes to decorating, but it also can force you to be more creative.
What is your favorite area in your house, and why?
I love our living room, especially in the fall and winter when we have our wood-burning fireplace going. It is incredibly cozy snuggling up on the couch with a book or a TV show, hearing the fire crackle while it's grey and rainy outside. It's where we hang out the most.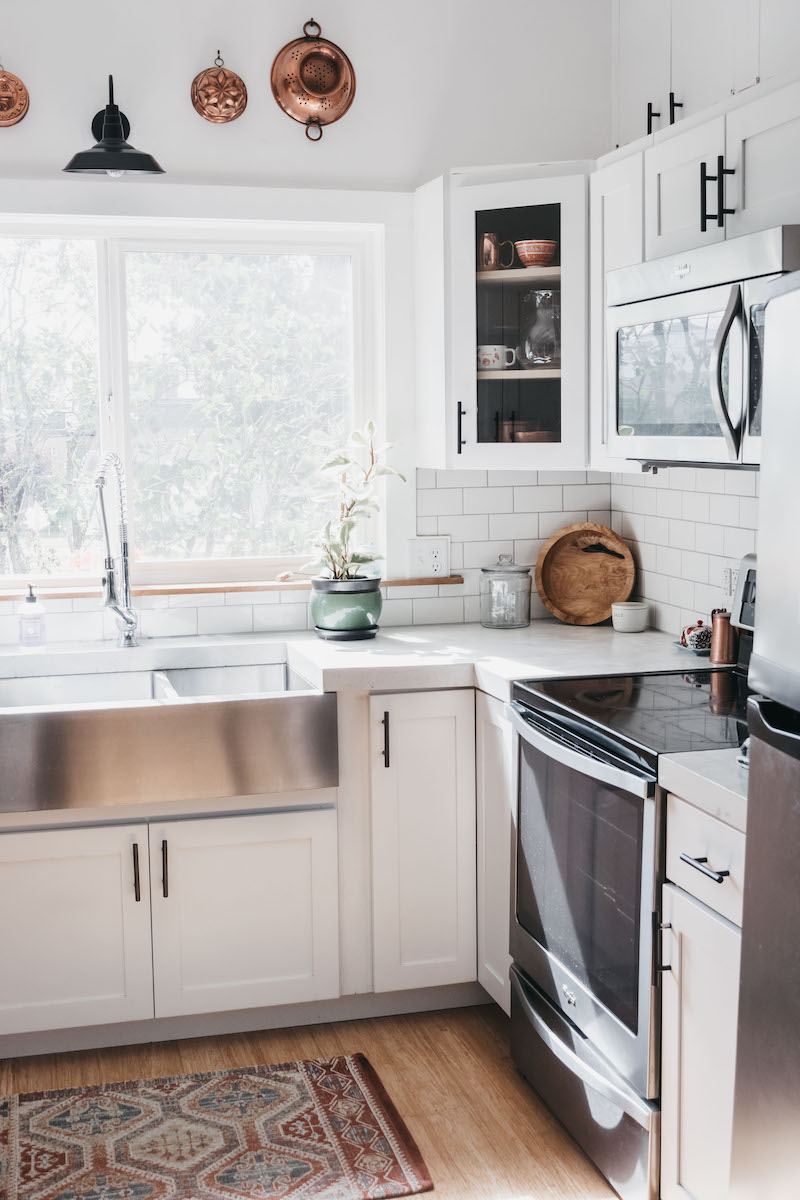 You described your design style as "Scandi-boho" (Scandinavian and boho). Has that always been your style, or has it evolved to that? How?
It hasn't always been my style… when I first got into styling, I had no idea what I was doing (and honestly, sometimes I still feel that way). I definitely played it safe and my spaces felt much more generic. But I think because our house now is small and we live in a place that rains a lot, I gravitated toward the Scandinavian style of bright and white with warm wood accents to help make our space feel less like a cave. And then of course, I have so many books, knick-knacks from traveling, and art, which all add a boho feel to our space. Scandinavian design tends to look so minimal, yet there is no way I can achieve that with all of our personal belongings.
Your home has a very neutral color scheme, but you still managed to keep it bright and welcoming. How did you achieve that?
I think our large windows really help keep it bright and welcoming. That and the white paint. And the blankets, throw pillows, books, and other pieces that some might think of as clutter make our house feel more welcoming and homey (if that's a word).
What are your go-to places for finding decor for your home?
Although they are usually out of my budget, my favorites are West Elm and Anthropologie. But I also love Target, IKEA, Amazon, and Urban Outfitters.
What advice would you give to your younger self?
Don't be afraid of failure. (Sometimes I still have to tell that to myself.)
Are you completely finished designing your home, or do you have any future projects planned?
Our two bathrooms are completely dated and will need renovations sooner than later, so my husband and I have been mentally preparing ourselves for that overhaul. Of course I am excited to plan those out, but I know from renovating our kitchen ourselves that these projects often are more stressful and take longer than what's anticipated. But the end result really makes it all worth it!
Rachel Klein is The Everygirl…
Favorite item in your closet?
Any Madewell sweater
Last show you binge-watched?
The Office
Your most-played song?
Apparently it's "Downtown" by Macklemore
Favorite meal?
Mac and cheese
Dream vacation?
Japan
If you could have lunch with any woman, who would it be and why?
This is so tough… but I'm going to have to go with J.K. Rowling because it's incredible that she wrote one of the most successful series of all time during the lowest point of her life. And I just love Harry Potter.