I love a solid ranking. How am I supposed to know what to buy if everything is good? I'm not made of money here, people! Not that you have to absolutely drag an item at the bottom of a list, but it's nice to see what someone ranks as their #1 versus their #8. We've done this with Trader Joe's seasonal items before, but what about the regular old stuff you eat on a regular basis? I'm an avid Trader Joe's shopper; it was the only grocery store that actually encouraged me to buy food instead of order takeout when I first lived on my own. Their selection is so good that I try new things pretty often (along with my staples obviously). This month, I tried quite a few products from Trader Joe's, and in the name of helping the people, here they are ranked from best to worst:
your one-way ticket to your cool, calm, and collected era
1. Mango and Jalapeno Fruit Snacks
These are one of the coolest things I have ever purchased. I love spicy food more than I like to breathe, which is why I don't get into sweets all that often (gotta save my energy for hot Cheetos, you know what I'm sayin'). I snagged these from the "New at TJ's" endcap expecting to have wasted my money. As it turns out, these are the exact sweet snack I have been looking for my entire life. It's a similar concept to a Sour Patch Kid, but it goes from sweet to spicy instead of sour then sweet. If you love a little kick with your sweetness, buy this package immediately.
2. Savory Thin Mini Crackers
These are not a new item at Trader Joe's by any means, but I only recently tried them. I have since purchased about five bags. They are some of the best crackers I've ever had in my short, little life. I would bathe in a tub of these crackers. They are salty and savory, and the perfect thing to dip into hummus, guacamole, or any other dip you love. I seriously struggle to not come home from a TJ's trip and eat the entire bag in one sitting.
3. McBride Sisters Black Girl Magic Riesling
I'd seen this all over Instagram and on The Everygirl, so when I saw it in my Trader Joe's, I did a little happy dance and made my way immediately to the checkout. It's a joke that I prefer my wine to be basically grape juice—AKA to be sweet as humanly possible. This is a riesling, so of course, it's on the sweeter side, but it has a pretty strong flavor profile instead of just tasting like a sugary drink. I admittedly drank the whole bottle in one evening, and my hangover was almost nonexistent, which I'd say is a major win.
4. Avocado Tzatziki
This is a great solid dip for crackers, bread, pita, and more. It's thick like a dip, but you could probably use it as a sauce for wraps as well. It tastes like a traditional tzatziki sauce, but the added avocado makes it similar to a hummus. My favorite hummus at TJ's is the spicy avocado, and this is a good alternative without the spice.
5. Pepper Jelly
I was so excited about this. My dad loves pepper jelly with peanut butter sandwiches (AKA where I get my love of spicy food from), and I love it on toast with cheese. I grabbed some various TJ's cheeses and a baguette with the intention of making a super French-inspired charcuterie board at home. This jelly is so good. It's the perfect consistency to use with cheese, especially something spreadable like brie or burrata. It spreads perfectly on top of anything without getting gloopy and thick or being too runny. I have been eating this just on a piece of bread in the mornings, and it is heavenly.
6. Pumpkin Spice Protein Smoothie
I love a good protein shake after a workout, and one of my favorites when I don't feel like making my own (which happens most of the time TBH) is the banana peanut butter one from TJ's. I grabbed this one for a seasonal treat, and I was quite impressed. I don't expect much out of a protein smoothie—they almost always disappoint me. This certainly has that "protein" taste, but it's not gritty and doesn't give me a stomachache, so it's a solid 7/10.
7. Mini Brie Bites
This was one of the cheeses I got for my cheese board recently, and I loved the mini portions. It made it so easy to eat and portion out what I was going to eat, a necessity for anyone who lives alone and struggles to not just eat the entire package of something because no one else is there to notice. I ate these with various kinds of crackers and on a baguette, and it was the perfect size for a snack.
8. Cauliflower Crisps Snack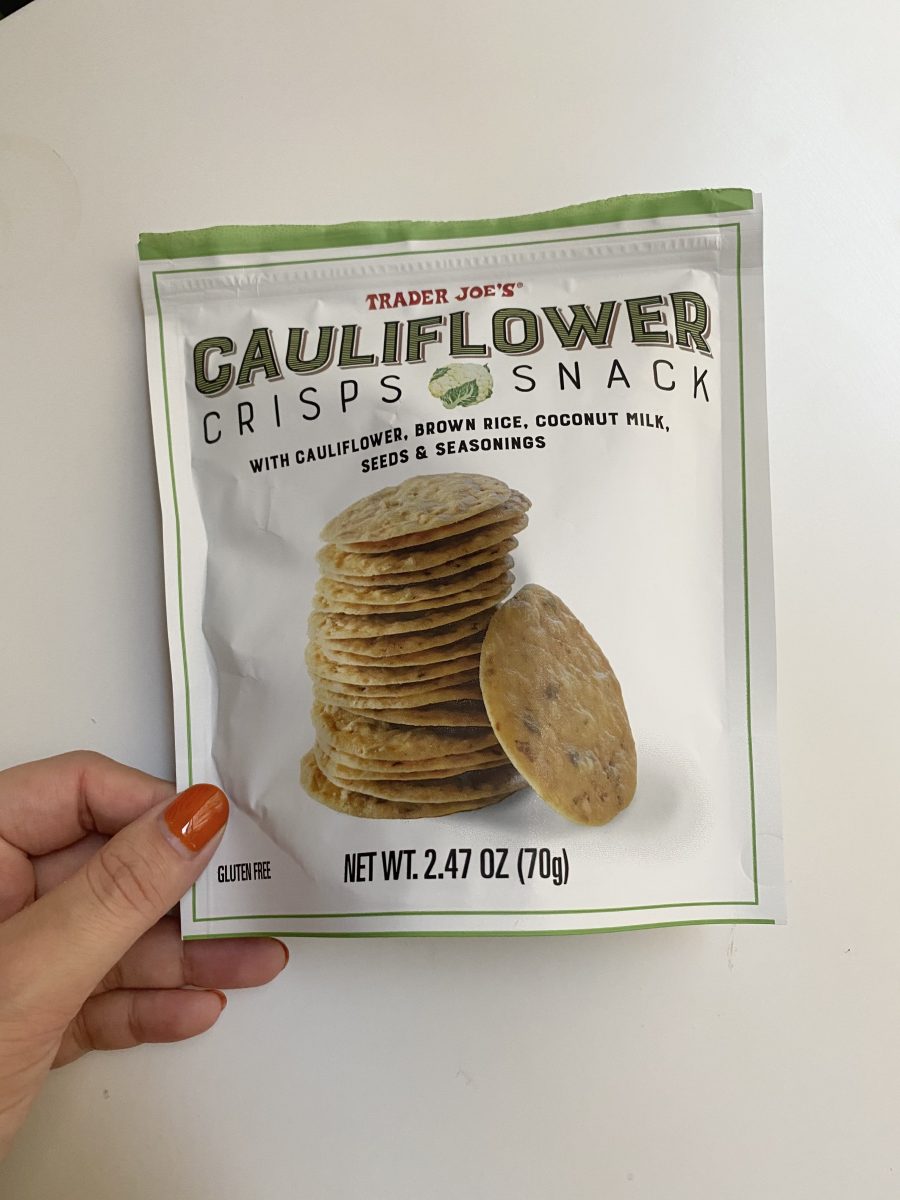 Listen, I'm not a cauliflower lover nor a hater; I'm exactly indifferent on the matter of cauliflower-as-everything. I grabbed these entirely on a whim without really looking at the package. For one, this package is pretty small, and I wouldn't call them cheap either. Then, I looked at the nutrition facts, and if carbs are a concern for you (I eat a diet very generous in carbs, but when I'm looking at a cauliflower substitute, I'd like it to make up for the pound of spaghetti I'm going to eat later—basically, I don't eat cauliflower for nothing, OK), these aren't necessarily any better than your standard cracker. I don't ~hate~ the taste, but for the price and how small the portion is, I'm sticking with the mini crackers above.
9. In-Shell Pumpkin Seeds
I love pumpkin seeds in the fall to snack on, so I picked these up to keep by my desk as a healthy snack during the workday. Were they bad? No, but I must not have liked them because almost a month later, and I've barely touched the bag. They're just not the right texture (a little too hard for my teeth), and I wish I had gotten the salted ones.
10. Gone Bananas Dark Chocolate Covered Banana Slices
I would live off of bananas if I could. So when I was on my period, I picked these up perusing the aisles looking for a sweet snack to tide me over through some cravings. These are… the weirdest texture of anything on Earth. Think Milky Way but so much worse. It's a hard coating on the outside from the chocolate, and then a mushy, overly-ripe banana on the inside. I admittedly ate one of these and shoved the box to the back of my freezer to donate. Needless to say, these disappointed me so much.
11. Soup Dumplings
The last few months, I have been practically living off of Trader Joe's Asian-inspired frozen dishes. At least once a week, I make a fake-out meal with their chicken fried rice, cauliflower rice (my favorite trick for adding an extra veggie to my meal is mixing them—you can't even taste the difference), and the chicken cilantro mini wontons. It's a one-pan meal that I'm truly obsessed with. I saw these dumplings on Instagram and thought I'd give them a try to add to my meal every so often. I had never actually eaten real dumplings before, so I was shocked when I realized these have ACTUAL soup inside of them!!! Because I expected them to be more of a wonton, I ate them over rice, which was a no-go and I realize not how they are intended. This likely impacted my hatred for them, so I plan to try them again when I'm actually pairing them with foods they're meant to be eaten with.
12. Seltzer Flavored With Lemon and Ginger
I was on the phone with The Everymom's Managing Editor Julia when I tried these, and she heard me audibly gag at the taste. The ginger in this is so strong that it tastes like liquified sushi to me. All I can taste is sushi ginger. I took a few sips and dumped it down the drain. If you love ginger, I've found your new favorite drink, but for me, it was one of the worst things I've ever tasted. I've since tried other flavors of this seltzer and have enjoyed them, so I'll just stay away from this one!