I like to think that one of my greatest qualities in life is knowing what my strengths and weaknesses are. Grammar? Big strength. Simple math? Weakness. And of all of my weaknesses, one of the direst is my cooking skills.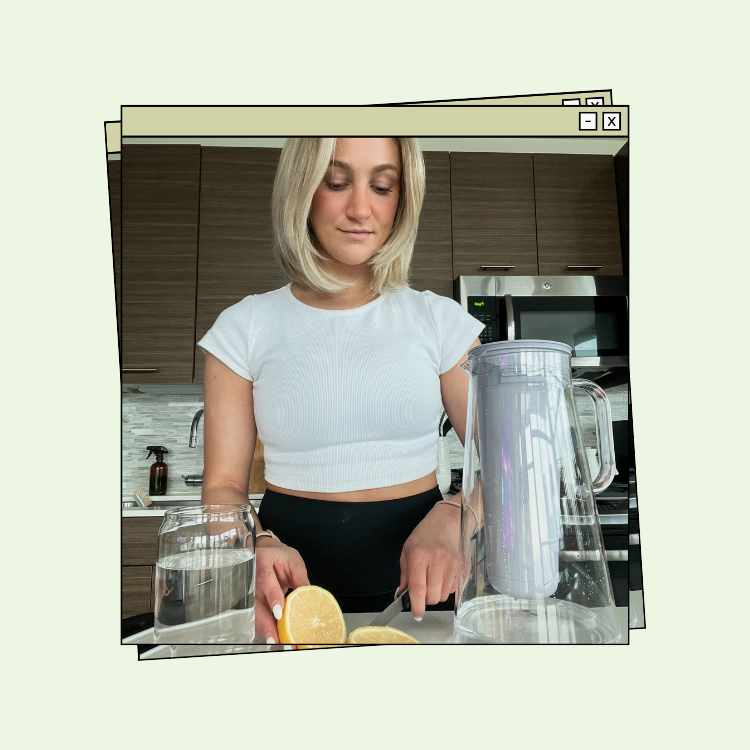 get it right in 2023 and beyond
I'm a firm believer that when it comes to cooking, some people just have the touch—and I, for one, do not. I follow recipes to a T and try my hardest, and it always just turns out subpar. But in the spirit of quarantine boredom, I vowed to master some recipes that were simple, healthy, and quick that I actually liked and could make on repeat—and to no one's surprise, I ended up turning to Trader Joe's to help me figure it out.
You don't need to be a chef or cook a two-hour recipe to be able to prepare meals that are really, really tasty—you just need a few ingredients and some creativity.
After scouring both the Internet and the aisles of Trader Joe's, I've developed an arsenal of three-ingredient meals that I rely on and make on repeat all week long—and don't have to do much actual cooking for. Delete your Grubhub app, head to your nearest TJ's, and try these this week:
Chicken Caesar Wraps
Caesar salad kit
Grilled chicken strips
Cauliflower thins

This is one of my favorite quick, yummy lunches to make: chicken caesar wraps. I cut up some of the pre-cooked grilled chicken (this is peak laziness, and I can only pray my mother doesn't read this—I usually do make my own chicken, but this is so nice to have on-hand), then add the lettuce, dressing, and parmesan from the salad kit to a few of these cauliflower thins. It takes under five minutes and is so tasty, relatively healthy, and very filling.

If I want one big wrap instead of the little ones the cauliflower thins provide, I love these tortillas and always have them in my cabinet.
Kung Pao Tempura Cauliflower Stir-Fry Bowl
Cauliflower rice
Cauliflower tempura
Stir fry
I'll be honest: as a non-vegetarian, I'm not THAT into the cauliflower-disguised-as-meat trend, but this stuff is GOOD. I cook them in the oven, and they get so crispy and are better than any frozen chicken you could make. I love to mix this up into a little healthier Asian alternative when I'm in a pinch, and it makes me feel like I'm a real chef and actually know what I'm doing.
As you're baking the tempura cauliflower, throw the stir fry and cauliflower rice into a pan and heat it up. To finish, I just use the sauce that comes with the Tempura Cauliflower (and sometimes a little bit of coconut aminos). *Chef's kiss*
Pesto Gnocchi
Cauliflower gnocchi
Kale, cashew, and basil pesto
Pre-cooked chicken breast
I can hardly write a Trader Joe's article without mentioning the miracle that is their cauliflower gnocchi. As an Italian girl, I will say without a shadow of a doubt that calling this stuff gnocchi is a stretch, but it's a staple in my kitchen as an entity of its own (I also much prefer it to their kale gnocchi, which is simply meh to me).
I used to struggle with these because I couldn't figure out how to cook them or what to put on them, but I've discovered the best way is to sear them in a pan so they get nice and crispy, and then top them with some pesto. I love throwing some pre-cooked chicken breast into the pan at the end to add some protein and make it feel more like a full-blown pasta dish (this is remnants of their grilled chicken breast strips pictured in meal #1). It feels like an indulgent, fancy meal but is basically all veggies disguised as something else far tastier. This might take the cake for my favorite meal of the bunch—I just don't seem to ever get sick of it.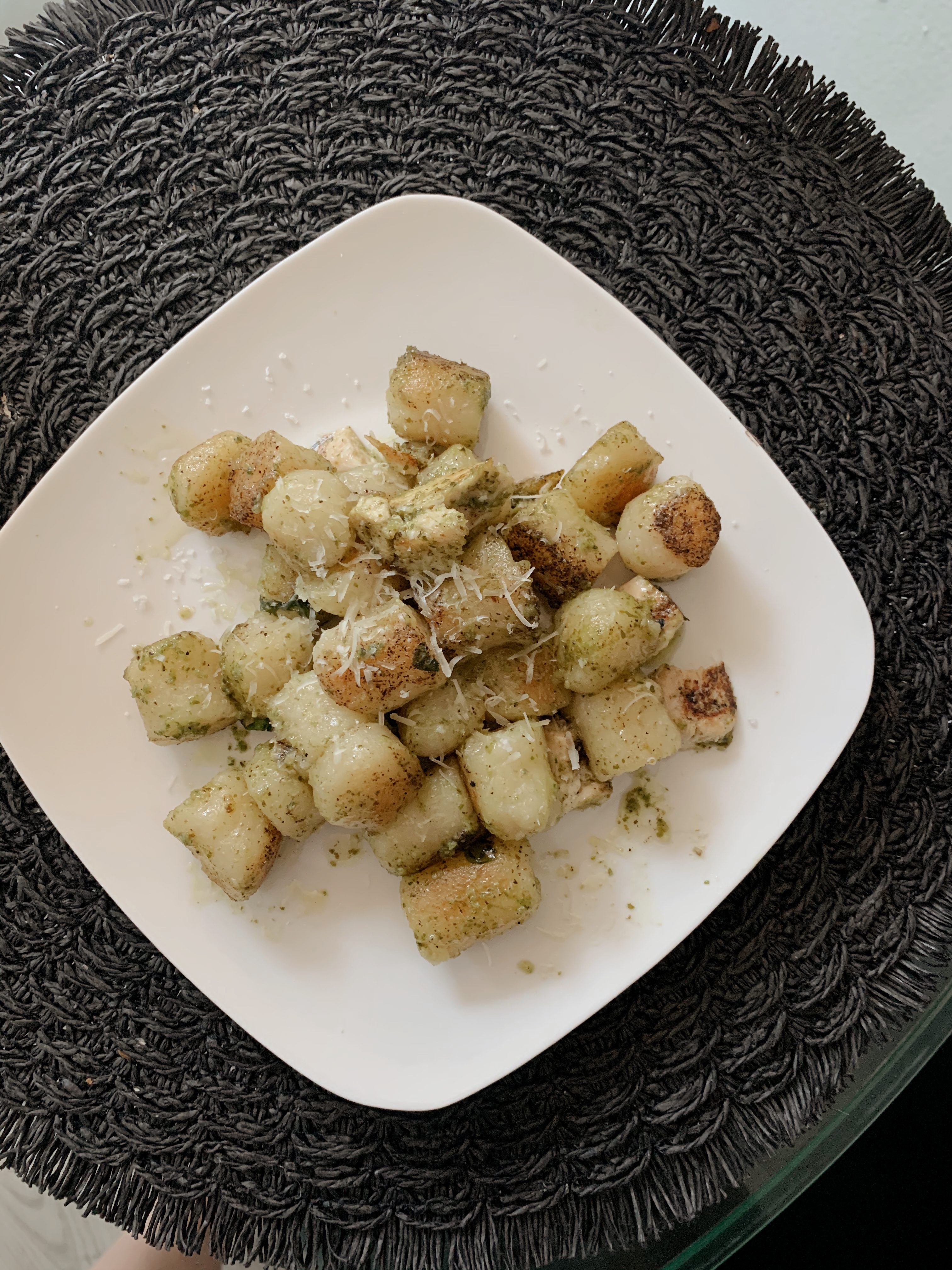 Mandarin Chicken
Mandarin chicken
Vegetable fried rice
Broccoli
This is another faux-Asian recipe that feels satisfying but also way healthier than actually ordering Chinese Food. Bake your chicken and fry up some fried rice and broccoli, and you have a 15-minute meal that you can mistake for takeout.
Mexican Chicken Bowl
Pre-cooked chili lime chicken
Black beans
Rice (or cauliflower rice)
(Optional: any other toppings you have on hand)
This is one of my favorite meal to make all week, and that's because you can swap out the ingredients for ones that make it feel like a completely new meal every time you make it. I cook some rice and throw some black beans in for protein, then add TJ's pre-made chili lime chicken, which is hands-down one of my favorite things to eat at home. I'm totally full when I just eat these with these three ingredients, but if I have any veggies or avocado or cheese in my apartment, I'll throw those in too for an easy, quick, healthy burrito bowl.
Pro tip: This is hands-down my favorite Trader Joe's dressing and sometimes I'll mix a little into my chicken bowl for extra kick and flavor.
Cauliflower Pizza
Cauliflower pizza crust
Pizza sauce
TJ's pizza cheese
(Optional: any other toppings you have on hand)
There's nothing that screams Friday night to me like a good ole' pizza, and at the beginning of quarantine, I fell into a bad habit of eating and endless stream of regular frozen pizzas. Listen, this swap doesn't make it much healthier, but I love making my own little pizza with whatever toppings I have in my fridge. This pizza cheese has been one of my favorite recent TJ's discoveries and makes it taste more like a real take-out pizza, which is obviously the goal.
I always keep one of each of these in my fridge for nights that I just need something yummy for dinner, and I always make sure to pick up a cauliflower crust or two whenever I go grocery shopping. I'm partial to a thin, super crispy pizza, and this crust gets perfectly crispy (just make sure to follow the cooking instructions on the package—don't be impatient and try to cut corners like I have). I tossed some arugula on this (weird but highly recommend) in an effort to use up a bag that I had in the fridge and voila, a perfect little homemade pizza.