Digital guru Sam Stanyon bought her home at age 24 — a time when many of us are still living the renter life. But Sam understands and appreciates the appeal of owning: she can change anything she wants! After fresh paint, a complete kitchen remodel, and a beautiful collection of vintage finds, Sam's home is completely her own. Check out the gorgeous ways she used wallpaper, fresh greenery, and that unbelievable rug (her pride and joy!).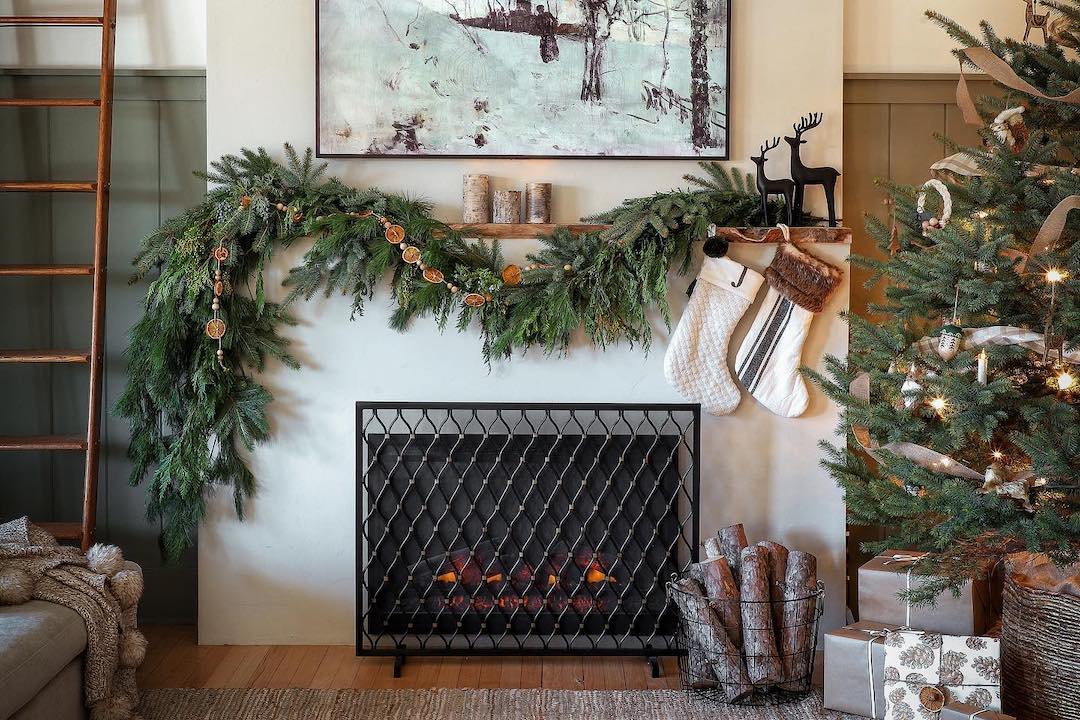 there's still time to deck your halls
Name: Sam Stanyon, Associate Manager & Digital Content at Seventh Generation
Age: 28
Square Footage: 1,182
Rent or Own: Own
Years Lived In: 3.5 Years
City, State: Raleigh, NC
You're the associate manager of digital content for Seventh Generation — a brand we can all recognize from shelves  in stores around the country! Tell us about your cool job. Why do you like it?
I wear many hats in my role as associate manager of digital content — from photographer to metrics analyst. When I first joined Seventh Generation, I was solely focused on the management of our social media channels, but my team and overall work environment allowed me to explore and develop skills in the content development space. I'm incredibly thankful that my current role allows me to nurture my passion for styling, photography, and writing — all while leaning on the digital expertise of my team.
Tell us about the mission of Seventh Generation. Why are you passionate about this?
Growing up, my family's grocery shopping routine revolved around small health food stores, so Seventh Generation is a brand I've known and admired for years prior to joining the team. Our entire community truly believes that we all have the power to drive change. From the scientists who are creating, testing, and re-testing our formulas to produce a product we're proud of, to our marketing team who constantly find ways to marry our product stories and advocacy efforts in innovative ways — every person in every department truly walks the walk and cares about our brand and mission. It's never lost on me that my work helps support a mission to do better by our people and planet every single day.


You bought your first home about three years ago — and you knew right away it needed some major TLC. What about this house spoke to you? What were you looking for during the search process? How long did it take you to find it?
The first thing that stood out to me about my current house was the amount of natural light that streamed through almost every room. Having natural light in my home was incredibly important to me — from photography needs to making a small house feel much larger. I also loved the flow of the rooms and the brick exterior — all things you can't change easily down the road!
As a single 24-year old, I started my house hunt knowing my limited budget wouldn't get me everything on my dream list. I like to think I was pretty realistic about what I could get in my area — and knew I'd prefer to add some sweat equity to an older house than find a move-in ready home at the top of my price range. After a few weeks of searching, I walked into this house and knew immediately that it was home. It's hard to explain, but sometimes you just connect with a house and know it's the one for you.
Where did you start with the improvements? What were the biggest projects you needed to tackle and how did you decide where to start?
The night I closed and received my set of keys was the night I headed out to purchase paint. I spent the first weekend of homeownership with a roller in hand, removing beige from every room in my house.
The kitchen was next on my list of projects to tackle. It's where I spend the most time and I knew that I could only tolerate a dysfunctional, grimy kitchen for a week or two at most. I started with outlining a game plan, figured out what I could take on vs. what needed to be hired out, and got to work.


You had to teach yourself a lot of home improvement projects. What did you use or who did you turn to for help and to learn?
YouTube! As insane as it sounds, video tutorials were my saving grace when it came to home improvement projects.


What's your advice to someone in a similar situation? Where should someone begin?
My main piece of advice would be to practice patience — things will always look easier online than they actually are, no matter how large or small the project. Start by organizing everything, from the tools and materials needed to the steps you'll be taking throughout the project. Prep your space, take your time, and don't get discouraged — small mistakes just add more character. 😉
Where are your favorite places to buy decor? Do you see it as more of a hunt, or do you prefer to buy pieces you've seen styled in other places?
Oh, I'm all about the hunt. I do fall in love with pieces I've seen styled — whether in person, at a store, or online — but the thought of owning an older piece of furniture that is harder to come by pulls me in the direction of flea markets and antique shops almost every time.

Your home has so many great blue accents. What's your go-to rule when it comes to color-coordinating a space?
The amount of blue in my home is a happy accident. Growing up in a coastal New England town, blue hues were a constant in the decors I spent time in, so I've always gravitated toward it. As blue objects and art started to fill my home, I tried to keep other colors subdued — especially in rooms meant to be more relaxing, like the bedroom.
Tell us about your unique and beautiful living room rug! Where did you get it?
Ah, my most prized possession! Our living room rug is vintage. I stumbled upon it in an antique shop and fell deeply in love, but at the time, I didn't necessarily need a new rug. I talked myself into being a financially responsible adult and walked away empty-handed, but it stayed on my mind all evening. The next day my boyfriend went back to the store, purchased the rug, and drove it two hours back to our house.

What's your best advice for decorating a smaller kitchen? Where did you begin when styling your own?
Keep it organized, always. The items on my countertops are used frequently — everything else is tucked away to try to avoid clutter as best as possible (which is no easy feat in a kitchen the size of mine). I've also always stuck to white accent items throughout the space to keep it as bright and airy as possible. The one exception is the rug — which I wanted dark to help hide the frequent cooking messes.
We love the fun wallpaper in your home office! How did you choose it, and what was your overall design vision for this room?
I'm a sucker for wallpaper — I have to talk myself out of covering my tiny house in wallpaper almost weekly. As I started laying out a game plan for each room, the office was the only space that seemed to make sense for a feature wall. I had noticed a similar pattern to what I currently have on Instagram and after tracking down the wallpaper source, I ordered a few samples. The dark navy immediately popped, and I don't regret the decision for a single second.
What is the best decorating advice you've ever received? How did you implement that advice into your own life?
My mom's always reminded me that like quick fashion, quick design goes out of style. There have been so many times that I've wanted to settle on something just to fill a space I was unhappy with. The items I've spent time searching for have been the ones I've never grown tired of.
How long did it take from move in to get to a point where you felt the space was "done"?
Honestly, I don't think I've ever felt like my space was complete. I'm constantly getting inspired and thinking of new ways to improve my home — whether that be through adding new pieces of art or swapping out an old floor.

What do you see next for yourself and your home? What's next on your bucket list?
We're actually in the process of listing our home, so next on the list is a new house with new projects to tackle!
What advice would you give to your 23-year old self?
You're exactly where you need to be right now, and the Joneses are never really as cool as they appear to be. Worry less about trends and what everyone else is doing — focus on what makes you happy.
Sam Stanyon is The Everygirl…
Go-to nail polish color?
Lincoln Park After Dark — no matter the season, I just can't quit it.
Your iPhone camera roll is full of…
Tons of food photos, videos of me driving my dog crazy, and lots of cute babies in Seventh Generation diapers.
Favorite item to order at brunch?
Eggs Benedict and a Bloody Mary, heavy on the horseradish.
If you could have lunch with any woman, who would it be?
Ina Garten forever and always. I've been a Food Network fan and cookbook collector since I could stand on a chair and help in the kitchen. Ina has always been a gold standard for me (in life, really) and I'm so happy to see she's inspired others my age to start embracing local, seasonal ingredients — and really good vanilla extract.