Before I cut my hair short, I always had my natural hair hidden behind a protective style like a wig, box braids, or a sew-in. My stylist would always recommend that I add in a scalp facial to my monthly appointment to clarify my scalp and treat hair concerns at the root, and as the name suggests, a scalp facial is essentially an exfoliating facial for your scalp that gets rid of any natural oils and styling products that have built up on the scalp while also helping to clear up the flaky, dry patches I occasionally get on my crown.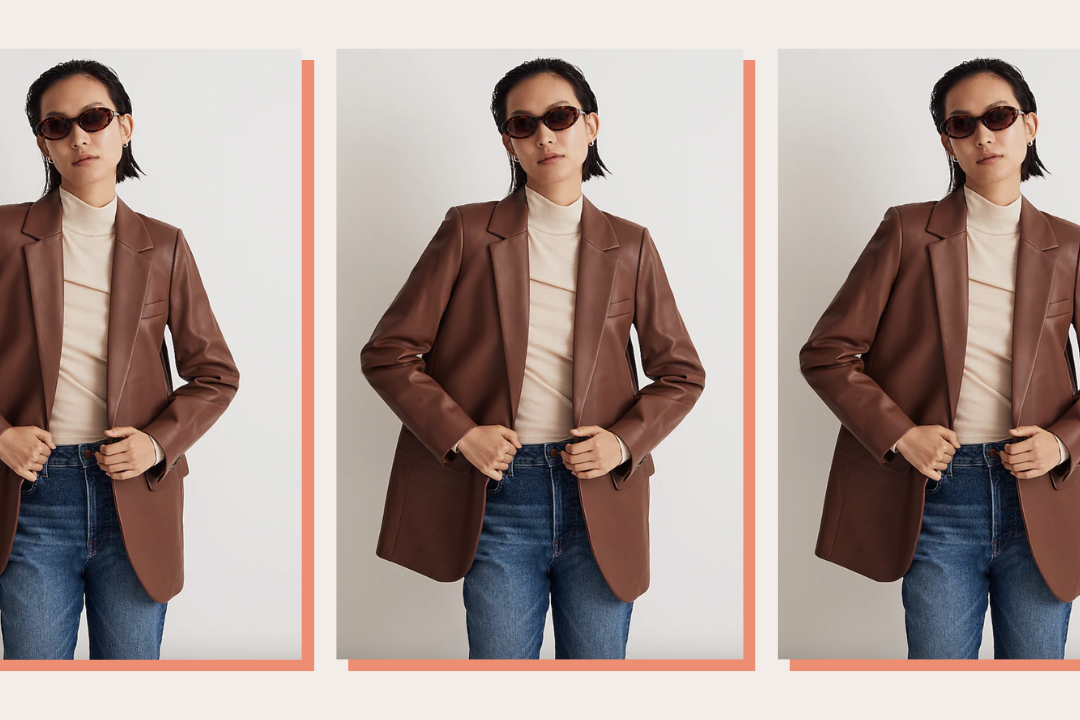 time for your fall wardrobe update!
The facial is essentially divided into three parts. My stylist would always start by applying a grainy yet gentle scrub to my wet hair and scalp, which was created by combining a clarifying shampoo with a bit of tea tree oil to reduce itchiness and flakiness, and a pinch of baking soda to help physically exfoliate the scalp. They would thoroughly massage it in for about three to four minutes (the best part) to exfoliate, break up any debris or buildup on the skin, and encourage blood flow to the area. I have a notoriously stubborn dry patch at the crown of my head that my stylist would use a small brush (like an edge control brush or even a stiff toothbrush) to scrub, but for the most part, all exfoliation was completed by hand. Once the scrub is washed out, we'd follow up with a conditioner that would help add moisture back into my hair, and then dry and style my hair as normal. My stylist would also recommend that I use light serums and oils to maintain the results between facials and help keep my scalp free of irritation.
Afterward, I would notice a distinct difference in how my scalp felt. It felt so light and clean, and with all the buildup off my scalp, I realized just how much my scalp wasn't breathing. Over time, I began to notice that my hair seemed to be growing faster and stronger, was more manageable, and less greasy, and overall, my scalp and hair just felt better.
I stopped doing regular scalp facials over the past two years, but recently, with my hair short and the weather changing, I began to notice that my scalp was feeling sensitive, dry patches were popping up, and my hair was breaking every time it hit a certain length. I tried out a variety of different products, but I soon realized that the culprit may actually be my scalp. Like many, I haven't had an in-salon appointment for a while, so with a bit of trial and error, I managed to find a way to DIY a scalp facial in my bathroom. It's fairly simple, but by incorporating it into my wash day once or twice a month, I've been able to get back to healthy, manageable hair.
1. Scalp Scrub
Scalp facials in the salon have always started with a gentle exfoliation of the scalp, so I built my at-home routine around an effective scrub. I looked for a scrub that would help remove any dry or dead skin but wouldn't be abrasive or cause micro-tears on my scalp, much like a physical exfoliant for the face. Most scalp scrubs also do double duty as a clarifying shampoo, so while I wouldn't use them daily, you can use the scrub in place of a shampoo. Starting with wet hair, I apply a small amount of the product directly to my scalp and gently massage it in with circular motions.
Briogeo
The Briogeo scrub is the best one I've tried, as it gently exfoliates my scalp and cleans my hair without drying either out or causing any irritation.
2. Conditioner
While a scalp scrub doesn't necessarily dry out my hair, it definitely doesn't leave my hair feeling soft and super hydrated. After washing out the scrub, I typically reach for a hydrating conditioner that can quickly add a lot of moisture back into my hair. Generally, I'm looking for a thicker formula that not only helps with hydration but also doesn't weigh down my curls and can help with some of my other concerns, such as split ends, breakage, and overall damage.
Olaplex
This isn't a conditioner designed specifically for the scalp, but it does help add moisture back into my hair, smooth out the strands, and just make my hair look strong and healthy.
3. Scalp Serum
I wasn't entirely sold on scalp serums at first, but after trying a few, I soon realized why they can be an important step in a hair care routine. Much like a face serum, these serums are designed to treat the skin below the hair and to deliver a concentrated amount of product that targets a specific concern. My main concern at the moment is keeping dry patches away, so I usually apply a scalp serum one or two days after cleaning my scalp to help keep it moisturized and calm and at least once a week until my next scalp facial.
PATTERN by Tracee Ellis Ross
My hair is most manageable when I wet it every day, but a downside is that the water and changing temperature can sometimes leave my scalp dry and irritated. This scalp serum is my go-to for these times, as it instantly calms and soothes my scalp without weighing down my roots or making my scalp feel tacky. I've noticed fewer flakes in my hair since adding it into my routine, and I especially love the applicator nozzle because it helps me get through my thick hair and deposit the serum exactly where I want it.
4. Scalp Massage
I swear the best part of an in-salon appointment is the scalp massage as your hair is washed. I usually massage my scalp with my hands, starting at the crown of my head, massaging out to my ears and then from the back of my neck to my forehead, making sure I am not missing any spots. This ensures all impurities and buildup on my hair and scalp are lifted.
Briogeo
The closest I could get to recreating that salon massage is with this handheld massager. Not only does it feel good, but it also helps loosen any dry skin on the scalp, gently exfoliates the scalp, and helps promote circulation in the scalp, which can help products absorb faster. The silicone bristles on this are gentle enough that I can use the tool as I shampoo my hair or on a dry scalp with any oils or serums I may be using.
5. Hair Oil
Hair oil is a mainstay in my daily hair care routine, whether it's to help tame any frizziness or add a bit of shine to my strands. My hair is rather short, so it is difficult for me to make sure that I only apply oils from the middle to the end of my strands, so I am very conscious of the fact that whatever I apply to my hair is probably going to also end up on my scalp. Because maintaining a healthy scalp is a main focus for me, I make sure that any oils that I am applying won't reverse the benefits of the scalp facial by adding buildup or making my hair greasy. Depending on how much time I have, I either quickly apply the oil directly to my hair or spend an extra few minutes massaging it, following a similar pattern as when I use the massager.
PATTERN by Tracee Ellis Ross
This jojoba oil blend absorbs quickly into my hair and skin, and when massaged directly onto the scalp, it helps soothe any itchiness or flakiness I may be experiencing. The formula also isn't too watery or sticky, so it is perfect for me to use on a daily basis to keep my hair moisturized and free from breakage without weighing down or compromising my curls. It help preserves my results between scalp facials too.