You know those Instagram perfect homes that pop up in your feed and catch your eye in all their natural light and subway tile glory? Well, Farah Prochaska's home is one of those and we are seriously pining over it. Of course, all of that design perfection didn't happen overnight and there's always more than meets the eye, especially when said home underwent a major transformation.
Farah shared with us how she renovated her Park City home room by room, a day in the life of being an interior stylist for Overstock.com, and how she refrains from changing up her space every other day — because we ALL struggle with that. The before and after pictures of her and her husband's home will make your jaw drop and probably send you into a decorating frenzy. We've all been there.
Name: Farah Prochaska, Home Stylist
Age: 27
Square Footage: 1,162
Rent or Own: Own
City, State: Cottonwood Heights, Utah
Talk about a total 180, the before and after pictures of your home are amazing! How did you know the house had potential?
Thanks!! It was love at first sight. We walked in and looked at each other and our hearts started racing. It had everything we wanted. It's in the perfect location, and has a big private yard. I fell in love with the floors, fireplace, and the huge window in the living room immediately. I knew it could be a-ma-zing with the right paint and furniture! It was just staged wrong!
Before:
After:
What room was first on your list to renovate?
I'm pretty sure I started ripping out the wallpaper in the half-bath the same day we closed on the house. We did as much as we could throughout the entire house for a month before we moved in. A good cleaning and a fresh coat of paint will fix anything! Did I mention that we moved in two months before our wedding? It was crazy!
We did a ton of work ourselves (which is a miracle because neither of us have construction experience).
What kind of quirks and problems did you have to work through? How did you work around them or ultimately fix them?
Oh my gosh! What problems DIDN'T we have to work through! Almost everything caused us problems and setbacks. Nothing in the home is a standard size and some of the changes cost a lot more money than they should have. We had to get a counter-depth fridge because the cabinets are extra narrow (those refrigerators are smaller but cost more for some reason). When we went to replace our hideous interior doors we found out that no two door frames were the same size. They were just cut to random sizes. Every single door had to be custom made. The swamp cooler broke mid-July and we were forced to install central air in the home. The dollar signs kept adding up. We did a ton of work ourselves (which is a miracle because neither of us have construction experience). We did end up hiring a professional for a few projects that needed to be done exactly right.
You took a dark, small space and made it bright, open and airy. What do you think the fastest way is to freshen up any room?
Painting a room white does wonders. Also, getting rid of clutter. Once a month I purge an area of the house. A closet, the kitchen drawers, the box of cables and wires… I only display things that are aesthetically pleasing. Everything else is hidden in its place and it makes the entire home feel clean and open all the time!
Before:
After:
Every room has a calming neutral palette that we are swooning over. How do you go about mixing in color and finding the right balance?
I keep the walls and big pieces of furniture neutral, but bring in color with art and accessories. My use of color changes with the seasons. Right now I'm adding pops of blush pink. I'm sure by summer I'll be craving blues or yellows, and I'll be back to black and white by fall.
Painting a room white does wonders!
What was the most difficult room to design? Where did you start?
No one room was particularly difficult to design, I had a clear vision of what each room would look like before we even closed on the house. The difficult part was making the home feel cohesive, and bigger than it is. I kept everything bright and neutral with pops of personality to make everything flow room to room. I made the home seem bigger by using as little furniture as possible. Another trick is light colored furniture. My light grey sectional seems more airy and less obtrusive than a dark grey one would, dont you think?
Before:
After:
You are a stylist for Overstock.com and a freelance design consultant as well. How did you get into interior design and what has been the biggest challenge in the field?
I got my Bachelor of Arts in Communications and Middle East studies from the University of Utah. After college, I got a job working in sales at a mining supply company. Instead of learning the names of the parts and the different machines they went on, I spent every spare second learning about interior design. Videos, blogs, Pinterest — I absorbed anything and everything. I went home and would practice on my house, and would rearrange at least once a week to see if I could make everything work in the new layout! I lasted four years at that company until I saw a job posting for a stylist at Overstock, which is a very rare job to find in Salt Lake City! We're no San Francisco! I showed them my portfolio of all the work I'd done at my house and they loved it and I was hired! Soon after, the other stylists relocated or moved to different positions in the company and I was the only one left so I really had a chance to prove myself! I was soon thrown into a huge nine-day photoshoot in California as the only stylist and pulled it off! Since then, I knew I could do anything if I gave it my all!
HomeGoods is my absolute favorite. It's a treasure hunt every time!
My biggest challenge has now become a skill I am proud of. Styling is a hard job! It's not all wishbone chairs and emerald green tufted headboards. Sometimes I'm stuck with purple sequin curtains or brown La-Z-Boys. It was hard at first to not spruce up the product with contemporary pieces, but I eventually learned to style with accessories that would exist in the same home as the product, resulting in the product not only shining, but appealing to the customer more.
Can you take us through a typical day at work?
Every morning the entire photo studio has a quick meeting led by the art director. He tells us what product needs to be shot that day. Each stylist is assigned to a photographer and we work on shooting new products or on a special project for SEO (search engine optimization). We have rows and rows of props that we can pull from to style the products, ranging from antique shovels to vases and plants to mid century chandeliers. We also have many set elements we can use, including different wood floors, window styles, and even beamed ceilings. It's honestly so much fun and every day is different! I'm very lucky to work with so many creative people!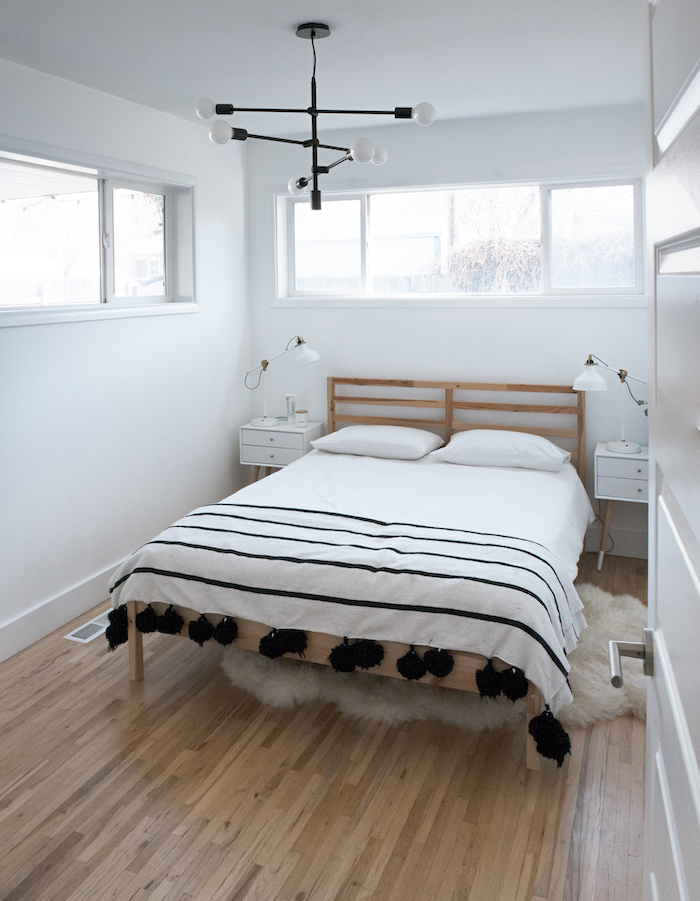 When working with clients, how do you mix your expertise and their taste to create a space you're proud of and they're happy to call home?
I definitely listen to their requests, I just make sure to only suggest pieces that are well made and that I would have in my own home. If they want something super trendy that I think will go out of style soon, I try to steer them away from that. If they have a piece of furniture or art that they want to use and it absolutely won't work, I'm honest with them, and ask if they can return it or put it in another room. I've told someone to return dining chairs before, and in the end they were much happier with the new chairs. I really want the best for them!
What's the most rewarding part of your design process? Is it finding the perfect piece or seeing the finished product?
It's the process! It's SO fun for me. Making shopping lists and sketching the plans and searching for accessories is more fun than an amusement park. I'm weird. I'm sad when it's over!
Before:


*after removing the wallpaper and swapping the towel rack
After:
Where are your favorite places to shop for home decor?
HomeGoods is my absolute favorite. It's a treasure hunt every time! I LOVE Target but try not to buy too much decor there since it's so recognizable.
Which room in your home is your favorite? Which room do you spend the most time in?
My favorite room is the guest room because it's so simple and serene. I love looking at our photos in the gallery wall. We definitely spend the most time in the living room, watching "Chefs Table" on Netflix or enjoying the fire!
Was there a piece you really splurged on?
There were a few, but I would say my shroom coffee table from CB2. I had a lot of cheaper options but something about it was worth the extra couple hundred. There's just nothing else like it on the market! I love it!!
How would you describe your style? How has it evolved throughout your life and career?
A few years ago I would have described my style as mid-century, but I realized I prefer neutral colors and a more minimal design. Right now I call it scandi-boho.
When you are exposed to so many styles and ideas, is it hard not to want to change up your decor all the time?
IT. IS. SO. HARD. I've fallen in love with every style. We have special projects at work sometimes where we have to create a bedroom, living room, and dining room all in a certain style, like farmhouse, nautical, or scandinavian, and we put our heart and soul into researching the styles and putting the looks together. It's hard not to love it in the end! I change things up at home quite a bit (ok a TON), but I make sure to sell whatever I've replaced. Also, my husband keeps me in check. I wanted to paint a mudcloth pattern on the wall a few weeks ago and he said I'd be over it in a month, which is true.
What are some of your favorite spots in Salt Lake City / Park City?
My favorite restaurants are Whiskey Street, Pallet, Copper Kitchen, and Takashi! The food scene in Salt Lake is amazing! My favorite places for cocktails are Under Current (order the bird of paradise) and Tinwell! As far as shopping goes, there's a really cool vintage store in my neighborhood called "Fantastic Mr. Finds" that I love!
Where do you see yourself (and your home!) in five years?
I hope I'm still doing what I love! As far as our home, this is the toughest question and something my husband and I talk about all the time! We hope to have one or two kids in five years, but unfortunately we feel our home is too small for any more bodies! Yes, it's a three-bedroom but having a guest room is a must! We really love our neighborhood and everything about our house, so an addition is definitely a possibility. Something else we recently found out is that our 93-year-old neighbor will be selling her home soon, which hasn't been updated one bit since 1950. If we got a great deal on that we could tear it down and build an even bigger addition and stay in our home forever!
What advice would you give your 23-year-old self?
DON'T buy that orange couch. DO quit your job.
Farah Prochaska is The Everygirl…
Last item you splurged on?
Moroccan tile for the bathroom floors!
Hidden talent?
Two! I speak Arabic fluently and I can play the violin!
Best way to combat a bad day?
A trip to Target (stopping at the Starbucks is a must) and taking a walk and getting some sun + fresh air!
Ski trip or beach vacation?
Since I live 20 minutes from ski resorts I'm going with beach vacation!
If you could have lunch with any woman, who would it be and why?
Meg Ryan. Because my mom loves her and wants to know how she does her hair.