Meg Galligan, designer behind Margaret Elizabeth, has opened the doors of her San Francisco apartment to share how her creative genius is expressed in her home. This Bay Area native transformed her college hobby of jewelry making into a business that continually produces unique and awe-worthy pieces. While most college students used their dorms as a place to sneak a nap or two, Meg was hosting trunk shows—so it's no surprise that her San Francisco apartment is beautifully set to entertain.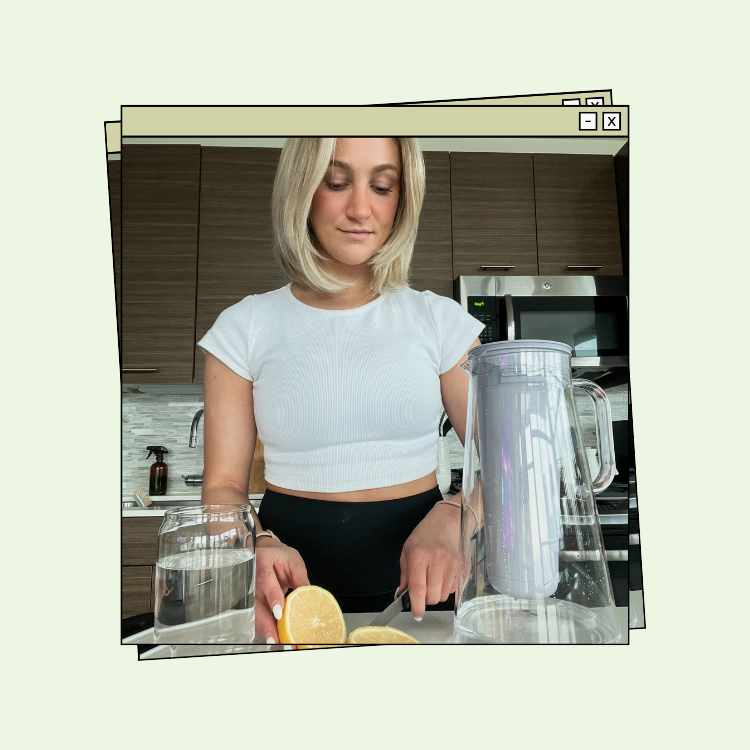 get it right in 2023 and beyond
Her aesthetic: traditional, modern, and eclectic. Fusing her husband's love for the outdoors with her love of jewels, their home is laced with aquatic hues and gold details. From gold flatware and a distressed black and gold bar cart, to a gold elephant resembling that of her company's logo, every facet of her home reflects the passion and attention to detail that has led to her immeasurable success.
Name: Meg Galligan
Location: San Francisco, CA
Current title/company: Founder and Designer, Margaret Elizabeth
Education: Boston College B.A. in Philosophy
What was your first job out of college, and how did you land it?
My first job out of college was working for Google as an account manager in their advertising division. A friend of mine had told me what an amazing company Google was to work for, so I checked out their job openings and submitted my resume through their online tool—what seemed like a black hole in the job application world! It was a bit of a whim, so when I got a call a few weeks later I was totally surprised! I remember thinking, "It's Google? About a job?" I started in the Boston office which was brand new at the time (2007), with a teency, tiny team of about 20 of us. It was an amazing experience, and I loved my time there.
You founded Margaret Elizabeth while you were still in college and even hosted your first trunk show in your dorm room! Tell us about the journey that led you to start your company.
Margaret Elizabeth came about in a really natural, organic way. My freshman year at Boston College I started visiting Beadworks on Newbury Street in my spare time. I started making pieces for myself and for friends and family as gifts and then friends at school started asking me to make them pieces. I hosted my first trunk show right in my dorm room.
The first store I worked with was The Beauty Mark on Charles Street. I still remember meeting Rebecca (the then owner) and her husband—I stopped in one day with a bag of jewels, asked if they stocked any local designers, and Rebecca said she would take a look at my work. Ten minutes later she made a pile of what she wanted to keep and when she asked who to write the check to I was still kind of in shock! Nearly 10 years later, we still work with them!
If you're waiting for the perfect moment to quit your comfortable job to go work on something that you think will turn into something exciting…know that it probably won't ever feel like the exact right time
How did you balance running a company, studies, and life as a full-time college student?
Margaret Elizabeth was such a fun, creative outlet, so it didn't feel like I had to balance too much. It became harder to balance once I started working at Google and the business grew. I enjoyed working on it in my free time, but towards the end of my time at Google, all of my free time was consumed with running the business—it got exhausting!
When did you decide to dedicate yourself to Margaret Elizabeth full-time? What was the final deciding factor?
I always told myself I would pursue Margaret Elizabeth full-time when it felt right or something big happened. The truth is, leaving your comfortable job, at a great company, surrounded by some of your best friends, to go work on something that has no guarantees, but that you think will turn into something exciting…probably won't ever feel like the right time. Right around the time that working so hard on both jobs was becoming a bit overwhelming, Bloomingdales expressed interest in Margaret Elizabeth. I took that to be the sign it was time to pursue Margaret Elizabeth full-time and I left Google a few weeks later.
Tell us about the process of finding your home. Do you rent or own?
We rent our apartment and a friend of a friend actually owns the building, which is how we found it. Space was the biggest factor in finding the right place. My husband could fill a whole room with his surf boards, bikes, and climbing gear….and he's quick to note that I've been successful in doing the same with jewels.
What was the decorating process like? How long has it taken to get your home to look how it does now?
We moved into our apartment in January of 2011 and it's been a fun process! We've taken our time decorating, choosing pieces when they feel like they fit well…and we've got a long way to go!
How would you describe your decor style? Would you say you have one source of inspiration or many?
My style is pretty eclectic. I love the mix of traditional & modern…and really anything that strikes me as interesting or fun. I love pieces that tell a story or remind me of a place we've traveled. One of my favorite pieces of art in our house came from a little market in Istanbul. It was a trip I took with a bunch of girlfriends and every time I look at it I'm reminded of that amazing week!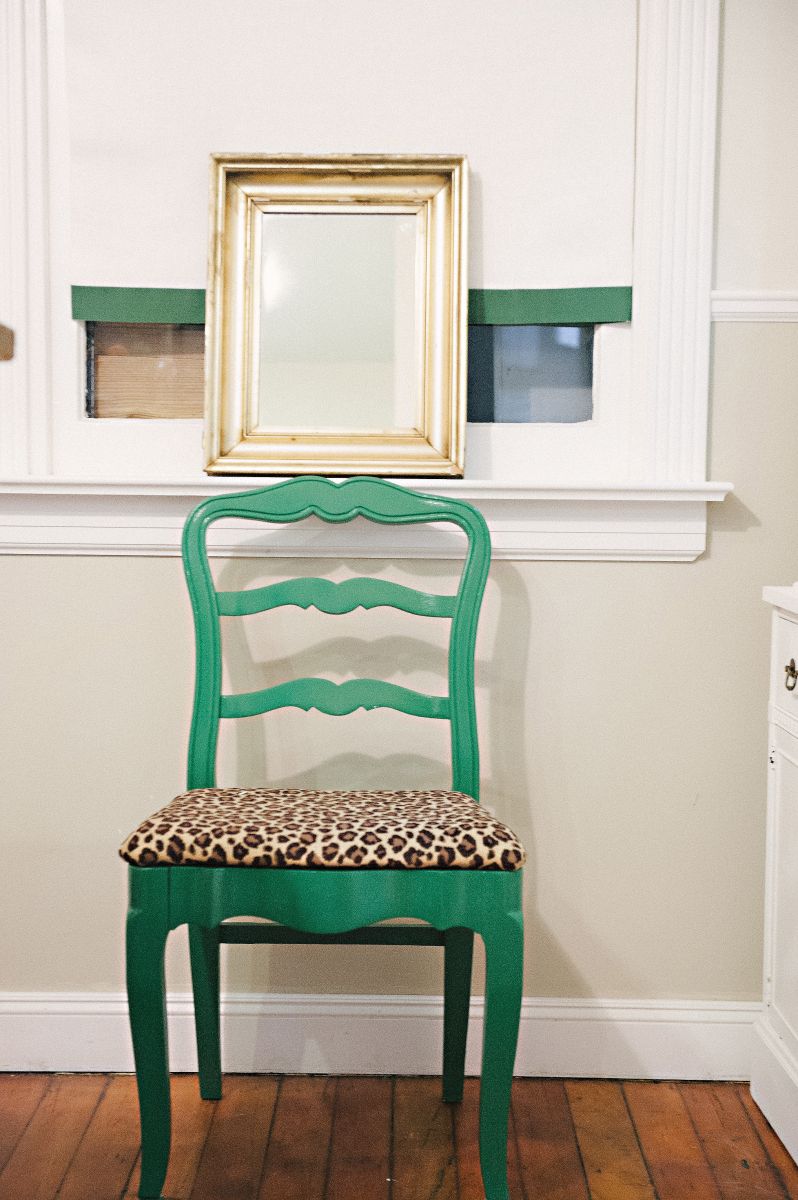 We've gotten the majority of our furnishings from antique shops, the Alemeda Flea Market, and a few lucky finds on Craigslist
What is your favorite and least favorite thing about your home?
Our kitchen is probably my least favorite part of the home. It doesn't get much natural light, so the dark cabinets and counters make it feel even darker. I've thought about painting the cabinets white but I think our landlord would be less than pleased! My favorite part of our home is our living room. I love that it's filled with so many little knick knacks that we've picked up along the way.
Quite a few pieces in your home look vintage or refurbished. Where do you get the majority of your furnishings?
We've gotten the majority of our furnishings from antique shops, the Alemeda Flea Market, and a few lucky finds on Craigslist (our marble top side tables in our living room, for instance). Our headboard is from Pottery Barn and the carpet in the living room is from eBay. Our light fixtures are from all over—Ballard Designs, West Elm, Robbert Abbey, and the chandelier in the living room was from an amazing antique shop in LA.
What is one piece you recommend splurging on?
I think rugs make a huge difference. I found the kilim in our living room on eBay. I love that it's so colorful, which makes it easy to change up the decor of the room.
What challenges have you encountered during the design process?
My husband and I are pretty aligned when it comes to what we like and what we don't, but there are a few things I love, that he thinks are absurd. Lucite, leopard print, and brightly colored tufted items rank high on that list. So I compromise with little to no lucite or leopard, as long as his surfboards don't cover every corner of the house!
What does an average day look like for you?
Get up around 7 a.m., check email, blogs, news….run down to the market to grab a coffee and some fresh air…back to the office and get to work chatting with our production team, following up with our stores, checking in on website orders…no day is the same!
Don't be afraid to take risks with your career—you don't have to have it all figured it by the time you're 25
What advice would you give to your 23-year old self?
Travel when you can. Don't be afraid to take risks with your career—you don't have to have it all figured it by the time you're 25. Travel because you're at an age where there's so little holding you in place— it's a great time to see the world and experience other cultures. Do it with your girlfriends because as time ticks on, everyone's lives get a little bit busier—people get boyfriends, husbands, children, and it's a lot harder to sneak away.
As for your career, don't worry if you don't have it all figured out! When you're passionate about what you're working on, good things will happen…and one thing will lead to the next. Also, don't be afraid to reach out to people in your industry. It's a close-knit world and we all have a lot to learn from one another!
Meg Galligan is The Everygirl…
Favorite home accessory?
Foo Dogs
Favorite movie?
Father of the Bride
I wish I knew how to…
Sing.
If you could meet any woman for lunch, who would it be and what would you order?
Diane von Furstenberg and I think I'd be too nervous to eat!
Aidan or Big?
Big with a dash of the humility and sweetness of Aidan.