Christine Cameron has resided in her West Village apartment for 10 years—yes, you read right, 10—which is virtually unheard of in the world of millennial apartment hopping. When her boyfriend decided to move in a few years back, Christine was forced to re-evaluate her space and aesthetic to make the apartment livable for two humans and their cat Susan. Here, Christine discusses her decade-long relationship with her apartment, the evolution of her personal styling business, and what has kept her in the West Village for all these years.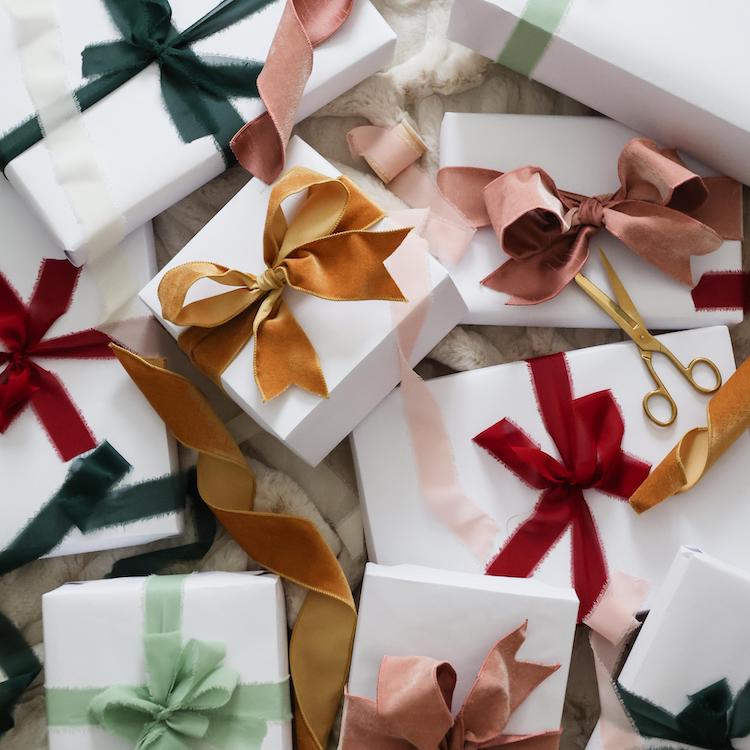 the perfect gifts for everyone—and we mean everyone—on your list
Name: Christine Cameron
Age: 35
Current company/job: Personal Stylist / Creator of My Style Pill
Education: Western Washington University, Journalism
Let's start at the beginning. What was your first job out of college and how did you land it? Or did you go immediately into personal styling?
I majored in journalism and had to have an internship to graduate so I decided that I wanted to do in New York. I got accepted at Lifetime Television in their communications department and worked there for three months. After that I knew I had to keep building my resume in order to get a position at a magazine, which was my dream job, so I continued on to intern at Timeout New York Kids and InStyle before finally landing an editorial assistant job at Home magazine. Eventually I transitioned over to Martha Stewart's magazine Blueprint, but it folded about three months into me working there due to the recession. I was able to find another job as a market editor at Woman's Day Special Interest Publications (SIPs) until everything really crashed and I was laid off in the spring of 2009. I had already started my blog in the fall of 2008, so I decided to hit the ground running with my site, which had started out as just a personal and creative outlet, and dedicated all my time to developing it, networking, and growing it into what is a now a full-time business.
If you didn't jump into styling right away, when did you decide to take the plunge and go out on your own? How did you know it was the right time? 
The personal styling didn't start until after I had been laid off from Woman's Day SIPs. It never really occurred to be that you could be a personal stylist because I only thought celebrities and magazines had them. But I always found myself styling my friends, playing around in their closets, and creating outfits for them. I was also playing around with remixing (wearing one piece a bunch of different ways) and it all sort of stemmed from there. People started asking me if I ever did closet consultations and I just decided to take the leap. It came pretty naturally to me and I felt so comfortable that it just went on from there!



As the brain behind My Style Pill, you serve as a writer, editor, and stylist in the span of a day. How do you balance your blog with the day-to-day responsibilities of personal styling?
It can be tricky because there are times when I am gone the entire day and need to be fully present with a client, or am in a meeting, which means I can't be keeping up as closely on my social media accounts and email and I end up staying up super late playing catch up. Then there are days where I won't leave the apartment because I am glued to my computer, working from home all day, editing, writing and creating content, which can be a challenge in itself as well. So to be honest, I have to say it's continually a work in progress! There are days that I am one step ahead of myself, and others where I am just trying to keep up because of different projects that come up, or all of the sudden I am traveling for a press trip opportunity. I have come to realize and accept that no one day is the same, but that being a creative, I need to remember to offer myself grace, take time for myself to mentally recharge (I love meditation and yoga for this), and know that as long as I keep doing what I'm doing with integrity and positive intention, it will all get done and work itself out.
As we all know, finding property in New York is a process. How did you and your boyfriend find your current place? What was on your wishlist? 
Back in 2006, my roommate and I were looking to move and she found the apartment through a Craiglist ad. We walked in and immediately loved it, but definitely thought it was too good to be true! She ended up moving back to Texas in 2012 but I hung onto it and have lived there for 10 years. I lived alone for a few years before my boyfriend eventually moved in with me. I don't think I had a wish list back then because we were just so desperate to get out of our current apartment, but I can tell you it was definitely exciting to make the move to the West Village.
I love wandering around the quiet, quaint streets in the West Village and looking at all the historical old buildings and homes.
What are some of your favorite things about New York City and your neighborhood in particular?
Sometimes I can't believe I have lived in New York City for 12 years! I love the energy of New York—people are out at all hours and something is always going on somewhere. It's fun to know that you can stay in and relax on the couch, but that if you wanted to, you could get out and find something interesting to do on any given day or night. I also love that you can wear whatever you want without judgment. People in New York don't have time to criticize what you're wearing, let alone judge you, so it's always like a concrete catwalk—strut your stuff with confidence!
As for the West Village, I love wandering around the quiet, quaint streets looking at all the historical old buildings and homes, imagining what it might be like to live here all those years ago. I love all the cafes and wines bars and that the Hudson River is so close to my apartment. I also love that I can walk anywhere fairly easily since I am on the cusp of the West Village and Soho, so anything below 14th street West, East, North, South, doesn't take me more than about 20-25 minutes to walk to.
You're making the most of a small space, with two people (and your cat Susan) living under one roof. What compromises did you have to make? 
My biggest compromise has been sharing the downstairs space, which I had originally turned into my office and closet after my roommate moved back to Texas. But when I asked Casey to move in, I knew that I had to really be ready to share the space completely, so I made sure to clear enough room for him so that he would feel comfortable and at home. I am constantly cleaning out the closet and making sure that I absolutely love everything I own so that it never gets too overrun down there. Thankfully, Casey is a pretty neat and organized so it's usually me that is constantly keeping on top of my stuff.



What was your design process like? 
When I first starting living in the apartment alone, I worked with my best friend Allie who runs Allison Lind Interiors to create a very cozy living room feel. We chose a dark turquoise accent wall and pretty patterned throw pillows to match. The style and feel of the room worked perfectly for me until I started getting into YouTube and needed a much lighter background for my videos, so I changed it to a gray to lighten up the space. When Casey moved in, I wanted make sure that I consulted and included him in any decor decisions around the apartment. I wanted the living room to feel light and airy since we don't get a ton of natural light, so we went with neutrals and pops of color. I let the gallery wall be the main focus and selected pieces that meant something to both of us. Casey's nickname is Bear and my favorite animal is a giraffe so I had bought these two prints from The Animal Print Shop. The paw print is of my dog Barney, who passed away last year, the tiny Polaroid is of me and Casey in the ocean in Spain, and the rest are a mix of my favorite quotes and sayings mixed in with some pretty images I found on Minted.
When it comes to the pieces in the bedroom and living room I would say that I am not quite a point where I am or even want to invest in super expensive furniture because of a couple reasons. We live in an apartment so who knows what our space will look like in the future and I know that our tastes will continue to change, so I want to make sure that when I do spend money it will be on classic, timeless items. I think the same way about my clothing and accessories actually. The fun thing is, you can find so many great things at cheap prices to try at places like H&M and Zara home as well as Target, CB2 and Ikea.
When I decide to spend money on my place, I want to make sure I'm investing in classic, timeless items.
What advice do you have for balancing the aesthetics of both you and your significant other? Have you made any design compromises?
When it comes to balancing our aesthetics, I think in the end I probably care the most, but luckily he enjoys what I come up with, which like I said, I always make sure to run by him. The bedroom was discussed thoroughly together since there wasn't much in there to begin with, so we picked the bed and bed frame, he bought me the nightstand as a gift and we also selected the console together. I took over the styling of the console but we both agreed on the print above it and the records and speaker are both his. We picked both paint colors together and decided that we wanted the bedroom to feel like a sleep cave since it hardly gets any light either and is very small. It's pretty heavenly to go in there now because we keep it pretty cold, with lots of blankets and the dark walls and sleep shades block out light. For the most part it's very quiet too, except for the building construction going on outside right next to our window at the moment haha. I haven't had to make a ton of design compromises but did have to make room for some of his musical instruments, which I knew I wanted to very sensitive about and make sure that he felt comfortable in the space especially since I've lived in for so long. He moved from Ohio only a handful of years ago and left his larger possession back there so he really didn't have much to move in with, which sort of worked out! Overall I've tried really hard to make the living room and bedroom feel as gender neutral as I can in the sense that when we both walk in we feel comfortable and not overwhelmed by one particular style. I think it's all about communication and respect.
How would you describe your personal style? How does fashion influence your interior design style?
As I get older, I am becoming more and more classic in my personal style and want pieces that I can wear for a long time. I love having timeless pieces in my closet such a striped shirts, various button downs, soft, lived-in T-shirts and leather jackets. I love coats especially because as Jenna Lyons once said, "It's your finishing touch…your very own candy wrapper: the coat."
Where do you shop for affordable home decor and unique finds? Or, how did you stick to a budget for decor and furnishings? 
For larger pieces in the apartment I like West Elm, CB2 and Target, but for the intimate and personal touches, I try and pick up memorable pieces when I am traveling or choose decorative items that have meaning to me and Casey. For instance, the porcelain hand in the bedroom is an antique that I found at a cute shop in St. Louis, the guitar is Casey's and I a couple of the books on the coffee table are written by our friends!
Is there a piece in your apartment that holds special value to you? Why? 
I would say that one of the most special items in the apartment is my dog Barney's paw print that is framed and hung in the gallery wall. He passed away last summer, but before he did my good friend suggested I stamp his paw with paint on a piece of paper so that I always have a piece of him with me. I am thankful everyday for that little piece of art.
Where do you see yourself and My Style Pill five years from now? 
As of right now, I am assuming I will still be in New York, but life can turn on a dime, so I try and just enjoy each day where I'm at and be in the moment as much as possible, which is so hard to these days! As for the brand, I am slowly but surely transitioning into more of a lifestyle site and want to talk more about real topics that are on my mind – such as relationships, aging, skincare etc., as well as travel, health and food. I also want to expand my styling business and put a lot more focus into that as well.
Christine Cameron is The Everygirl…
Dream purchase for your home? 
Either an oversized, worn-in cognac colored leather couch or a large french kitchen island with a marble countertop.
Ideal day off in New York?
It would be…a random weekday with Casey. We would sleep in until 11, then grab a late breakfast at Buvette and get their steamed eggs with prosciutto on toast along a mimosa or two. Afterward we would wander around with coffee and maybe make our way over to the East Village for a change of scenery. What I love about New York is that you don't have to necessarily be doing something to be a part of the energy. There is so much happening around you at any given time, that just being out and about is involvement in itself. After walking around for a while, we would make our way back to the apartment and kick our feet up with the cat for a bit, maybe take a mini nap and then head to yoga or the gym. Later on that evening, we would get dressed up and go to Cotenna, which is one our other favorite spots for a yummy meal of bread, pasta, seafood, veggies, and red wine. Our night would end with putting on cozy PJs and catching up on The Blacklist or watching a documentary, or if we are really needing a mental holiday, old episodes of Friends or How I Met Your Mother. 🙂
Dream purchase for your closet?  
The first thing that comes to mind is a vintage, navy Chanel bag.
If you could have lunch with any woman, who would it be and what would you order?
I would have lunch with Jenna Lyons, or my grandmother who passed away when I was 15. I would order a nicoise salad, truffle french fries with a side of mayo, and a glass of sancere.
Product Sources
Living Room, Gallery Wall   
Yellow van, Minted
Giraffe, The Animal Print Shop
Confetti, Bianca Cash
New Orleans, Shannon Kirsten Studio
Bear, The Animal Print Shop
Givenchy, Ones King Lane
Living Room, Furniture
Lamp, Ikea
Curtains, Bed Bath & Beyond
Couch, CB2
Pillow covers, H&M (similar here)
Leaf print pillow, Etsy
Throw, H&M
Rug, Rugs USA (similar here)
Table, West Elm
Tray, West Elm
Chair, Ikea
Throw, UGG
Pillow, Kate Spade
Palm Tree print, Minted
Bedroom
Side table, Zara Home
Lamp, Target (similar here)
Pillows, ED by Ellen
Bedding, Brooklinen
Curtains, Bed Bath & Beyond
Ocean, Minted
Console, Target
Tray, West Elm
Basket and pillows, ED by Ellen
Coasters, Reed Wilson
Calendar, Rifle Paper Co.
Bed, Helix Sleep