We are all too familiar with the struggle that is the real estate market. Whether you're scouring openings in search of your next lease or you're on a journey to find the home of your dreams, it's easy to feel overwhelmed when the expectations in your head meet the inevitable truths of reality. Enter: Shelby Mast, who found the rental of our dreams in sunny San Diego, CA.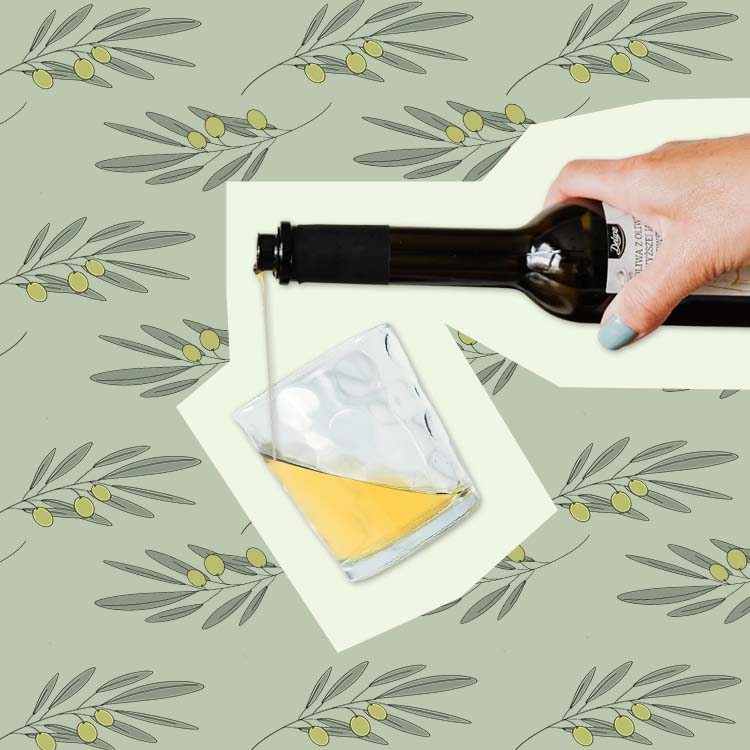 we love olive oil, but this seems a bit too far... or is it?
After living and working for a period of time in Chicago, Shelby Mast, full-time teacher and mom to her freakishly cute goldendoodle, Cooper, decided to make a jump to the West Coast and move to San Diego. With her Chicago home officially on the market, Shelby and her partner began their search to find their new California digs. The couple quickly realized that their best bet would be to rent and happened upon a 1,500 sq. ft. rental with the bones of a forever home.
Find out how Shelby has evolved to reflect her new coastal environment, while also paying homage to her Chicago roots by decorating with the chic minimalism of a Lincoln Park brownstone.
Name: Shelby Mast, Teacher
Age: 27
Square Footage: 1,500
Rent or Own: Rent
City/State: San Diego, CA
Children: Cooper
What was your first job and how did you land it?
My first job after grad school was working as a teaching assistant at a private school in Chicago. I ended up leaving the next year because I wanted my own classroom, but I am so grateful for that year — getting your foot in the door is the hardest part!
How did you make a transition into tutoring and what kind of subjects do you teach?
I made the transition to tutoring because when I moved to California, it took a long time for my teaching license to transfer. In teaching, there is a small window of time that schools are hiring, and since I missed it I had to come up with a back-up plan that would keep my skill set fresh and allow me to easily transition back to teaching full time. I have gotten a chance to teach Pre-K through eighth grade, so it has also allowed me to gain experience across grade levels. 
What is the difference between working in a city like Chicago, where you previously lived, versus San Diego, where you currently live? 
I tutor online so that I can reach many students all over the country at different times of the day. Most people I talk to here who have a more traditional office setting say that they have a great work-life balance, that people take long lunches, and that they leave early to spend time with family. The biggest complaint I hear is traffic — we don't have the great public transportation options that Chicago does!
What is your favorite thing about California?
Chicago will always have a special place in my heart, but the beauty, perfect weather, and relaxed vibe of San Diego really seem to agree with me. I love taking walks and bike rides around the city, dining al fresco, and just spending time outdoors year round. Things also move a little slower in California and I'm liking that a lot! 
We're all Chicago girls here, so I have to ask, what do you miss most about Chicago?
The thing I miss the most about Chicago would have to be the skyline — I think it the most beautiful city I have seen. I grin ear to ear every time I make the descent into O'Hare and I see the glistening lake reflecting off the skyscrapers. 
You moved to the West Coast from the Midwest before you had sold your home in Chicago — what was that experience like?
Stressful! It was hard being far away and feeling like I couldn't oversee things the way I wanted to. We were looking at houses in San Diego, but we knew we couldn't make an offer until we sold the condo in Chicago. 
We've heard realty in California is an extremely competitive and aggressive market. Tell us what it was like searching for a home in San Diego.
Things were really at the top of the market when we started looking, so I am so happy we decided to rent. Prices are high and you are competing against investors and flippers — it turns out a lot of people want to live in San Diego!
How did you know this house was the one when you found it?
It was in a late night I-can't-sleep-because-our-corporate-housing-is-almost-up-and-we-still-haven't-found-a-place-to-live panic, when I stumbled across a listing for a house that was exactly my style in the cutest neighborhood you have ever seen. Imagine palm-tree-lined streets, pink sidewalks, and gorgeous historic homes. I told the owners we needed to see it right away (you have to be pushy in this market!). We toured the house and fell in love with the character, craftsmen details, and windows everywhere. We signed the lease that day.
You live with your boyfriend, Jeff — how was it merging styles in your new home? Were there compromises the two of you made to harmoniously mix your design aesthetics?
Decorating our home was so much fun! We did make some compromises, as Jeff does not share my love of neutrals; he always jokes that I want everything to be white. We agreed that touches of blue would be perfect for the relaxed, coastal vibe we were going for. We always say that he makes sure things are built well and comfortable and I make sure they are aesthetically pleasing, and together we have picked out pieces we both love. 
Has moving to California influenced your design style at all? If so, tell us how!
I'm definitely leaning more toward an indoor-outdoor feel. I love neutrals with splashes of blue that remind me of the ocean, and I enjoy natural fabrics like linen curtains that allow the breeze to move through them. I bring in a lot of greenery and flowers, sometimes from my own backyard, I just like to feel like my house is an extension of the outdoors.
You have a particular talent for finding beautiful decor in affordable places. Tell us about your strategy for finding furniture and your approach to design once you've found pieces you love. 
I have always loved and appreciated interior design, but haven't always had the budget to support that love. I have been known to accept hand-me-downs from family members, repurpose things I have found on Craigslist shops, and I've even scored some great finds in Chicago alleyways.
My favorite decor item in my house is the credenza in my dining room that my step-mom found in an old Chicago home she was renovating, and it has travelled from house to house with me. I also love the chair in my living room that I bought on an online auction here in San Diego, and had someone on Etsy make new cushions for it. I like to mix the found pieces with new ones to avoid the my-house-looks-like-a-thrift-shop-vibe. For instance, my dining table is one I found on Craigslist that I sanded, re-stained, and then paired with new chairs and a new rug. It's cheaper than buying a new dining set, and no one else will have anything exactly the same. 
What do you recommend to couples or individuals that have found a place they love and are ready to take on some design projects? What do you wish you'd known before you started the design process?
My advice would be to take your time. When you are decorating for yourself, you have the luxury of not having a deadline. You can avoid impulsive decisions and your house will look like it has been collected over time — because it actually was. There aren't many pieces of furniture that you really need right away. When we first moved in we were eating our meals on the floor because we didn't have a table, and the pizza tasted just as good!
One thing I wish I knew before I started the design process is that some things just aren't worth doing yourself. For instance, I tried to hang an iron curtain rod in the living room and it ripped out the drywall and nearly crashed into the new television. I had to patch the giant holes, sand, re-paint, and then was too afraid to try again. Sometimes it's better to just get someone who knows what they are doing and save yourself the headache. 
It takes a special kind of tenacity to successfully design within the confines of a rented space, what is something easy (and reversible) that renters can do to give their homes a major update?
In most rentals you are not allowed to change too much, but it is always worth asking your landlord. I was lucky enough to be allowed to paint, which made a big difference! I made minor adjustments like taking down heavy curtains and switching out hardware and lamp shades, and I saved everything so I can switch it back before I leave. Also, don't underestimate giving the place a good scrub! Every rental looks better with your own furniture and clean windows. 
Are there any other projects you're planning on starting?
Honestly, no. I feel like I've done as many little projects as I can in a rental, and now I'm just going to enjoy it! 
Were there any quirks in the space you had to design around? 
There wasn't a lot that I had to design around, but the house does have some quirks. For instance our powder room doesn't have a sink, we affectionately call it a ".25 bath." We laugh when guests come over and we have to tell them that they have to wash their hands in the kitchen, because we know they didn't wash them in there. 
What is your favorite thing about your home? Tell us about it!
My favorite thing about my home is our side patio. I love how the French doors open up on to it, and it is the perfect cozy place to relax with a good book, have a glass of wine while the sky turns pink, or listen to music and watch the palm trees sway.
And finally, what advice would you give to your 22-year-old self?
My advice would be to not be so hard on yourself — keep being a kind person and things will work out just fine. 
Shelby Mast is The Everygirl…
Best way to unwind after a long day? I like to put on a record and snuggle with my dog. He reminds me that no matter what's going on in the world, there will always be puppies.
Favorite skincare item? CeraVe moisturizer, it has an SPF that doesn't feel greasy or clog my pores.
Brunch or Happy Hour? Brunch that turns into happy hour.
Where's the next place you want to travel? Japan, so I can eat all the sushi.
What is an underrated Netflix show or movie everyone should watch? I re-watch Parenthood a lot. They really cover so many relatable issues, and it makes you feel all the feels.
If you could have lunch with any woman, who would it be and why?
Probably my grandma — I haven't seen her in awhile.