Here at The Everygirl, one thing's for sure — we love fall. We've shamelessly been drinking Pumpkin Spice Lattes since August, listening to our fall Spotify playlist on repeat, and cramming our calendars with all the fall activities (apple picking, anyone?). But honestly, nothing beats our fall wardrobes. It's finally cool enough in Chicago to break out our favorite jackets and over the knee boots, and we couldn't be more excited.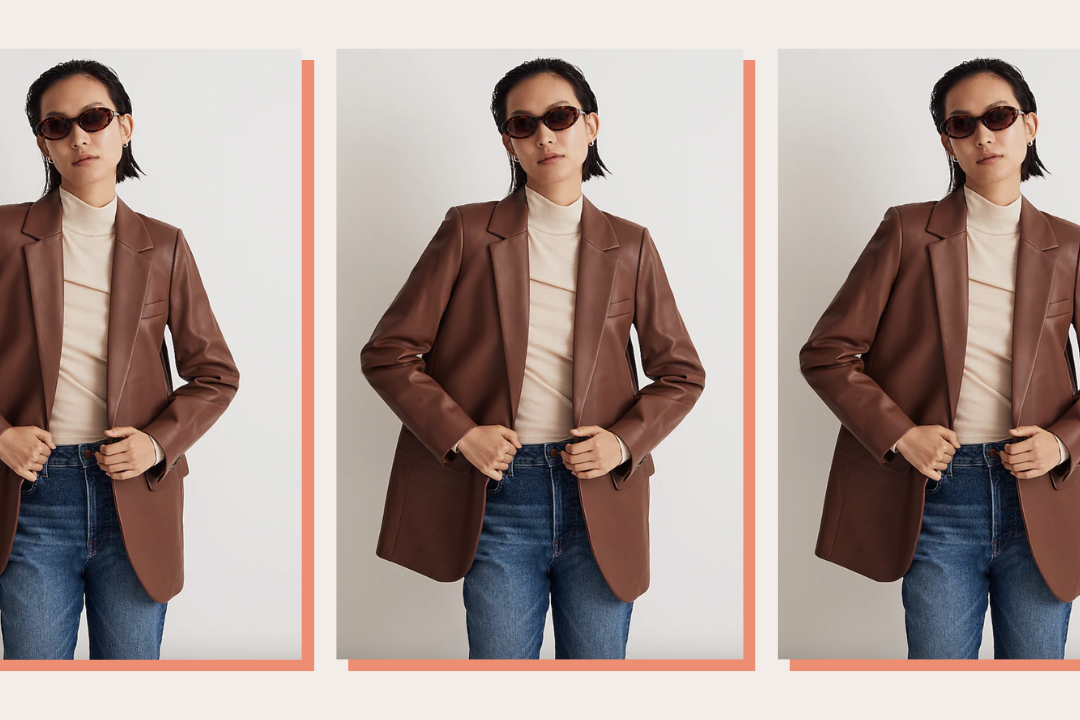 time for your fall wardrobe update!
Here are some of our favorite fall looks, and the ones that we'll be re-wearing all season long.

Everlane just launched their new clean silk top collection and I'm obsessed: this striped top is so easy to throw on and feel polished – and yet it's so comfortable. Finishing off my fall uniform are my go-to skinny jeans, OTK boots, and slouchy boyfriend coat. Getting dressed has never been easier.
Coat / Blouse / Jeans / OTK Boots / Sunnies / Bag
Fall clothes are my JAM — mostly because I passionately love both jackets and scarves (and who doesn't!?). This is the coziest, softest scarf for the season — I have it in two colors! Bonus: I forgot about these jeans, but just recently discovered that they're the perrrrfect dark shade. I'm ready for you, fall!
Camo Jacket / Scarf / Jeans / Tank Top / Booties / Backpack
What can I say, I'm a girl that loves flannel and suede jackets when the weathers get cold! And I love my fluffy mules almost as much as I love PSLs (they feel like slippers, look like acceptable-to-leave-the-house-in shoes) I literally wear some combination of flannel top, jacket, skinny jeans, and comfy shoes throughout the entire fall season." Why wear anything else?
Suede Jacket / Alternative Suede Jacket / Blouse / Jeans / Studded Slides
If you were to ask me, I wouldn't say I'm necessarily a leopard print booties type of person (I'm more the type to be like "hey does this come in a blacker black?"), but these shoes are by far the most complimented thing I have ever owned and I now wear them like a neutral basically every day from October to February.  The rest of my weekday uniform consists of these mom jeans from H&M which are literally the most comfortable thing I own (comfier than leggings FIGHT ME), my pick of about 80 different black tops, and a chuck-it-on blazer. Finish with the trusty Madewell bag that I bought seven years ago and has never let me down and bing bang boom done.
Blazer / Silky Button Down / Mom Jeans / Leopard Booties / Tote
Nothing says fall more than a dress, boots or booties, and a hot Americano. It's the perfect easy-to-throw-on outfit that can be dressed up or down. Cold? Throw on tights. Warm? Don't wear the jacket. And the fall florals that are everywhere this year are GIVING ME LIFE. I'm all about a good pattern.
Blush Trench / Patterned Dress / Tall Suede Boots
Like just about everyone, fall is easily my favorite season to dress for: I love the dark colors, and being bundled up is my preferred state of being. My autumnal wardrobe puts a high premium on comfy basics that I can wear to death, like those J Crew boots that go with every single outfit. I'm also pretty sure I wore this burgundy skirt at least once a week last fall (a steal from a roommate) and I'm thrilled it's finally chilly enough to justify velvet again!
Scoopneck Tee / Skirt / Black Tights / Booties