For the first six months of quarantine, I got dressed and did my makeup just about every day. It felt so good to have a routine in the morning, wear the clothes I love in my closet, and get creative with my makeup. But I'm not joking when I say I didn't even touch my hair. Maybe I'd throw it up in a bun or pull it back with a clip, but I had little-to-no motivation to heat style whatsoever. Nothing was convincing me to do my hair.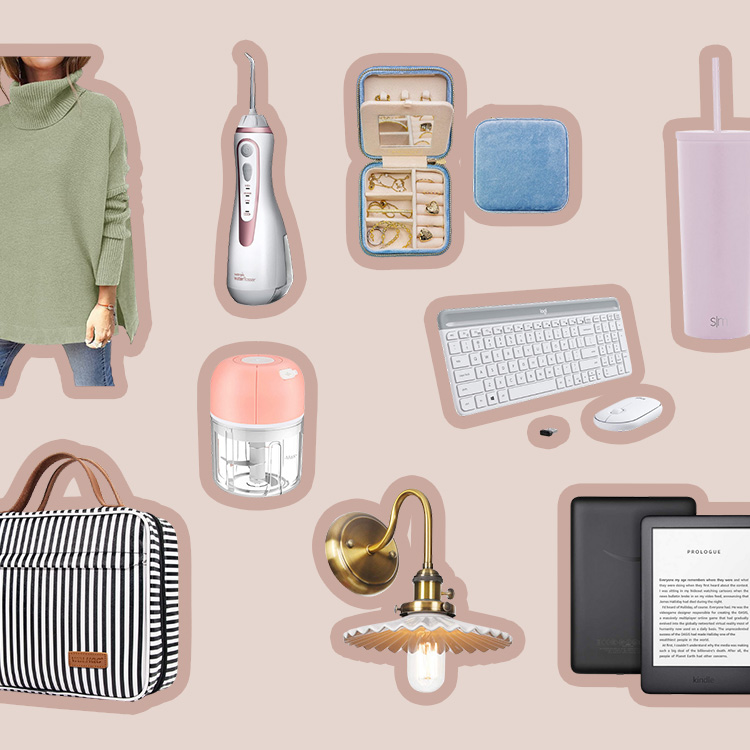 CURRENTLY TRENDING /
HOME
hit "add to cart" and thank us later 💌
Fast-forward a little bit, and I'm reformed. One day, I really craved a bouncy, curly look with my makeup and outfit, and I just went for it. Now? I'm back to styling my hair just as I was pre-COVID. It's become a ritual to spend time on my hair most days, and it's getting me very excited to try the abundance of new trends and styles popping up for 2021.
Behold: the cuts, colors, and styles we're looking out for this spring.
Colors
1. Face-Framing Color
I won't say Charli D'Amelio started this trend, but she had a pretty significant role in convincing us all to do it. Whether you opt for some light "money pieces" or go full-out with a bright color, this look gives a bright, fun flair to your typical color.
2. Balayage
Why yes, the 2010s biggest hair trend is back, thanks to a pandemic in which low-maintenance color is essential. This color grows out with grace while still maintaining lots of dimension and brightness, regardless of your natural color.
3. Queen's Gambit Red
If all you could stare at while watching The Queen's Gambit was Anya Taylor Joy's gorgeous red hair color, then you'll understand why this trend is popping up. If you already have light hair, this is pretty easy to achieve, but adding a red-tint to your dark hair super easy with a color conditioner like this one.
4. Dirty Blonde
"Dirty dishwater" hair is everything right now, and it doesn't help that it's very low-maintenance. This is a dark, sandy, textured blonde that's full of dimension and tone. Some sandy blondes are very honey and golden, while others look gorgeous with a grey-ish tone; this trend is super versatile and universal depending on your skin tone.
5. Semi-Permanent Color
Getting bored with your color in quarantine? Semi-permanent color is the answer. Whether you try a color conditioner or a true semi-permanent color, it's easy to do at home and won't (totally) annoy your stylist when you finally make your way back in the chair.
Cuts
1. Shag
We're thanking Miley Cyrus for making the mullet cool again, and it's convincing us we need a shag haircut ASAP. This style works on fine, wavy, and curly hair types super well (coily/textured hair might struggle with this, but it's not impossible! Finding a good stylist is key) and looks unique and updated from the trendy cuts of the past few years.
2. Bangs
While quarantine bangs might have seemed like a fad, stylists are still incorporating every single bang style into their current cuts. Curtain bangs might seem like the biggest option, but full bangs, shaggy bangs, wispy bangs, and even side bangs are practically everywhere right now.
3. Blunt Lengths
As far as low-maintenance cuts go, this is basically at the top of the list. One-length hair is perfect for anyone who wants to create lots of volume on thin or fine hair types, but it also looks sleek and sexy on thick or textured hair.
4. Curly Pixie
Curly and coily hair don't have to forgo stylish short cuts! In fact, this short pixie is truly better on a curly hair type because it has lots of volume, texture, and shape without having to do too much. Ask your stylist for a short pixie. You can opt for some layers, or keep it blunt; either way, it's cool as hell.
5. Short Bob
The chic French-inspired, '90s bob is the new way to keep your hair prim and polished. This look is great for anyone who wants an easy-going style, as this looks great with straight, wavy, curly, and coily hair.
Styles
1. Barely-There Waves
These "baby waves" look natural, high-fashion, and ultra-cool. Take a 1 in. curling iron and lightly curl random sections of the hair, pulling each piece taut afterward to straighten it out a bit. Keep it light by combing through your hair with a wide-tooth comb afterward instead of a brush. The trick to this style is keeping your ends and roots straight.
2. Sleek
For a really sleek look, blow dry your hair straight with a blow-dry brush or blow dryer and round brush, and then pass over each section with a flat iron. To seal it all in, spray a light hairspray and a little bit of a lightweight hair oil into the palm of your hand, rub together, and lightly run your fingers through your ends. This keeps the look really touchable and soft while staying sleek and shiny.
3. Tons of Shine
After years of matte, beachy looks, shiny hair that bounces off the light is officially back. Get this look by using a shine product while you blow dry or heat style your hair, and then follow the look with a lightweight hair oil. Make sure to keep any oils away from your scalp to not look too greasy.
4. Pulled-Back With A Clip
This is 2021's updated version of the "messy bun." It's equally as cute, versatile, and practical as the messy bun but with an extra "cool-girl" factor. You can pull your hair into a clip into dozens of ways: low on your head, half-up, with ends sprayed out, tight and sleek, extra messy–you name it.
5. Curled Ends
This fluffy, curled style is reminiscent of hot rollers and the '90s, which might just be why we love it so much. To achieve: blow dry hair straight to give it lots of body and shine, and then curl just the ends with a big curling iron, holding it horizontal to get as much volume in your curl as possible. Curl in different directions to create dimension, and brush it all out once the curls have cooled. This style looks extra cute in a half-up pony!