My favorite thing about the start of spring is the optimism. Although we'll be experiencing winter weather through mid-April, there's an excitement for warmth and sunshine in the air. On the first sunny days, no matter the temperature (usually high 30s in the Midwest), the streets are bustling with people. People are excited to take long walks and bask in the sunshine, even if it means grabbing your warmest puffer and a hot coffee. We drop all the deep, warm tones for pastels and brights, likely in the form of sweaters, jackets, long pants, and of course, the coolest spring nail colors. And we can't forget the historic swap from hot to iced beverages—even if touching an iced coffee practically freezes your fingers. 💞 🧚‍♀️ 💐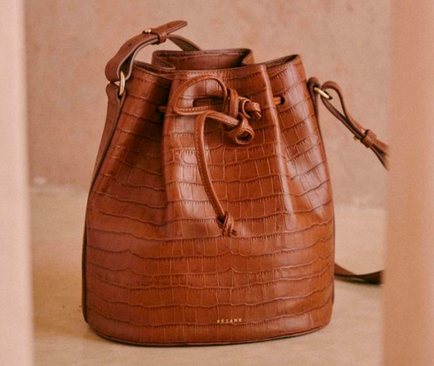 With a smooth, crocodile embossed leather exterior, the ability to style as a shoulder bag or a crossbody, and a design bound to turn heads, this bag will be an absolute hit. Use code THEEVERYGIRL22 for a free gift with purchase!
Spring is in the air, and what better way to celebrate it than a fresh coat of polish? You can kiss all those dreary winter tones goodbye, and say hello to spring 2022's full lineup of bright, pastel, and breezy tones.
1. Green Apple
No matter how you slice it, green is *the* color of spring 2022, and this bright shade screams warm weather. When you roll up with this bright, fun color on your nails, you're bound to get a few stares—the good kind.
2. Murky Neutrals
Gone are the days that nail colors have to look "pretty." Nail shades aren't limited to beige neutrals and cherry reds anymore. Expect to see lots of murky, "dirty" neutrals in place of the standard beiges and browns.
3. Bubblegum Pink
Pink will never go out of style, especially on the nails, but this bubblegum version is the cool-girl way to wear it this spring. It's a fun take on a classic red nail: timeless, bold, and goes with everything.
4. Periwinkle
Pastels are a sign that spring is here, so start off the season with a nod to it on your nails with this periwinkle shade. How "Very Peri" of you!
5. Pearl
For a unique take on classic white nails, this pearl shade is head-turning without being bright and bold. If you're into a more understated nail, this one is bound to have people asking you what's on your nails.
6. Bright Cerulean
All I needed was to see Rihanna decked out in this shade to know it was about to be the biggest color of spring/summer 2022. Not ready to go that bold with your outfit? Try it on your nails first. Guaranteed you won't stop staring at your hands.
7. Jade Jelly
Remember when we said shades of green are big? We weren't kidding. TikTok has blown up the jelly nail trend, and now you can get it at home. We're loving this jade shade in this ultra-shiny, sheer jelly formula.
8. Multichrome
Seen on Dua Lipa with an ultra-reflective purple mani, this nail color (or variation of colors) is about to blow up. In different lights, it'll pick up on various hues. It looks impossibly cool and space-age-y, just what trend reporters are predicting for 2022's big fashion moments.
9. Neon Yellow
When you're willing sunny days to fruition, you can't go wrong with it on your nails. Whether you go for a more pastel version or for major neon action (I'll be going with the latter, of course), you'll feel bright and cheery every time you look down at your hands.
10. Tangerine
This vibrant mani is the equivalent of a spring break on your nails. Shades of orange are making waves this year in fashion and beauty, and your nails are no exception. If you want something bright but don't want to go neon just yet, this shade is the perfect medium.