Art, bright colors, and creative energy surround Tarah Catalano in all aspects of her life. Whether she is designing a custom wedding invitation, decorating her adorable abode, or working on her lifestyle blog, she is always creating something beautiful and inspiring. Her one-bedroom apartment, which is located above a carriage house in a suburb of Charleston, proves you don't need to spend lots of money to create a welcoming, sophisticated space.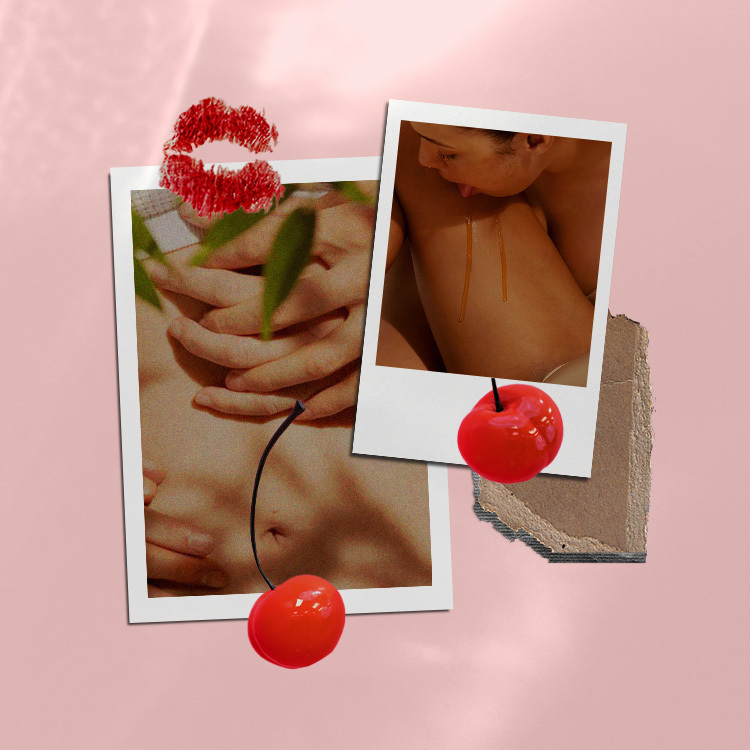 spoiler alert: it's not too good to be true
When she isn't perfecting her gallery wall, she can be found making magic with paper at Lettered Olive, shifting through thrift store finds, or soaking up some South Carolina sunshine on the beach. Read on to find more about Tarah's chic space, her love for graphic design, and the importance of "clean slates."
Name: Tarah Catalano
Age: 24
Current job/company: Graphic Designer at Lettered Olive, Founder of lifestyle blog Blanc
Education: BFA from Winthrop University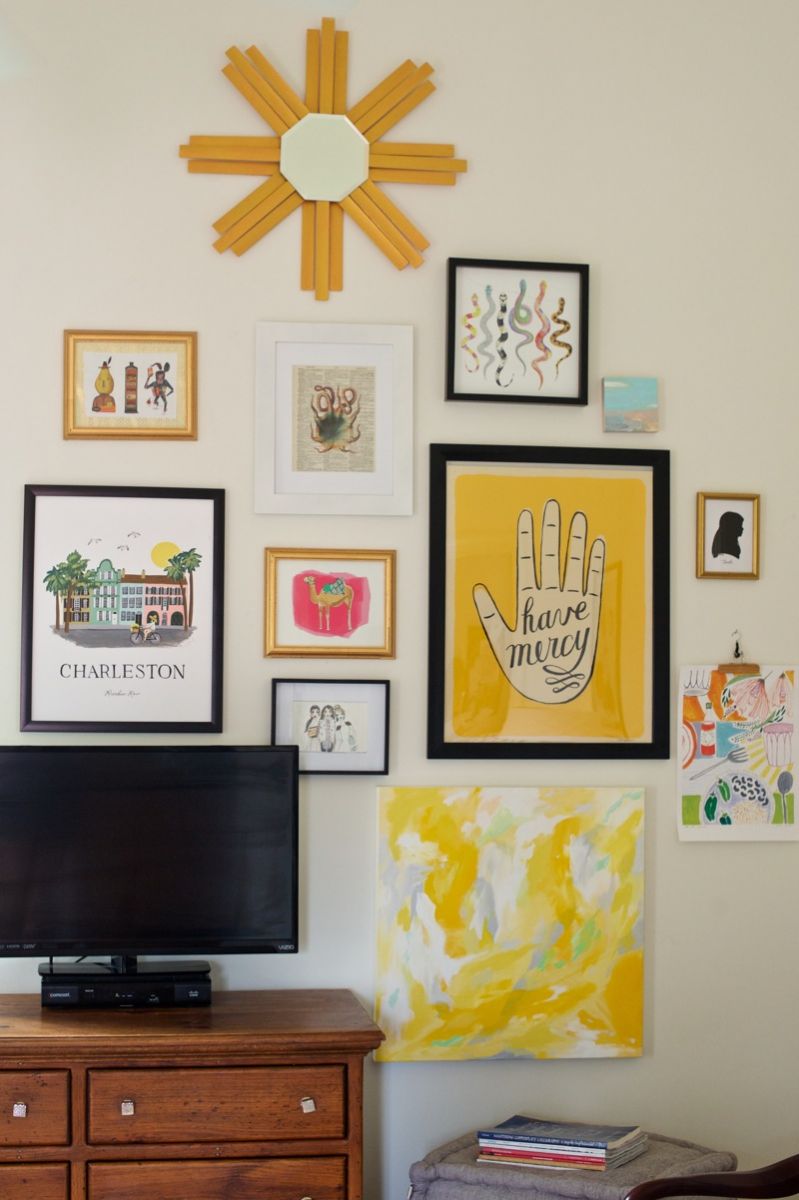 When did you know you wanted to be a graphic designer? How did this influence your college experience?
My family has always been creative. Growing up, I watched my mom working in her own interior design business and flower shop. When my dad and I weren't shooting hoops in the front yard, I was crafting (always, always crafting!). By the time I hit high school, I had taken every art class that my school offered. I remember taking my first scrapbooking class with my mom and sister when I was twelve—hello, page layout!
I knew I needed to go to a university with an advanced design reputation so I chose Winthrop University—renowned for its intensive graphic and interior design programs. Getting a BFA in graphic design was not easy. My freshman class started with 77 designers and illustrators and by senior year, there were only 13 of us left. I was dedicated and worked hard and, ultimately, it paid off.
Throughout school, I interned with a large corporation as a user experience designer in Charlotte. Upon graduating, I had a contracted position as a graphic designer for a small design firm in the same city. Seeing two very different sides of the industry helped me learn a lot. After graduation, I knew two things: I loved a small-community office environment and I wanted a position with hands-on duties. That's when I found Lettered Olive.
Tell us about your job! What does a typical day look like for you?
I am a graphic designer for Lettered Olive, a couture wedding letterpress studio owned by tastemaker, Tara Guerard. The Lettered Olive team works closely with Tara Guerard Soiree (event planning and design) to brand each event based off the bride and groom's personalities. We never stop at just the invitation! Lettered Olive also works with over 100 retailers, designing custom wedding invitations for brides nationwide and internationally.
There is no typical day at LO. One day I will be designing a letterpress invitation suite and the next I will be on site helping style a photo shoot. My favorite thing about my job is that it is always changing. It can be easy to get in the routine of staring at a computer from nine to five, especially for a graphic designer! Working with Tara allows me to have my hands on multiple aspects of the creative business. I am so thankful for those experiences.
You also run a lifestyle blog called Blanc. Tell us about how you came up with the concept and got it off the ground.
As every young designer knows, there is a lot of self-doubt in the industry. You are always striving to elevate your creativity. Blanc was that little something extra in life that I wanted for myself. I didn't know it at the time, but Blanc started once I began to recognize my strengths and weaknesses. I knew I had a knack for creating a home at 22-years-old. On the other hand, I was very open about the fact that my first year out of college was quite a struggle. Who knew doing things on your own would be so hard? I found that the more I wrote about the truth, the more people reacted.
Blanc serves a bit as a metaphor for the clean slates of the world. We start out with fresh eyes and grow from there. I hope to write and relate to people who are going through the same things I am. I also hope to introduce my readers to young entrepreneurs who inspire me. In fact, the big "ah-ha" moment for me happened after reading many of The Everygirl's home tours. Each interview ended with the question, "What would you tell your 23 year old self?" Almost every successful interviewee said: Just go for it and don't look back. And so, Blanc was born.
What advice would you give others about breaking into the design world while maintaining a work life balance?
This is a work in progress for me. My best advice is to always, always, always do more than your job title. You are never above doing the dirty work. As far as balancing life goes, I think you have to be able to put yourself first sometimes. I work hard for each one of my clients, but I know that if I'm not at my best then my work won't be either. I made a promise to myself that when things got to crazy, I would take a break from blogging. If it's a stress, it is no longer enjoyable—and isn't that the whole reason I started?
You live in such a cute neighborhood! Tell us a bit about the area. 
I live in a quiet community in the heart of Mount Pleasant, South Carolina. The Watermark community where I reside has apartments on the west side and brightly painted Charleston-style homes on the east side. The outer rim of homes back up to a small lake that is adjacent to a running path. It's quaint and, if I must say, pretty adorable. I live in a carriage house next to one of the many parks throughout the neighborhood. One of my favorite things about the area is that I'm a bike ride away from my favorite restaurants and a five-minute drive to the beach. You can't beat it.
Tell us more about your home. What were you looking for in a space and how did you land on this apartment?
To be honest, I would have lived in any space with a roof. The Charleston housing market can be tough. I was extremely lucky to find such a unique spot. The high ceilings sold me instantly because I knew I wanted a gallery wall for all my artwork. I also think they make a small, one-bedroom apartment feel like a larger home. A lot of my guests walk into my house and say, "Whoa—it actually feels like a house in here." That was important to me. As I grow up and mature, my home should too.
How would you describe your personal decorating style?
My personal style is very collected. In fact, the only piece of furniture that was bought retail is my boutique-style sofa. The rest of my furniture came from thrift stores or were family pieces that have been refinished. The two trellis pattern chairs in my living room were a disastrous maroon print that my dad's office was throwing away—even a corporate office full of men thought they were too ugly to keep! I believe a little bit of elbow grease makes all the difference.
Color and art also dictate a lot of my design scheme. I am always looking for art whether it's an abstract painting or vintage graphic print. When I can't find work that I love, I create it myself. The white and gold circle painting hanging over my sofa and the orange washed painting hanging over my bar were both created during the first summer that I lived on my own.
What was your decorating process like? Where did you source your favorite pieces?
Most of my furniture has been collected over the years and updated as I have grown. I've had my vanity since I was little. This year, I finally bit the bullet and painted the dark wood something a bit more modern. Never be afraid to paint a piece that you no longer love.
As most 24 year-olds would agree, not much of my budget goes into decorating my home. I love looking at how the top designers are decorating a room, and then I'll mimic those ideas on a budget. I find unique pieces at stores like TJ Maxx and World Market. You don't have to spend a lot, but you should invest where it counts.
What is your favorite part of your home?
My collected artwork! I have a closet full of canvases just waiting to be hung once I have more wall space! Each piece brings its own attitude to the room.
Where do you see yourself in five years?
I would like to think that I would still be doing something I love, whether that is graphic design, interior design, or maybe even blogging for a living! Who knows where the world will take me!
Tarah Catalano is the Everygirl…
I wish I could…
…have the power to make every girl feel confident in her own skin.
Coffee order? 
Iced nonfat Latte, two Splendas.
Guilty pleasure?
I wish it was running… but in reality it's chocolate and peanut butter.
Describe your perfect Saturday. 
My perfect Saturday is spent relaxing on Sullivan's Island beach (sun burn not included), followed by dinner and drinks with my best friends.
If you could have lunch with any woman, who would it be and what would you order?
I would love to have lunch with Kelly Wearstler. She is always pushing the boundaries in art and design! I would take her to one of my favorite funky Charleston spots, Leon's Oyster Shop, for the steamed oysters and a bottle of rosé.